Speed and acceleration don't always come cheap, but there are more than enough options out there for car buyers on a budget less than $40,000. In fact, even $25,000 is enough to get one of the fastest rides for the everyman set.
For this list, the price range has been pushed out further to allow for the largest engine options of the American muscle cars to get in the mix. Horse for horse and dollar for dollar, it's tough to top the pony cars in this category. Automakers around the world usually go for sportier, less weighty models like the hot hatch to deliver powerful acceleration with smaller engines.
Here are 12 of the fastest cars available at a base price below $40,000. While most are well below that target price, a few may end up over $40K when extras (who needs AC?) are added, but the prices are the MSRP before destination or any additional charges as listed on the automaker's sites. Cars that have more than one model in this price only appear once, in their most powerful iteration (sorry, V6 Mustang.)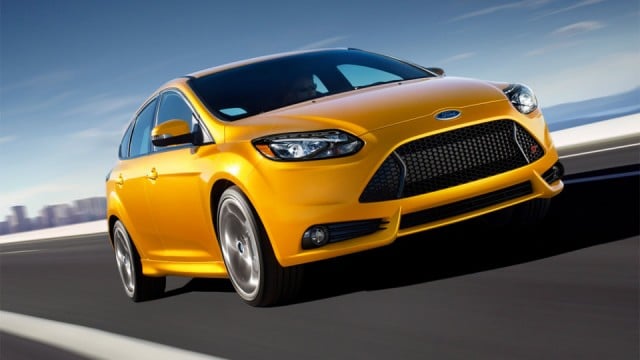 12. Ford Focus ST ($23,625)
Ford has gotten mostly rave reviews for its Focus ST hot hatch. Just a glance at the engine specs are enough to get excited. The turbocharged direct-injection 2.0-liter EcoBoost engine hits a maximum 252 hp and 270 lb-ft of torque. This power quotient is enough to power the Focus ST from 0-60 in 6.6 seconds, according to tests by Edmunds. Sure, the Mustang may be able to take it on the open road, but when there's a tight parking spot in town the ST has its number.