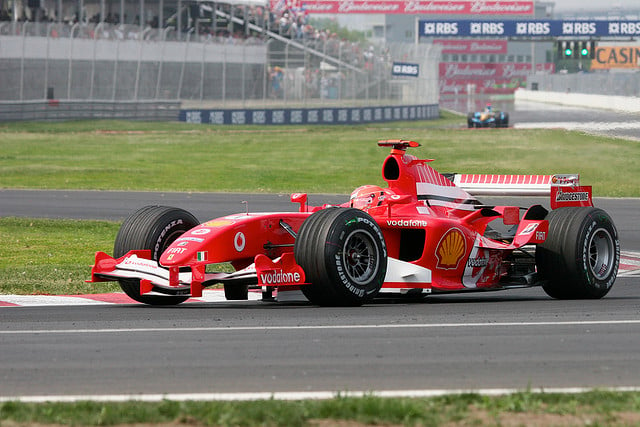 With the 2014 Formula 1 season now well underway, racing fans around the world will be tuning in to witness one of the most competitive events in automotive-based sports on the globe. New for this year, F1 teams will be eschewing the previous naturally aspirated 2.4 liter V8 engines in place of 1.6 liter, turbocharged V6 units (for better or for worse), with a ceiling of 600 horsepower — down from 750. Fuel allotments were also restricted to 100 kilograms.
That news was met with an understandably negative response, as it's seen as hindering Formula 1′s natural competitive flow. So far, Mercedes-Benz and its split-turbo setup has been dominating the 2014 season, having won the first six events between drivers Lewis Hamilton and Nico Rosberg. However, there are still 13 races left.
We took a look at the circuits on 2014′s F1 roster and identified the current standing record lap times at each location. Two things undeniably stood out: First, 2004 was a tremendous year for Formula 1 – 12 of the 18 standing records were that year. Second, Michael Schumacher was a dominating force that season, setting half of those dozen lap-time records. (Note: Schumacher remains in a coma after a ski accident five months ago in which he struck his head on a rock in the French Alps.) It's worth noting that the following are listed in order of the race schedule, and the times cannot be cross-compared since they were set on separate courses. Also, we did our best to match up the vehicles with the year, race, and driver, but some won't necessarily fit all three.
It's unlikely we'll see these records broken this year — Schumacher's Ferrari F2004 sported a 3.0 liter V10 engine, which produced a maximum of 865 horsepower. Nonetheless, this season promises to be as dramatic and exciting as every other — and if one of this season's drivers can manage to set a new lap record, it will be that much more impressive. Here are the lap time records to beat for this year's Formula 1 circuit.