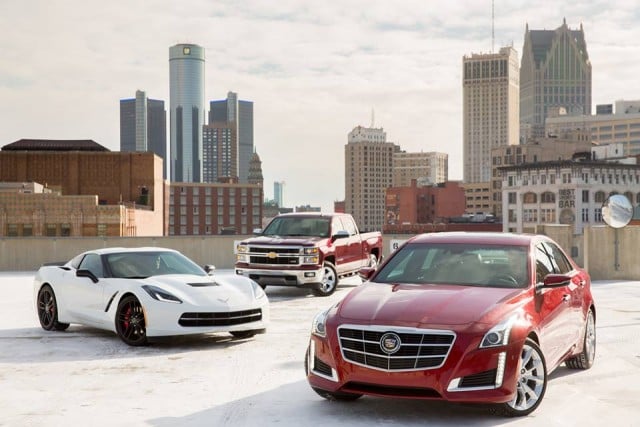 General Motors (NYSE:GM) has been hard at work over the last couple of years revamping its trucks and SUVs, which collectively represent its most lucrative profit generators across its vast lineup. But starting next year, GM will be giving its mainstream car divisions some attention, according to Automotive News.
"Once the Colorado and Canyon mid-sized pickups hit showrooms this fall, Chevrolet and GMC will have churned out new generations of every pickup and SUV in their lineups in about 15 months," the site said. This includes the Chevy and GMC variants of the Sierra pickup, the 1500, the Suburban, the Tahoe, the Yukon, and Yukon XL; and, of course, the aforementioned Canyon and Colorado, which will be returning after a three-year sabbatical.
It's now time for GM's best selling vehicle globally, what we know as the Chevrolet Cruze, to get some attention, as well as the Volt. A new Camaro is also in the cards, and the Chevy Equinox and GMC Terrain will "likely" get a refresh for 2016, Auto News said.
The Camaro will be released about one year after Ford's release of the new Mustang, its first full redesign since 2005. The Volt, though hardly a volume seller for GM, is starting to look a bit dated next to renewed competition from the Toyota Prius plug-in, as well as the Ford Fusion Energi. Many companies are now planning to offer plug-in vehicles, and for GM to hold on to its market position, the Volt is going to need some further improvements — seating for five to start off, as it only seats four.
Here's a look at GM's production schedule for the next several years, courtesy of Automotive News. All images are courtesy of GM.