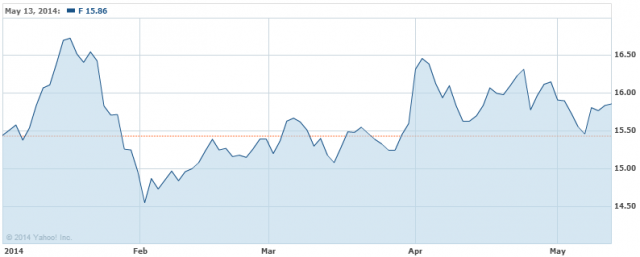 When Ford (NYSE:F) CEO Alan Mulally departs the company in July, he'll be leaving behind a very different company than the one he was introduced to in 2006. That's a good thing, too, and it can be largely contributed to the sweeping changes that Mulally implanted once he took the helm.
A slew of new products, further implementation of Mulally's One Ford plan, and a quickening pulse of automotive sales imply that Ford is on the up and up, and will do well moving forward.
However, even after a strong sales year in 2013 and commendable performance so far this year, Ford's stock has remained rangebound, reaching a 52-week high of $18.02 and a low of $13.98. Whether a breakout is on the horizon naturally remains to be seen, but here are some supporting factors that suggest Ford is positioned to do quite well over the next couple of years.