Looking at the latest electric vehicles sales, it's clear plug-in cars are gaining traction in the United States. Plug-in EVs are up 50 percent in 2014 after a furious 90 percent improvement in May over the segment's 2013 numbers. The surge in demand is likely a product of increased awareness about carbon emissions as well as improved products from automakers.
Telsa proved electric cars can be sexy, long-range machines that provide thrills for drivers and comfort for passengers. To get a piece of the action and ensure their high-emissions performance cars can sell in the U.S., luxury brands from BMW to Mercedes Benz are introducing their own all-electric models in 2014. These cars only tell part of the story. Tales of a car with 1,000 miles of range and an affordable model able to cover 200 miles are headlining exciting and curoius EV stories this year. Here are seven new electric vehicles to watch.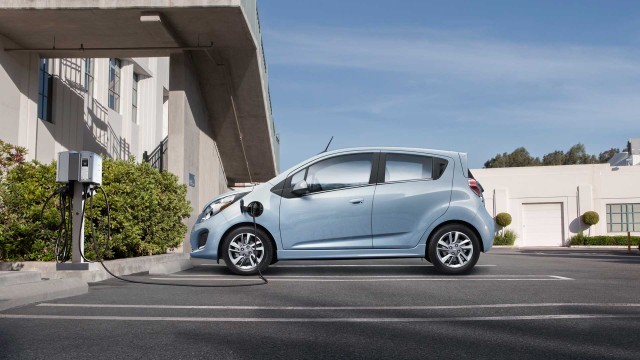 7. Chevy Spark EV
GM's efforts in the electric vehicle segment thus far have been a flop, but there are signs of hope following the release of the 2015 Chevy Spark. This tiny cruiser focuses on the most important aspect of EVs: fuel economy and emissions reductions. On that front, GM knocked it out of the park by delivering an EV capable of 82 miles in electric range and a best-in-U.S. 119 MPGe combined. The Spark EV's city rating of 128 MPGe is a tue accomplishment.
For now, only drivers in Oregon and California have access to the Chevy Spark EV, which is available in limited quantities for the time being. Green car enthusiasts hope it's only the beginning.