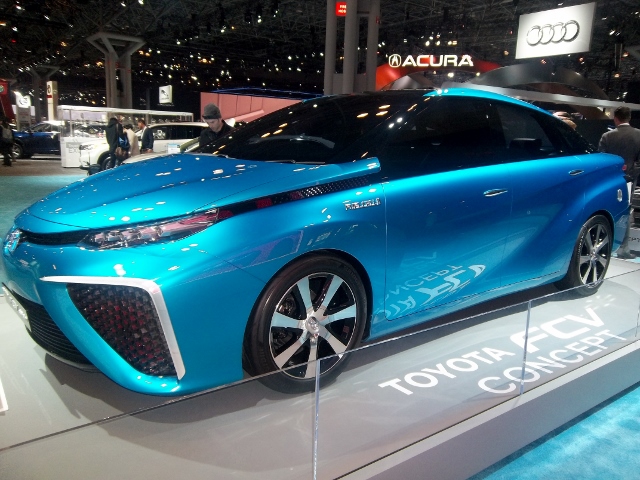 Amid the slate of luxury rockets and hypercars gracing the stands at the 2014 New York Auto Show, Toyota (NYSE:TM) is showcasing its full range of automobiles. At the Javits Center through April 27 are the new Lexus sport sedans, the different Prius models, a brand new Camry, and the redesigned Highlander. Tucked away in the corner of the automaker's vast display was the type of car that would be a headliner in other circumstances: the Toyota FCV.
This green car, which is powered by hydrogen fuel tanks rather than lithium-ion batteries, made its formal U.S. debut at the CES conference earlier in 2014. At the New York auto spectacle, Toyota brought both a display and "ride-alongs" in a fuel-cell utility vehicle to give attendees a taste of the technology. It's enough to make someone a believer in the game-changing concepts Toyota, Hyundai, and Honda (NYSE:HMC) are bringing to market in the coming years. Here are seven things to love about the Toyota FCV.
1. It nailed the image
Toyota has taken its share of criticism over the years, with a good deal of it directed at the brand's bland styling. In the case of the fuel-cell concept, there is nothing but praise to offer the FCV's designers. From the stylish profile to the exotic grill and winning headlamp design, this car delivers an attractive impression of the future.
While Toyota may not have labored over the car's looks when it created the Prius and other cars in its past, the automaker didn't slack on the design front with the FCV.