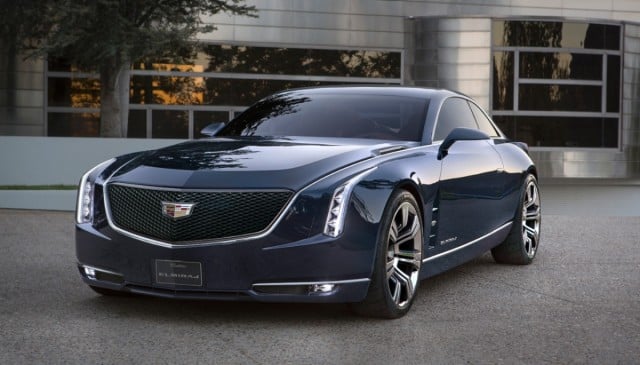 This year was supposed to be a sales bonanza for Cadillac (NYSE:GM). And while it hasn't been bad, per se, Cadillac — and others — were hoping that the immense overhaul of its products would have stimulated sales more. Last year was a terrific year for the brand, but it seems that despite the arrival of the new Escalade, as well as updates to other models, the excitement has worn off, to a degree.
But executives are already moving on, and stating that 2015 will be Cadillac's year. "[2015] is going to be a fantastic year for Cadillac," Bloomberg quoted Dave Leone, Cadillac's chief engineer as saying just ahead of the Pebbles Beach Concours d'Elegance.
Cadillac's sales have fallen by about 2 percent this year, and the brand hopes to reverse the trend by introducing a new range-topping sedan (based in part on the popular Elmiraj coupe, pictured above), as well as a hefty overhaul of the SRX crossover, one of the only models in the stable that hasn't seen a recent redesign. It's arguably the most important too — crossover sales are setting the pace for the auto industry, and other luxury firms are betting big with their small SUV offerings. Sales of the ATS and XTS had crumbled by more than 20 percent through July, Bloomberg said.
Without an updated SRX, Cadillac risks losing ground to Lincoln's completely new MKC, which is based on the Ford Escape crossover. At just over $33,000, the MKC is also competitively priced against the $37,000 SRX, and it also looks considerably more modern too, as the latter is still running on Cadillac's old design language, although SRX sales have surged 16 percent possibly due to increased promotional activity.