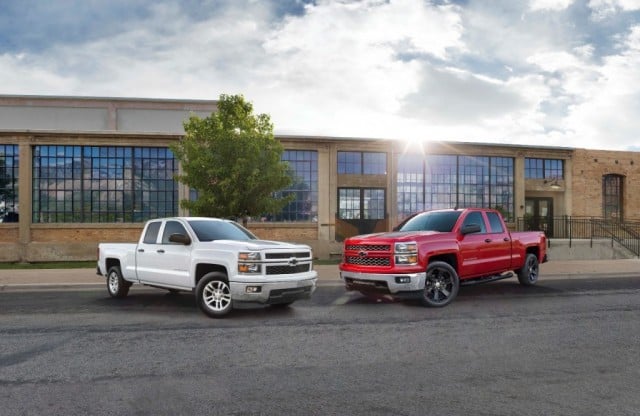 While Ford (NYSE:F) fans have been able to enjoy the F-150 SVT Raptor for some time now, there hasn't been a factory-tuned, off-road inspired competitor that can at least try to take the Raptor to task. And there still isn't, really — at least pending the arrival of the Toyota TRD Pro series Tundra. We can be pretty confident that there won't be an immediate answer from General Motors (NYSE:GM), though. At least for now.
On the surface, the Chevrolet Silverado Rally Edition looks like it plays the part; there are some muscular and aggressive looking racing stripes up the hood, and the blacked-out rims and Chevy bow-tie look like they mean business. On the higher special edition trim, there are the black sidesteps too. But closer inspection indicates that despite the added aesthetic flare, the Rally Editions essentially amount to putting a work horse on the race track. 
There haven't been any improvements made to the suspension, and the tires illustrated don't indicate that they're up for some serious off-roading trials. The powertrain choices are the same as the conventional non-Rally spec'd trucks, with buyers given the choice of Chevy's 285 horsepower, 305 pound-foot 4.3 liter V6, or upgrade to the 5.3 liter V8 that produces 355 horsepower and 383 pound-feet of torque.
Included in the Rally 2 trim (there's a Rally 1 also — in the picture, Rally 1 is on the left and 2 is on the right) is a hitch and automatic locking rear differential, a 10-way power driver seat, dual-zone climate control, remote start, backup camera and rear defroster. It's a nice package, but outside of the added blacked-out bits, there's little exclusive content that buyers can't already add on to one of the non-special edition trucks.