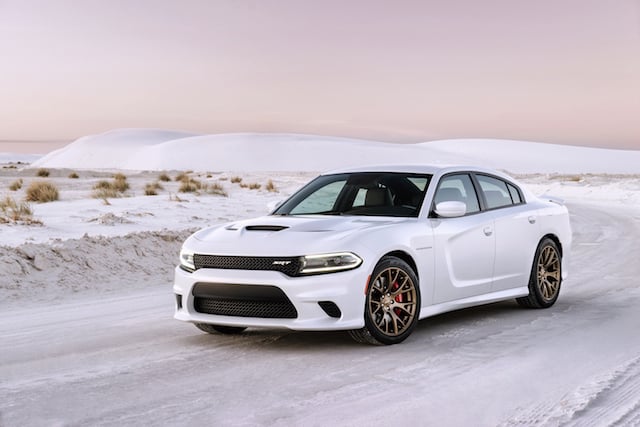 Dodge (FIATY.PK) made some waves when it revealed the fastest, most powerful production muscle car ever: the Challenger Hellcat. Its 6.2 liter supercharged V8 churns out a monstrous 707 horsepower and 650 pound-feet of torque, can hit a quarter-mile in under 11 seconds, and is supposedly capable of reaching a terminal speed of 199 miles per hour. But the question on many people's lips was why keep this gem relegated to the Challenger line?
Dodge seems to have heard them, and on Wednesday morning, it pulled the veil off the most powerful sedan in the world: the Charger Hellcat. Shoe-horned into a new 2015 Charger model, the powertrain still makes 707 horsepower, but top speed is now 204 miles per hour, and the quarter-mile is dealt with in 11 seconds flat. Sixty comes in 3.7 seconds. The supercharger alone displaces 2.4 liters. That quarter-mile time? That's on street tires.
This isn't merely the fastest Dodge sedan or the fastest American sedan. This makes the Charger Hellcat the fastest production sedan in the world. Pricing isn't yet available, but the Charger Hellcat will be hitting showrooms in the first-quarter of next year. If it even makes it that far.
It's rear-wheel drive, and uses the same eight-speed transmission that's found in the Challenger. Why is it faster at the top? Because of its longer body, Road and Track reports, the Charger has 12 percent less drag than its muscle car sibling, allowing for a higher top speed.