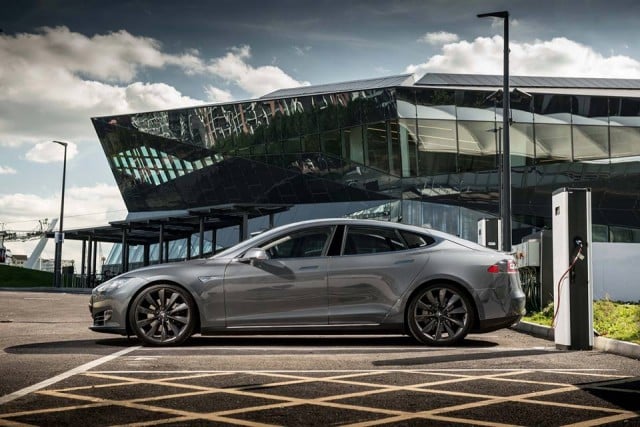 Tesla Motors (NASDAQ:TSLA) has is barely a month into its United Kingdom deliveries, but it's already attracting a high-profile potential clientele in the area: Reportedly, the U.K. government, in a bid to procure some green cars for its fleet (to lead by example, it says), is looking into Tesla's Model S as a potential vehicle for its services.
The Government Car Service, which provides transportation services for the U.K.'s many ministers, will be making the initial purchases of some 150 low- or zero-emissions vehicles, Bloomberg said. While the Tesla is one of the largest EVs on the road, it also boasts the greatest range, and its non-existent thirst for fuel makes it an appealing choice for the agency that needs to shuttle some of the U.K.'s dignitaries.
"The Model S we understand will be under evaluation for inclusion," said Tesla's spokesman Simon Sproule, himself born in the U.K. The sedan was among the cars on display at a press conference, and "it would be great to see California-built Teslas transporting Her Majesty's ministers on official business across London," he told Bloomberg.
Tesla is hoping to boost its vehicle deliveries by 50 percent this year, an ambitious goal that could be greatly benefitted by the open-mindedness towards EVs that the U.K. government is showing. Karl Brauer, a senior industry analyst for Kelley Blue Book in Irvine, California, echoed those sentiments when speaking with Bloomberg.