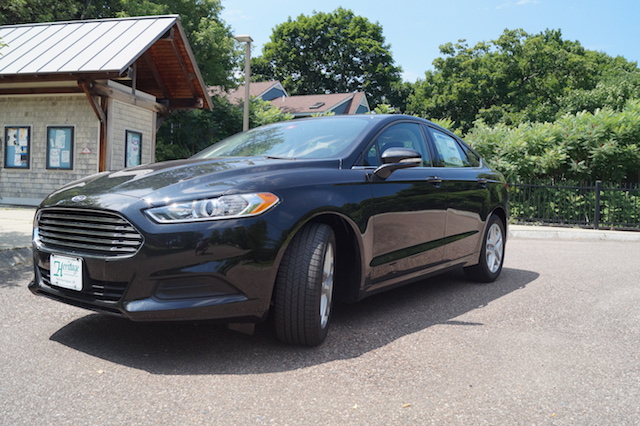 By now, you've definitely seen Ford's (NYSE:F) most recently updated Fusion on the roads — the new, bold styling came along with the complete product overhaul for the 2013 model year. So the new car, which many have likened as reminiscent to the styling language of Aston Martin, has been around for a while now.
Ford hasn't been sitting idly by, content with watching its leading sedan (and among the best-selling American sedans in the country) carry its own weight. Since its introduction, the company has been busy refining its powertrains, and it now offers the Fusion in a wide variety of flavors, from a perky turbocharged option to the Energi plug-in hybrid version. In all, there are six different modes of propulsion that Fusion buyers can choose from, depending on their priorities.
At standard, the Fusion comes with Ford's 2.5-liter Duratec inline four and a automatic six-speed transmission. There's also a 1.5-liter EcoBoost turbocharged four cylinder, a 1.6-liter EcoBoost, a 2.0-liter EcoBoost, a hybrid, and a hybrid Energi plug-in. The model I was able to spend some time with was the 2014 1.5-liter EcoBoost, which is arguably the most fuel efficient non-hybrid version available (though that could come down to driving style). It came in the SE trim and had a couple of extra bells and whistles — but more on that later. The 2015 is now available, but it's largely a carryover from 2014 version, with the exception of some option offerings (the 1.6-liter EcoBoost also disappears for 2015).
Performance
In case you missed it, we recently reviewed the 2014 Ford Fiesta with the 1.0-liter EcoBoost engine. I really liked the 1.0-liter EcoBoost: in car as small as the Fiesta, it's an ideal powertrain choice for urban commuters, as it returns more power than expected as well as ideal fuel economy. The Fusion, though, is quite a bit bigger than the Fiesta and has a substantial 901 pounds (roughly) on the small hatch. Therefore, the 1.0-liter has been upgraded to 1.5, and as a result, it produces 181 horsepower — about 50 more than the 1.0-liter version.