CarInsurance.com sat 1,500 licensed drivers down and asked them to look at photos of 12 vehicles made in the last decade and decide if they would be embarrassed to be seen in them. The participants were then asked to rank the three most cringeworthy, in their opinion. "All these cars are bold statements," CarInsurance.com managing editor Des Toups said. "You either love them or hate them." Every so often, manufacturers will take some creative license with their products. While this approach has certainly yielded some tremendous results, more often than not, the general populace will be divided into Camp Love or Camp Hate.
Unfortunately, little to no explanation was offered as to the thinking behind respondents' particular choices. It should also be noted that the users were told to rank the 12 cars given to them, rather than submitting contenders of their own. Additionally, the CarInsurance.com "Cringe Score" represents the relative weight of all votes cast for a particular vehicle, based on a 1-to-10 scale; the points given are not a percentage. The Cringe Score assigned point values to the top three vehicles chosen as the most cringeworthy, then standardized them on a 1-to-10 scale.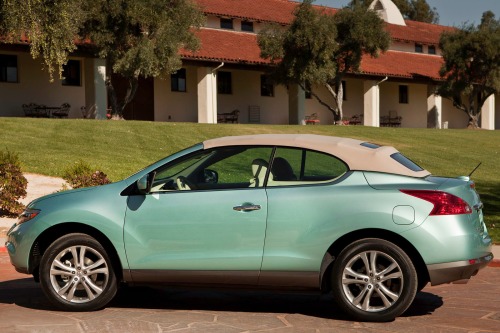 12. Nissan Murano CrossCabriolet
Based on an SUV but featuring the retractable roof of a convertible, the Nissan (NSANY.PK) Murano CrossCabriolet doesn't really fit into either camp. It's too big and bulky to enjoy as a convertible but really has none of the utility or practical nature that would make it a sensible SUV, either. It scored a 0.3 on the scale.