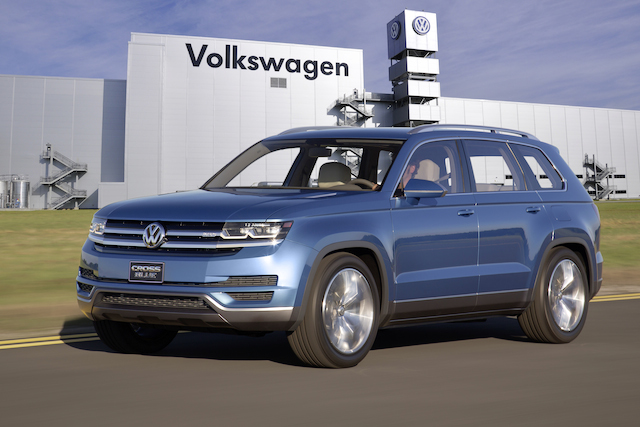 It was a big day for Volkswagen of America (VLKAY.PK) on Monday.
While still struggling to crack the code of the U.S. market, Volkswagen announced that it would be building a new SUV — based on the CrossBlue concept, pictured above — will be built at its plant in Chattanooga plant in Tennessee. The announcement means millions for the state of Tennessee, and also that Volkswagen is taking another shot at boosting its lackadaisical U.S. sales numbers.
"The Chattanooga-built midsize SUV will allow us to fulfill the wishes of our dealer network, bringing new customers to our showrooms and additional growth for the brand," Michael Horn, President and CEO Volkswagen Group of America, said in the company's statement. "We are eager to be entering this growing vehicle segment with a world-class, seven-passenger SUV from Volkswagen."
Volkswagen will be committing $900 million, including $600 million at VW's factory in Chattanooga, Tennessee, to build the seven-seat unit. Production is slated to begin at the end of 2016; Chattanooga is also where VW builds its Passat midsize sedan. VW also plans to invest $7 billion in North America by 2018, in order to almost double the namesake brand's annual U.S. sales to 800,000 vehicles and become more than a niche producer, Bloomberg said.
The benefits for the state don't stop there, though, as VW has pledged to add some 2,000 new positions to build the new vehicle. In return, Tennessee has agreed to offer the company about $300 million in tax breaks, anonymous sources told Germany's Frankfurter Allgemeine Zeitung last month.