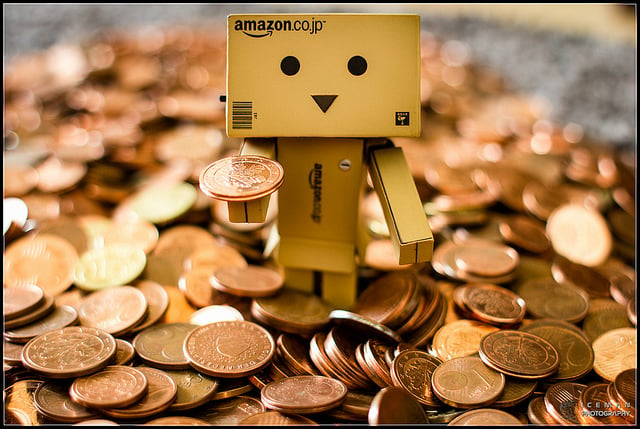 Unless you've been living under a rock or deployed by the Peace Corps to an isolated island somewhere for an extended period of time, you're well aware that Amazon (NASDAQ:AMZN) has its eyes set on world domination. The one-time book-selling website has grown by leaps and bounds over the past decade to become one of the largest companies in the world, and completely change the entire retail industry. The company's effect on the Internet cannot be understated either, as it has pioneered new and efficient ways for consumers to find and purchase goods, as well as for small businesses and entrepreneurs to use its platform as a launching pad.
Amazon has grown to become one of the—if not the only—major competitors that can trade shots with Wal-Mart (NYSE:WMT), while also sending other companies like Best Buy (NYSE:BBY) and Borders hurling towards extinction. How has it been able to do it? By taking the online space over as its own, as opposed to relying on the old brick-and-mortar stores of the past. A quick look at the numbers reveals the staggering potential for online retail. An infographic put together by Havas PR shows that 88 percent of those surveyed made purchases online in the past year, and 74 percent do research online before making a purchase (guess where they go to research and read reviews?).
Not only has the company made waves by announcing plans to do deliveries with airborne robots, but it has also been perfecting its grocery-delivery service, Amazon Fresh for wider deployment across the country. There are also plans to expand into a new local services marketplace in the future, which will pit the company up against home-improvement chains like Lowe's (NYSE:LOW) and Home Depot (NYSE:HD).
It's clear Amazon isn't pulling any punches and has its sights set on competing in any retail markets it can.
So where is Amazon falling short? There is an inherent danger when any company starts to get too big, and fears of monopolization and political power start to take hold. Amazon is starting to draw a lot of comparisons to Wal-Mart, and many of the company's practices have come under fire over the past several years, bringing its reputation down a few notches. Building a giant corporation does take some fancy footwork that could include questionable tactics, but once a company hits a certain level of success, like Amazon has, a time comes in which redesigning its inner-workings to build a more positive workplace is paramount.
Read on to see four areas in which Amazon is causing a big of a public brouhaha, and what the company can do to improve itself.