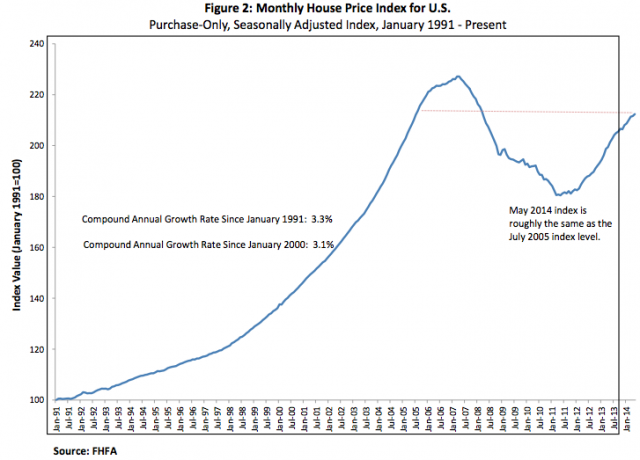 Despite volatile sales and affordability issues, home prices across the nation continue to march toward their previous peak. According to the latest Federal Housing Finance Agency report, home prices increased 0.4 percent on a seasonally adjusted basis in May, compared to the previous month.
As the chart above shows, the index has been making a strong comeback over the past three years. From May 2013 to May 2014, the FHFA index gained 5.5 percent. Home prices are still 6.5 percent below the peak made in April 2007, but they are roughly the same as the July 2005 index level.
The FHFA index is based on single-family homes with mortgages that have been sold to or guaranteed by Fannie Mae or Freddie Mac. The index does not provide specific prices for homes, but the index has not posted a decline in national home prices on a monthly basis all year. In fact, the April index value was revised higher to reflect a 0.1 percent monthly price increase, above the original estimate of no change.