Continuing a well-established trend, fewer Americans filed applications for unemployment benefits last week, according to the Thursday report compiled by the Department of Labor. Dropping by 2,000 to a seasonally adjusted 312,000, jobless claims — which serve as a proxy for layoffs — highlight the fact that emerging unemployment is returning to acceptable levels.
Or, in other words, fewer Americans are being laid off, even if the nation's long-term unemployment level remains elevated. Current jobless claims levels fall within an acceptable range; economists say any claim figure below 350,000 indicates moderate job creation. And according to Moody's Analytics senior economist Ryan Sweet, recent claim figures suggest the United States will "have another decent gain in non-farm payrolls" this month.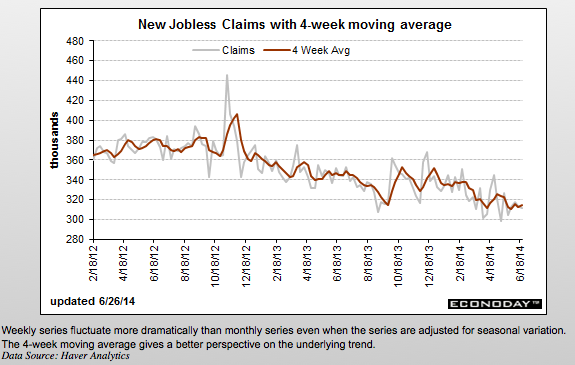 To Barclays economist Cooper Howes, the numbers provided "encouraging evidence of a further improvement in the separations side of the labor market" in the second quarter, after what was a volatile start to 2014. While the long-term trend in jobless claims is one of decline, examining weekly numbers shows progress can be rather uneven. Last month, Americans filed the fewest number of first-time applications for unemployment benefits in seven years, meaning the last time jobless claims — and by association, emerging unemployment — fell so low was before the financial crisis and subsequent recession. But in the following weeks, jobless claims rebounded from the 297,000-claim low, evidence that claims have been unable to stabilize below a weekly rate of 300,000, as RBS Securities economist Omair Sharif recently noted. Claims have not remained at 300,000 consistently since the recession began in late 2007.
Further evidence of volatility was provided by the Labor Department's four-week moving average. Jobless claims provide the first look at the employment situation for any given month, but since the weekly figures can be volatile, economists use the four-week moving average to understand wider trends in employment, which are far more telling of labor market health than weekly readings. While weekly claim numbers dropped, the moving average rose 2,000 to 314,250. And the number of workers continuing to draw unemployment benefits jumped as well, climbing 12,000 to a seasonally adjusted 2.57 million in the week ended June 14. Continuing claims — reported with a one-week lag — have fallen by approximately 400,000 over the past twelve months.
But Thursday's report appears to jar with other economic narratives. While unemployment data released by the Department of Labor shows the healing of the labor market continues its slow progress, new data indicates the United States' first quarter was worse than previously estimated. Wednesday brought the news that the United States economy contracted by a greater percentage than previously estimated. The Department of Commerce's released its second and final revision of gross domestic product — the broadest measure of economic activity — revealing that economic growth in the first quarter had slowed to a 2.9 percent annual rate. And that pace represents the fastest decline in GDP growth since the 5.9-percent drop recorded in first quarter of 2009 — during the Great Recession. At least one economist even termed the quarterly GDP growth "recession-like."