Gold has been weakening over the past several weeks, and, on Tuesday, the bottom seemed to have fallen out of the market. The gold price fell about 2 percent to $1,265/ounce and the Market Vectors Gold Miner ETF (NYSEARCA:GDX) was down nearly 4 percent.
The move in gold was largely the result of data coming out of China showing a substantial decline in gold imports in April year over year from 76 tonnes to 65 tonnes. On a longer timeline this decline is hardly noticeable, as the 65-tonne statistic is several times greater than the numbers that were being reported just a few years ago, as the following chart illustrates.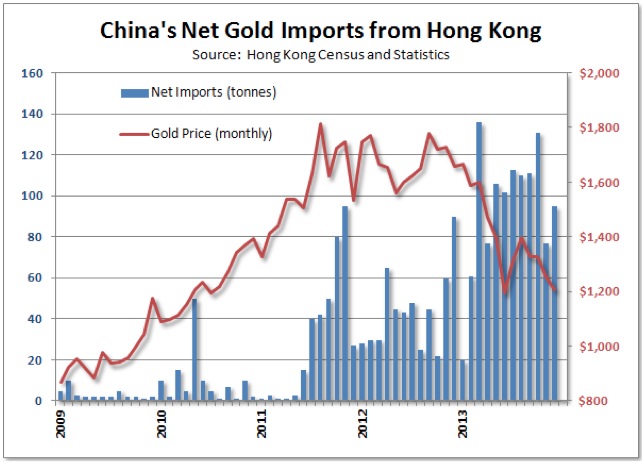 As you can see April gold buying hardly makes a blip on this chart in the years prior to 2012. So in this context one can see that net gold imports are up. Think of it this way: If you buy a stock at $5/share and it rises to $80/share, and then it falls to $65/share do you whine about the $15/share you've lost or rejoice in the thirteen-fold gain in your investment? If you look at some of the media headlines you get a rather bearish picture:
But the above chart tells a different story — gold demand is rising quite rapidly, although it is not rising in a straight line.