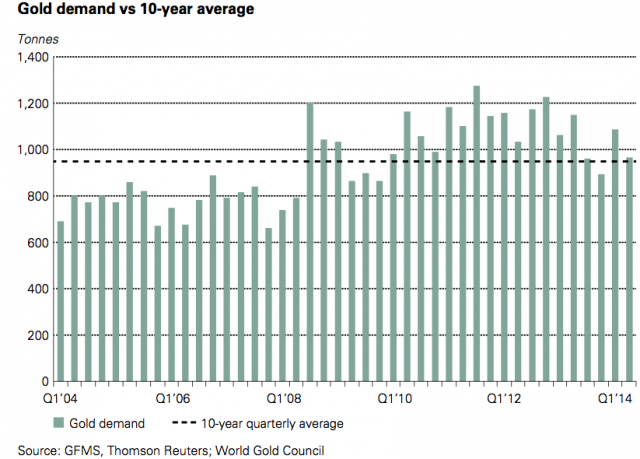 Gold is perhaps the most controversial asset in the market. The precious metal recently enjoyed more than a decade of annual gains and was considered a safe haven during much of the financial crisis, but broke its winning streak last year in spectacular fashion. A debate remains on how strong gold will perform in the wake of unprecedented central bank actions. However, one thing is clear: Gold demand is looking quite average these days.
In the second quarter, gold demand totaled 964 tonnes, down 16 percent from 1,148.3 tonnes in the same quarter a year earlier, according to a new report from the World Gold Council. That is below the average of 1,062.6 tonnes seen over the past five years, but inline with the ten-year average. Sharp declines in the consumer segments hindered total gold demand.
"The second quarter saw a continuation of many of the factors that were in play during Q1: the huge stockpiling of gold that took place in Asian markets during 2013 was still, to some extent, being digested; the election and import restrictions forestalled Indian consumers; bar and coin investors continue to sit on the sidelines; while jewelry consumers in the US and UK were further encouraged by improving economic conditions," explains the report.