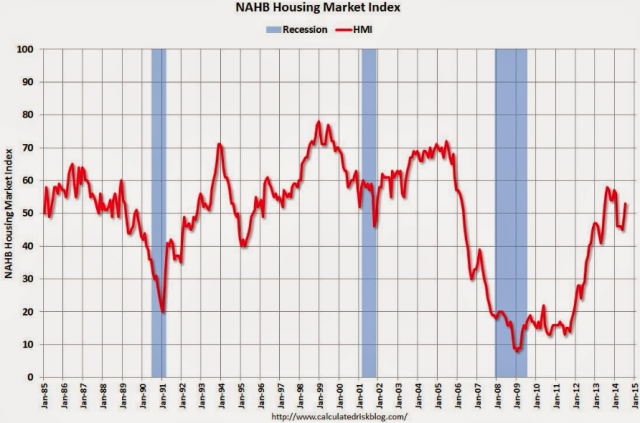 While many consumers and analysts have doubts about the housing market this year, homebuilder sentiment reached an important milestone in July.
The National Association of HomeBuilders/Wells Fargo's index of builder confidence jumped 4 points to reach 53 this month, compared to 49 in June. After a few rough months earlier this year, builder confidence is now above 50 for the first time since January.
The results were better than expected. On average, economists expected the index to only reach 50 in July. Any reading above 50 indicates that builders in general hold a positive view on sales conditions. In the five years before the Great Recession, the index averaged 54 and hit an all-time low of 8 in early 2009. Prior to July's reading, the index had been below 50 for five consecutive months.
"An improving job market goes hand-in-hand with a rise in builder confidence," said NAHB chief economist David Crowe in a press release. "As employment increases and those with jobs feel more secure about their own economic situation, they are more likely to feel comfortable about buying a home."