Why Is Last Week's Increase in Jobless Claims Not Concerning?
The Department of Labor's Thursday jobless claims report broke the downward trend in emerging unemployment, which over recent months has dropped near pre-recession lows. In the week ended August 9, 311,000 Americans filed initial applications for unemployment benefits — a 21,000-claim increase from the previous week's upwardly revised 290,000 claims. That jump was the largest recorded since late June and surpassed economists' expectations. Now applications remain only slightly below the 329,000 new claims filed a year ago.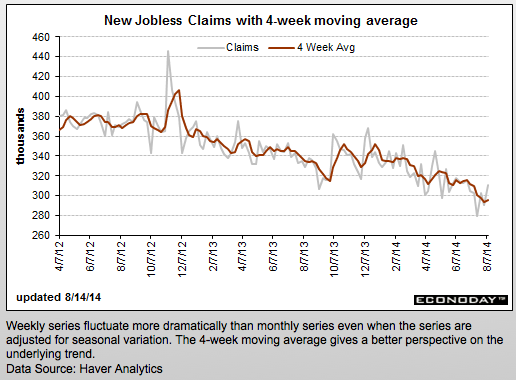 Still, the modest uptick in jobless claims is not surprising. Generally, during the month of July, automobile factories shut down to retool for new makes and models. However, this year, automobile production went into overdrive, meaning fewer than usual automobile factory workers were temporarily without employment. That pushed seasonally adjusted unemployment figures lower last month. At the time, Moody's Analytics economist Ryan Sweet cautioned in an interview with Bloomberg that the "last couple weeks' data has been too good to be true." Now that seasonal patterns have normalized, claims have ticked up on a weekly basis. As Millan Mulraine of TD Securities accurately predicted to the publication ahead of the Labor Department's report, "We'll probably see a bit of a give back from the sharp drop we've seen in the weeks before." Still, Mulraine, and a number of other economists, believe "the underlying story on claims remains the same — it's one that's fairly constructive and one that's pointing to a labor market that's finally, I would think, having lift-off."
Jobless claims — which serves as a proxy for layoffs — fit within the strong recovery narrative crafted by job creation in the past several months. Although job creation was lower than in the previous several months, July saw solid growth. Employers added 209,000 jobs, meaning July was the sixth consecutive month in which job creation surpassed the key benchmark level of 200,000. As recent jobless claims numbers prove, emerging unemployment, as compared to long-term unemployment, is returning to acceptable levels. Or, in other words, fewer Americans are being laid off, even if long-term unemployment remains elevated and the labor force participation rate stands near record lows. Those are the dual concerns of Federal Reserve Chair Janet Yellen.