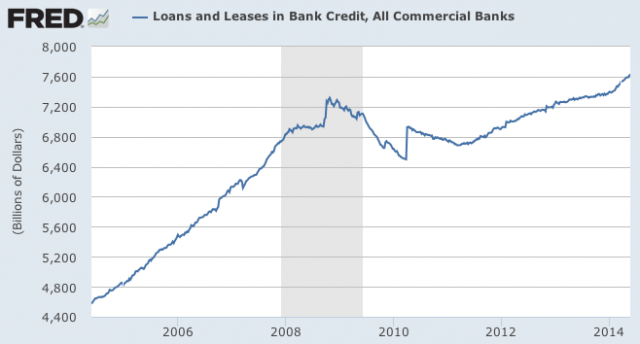 Deleveraging, we hardly knew you. The Great Recession greeted the nation with one of the worst job markets in history and a crippling blow to household wealth. Millions of Americans were forced to reduce their budgets along with their artificially high standard of living. However, after more than five years of slowly repairing their finances, Americans are leveraging up personal balance sheets again.
The Federal Reserve's latest Beige Book — an economic survey from the central bank's twelve districts — confirmed many recent statistics: borrowing and bank lending are on the rise. All districts reporting on banking noted that lending activity increased in recent months. Loan demand was described as "strong" in New York and San Francisco, while "more modest growth" was reported in Philadelphia, Richmond, Chicago, St. Louis, Kansas City, and Dallas.
While a rebound in lending and consumer debt is typically seen as a positive sign of economic confidence, too much debt can be disastrous and lead to longer term problems. Unfortunately, there are some alarming borrowing trends in the economy. According to the Federal Reserve, outstanding household debt totaled $11.65 trillion in the first-quarter, up $129 billion from the previous quarter. In fact, household debt has now increased for three consecutive quarters and is only 8.1 percent below the peak of $12.68 trillion made in 2008. In April, consumer credit surged at its fastest pace since July 2011.