With shares of General Motors (NYSE:GM) trading around $37, is GM an OUTPERFORM, WAIT AND SEE, or STAY AWAY? Let's analyze the stock with the relevant sections of our CHEAT SHEET investing framework:
T = Trends for a Stock's Movement
General Motors designs, manufactures, and markets cars, crossovers, trucks, and automobile parts worldwide. The company markets its vehicles primarily under the Buick, Cadillac, Chevrolet, GMC, Opel, Holden, and Vauxhall brand names, as well as under the Alpheon, Jiefang, Baojun, and Wuling brand names. It sells cars and trucks to dealers for consumer retail sales, as well as to fleet customers in daily rental car companies, commercial fleet customers, leasing companies, and governments.
General Motors has been busy crunching its numbers from throughout the first six months of the year from around the world, and the results are in. Global sales, including the company's international subdivisions and joint ventures, are up 0.5 percent over the same six months of 2013, to 4.92 million vehicles. In North America, the figure stood at 2.51 million. Impressively, GM was able to keep its sales above water even as it initiated the recalls for nearly 30 million vehicles. That's not just a company record — that's more than the entire automotive industry initiated in all 12 months of last year. "GM did well in the world's two largest and most profitable vehicle markets and that helped us grow despite very challenging market conditions in parts of South America, Asia and Eastern Europe," CEO Mary Barra said in the company's statement. U.S. sales rose 6.7 percent during the second quarter, greatly contributing to a North American gain of 5.6 percent. Along with China's sales gains, General Motors' sales stayed positive despite declines in Brazil (down 8.6 percent) and European economic powerhouse Germany (down 0.5 percent.)
However, rival Volkswagen (VLKAY.PK) also said this month that global sales, excluding trucks, increased 5.9 percent to 4.97 million in the first half of the year, Bloomberg reports. The two companies have been dueling for the No. 2 slot behind Toyota (NYSE:TM). Both VW and Toyota have projected that they'll sell around 10 million units this year. Notably, Volkswagen's results exclude the results from its MAN SE and Scania AB heavy-truck divisions. While GM's sales in China rose 11 percent, Volkswagen's rose 18 percent. Last year, the German company outsold General Motors in China for the first time in nine years, with 1.8 million vehicles to GM's 1.73 million. Chevrolet had a particularly difficult period, as sales fell off 5.2 percent. Opel and Vauxhall, which have had a tough run since the recession, grew by 3.7 percent, and Cadillac contributed with 11.7 percent. Buick soared 12.3, and other brands — including regional joint ventures — grew 8.6 percent. "We are investing in our brands around the world to keep our momentum going, and that includes growing Cadillac in China, launching a total of 27 new Opel models between 2014 and 2018 and entering new segments in North America with vehicles like the Chevrolet Colorado and GMC Canyon," Barra said.
T = Technicals on the Stock Chart are Mixed
General Motors stock has struggled to make positive progress. The stock is currently pulling back and may need time to consolidate. Analyzing the price trend and its strength can be done using key simple moving averages. What are the key moving averages? The 50-day (pink), 100-day (blue), and 200-day (yellow) simple moving averages. As seen in the daily price chart below, General Motors is trading above its rising key averages which signal neutral to bullish price action in the near-term.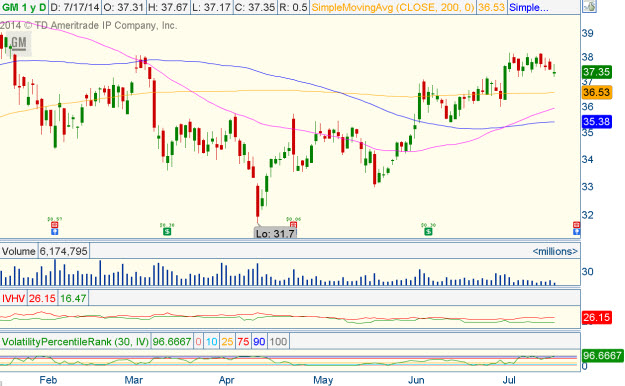 (Source: Thinkorswim)
Taking a look at the implied volatility (red) and implied volatility skew levels of General Motors options may help determine if investors are bullish, neutral, or bearish.
| | | | |
| --- | --- | --- | --- |
| | Implied Volatility (IV) | 30-Day IV Percentile | 90-Day IV Percentile |
| General Motors options | 26.15% | 96% | 94% |
What does this mean? This means that investors or traders are buying a very significant amount of call and put options contracts, as compared to the last 30 and 90 trading days.
| | | |
| --- | --- | --- |
| | Put IV Skew | Call IV Skew |
| August Options | Flat | Average |
| September Options | Flat | Average |
As of today, there is an average demand from call buyers or sellers and low demand by put buyers or high demand by put sellers, all neutral to bullish over the next two months. To summarize, investors are buying a very significant amount of call and put option contracts and are leaning neutral to bullish over the next two months.
On the next page, let's take a look at the earnings and revenue growth rates and the conclusion.
E = Earnings Are Mixed Quarter-Over-Quarter
Rising stock prices are often strongly correlated with rising earnings and revenue growth rates. Also, the last four quarterly earnings announcement reactions help gauge investor sentiment on General Motors stock. What do the last four quarterly earnings and revenue growth (Y-O-Y) figures for General Motors look like and more importantly, how did the markets like these numbers?
| | | | | |
| --- | --- | --- | --- | --- |
| | 2014 Q1 | 2013 Q4 | 2013 Q3 | 2013 Q2 |
| Earnings Growth (Y-O-Y) | -89.66% | 5.56% | -49.44% | -16.67% |
| Revenue Growth (Y-O-Y) | 1.44% | 3.05% | 3.72% | 3.88% |
| Earnings Reaction | -0.63% | -0.02% | 3.24% | -1.1% |
General Motors has seen decreasing earnings and increasing revenue figures over the last four quarters. From these numbers, the markets have been pleased with General Motors recent earnings announcements.
P = Weak Relative Performance Versus Peers and Sector
How has General Motors stock done relative to its peers, Ford Motor (NYSE:F), Toyota Motor (NYSE:TM), Tesla Motors (NASDAQ:TSLA), and sector?
| | | | | | |
| --- | --- | --- | --- | --- | --- |
| | General Motors | Ford Motor | Toyota Motor | Tesla Motors | Sector |
| Year-to-Date Return | -8.28% | 15.35% | -2.27% | 44.35% | 2.60% |
General Motors has been a poor relative performer, year-to-date.
Conclusion
General Motors continues to change its business as it looks to entice companies and consumers with its new and improved vehicles. The stock has struggled to make positive progress and is currently pulling back. Over the last four quarters, earnings have been decreasing while revenues have been increasing, which has left investors pleased. Relative to its peers and sector, General Motors has been a poor year-to-date performer. WAIT AND SEE what General Motors does this quarter.
More From Wall St. Cheat Sheet: