The improvement in emerging unemployment "has been substantial," Pantheon Macroeconomics chief economist Ian Shepherdson told The Wall Street Journal following the release of the Department of Labor's weekly jobless claims report on Thursday. Initial applications for jobless benefits decreased for a second consecutive week, giving analysts another piece of evidence of labor market improvement.
The number of Americans filing first-time jobless claims decreased by 3,000 to a seasonally adjusted 302,000 in the week ended July 12. That drop put jobless claims well below the 310,000 new claims expected by analysts and close to an annual low. Last week's jobless figures represent the second lowest number filed in 2014.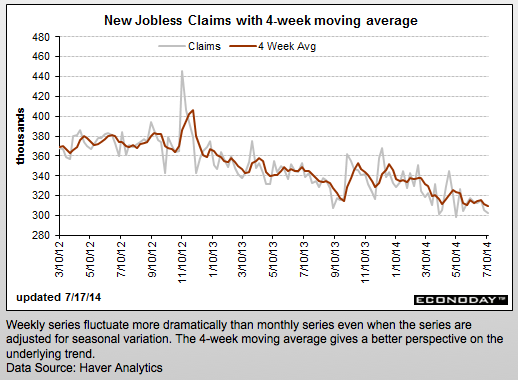 Jobless claims, which serve as a proxy for layoffs, are once again trending near a seven-year low. Before the Great Recession, weekly applications for unemployment benefits averaged approximately 320,000 due to the normal churn of the labor market, and for a majority of 2014, claims have fallen near that level. Declining jobless claims highlight the fact that emerging unemployment is returning to acceptable levels.
In other words, fewer Americans are being laid off, even if the nation's long-term unemployment level remains elevated and employers still do not have the confidence to significantly boost hiring. But while jobless claims have never stabilized below the key benchmark level of 300,000, the generally downward course charted by application numbers is evidence of ongoing healing in the labor market.
What is also encouraging about last week's jobless claim numbers in particular is that emerging unemployment traditionally grows at this time of year as auto manufacturing slows. Generally, American automakers halt production at several factories in the first half of July in preparation for new model year changeovers.