15-Minute Winter Appetizer: Creamy Black Bean Dip
Inviting some pals over to hang out can quickly turn stressful when you realize they're going to expect some food. Before you reach for your phone to order delivery, take a few deep breaths. Homemade eats don't have to be difficult. With original recipes from our Everyday Appetizers series, you can pull off showstopping starters without losing your cool. 
Appetizers made with canned beans are among the fastest and easiest recipes you can make, perfect for an afternoon spent hanging out with your closest pals. You could make hummus, but why? Everyone is probably either sick to death of it or already has a container of the spread in their fridge at home. Besides, winter calls for something hot. With just a bit of cooking, a warming bowl of black bean dip can be on this Saturday's menu in no time.
About this recipe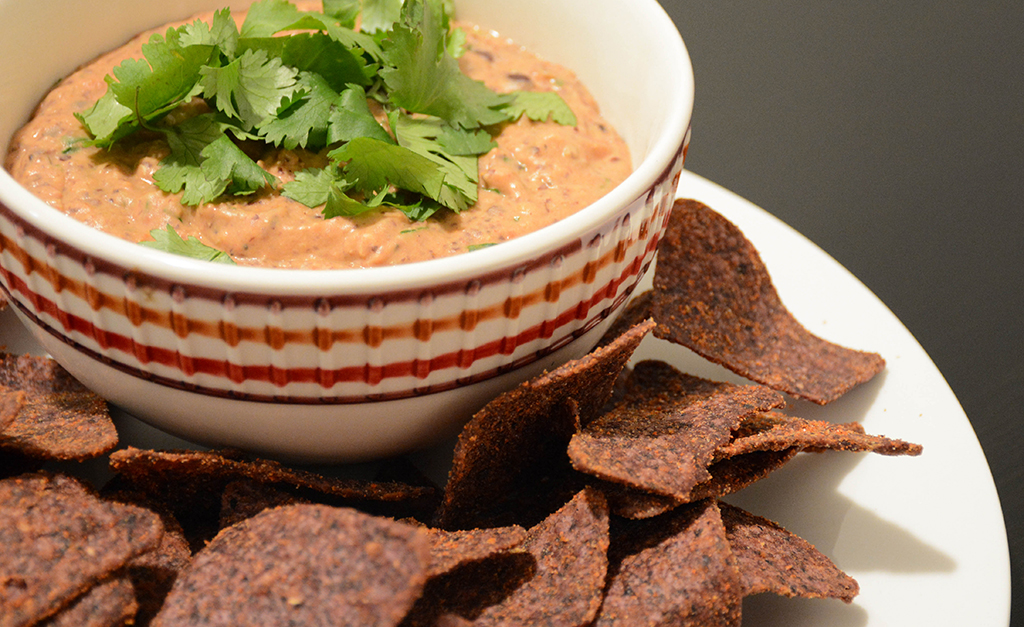 A lot of bean dips can taste a little on the health food side of things, often because they're extremely low in fat. We're all for eating well, but not at the expense of great flavor. Using bold-tasting fire-roasted tomatoes, lime juice, and cumin gives this recipe plenty of flavor, though the real secret is a little bit of cream cheese. It gives this dip just enough richness and creates a luxurious texture.
This recipe starts by sweating some onions until softened, then adding the garlic a bit later so it doesn't burn. You also toss in the cumin and serrano at this point to help infuse the flavor into the oil and, eventually, the entire dip. The tomatoes go in next. We went with a fire-roasted variety, which means they were charred before going through the canning process. It gives them a slightly smoky, more complex flavor than basic canned tomatoes, but regular canned tomatoes will work if you can't find this specific type.
Next, add the black beans and cook just until everything is heated through. The beans are already fully cooked, so this goes pretty fast. Purée about two-thirds of the mixture with a splash or two of water; a miniature food processor works best for this. If you don't have one, add the bean mixture to a small bowl and mash it with a fork until it's as smooth as you can get it.
After either method, mix the purée back into the same pot, add the cream cheese, and stir until it's completely melted into the dip. If you need to keep this recipe vegan for one of your friends, you can obviously leave out the cream cheese. Instead of serving as is, though, add another glug of two of olive oil. It'll help give the dish the same sort of richness as the cheese. Finish with a squeeze of lime juice and some fresh cilantro, then it's time to eat. You can serve this dip with any of your favorite dunkers. We're partial to tortilla chips.
Since this dip tastes rather rich, the best beers to pair with it are ones that will refresh your palate. Serious Eats suggested hefeweizen with 7-layer dip, and the pairing will work just as well here. Pilsner is another good choice. Just avoid anything too dark or bitter.
Red wine drinkers should stay away from anything terribly tannic when eating black beans. The Kitchn suggested going for a fruity Zinfandel. If white is more your style, the same article recommended Chenin Blanc with just a bit of sweetness. Follow the fruit-forward theme for cocktails as well. Winter is citrus season, so try a margarita made with blood oranges.
Creamy Black Bean Dip
This dip can easily be made in advance. Once cooled, store it in a covered container in the fridge. Reheat the dip in a saucepan set over medium-low heat, stirring occasionally, until it's heated through. This recipe will serve 4 to 6 people.
Ingredients:
1 tablespoon olive oil
¼ yellow onion, diced
Salt
1 garlic clove, mined
1 serrano chile, minced
½ teaspoon cumin
½ (14.5-ounce) can fire-roasted tomatoes
1 (15-ounce) can black beans, rinsed and drained
3 ounces cream cheese, cut into cubes
1 tablespoon lime juice
3 tablespoons chopped fresh cilantro
Crudités, crackers, or tortilla chips
Directions: Heat oil over medium-high heat in a medium saucepan. Add onion and season with salt. Cook, stirring, until softened, about 3 to 4 minutes. Stir in garlic, cumin, and serrano and continue to cook, stirring, until fragrant, about 1 minute. Stir in tomatoes and simmer for 2 minutes, mashing slightly with a wooden spoon.
Stir in beans and cook just until warmed through, about 1 minute. Transfer two-thirds of the mixture to a small food processor and add a few splashes of water. Purée until smooth, then stir back into the saucepan. Add cream cheese and stir until melted, about 1 minute. Thin with additional water, if needed. Stir in lime juice and cilantro. Taste and season with salt. Serve with veggies, crackers, or tortilla chips.
See you back here next week.
More from Culture Cheat Sheet: