5 Delicious Asparagus Recipes for Spring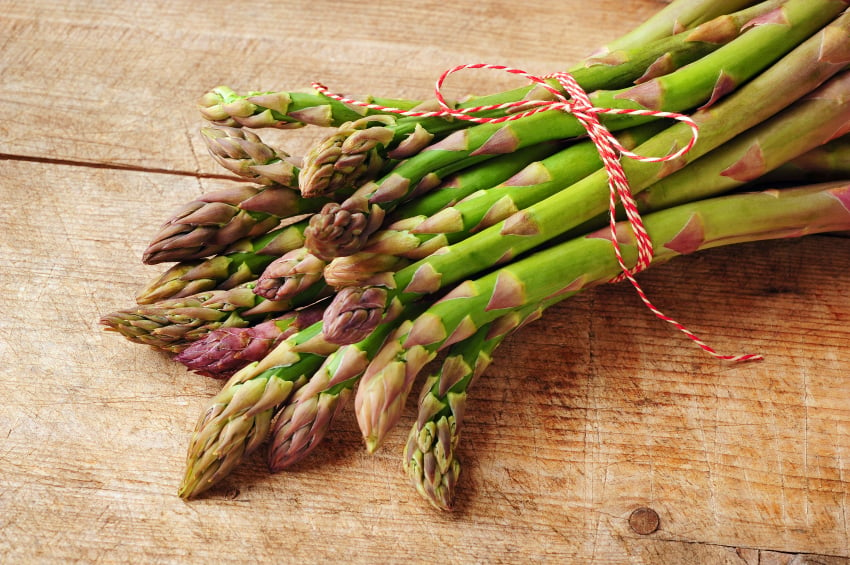 Nothing says springtime quite like a fresh bunch of asparagus. Though imports make it possible to eat asparagus during most times of year, it's always best when picked in its peak season, shipped directly to your local grocery store or farmer's market, and ready for your dinner table. We know we should be eating our greens like kale, broccoli, and more, but sometimes it can be difficult to get more creative than steamed vegetables.
But if steaming isn't your style, there's still plenty of ways to prepare asparagus to welcome the spring season – and plenty of reasons to find a new favorite. Asparagus contains a significant amount of glutathione, which Eating Well says is a detoxifying compound that can help to break down carcinogens and other harmful compounds in the body.
On top of that, asparagus contains antioxidants and is high in folic acid. It also contains potassium, fiber, and vitamins A, B6, and C. Regardless of whether you eat asparagus for the health benefits or simply to enjoy fresh foods and spring again, here's a few recipe ideas to switch up your veggie routine.
1. Cream of Asparagus Soup
Fresh asparagus might welcome spring, but that doesn't mean winter doesn't keep its grip on part of the season with occasional chilly nights. For those colder evenings, incorporate asparagus into a warm soup that will keep the chill at bay while also brightening your palate with fresh flavors. This cream of asparagus soup from Epicurious combines the vegetable with savory flavors for a creamy, hearty meal, with a touch of lemon to retain the freshness you're looking for.
Ingredients:
2 pounds green asparagus
1 large onion, chopped
3 tablespoons unsalted butter
5 to 6 cups chicken broth
½ cup crème fraîche or heavy cream
¼ teaspoon fresh lemon juice, or to taste
Directions: Cut tips from 12 asparagus 1½ inches from top and halve tips lengthwise if thick. Reserve for garnish.
Cut stalks and all remaining asparagus into ½-inch pieces. Cook onion in 2 tablespoons butter in a 4-quart heavy pot over moderately low heat, stirring, until softened. Add asparagus pieces and salt and pepper to taste, then cook, stirring, 5 minutes. Add 5 cups broth and simmer, covered, until asparagus is very tender, 15 to 20 minutes.
While soup simmers, cook reserved asparagus tips in boiling salted water until just tender, 3 to 4 minutes, then drain.
Purée soup in batches in a blender until smooth, transferring to a bowl (use caution when blending hot liquids), and return to pan. Stir in crème fraîche, then add more broth to thin soup to desired consistency. Season with salt and pepper. Bring soup to a boil and whisk in remaining tablespoon butter.
Add lemon juice and garnish with asparagus tips.
2. Raw Asparagus Caesar Salad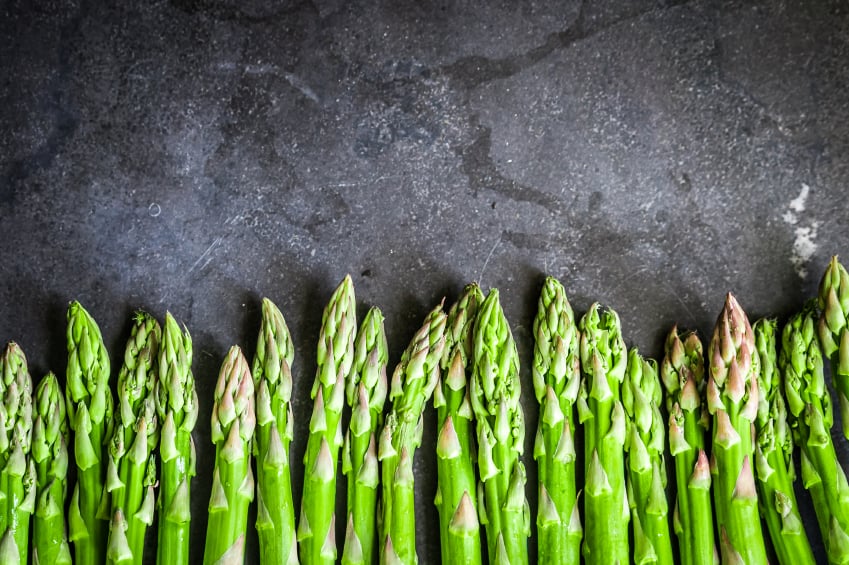 If you prefer the caesar salad flavors without the lettuce that comes with it, try this rebooted version of a salad, which skips the romaine and substitutes asparagus spears instead. This recipe from Serious Eats uses a completely raw form of the vegetable and creates a caesar dressing from scratch. Those fresh flavors, plus a fresh grating of parmesan cheese over the top, will definitely put spring in your step. (If you're wary about eating raw asparagus, you could also try blanching it first; though it might take out a bit of the crispness the raw version will have.)
Ingredients:
2 bunches (or about 2 pounds) pencil-thin asparagus, tough ends trimmed and chopped into ½-inch pieces
1 tablespoon mayonnaise
1 ½ tablespoons red wine vinegar
2 tablespoons freshly squeezed lemon juice, from 1 lemon
2 garlic cloves, roughly chopped
1 teaspoon Dijon mustard
1 teaspoon Worcestershire sauce
1 teaspoon anchovy paste (or 1 anchovy filet)
6 tablespoons extra virgin olive oil
Kosher salt and freshly ground black pepper
½ cup freshly grated Parmigiano-Reggiano
Directions: Combine mayonnaise, red wine vinegar, lemon juice, garlic, Dijon mustard, Worcestershire sauce, and anchovy paste in a blender. Blend until smooth, then transfer to a medium bowl. Whisking constantly, add the olive oil in a thin, steady stream until mixed together well. Season to taste with salt and pepper.
In a medium bowl, toss the asparagus with the dressing. Transfer to a serving platter and top with the grated Parmigiano-Reggiano.
3. Roasted Asparagus Wrapped in Prosciutto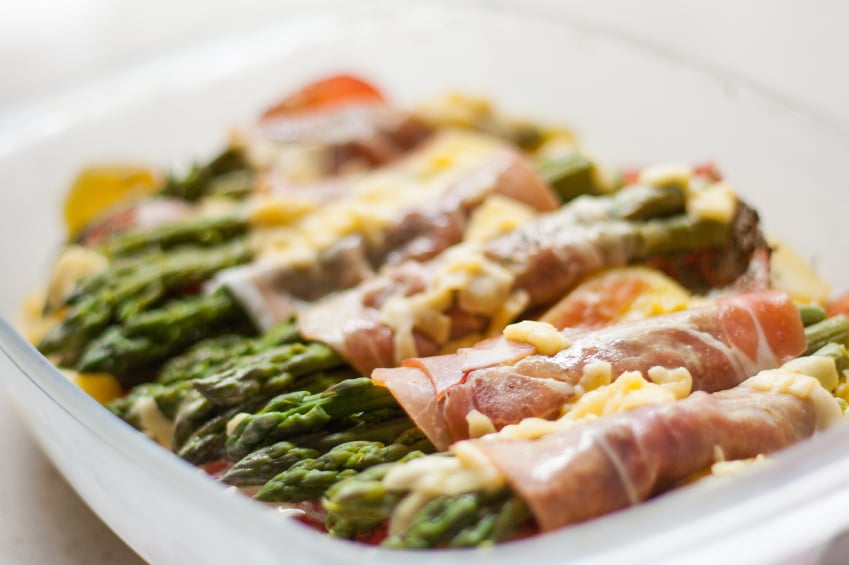 If you're looking for a classy appetizer or simply a delicious snack, look no further than these easy asparagus spears, roasted and then wrapped in prosciutto. The cured ham adds a savory, salty component, and ups the presentation when it's wrapped around the spears. Giada De Laurentiis supplied this recipe to try on Food.com.
A note about asparagus: You can get rid of the woody ends that have dried since the asparagus was harvested by cutting them, but you can also simply snap them off near the bottom, as De Laurentiis suggests in this recipe. Either way, you and your guests will be glad to remember you did.
Ingredients:
1 pound asparagus (about 19 stalks), trimmed
1 tablespoon olive oil
Salt and freshly ground black pepper
6 to 8 paper-thin slices prosciutto, halved lengthwise
Directions: Preheat the oven to 400 degrees Fahrenheit.
Snap the dry stem ends off of each asparagus and place on a heavy baking sheet. Drizzle with olive oil, sprinkle with salt and pepper, and toss. Roast until the asparagus is tender, about 15 minutes. Cool completely.
Wrap each asparagus with 1 piece (about ½ a slice) of prosciutto, exposing tips. Arrange on a platter and serve at room temperature.
4. Asparagus and Lemon Risotto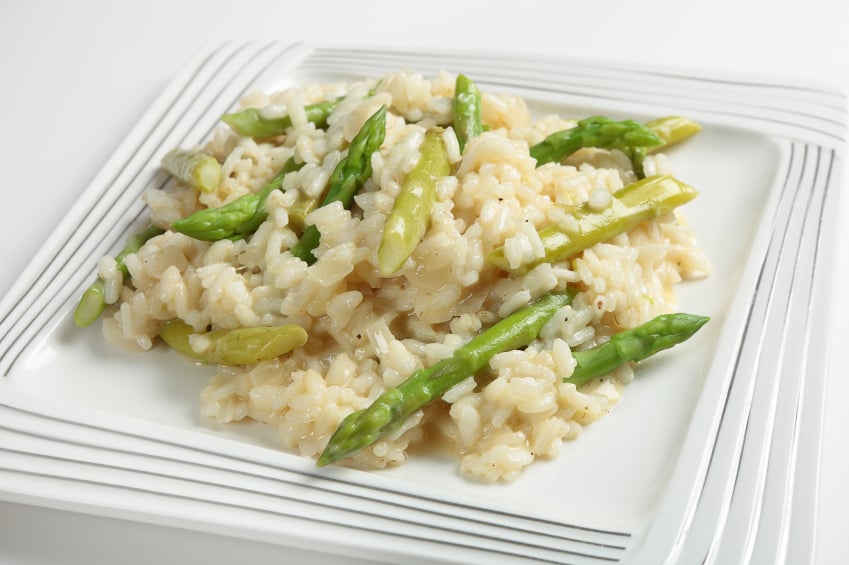 If you haven't noticed already, many asparagus recipes rely on flavors like lemon to bring out freshness, and Parmesan to amp up the savory components. In this dish, they blend together in a risotto that promises to be fresh, but also luxurious. Risottos get a bad rap for being difficult to prepare, but this recipe from Martha Stewart gives you step-by-step directions with a simple list of ingredients. Provided you purchase the correct type of rice and you warm the stock as directed, there's never been a better time to give this classic dish a try. (And if homemade stocks aren't your thing, don't fret about using a quality store-bought version.) You won't get overwhelmed, but you will impress any dinner guests you have.
Ingredients:
6 cups vegetable stock, preferably homemade
¼ cup olive oil
1 small onion, finely chopped
1 cup Arborio or Carnaroli rice
½ cup dry white wine
1 bunch asparagus, trimmed, stalks cut into 2-inch lengths
1 cup thawed frozen peas
1 teaspoon grated lemon zest, plus more for garnish
2 tablespoons fresh lemon juice
1 cup chopped fresh flat-leaf parsley leaves
½ cup finely grated Parmigiano-Reggiano, plus more for serving
Coarse salt and freshly ground pepper
Directions: Bring stock to a simmer in a medium saucepan.
Heat 2 tablespoons oil over medium heat in another saucepan. Cook onion, stirring frequently, until soft, 6 to 7 minutes. Add rice, cook, stirring, until edges are translucent, 2 to 3 minutes. Add wine; cook, stirring frequently, just until evaporated.
Add ½ cup hot stock; cook, stirring, until almost absorbed. Continue adding ½ cup stock in this manner until liquid is creamy and rice is al dente, about 20 minutes total (you may not need to add all the stock). Add asparagus with the last addition of stock, and the peas about 1 minute before risotto is done.
Remove from heat; stir in lemon zest and juice, parsley, cheese, and remaining 2 tablespoons oil. Season with salt and pepper. Serve immediately with additional cheese and lemon zest.
5. Asparagus, Leek, and Bacon Quiche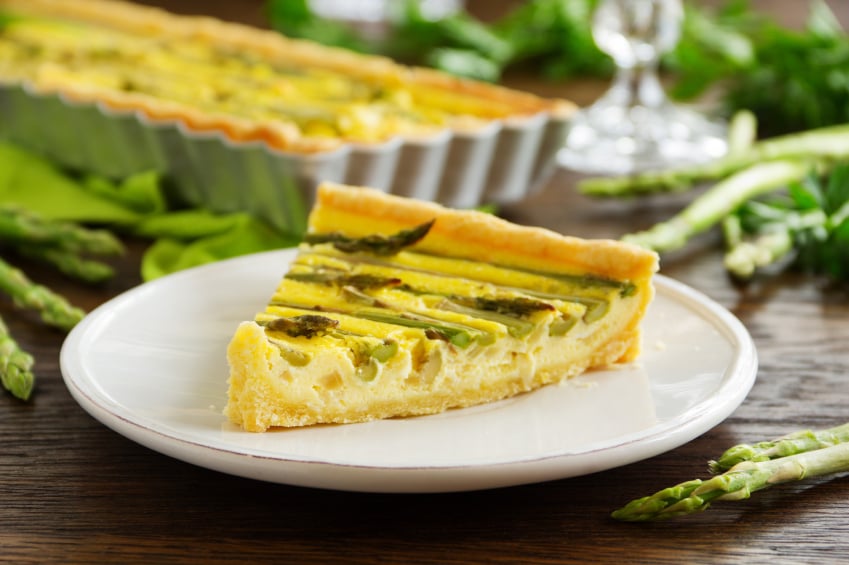 You might think of quiches as strictly brunch food, but that doesn't mean it's the only time you can have it. You can make it ahead for yourself and have it reheated anytime, for a quick breakfast within minutes, packing in protein and nutrients your cereal can't match. Plus, using a pre-made pie crust makes this easy to prepare. Also, there's bacon. What's not to love? Try this quiche recipe from PBS, and enjoy "breakfast" at any time of day. This recipe is served once it is cooled, so it's best to prepare at least an hour in advance.
Ingredients:
1 unbaked 9-inch pie-crust
6 ounces asparagus, ends trimmed off
1 leek
3 slices bacon
3 eggs
5 ounces freshly grated Monterey Jack cheese
1 cup milk
¼ teaspoon salt
¼ teaspoon pepper
Directions: Preheat oven to 350 degrees.
Bring a large pot of water to a boil on the stove. Once boiling, drop in the asparagus and quickly blanch for 30 seconds until bright green. Quickly drain water and run cold water over asparagus to stop the cooking process. Set aside to cool.
Fry bacon crisp in a cast iron skillet (or another frying pan if you don't have cast iron) over low/medium heat. Once crisp, remove from heat and set the bacon to drain on paper towels, but do not toss the bacon grease. Crumble or chop bacon once cool.
Thoroughly wash the leek under cold running water. PBS suggests peeling off the first two layers and letting water run all through (dirt often stays trapped here so it's important to get a good wash). After washing, thinly slice the white part only of the leek.
Reheat your bacon-greased skillet over medium high heat then drop in the thinly sliced leek. Sauté for about five minutes, until leek is soft and translucent. Remove from heat.
In a medium bowl, whisk together the eggs, milk, salt, pepper, crumbled bacon, and sautéed leeks. Prick crust all over with a fork, then sprinkle evenly with the cheese. Pour the milk and eggs mixture over the cheese.
Slice the blanched asparagus into 1 ½-inch pieces on an angle and scatter over the cheese in the unbaked pie crust.
Carefully place filled quiche on a sheet tray and into the oven for 1 hour. After 1 hour, the quiche should be puffy and golden. Let cool completely before slicing.
Follow Nikelle on Twitter and Facebook
More from Culture Cheat Sheet: