5 Recipes Every Man Should Master in His 20s
Cooking doesn't have to be hard, though some people like to make it look like it is. In reality, making yourself a delicious and wholesome meal doesn't require MasterChef-worthy skills. You just need to have a good grasp of some basic kitchen techniques and a working knowledge of a few versatile recipes. Once you have a few go-to dishes in your repertoire, you'll always be able to feed yourself when your stomach is rumbling. If you're more ambitious, you can also build on these recipes to make even more elaborate meals.
Here are five recipes every guy should know how to make before he turns 30.
1. Classic Marinara Sauce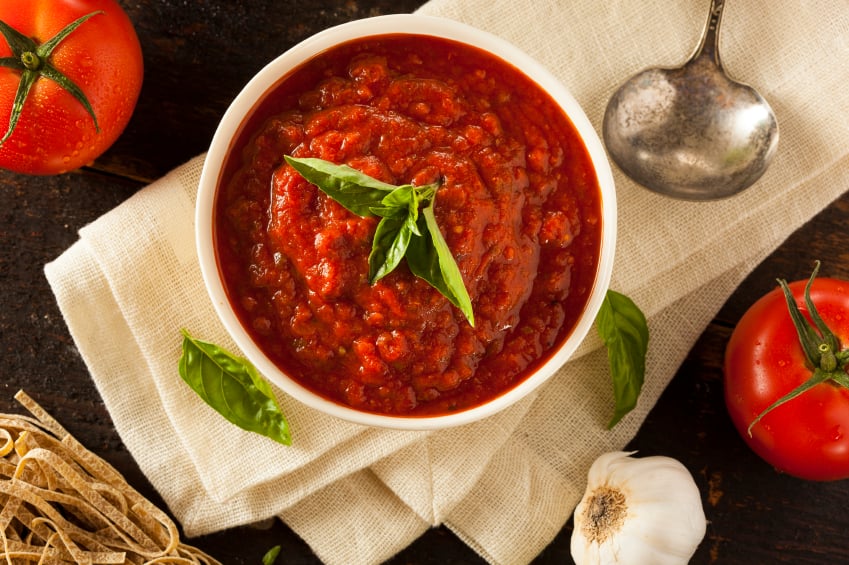 Skip the jarred stuff, and teach yourself how to make a simple marinara sauce. Once you've mastered this recipe you'll be able to use it in dozens of dishes, like simple spaghetti and sauce, lasagna, stuffed peppers, and even soup. You need just six pantry staples and about 30 minutes to make this dish. Recipe from The New York Times.
Ingredients:
1 (28-ounce) can whole San Marzano tomatoes
¼ cup extra-virgin olive oil
7 garlic cloves, peeled and slivered
Small dried whole chile, or pinch crushed red pepper flakes
1 teaspoon kosher salt
1 large fresh basil sprig or ¼ teaspoon dried oregano, more to taste
Directions: Pour tomatoes into a large bowl and crush with your hands. Pour 1 cup water into can and slosh it around to get tomato juices. Reserve.
In a large skillet (do not use a deep pot) over medium heat, heat the oil. When it is hot, add garlic. As soon as garlic is sizzling (do not let it brown), add the tomatoes, then the reserved tomato water. Add whole chile or red pepper flakes, oregano (if using), and salt. Stir.
Place basil sprig, including stem, on the surface. Let it wilt, then submerge in sauce. Simmer sauce until thickened and oil on surface is a deep orange, about 15 minutes. (If using oregano, taste sauce after 10 minutes of simmering, adding more salt and oregano as needed.) Discard basil and chile (if using). Serve.
2. Simple Roast Chicken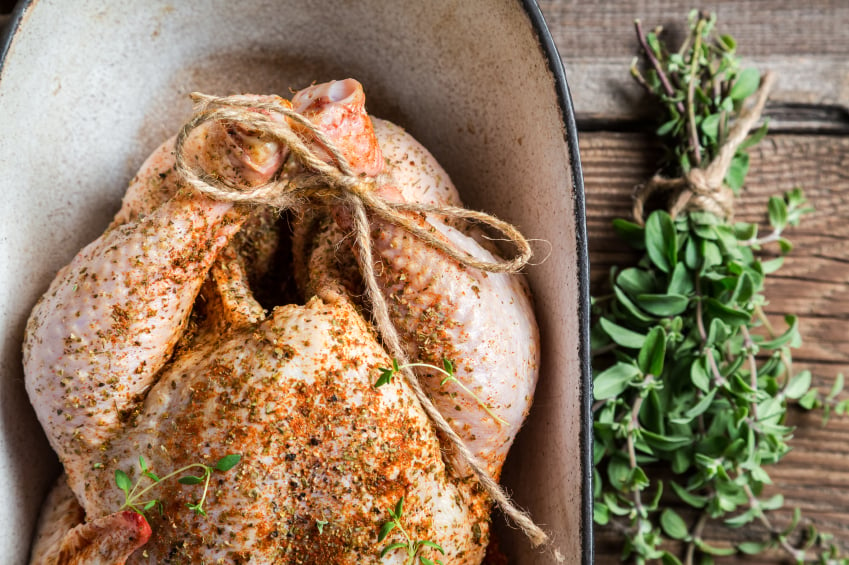 You can buy a precooked whole chicken at almost any grocery store, but you won't want to once you realize how easy it is to make your own at home. A succulent roasted bird can stand on its own as your main entrée, or you can use the meat to make chicken salad, soup, curry or jambalaya, or any other dish calling for cooked chicken. Once you've picked the carcass clean, use the bones to make a stock. Recipe from chef Thomas Keller via Epicurious.
Ingredients:
1 (2- to 3-pound) chicken, preferably farm-raised
Kosher salt
Freshly ground black pepper
2 teaspoons minced thyme (optional)
Unsalted butter
Dijon mustard
Directions: Preheat the oven to 450 degrees Fahrenheit. Rinse the chicken, then thoroughly dry it with paper towels, inside and out.
Salt and pepper the cavity, then truss the bird. Generously salt the chicken (use about 1 tablespoon and make sure the coating is uniform). Season to taste with pepper.
Place the chicken in a sauté pan or roasting pan and transfer to the oven. Roast for 50 to 60 minutes. Remove it from the oven and add the thyme, if using, to the pan. Baste the chicken with the juices and thyme and let it rest for 15 minutes on a cutting board.
Remove the twine. Separate the middle wing joint and eat immediately, if you wish. Remove the legs and thighs. Cut the breast down the middle and serve it on the bone, with one wing joint still attached to each. Slather the meat with fresh butter. Serve with mustard on the side and a simple green salad, if you like.
3. No-Fuss Hamburger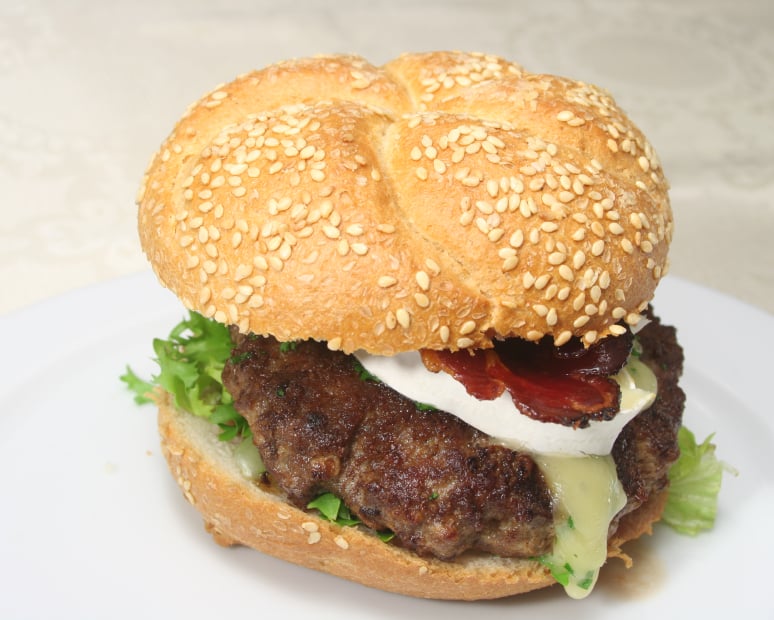 Gourmet burger joints are a dime a dozen these days, which can make it seem like learning how to produce your own perfectly seasoned patty at home is a waste of time. Yet knowing how to make your own delicious burgers is a useful skill (and will make you a hit at barbecues). Buy some high-quality meat, and find out just how easy it is to create a to-die-for burger in your own kitchen. You'll never settle for Shake Shack again. Recipe from Inspired Taste.
Ingredients:
1 pound ground beef chuck or round
Salt and black pepper
Butter, as needed
Directions: Separate beef into three patties of equal size. Create a depression in the center of each using your thumb, so the burgers don't swell up too much when cooking. Season both sides with salt and pepper.
Place 1 tablespoon butter in a cast-iron skillet and melt over medium heat. Place patties in the pan and cook for about 3 to 4 minutes per side, until burgers reach desired doneness. (Use a meat thermometer to check the burgers; cook to 130 degrees Fahrenheit for medium-rare and 150 degrees Fahrenheit for medium-well.)
Remove burgers from pan and let rest for 5 minutes. Place on bun with desired toppings and serve immediately.
4. Easy Seared Steak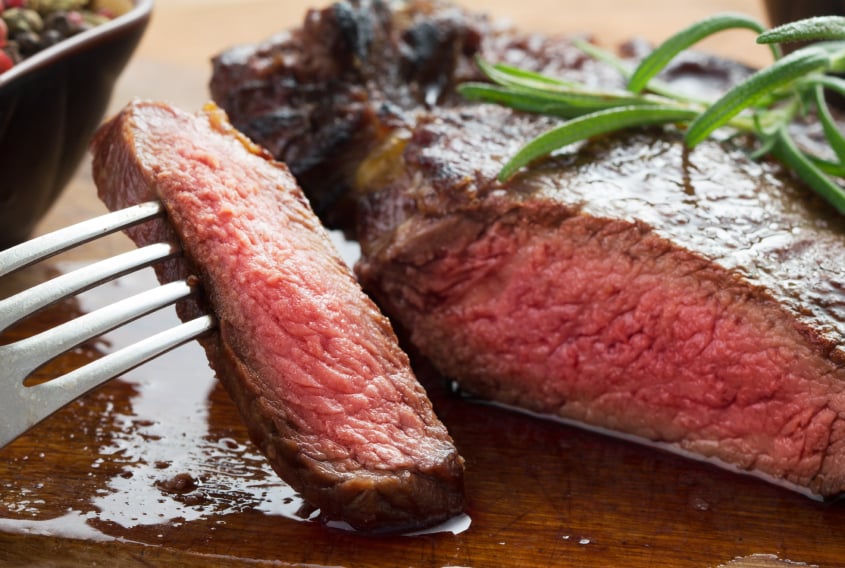 If you're a meat lover, you need to know how to prepare a mouth-watering piece of beef. Fortunately, cooking a restaurant-worthy steak dinner at home is easy, once you master the proper technique. All you need is a good piece of meat, a heavy-duty pan, and some salt, pepper, and olive oil, according to the experts at Chowhound. (New research also suggests that if you want a really tender steak, you should freeze it before cooking.) Once you have the basics mastered, you can feel free to get creative, dressing up your meal with various sides and marinades.
Ingredients:
1 (1¼- to 1½-inch-thick) New York strip steak (about 8 ounces)
1½ teaspoons kosher salt
¼ teaspoon freshly ground black pepper
1 teaspoon olive oil
Directions: Remove the steak from the refrigerator and let it come to room temperature, about 30 to 45 minutes. Season the steak on both sides with the salt and pepper. Rub both sides with the olive oil and set aside.
Heat a medium, heavy-bottomed frying pan (not nonstick skillet) over high heat until very hot but not smoking, about 3 to 4 minutes. (If the pan starts to smoke, remove it from the heat and let cool for a few minutes.) Place the steak in the pan and let it cook undisturbed until a dark crust forms on the bottom, about 3 to 4 minutes.
Flip the steak using tongs or a spatula and cook until it's medium-rare, about 3 to 4 minutes more. Check the temperature with an instant-read thermometer. It should read about 125 degrees Fahrenheit to 130 degrees Fahrenheit. Or, press your finger on the steak to check for doneness; the meat should be firm around the edges but still have some give in the center.
Transfer the steak to a cutting board and let it rest for at least 5 minutes before serving.
5. Perfect Omelets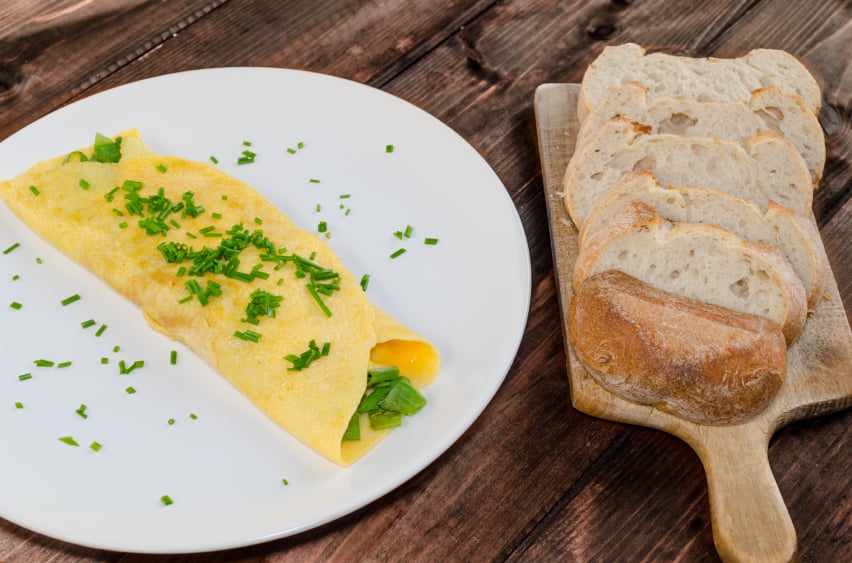 Teach yourself how to turn out a perfect light and fluffy omelet, and you'll be a breakfast hero. This versatile dish is ideal for weekend mornings but is also a good go-to when you need a quick dinner. Just add whatever veggies, herbs, and meat you have on hand to enjoy a filling and delicious meal. Recipe from Martha Stewart.
Ingredients:
3 large eggs, preferably room temperature
Coarse salt and ground pepper
1 tablespoon chopped scallions, and/or fresh herbs, such as parsley, tarragon, chives, dill, or cilantro (optional)
1 tablespoon butter, plus more for serving
¼ to ⅓ cup desired filling
Directions: Have a serving plate ready. In a medium bowl, whisk eggs until frothy. Season with salt and pepper; whisk in scallions and/or herbs, if using.
Heat butter in an 8-inch nonstick skillet over medium-high, tilting to coat pan; after foaming subsides, whisk eggs again, and add to skillet.
Cook, stirring quickly with a heatproof rubber spatula, until eggs begin to thicken, about 30 seconds. With spatula, pull edges of omelet in toward center, tilting pan so uncooked eggs flow to edges of pan and underneath omelet. Cook until just set but still loose, 15 to 30 seconds (omelet will continue to cook once removed from heat).
Sprinkle with filling. Using spatula, loosen omelet from skillet on all sides; shake pan to ensure it is completely released. Tilt pan toward serving plate; with spatula, working from side of skillet that's tilted up, fold ⅓ of omelet over the center. Simultaneously slide and roll omelet onto plate so that it folds over on itself again and lands seam side down. Brush or dab lightly with butter; serve immediately.
Follow Megan on Twitter @MeganE_CS
More from Culture Cheat Sheet: