5 Recipes For Food Truck Style Tacos You Can Make At Home
Tacos have quickly become one of Americans' favorite foods. With endless opportunities for variation, the tortilla-based meal can easily suit any taste. As popular as they are now, the history of the taco is relatively unknown. Jeffrey M. Pilcher, a University of Minnesota history professor who has studied Mexican food extensively, revealed to Smithsonian Magazine that no one knows for sure who invented the street food, but it was most likely created by Mexican miners in the 18th century. He goes on to say that immigrants eventually brought the dish with them to the U.S. and used available ingredients like hamburger to create the hybrid version that many of us grew up eating.
Though those crunchy shells topped with shredded lettuce and cheese might be decent, street-style versions, which can of be found at food trucks, definitely have them beat. These five recipes will turn you into a taco master in no time. While they're great for a solo meal, consider cooking them up for a party. No one will ever complain about a taco bar, and all you need are a few fillings, some garnishes, and a stack of tortillas for an impressive spread.
1. Chicken Tacos with Chipotle Crema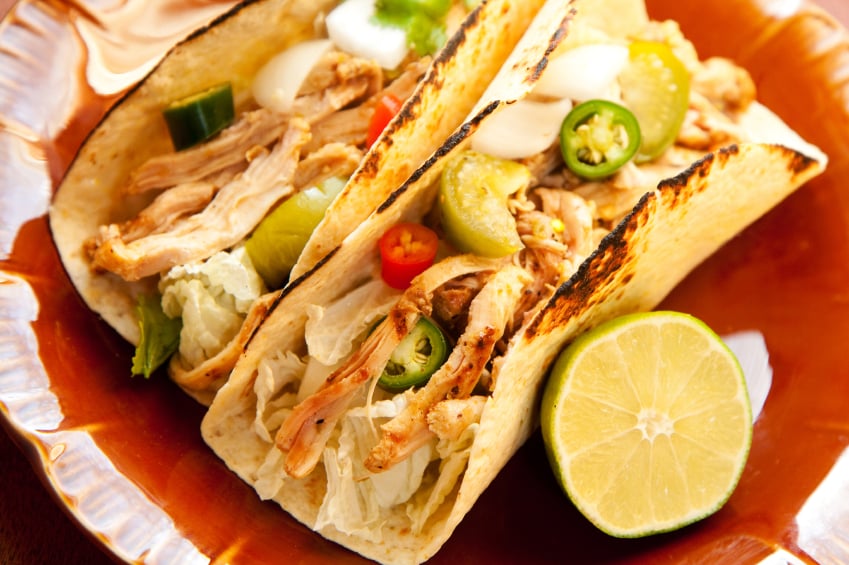 Anyone who's had a chicken taco at a restaurant knows the meat can get a little dry. Many places use chicken breast for the protein, but omfg. so good's version uses chicken thighs for a moister, more flavorful filling. Cooking the meat couldn't be any easier. Just arrange the chicken on a sheet tray, then let it slowly roast in the oven. Tuck into tortillas and top with goodies like avocado and queso fresco. A chipotle sauce makes a cool, creamy, and spicy finish.
If you have difficulty finding Mexican cheeses at your grocery store, you can make an easy swap; farmer's cheese is available at lots of regular markets, and it's surprisingly similar to queso fresco. We guarantee it'll be way better than any bagged, shredded mix.
Ingredients:
Chicken
1 pound boneless skinless chicken thighs
3 garlic cloves
1 medium white onion
3 to 4 thyme sprigs
1½ teaspoons smoked paprika
1½ teaspoons cumin
1 teaspoon salt
½ teaspoon ground white pepper
Olive oil
Chipotle Crema
½ cup sour cream
3 tablespoons half-and-half
2 tablespoons adobo sauce
1 teaspoon honey
Juice of 1 lime
Salt
To Serve
Corn tortillas
Shredded cabbage
Diced avocado
Lime wedges
Queso fresco
Pickled jalapeños
Directions: Preheat oven to 375 degrees Fahrenheit. Clean any remaining bits of fat off chicken, then arrange on a parchment-lined baking sheet in a single layer. Drizzle with a few tablespoons of olive oil. Peel and cut garlic cloves, then arrange on top of chicken. Roughly chop the onion, and arrange on top of chicken along with whole thyme sprigs.
Combine paprika, cumin, salt, and pepper in a small bowl, then sprinkle evenly over chicken. Roast chicken 30 to 35 minutes, until completely cooked. Remove from oven, and transfer to a large bowl. Discard herbs, garlic, and onion. Once cooled, shred meat with two forks.
Meanwhile, whisk sour cream half-and-half, chipotle sauce, lime juice, and honey in a small bowl to combine. Taste and season with salt, to taste. Refrigerate until ready to use.
Warm tortillas in a dry skillet for a few seconds on each side, until pliable. Top each tortilla with chicken, cabbage, queso fresco, avocado, crema, pickled chiles, and a squeeze of lime.
2. Easy Fish Tacos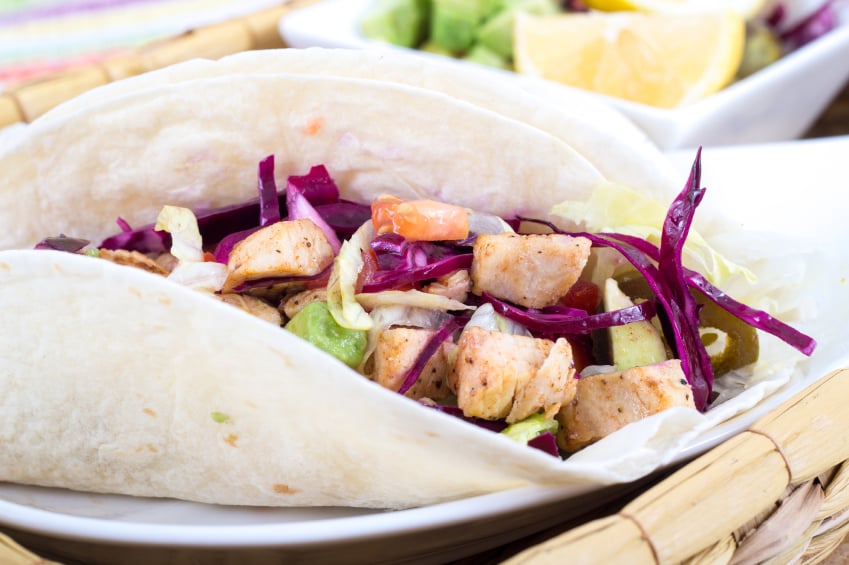 California is considered the land of fish tacos, but coastal areas in Mexico feast on seafood. Bring the fresh flavor to your kitchen with Chow's delicious version. This dish skips the usual frying procedure, opting to grill the fish instead, which is healthier and easier. Start by marinating the fish, and it will be ready to go by the time you're done making the slaw and heating the grill. With plenty of lean protein, fiber, and vitamins, this meal is super nutritious.
Ingredients:
1 pound firm white fish, like tilapia or snapper
2 medium limes, halved
1 garlic clove, finely chopped
¼ teaspoon ground cumin
¼ teaspoon chili powder
2 tablespoons vegetable oil, divided, plus more
Kosher salt
Freshly ground black pepper
½ small head of cabbage, thinly sliced
¼ cup chopped fresh cilantro
½ medium red onion, thinly sliced
6 to 8 (6-inch) corn tortillas
Sliced avocado
Guacamole
Salsa
Sour cream
Hot sauce
Directions: Place fish in a baking dish, and squeeze with juice of one lime half. Add garlic, cumin, chili powder, and 1 tablespoon of oil. Season with salt and pepper, and turn to coat. Refrigerate at least 15 minutes.
Meanwhile, combine cabbage, onion, and cilantro in a large bowl, Squeeze with juice from one lime half. Drizzle with 1 tablespoon oil, season with salt and pepper, and toss to combine. Taste, and adjust seasoning.
Warm tortilla in a dry skillet over medium-high heat. Transfer to a clean dish cloth, and repeat with remaining tortillas. Fold towel to keep tortillas warm.
Heat a grill to medium-high heat. Brush grates with oil. Cook fish without moving, until underside has marks, and appears white, about 3 minutes. Flip and cook until other side is opaque, about 2 to 3 minutes longer. Transfer to a platter.
Break fish into pieces, and add to tortillas, then top with slaw, garnishes, and a squeeze of lime juice.
3. Swiss Chard and Chipotle Tacos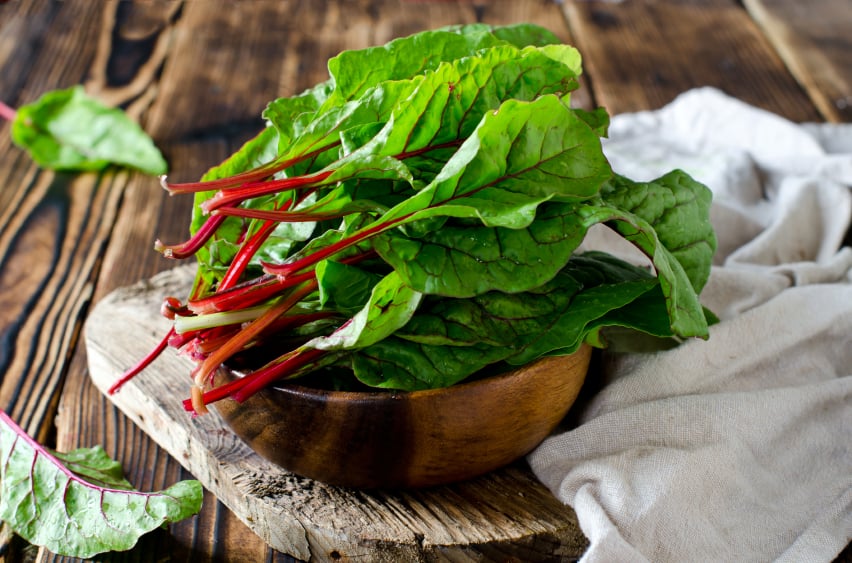 Feasting on Mexican food usually means tons of meat. While that's awesome for most people, it's kind of a bummer for your vegetarian friends. The next time you throw a get-together, serve up these chard and corn tacos from Saveur. Filled with hearty mushrooms and spiced with chipotle, they're just as satisfying as any steak version.
This filling is so good you might want to make extra to use in other meals. Add it to a sandwich with some grilled chicken, or toss with pasta. You can also stick with the Mexican route and use it as a filling for enchiladas.
Ingredients:
2 tablespoons olive oil
1 onion, quartered, and thinly sliced
2 cups thinly sliced cremini mushrooms
2 garlic cloves, minced
1 tablespoon soy sauce
2 chipotle peppers in adobo, seeded, and finely chopped, plus 1 teaspoon adobo sauce
2 ears of corn, kernels removed
1 bunch Swiss chard, stems removed, and leaves cut into ½-inch ribbons
Kosher salt and freshly ground black pepper
Warm corn tortillas
Chopped cilantro
Sour cream
Lime wedges
Directions: Heat olive oil in a 12-inch skillet over medium-high heat. Add onion, and cook until slightly caramelized, 6 to 7 minutes. Add mushrooms and garlic, and cook until mushrooms are browned, about 5 minutes. Add soy sauce, chipotles, adobo sauce, corn, chard, salt, and pepper. Cover pan, and cook, stirring occasionally, until chard wilts, about 5 minutes. Spoon mixture into tortillas, garnish with toppings, and serve.
4. Grilled Pork Tacos, Pastor Style
For sweet and salty lovers, these pork and pineapple tacos from Rick Bayless make a phenomenal meal. Though the flavor is complex, this recipe uses fewer than 10 ingredients. Just make a simple marinade by blending some achiote paste, chipotles, vegetable oil, and water, then coat the meat. You can grill the pork if the weather's nice, but it will turn out just as well if you cook it in a heavy skillet right on the stove.
Ingredients:
1 (3.5-ounce) package achiote paste
3 chipotles in adobo, plus 4 tablespoons of sauce
¼ cup vegetable oil, plus more
1½ pounds (¼-inch-thick) sliced pork shoulder
1 medium red onion, sliced ¼-inch thick
¼ of a medium pineapple, sliced into ¼-inch-thick rounds
20 warm corn tortillas
1½ cups tomatillo salsa
Directions: In a blender, combine achiote paste, chiles, sauce, oil, and ¾ cup water. Blend until smooth. Use one-third of marinade over meat, and turn to coat. Reserve remaining marinade for another use. Cover and refrigerate pork at least 1 hour.
Light a charcoal grill to high heat with coals banked to one side, or light one side of a gas grill. Brush onions with oil, and season with salt. Grill until richly browned, about 1 minute, flip, and cook until other side browns, about 1 minutes longer. Move to cool side of grill. Oil and grill pineapple in the same way. Working in batches, cook meat, about 1 minute per side, until cooked. Transfer to a cutting board, and chop into bite-sized pieces. Transfer to a skillet to keep warm over grill. Chop onion and pineapple, and add to pork. Toss everything to combine, taste, and season with salt, to taste. Serve mixture in tortillas, and garnish with salsa.
5. Carne Asada Baja Street Tacos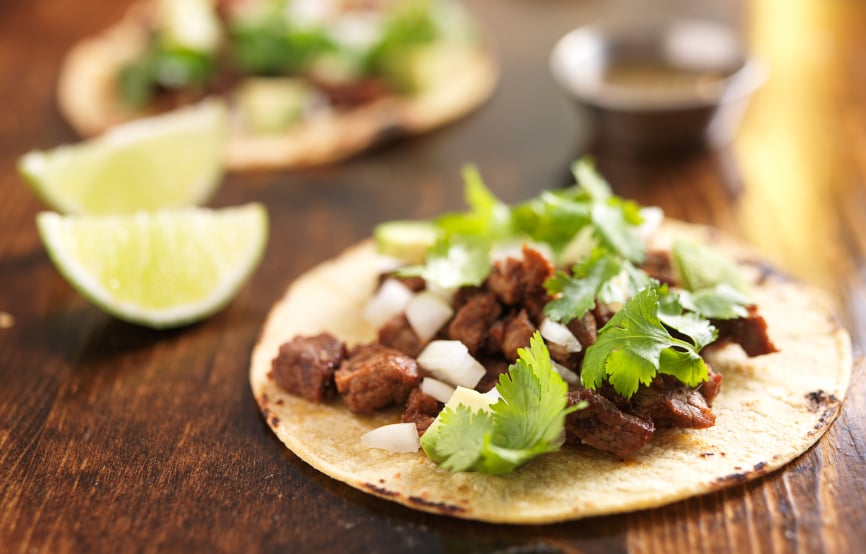 These steak tacos from Honest and Tasty will please any meat lover. Filled with nothing more than sliced beef, onions, cilantro, a bit of hot sauce, and sour cream, the meat really has a chance to shine. Since the tacos are so simple, make sure you're getting the best beef you can find. This is not the time to use that 75% off meat that's dangerously close to expiring.
Ingredients:
2 pounds flank steak, trimmed of fat
½ cup vegetable oil, divided
12 corn tortillas
1 cup chopped cilantro
1 lime, sliced into wedges
½ large white onion, thinly sliced
Sour cream, or Mexican crema
Hot sauce
Salt and pepper
Directions: Heat griddle over high heat. Add 2 tablespoons of oil to steak, and rub to coat. Season generously with salt and pepper. Cook steak on hot griddle, and cook about 5 minutes per side, or until medium rare. Remove from heat, and let rest.
Heat 2 tablespoons oil in a small pan over high heat. Add tortilla, and cook about 10 seconds per side. Remove to a paper towel-lined plate. Repeat with remaining tortillas, adding oil, as needed. Slice steak, and cut into small pieces. Assemble tacos with steak, onion, cilantro, and a squeeze of lime. Top with hot sauce and sour cream. Serve.