6 Best Family Vacations for 2016
The pressure to stick to strict resolutions typically makes January a pretty miserable month. That's not to say trying to lose a few pounds or learn a new language aren't great goals, so long as they don't keep you from having a good time. Nothing says fun quite like a vacation, so now is the perfect time to start planning this year's family trip.
Whether you're looking into summer break or a last-minute winter getaway, these six destinations have you covered. They're all great choices for both kids and adults, so everyone wins. January's looking brighter already.
1. Beach (Sanibel Island, Fla.)
Beach vacations rarely live up to our expectations, especially when kids are involved. Going for a posh resort isn't the best idea with little ones in tow, so you often end up at a packed hotel where the nearest beach is completely packed. Skip the typical hot spots and go for Florida's Sanibel Island instead. You'll find plenty of hotel options, but cottages might be the best option for families because you won't have to worry about the kids being too noisy for other guests. Check out the offerings from Castaways Cottages. These stays also give you the option to cook some of your meals instead of dining out all the time, which is a good way to stick to your budget.
While little ones can sometimes get bored at the beach without a full arsenal of toys, you won't have to worry about that thanks to the seashell-studded sand. There's even a museum dedicated to these seashore finds. Parents will enjoy checking out the unique shops and art galleries.
2. Amusement Park (Six Flags Magic Mountain in Valencia, Calif.)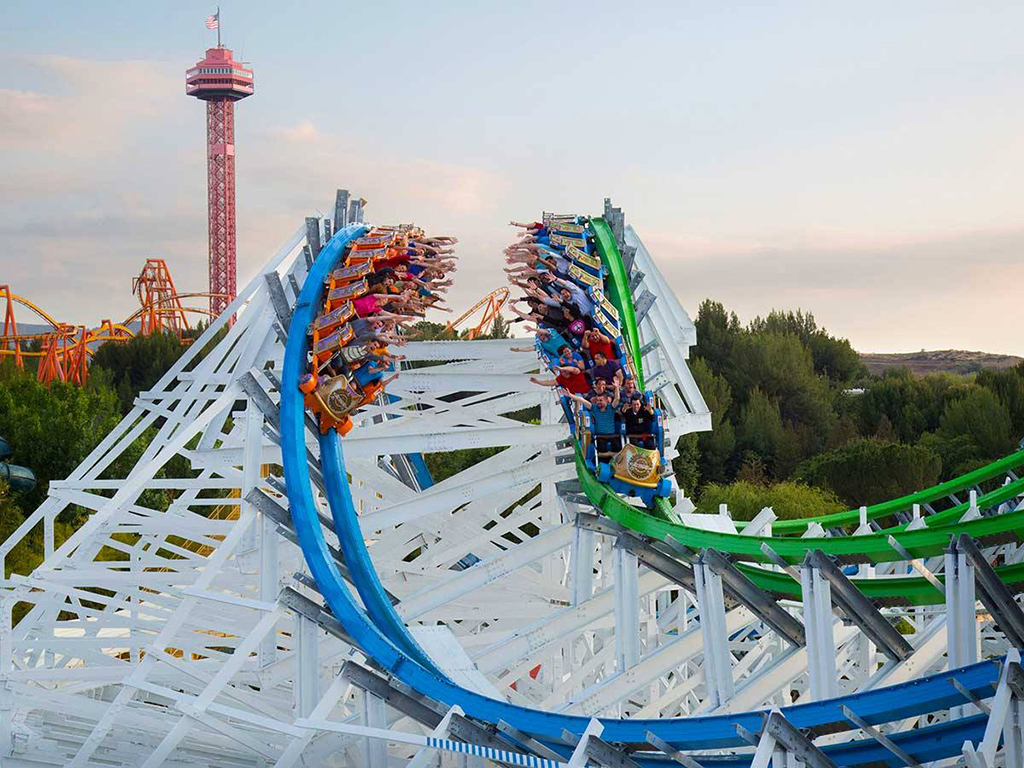 The Disney experience isn't for everyone. If your kids are more into rides, Six Flags Magic Mountain is a much better fit. In 2015, the park opened Twisted Colossus, the largest hybrid roller coaster. A ride time of four minutes and a 116-foot drop make this one of the best coasters for thrill-seekers. They're refurbishing one of their most iconic rides, The New Revolution, this year with a new look and lap bars to replace the traditional harness. According to the park's website, these updates will make for a smoother ride.
If a vacation all about rides is a bit too much for you, consider making a day trip from Los Angeles. Don't try to mess with public transportation, though. The best option is to rent a car and make the drive yourself.
3. Small Town (Galena, Ill.)
The lights and bustle of a big city might come to mind first when planning a family trip, but there's a lot of wisdom to picking a lesser-known locale. Small towns typically feature better accommodations, quirky attractions, and they're much easier on your wallet. One of our favorites is Galena, a diminutive Illinois town near the Mississippi River. It's brimming with old-fashioned shops and plenty of wonderful restaurants. Brush up on history by visiting the Ulysses S. Grant Cottage, the former home of our 18th President, or work on your golf game at one of the local courses.
If you're going during the winter, head to Chestnut Mountain Resort. The ski destination features 19 different trails over 220 acres. It's a great place for first-timers to try the sport, no matter the age. The resort offers a number of promotions and deals, so check out the offerings before booking a trip.
4. Outdoor Adventure (Glacier National Park in Montana)
National parks tend to be great options for families who love the outdoors. North America alone offers enough choices to make your head spin, so go for Glacier National Park. Located in the northwest corner of Montana, just south of Canada, this park spans more than 1 million acres. You'll find rivers, waterfalls, lakes, and mountains, making it a perfect destination for any type of outdoor activity. Enjoy the usuals, like hiking and biking, or saddle up for a trail ride.
Though the park is open year-round, late spring and summer are the best times for those who want to camp. Most of the sites operate on a first-come-first-served basis, which can be spotty during busy months. Instead of risking walking into an overflowing site, secure your spot at one of the three sites that take reservations.
5. Introduction to International (Montréal)
Taking the kids to a different country for the first time can be hugely intimidating, unless that country happens to be Canada. For the feel of Paris without the journey or price tag, head to Montréal. The trip is substantially shorter than crossing the Atlantic, which minimizes the risk of a meltdown. The French-speaking city really does feel like Europe, too, complete with 18th-century structures and cobblestone streets.
Don't miss the Notre-Dame Basilica of Montréal, the fine arts museum, or the botanical garden. Like Paris, Montréal is also home to some spectacular dining. Check out Food & Wine's favorite spots to get some ideas.
6. Winter Wonderland (Park City, Utah)
Still hoping to plan a last-minute trip for the winter? Park City is one of the best cold-weather retreats for those with kids thanks to an abundance of ski resorts. Family Vacation Critic said, unlike most other ski destinations, Park City has a true sense of community. While you can certainly spend all your time skiing, the sleigh rides are fun for kids. And don't miss the Alpine Coaster on Park City Mountain.
As for lodging, you have a lot of options. For the most luxurious experience, book your stay at the Waldorf Astoria Park City. The hotel features standard suites as well as 3-bedroom offerings that sleep up to 10 people.
More from Culture Cheat Sheet: