7 Delicious Recipes Using Potato Chips
Bags of chips are good for snacks in a pinch, but the crisps perform well in your dinner and dessert dishes, too. Chips can add a desired crunch and texture to your plate, and they can help you get your junk food fix no matter what time of day it is. Here are seven sweet and savory recipes that enlist a bag of chips. With one simple shortcut, you can take your dishes from good to great with a little salty crunch.
1. Doritos Taco Salad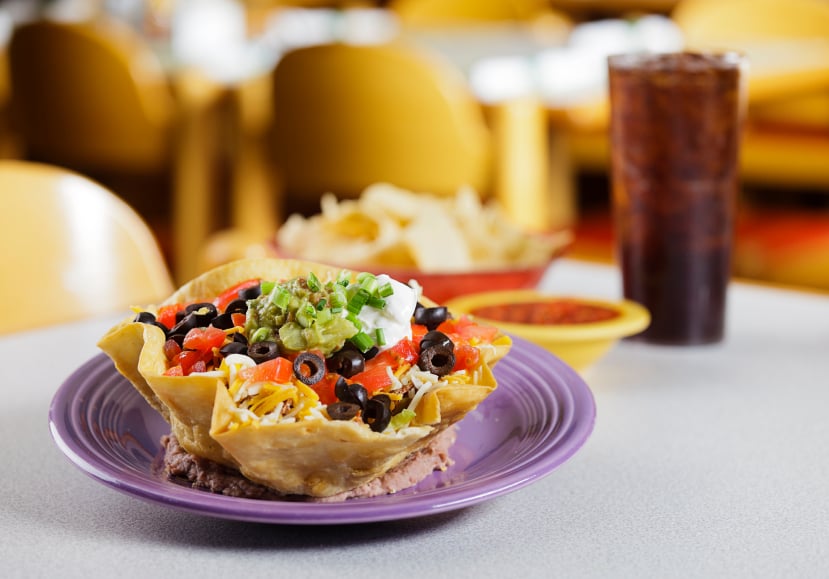 The first recipe on our list from Emily Bites proves that you don't need fancy tortilla strips to enjoy a homemade taco salad. Simply grab a bag of Doritos and go. This Doritos taco salad is the best kind of homemade Mexican food, as it is bursting with fresh flavor and tastes even better than the fast food variety. The taco salad is stuffed with beef, lettuce, tomatoes, cheese, and chips, and even has the option of a Catalina or French dressing. This recipe also feeds a crowd so bring it to your next get-together or plan on having this taco salad for lunch for days.
Ingredients:
1 pound 95% lean ground beef
1 packet reduced sodium taco seasoning
1 medium-large head of iceberg lettuce, chopped into bite sized pieces
1 medium-large tomato, diced
4 ounces 50% less fat or 2% sharp cheddar cheese, shredded
4 ounces nacho cheese Doritos, broken up a bit into bite sized pieces
1 cup light Catalina or French dressing
Directions: Brown the ground beef in a skillet over medium heat, breaking it up into pieces with a wooden spoon. Add the packet of taco seasoning and stir until well coated. Set aside.
In a large serving bowl, combine the lettuce, tomatoes, cheese, and ground beef. When ready to serve, add the Doritos and dressing and toss to coat.
2. Potato Chip Chicken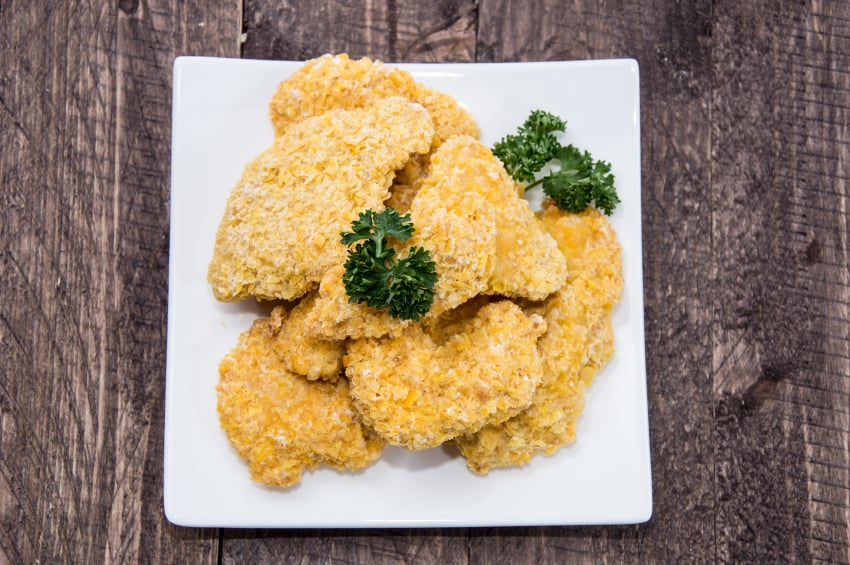 Have you ever heard of potato chip chicken? If not, we have two words for you: You're welcome. Potato chip chicken is the name of the dish that has chicken breasts breaded with crushed potato chips and seasonings, and this recipe from Taste from Home will show you how to perfect it. You'll combine your chicken with mayo and a crumb mixture that is made of potato chips, parsley, salt, onion, and paprika, and then the chicken cooks in the microwave for 6 to 8 minutes. This moist, tender potato chip chicken proves that you don't need to be fancy to be a good home cook.
Ingredients:
1 cup coarsely crushed potato chips

1 tablespoon minced fresh parsley

½ teaspoon salt

½ teaspoon paprika

¼ teaspoon onion powder

1 pound boneless skinless chicken breast halves

2 tablespoons mayonnaise
Directions: In a large resealable plastic bag, combine the potato chips, parsley, salt, paprika, and onion powder. Brush chicken with mayonnaise; add chicken to the crumb mixture and shake to coat.
Place in an ungreased microwave-safe 11-by-7-inch baking dish. Cover with paper towels; cook on high for 6-8 minutes or until a meat thermometer reads 170 degrees Fahrenheit.
3. Tuna Casserole with Chips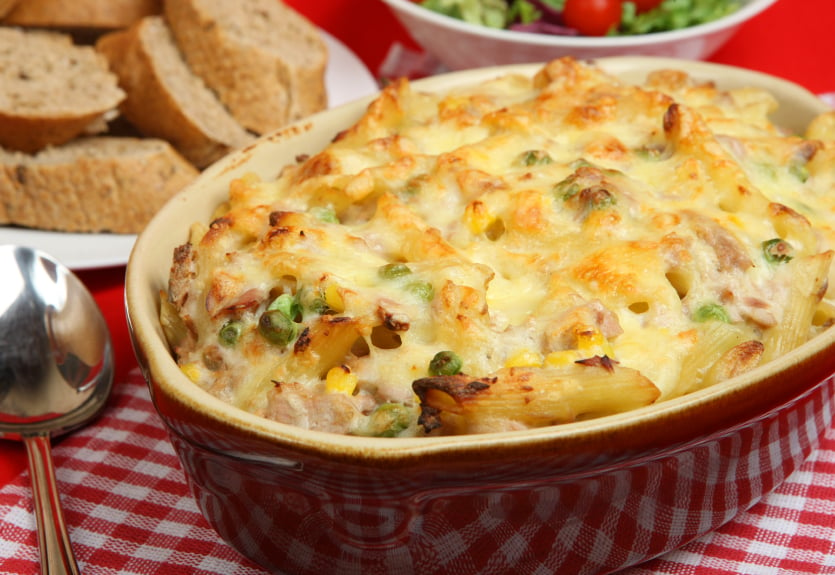 Here's a retro recipe for you: tuna casserole with chips featured on Simply Recipes. The dish might date back to the dark ages, but one bite of the casserole and you'll recognize that it's still sinfully good. With its noodles, vegetables, tuna, cream of mushroom soup, cheese, cream, and potato chips, it's easy to see why tuna casserole is considered old-fashioned comfort food, and the potato chips prove once again they can be the star ingredient in a dish by providing the much-needed crunch.
Ingredients:
12 ounces wide egg noodles
1 tablespoon salt
8 ounces sliced fresh mushrooms
1 medium onion, chopped
2 tablespoons butter
2 cups chopped broccoli
2 cans tuna, drained
1 can Campbell's cream of mushroom soup
2½ cups grated cheddar cheese
⅓ cup milk
1 tablespoon cream
Salt and pepper to taste
1 cup crushed potato chips
Directions: Preheat oven to 400 degrees Fahrenheit. In a large pot, bring 4 quarts of water to a boil. Add a tablespoon of salt. Return to a boil. Add noodles. Cook uncovered on high heat on a rolling boil. Just before pasta is al dente, add the chopped broccoli to the pasta and cook for 2 more minutes. Drain in a colander and set aside.
While the pasta is cooking, dry sauté the mushrooms in a frying pan on medium high heat. When mushrooms have given up their moisture, remove from heat and set aside.
After the pasta is done and is draining in a colander, heat a large oven-proof pan on medium heat, add 2 tablespoons of butter. Add the onions and cook them until translucent. Add the pasta and broccoli mixture back into the pot; stir in the mushrooms. Stir in the tuna, can of cream of mushroom soup, grated cheese, milk, and cream. Add salt and pepper to taste.
Spread crushed potato chips over the top of the mixture and cook for 20 minutes at 400 degrees Fahrenheit in the oven, until the topping has browned.
4. Mac and Cheese with Potato Chip Crust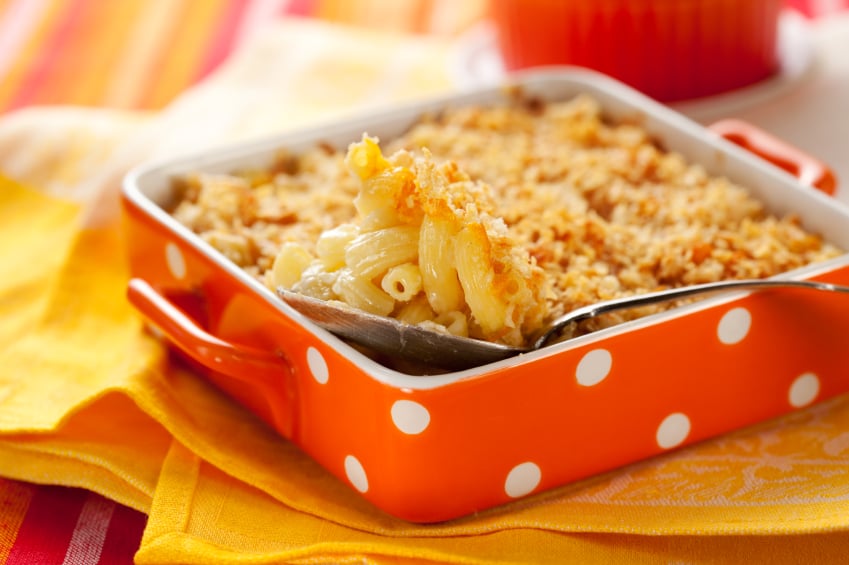 Here's another comfort food recipe that is a classic for a reason. Give your mac and cheese some crunch via this recipe for mac and cheese with potato chip crust from Platings and Pairings. Carbs and cheese taste even better when combined with crunchy chips, and the addition of the crisps takes the family favorite up a fancy notch. Whether you serve your mac and cheese in individual dishes or a large casserole, this is one dinner everyone will be asking for seconds of, and luckily for you, the recipe serves 6 to 8.
Ingredients:
½ pound elbow macaroni
4 tablespoons butter
2 eggs
6 ounces evaporated milk
½ teaspoon hot sauce
1 teaspoon kosher salt
Fresh black pepper
¾ teaspoon dry mustard
10 ounces sharp cheddar, shredded
¼ cup dry white wine or dry vermouth (can be omitted)
Potato chips, crushed for topping
Directions
: In a large pot of boiling, salted water cook the pasta to just under al dente and drain. Return to the pot and add the white wine. Heat until evaporated. Melt in the butter and toss to coat.
Whisk together the eggs, milk, hot sauce, salt, pepper, and mustard. Stir into the pasta and add the cheese. Over low heat continue to stir for 3 minutes or until creamy.
Place the macaroni and cheese in individual dishes or a large casserole. Top with crushed potato chips and place under broiler set on low until chips begin to brown.
5. Potato Chip Omelet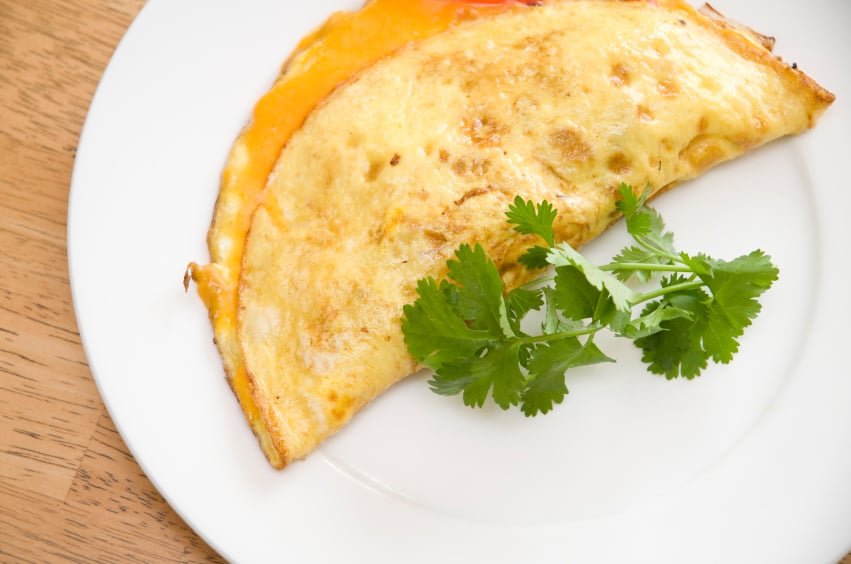 Feeling rebellious? Eat your chips for breakfast in this potato chip omelet from Fine Cooking. The potato chips are layered throughout the open-faced omelet that is made with eggs, heavy cream, and herbs. The recipe developer behind the food formula also explains that the chips even retain their texture and add enough salt to the eggs so that any extra seasoning is not necessary. Next time you're craving an omelet, treat yourself to the addition of chips.
Ingredients:
12 large eggs
3 tablespoons heavy cream
½ teaspoon freshly ground white pepper
1 tablespoon finely chopped fresh flat-leaf parsley
1 tablespoon minced fresh chives
6 cups plain kettle-cooked potato chips
2 tablespoons unsalted butter or vegetable oil
Directions: Preheat the oven to 375 degrees Fahrenheit. In a large bowl, whisk the eggs, cream, white pepper, parsley, and chives together until combined. Fold in the potato chips until they are completely covered in the egg mixture, but try not to crush the chips too much. Let stand for 10 minutes, until the chips soften slightly.
Heat the butter in an ovenproof 12-inch nonstick skillet over medium-high heat, swirling the pan to coat the bottom completely, until very hot. Carefully pour in the egg mixture and spread it evenly in the pan, then immediately reduce the heat to low. Cook until the eggs are set and the bottom is light golden, about 15 minutes. If the bottom is golden but the eggs are still runny on the top, transfer the skillet to the preheated oven and bake until the eggs are completely set, 3 to 4 minutes.
To serve, invert a large flat plate over the pan and flip the pan and the plate to invert the omelet onto the plate. Let stand for at least 5 minutes before cutting into wedges and serving.
6. Potato Chip Cookies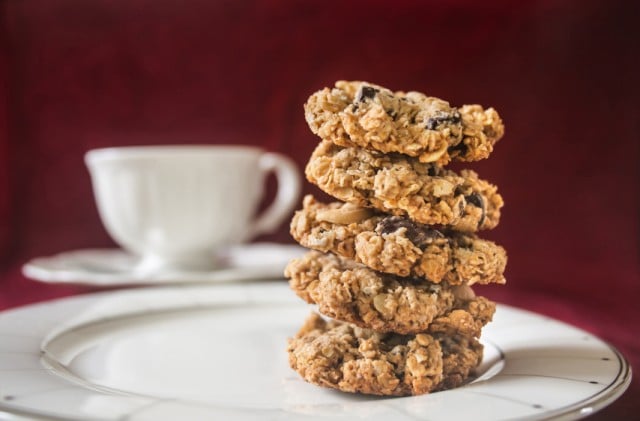 Moving on to the sweet side of things, we come to these potato chip cookies from Martha Stewart. They prove once again that the sweet and salty combo almost always yields a match made in dessert heaven. These chocolate chip cookies are simple enough to make, but stirring nuts and potato chips into the dough batter takes their taste over the top. After 20 minutes of baking, you'll have a chewy cookie that is full of buttery, salty, and sweet flavor, and it will effectively hit all of your taste buds.
Ingredients:
2 sticks unsalted butter, softened
¾ cup packed light-brown sugar
¾ cup granulated sugar
1 teaspoon pure vanilla extract
2 large eggs
2¼ cups all-purpose flour
1 teaspoon baking soda
¾ teaspoon coarse salt
4 cups coarsely crushed salted potato chips, divided
1 cup pecans, toasted and coarsely chopped
Directions: Preheat oven to 375 degrees Fahrenheit. Beat together butter and sugars with a mixer on high speed until fluffy, 2 to 3 minutes. Add vanilla and eggs, and beat on medium speed until just combined.
Add flour, baking soda, and salt, and beat on low speed until just combined. Stir in 2 cups potato chips and the nuts.
Roll dough into 2-inch balls, and then roll balls in remaining potato chips to coat. Place cookies 2 inches apart on a parchment-lined baking sheet. Bake until golden, 18 to 20 minutes. Let cool completely on baking sheet.
7. Caramel Potato Chip Brownies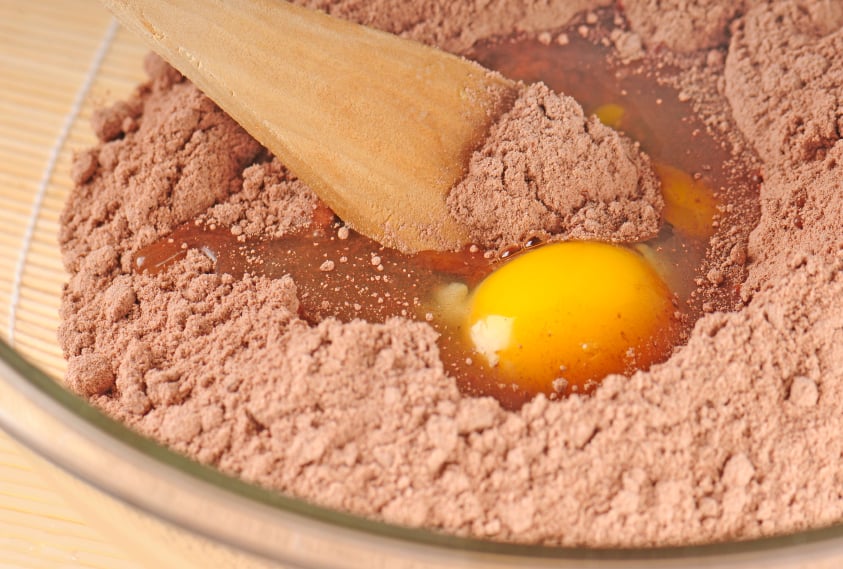 The last recipe on our list even throws caramel into the mix. Now you have brownies with a rich base, a creamy chocolatey ganache, a thick caramel sauce, and crumbled potato chips on top. We have The Recipe Rebel to thank for these caramel potato chip brownies. The potato chips cut the sweetness of the brownies and while the dessert might sound complicated, it still only takes a handful of ingredients and less than an hour to bake. Take this creative sweet treat for a ride and impress your guests with a different kind of chocolate brownie.
Ingredients:
Brownies:
1 cup butter
2 cups sugar
4 eggs
1 tablespoon vanilla
1¼ cups of cocoa powder
½ teaspoon salt
1 teaspoon baking powder
1 ½ cups all-purpose flour
¼-⅓ cup thick caramel
Ganache:
1 cup chopped semisweet chocolate
3 tablespoons cream
Topping:
Extra caramel sauce
Crumbled plain ripple chips
Directions: Line a 9-by-13-inch pan with tin foil and spray with non-stick spray. Preheat oven to 350 degrees Fahrenheit. In a large bowl, melt the butter. Stir in the sugar. Whisk in the eggs, one at a time, until smooth. Whisk in vanilla. Add the cocoa, salt, baking powder, and flour and stir just until smooth and combined. Spread into prepared pan. Bake for 23-25 minutes, until a toothpick comes out clean or with moist crumbs. Set aside to cool to room temperature.
Spread ¼-⅓ cup caramel over the top of the room temperature brownies. Refrigerate at least 1 hour.
Prepare your ganache: In a small pot on low heat, heat your chocolate and cream until it's about half melted. Remove from the heat and stir until smooth. Spread evenly over your chilled caramel. Refrigerate at least 30 minutes to set the ganache before slicing.
To serve: Drizzle with additional caramel and top with crumbled plain ripple chips
More from Culture Cheat Sheet: