Comfort Food Breakfast Recipes to Eat This Weekend
Weekend breakfasts are typically generalized as indulgent and food coma-inducing, but your Saturday and Sunday morning meals don't have to plant you in the calorie doghouse. There are a number of recipes for pancakes, waffles, and other breakfast comfort foods that go easy on the fat and calories, and are reasonably healthy, too. If you want to get away from your oatmeal and cereal on weekends but still want to maintain your health and fitness goals, this roundup of seven breakfast recipes is for you. Treat yourself without tricking yourself and enjoy a slow morning meal sans the guilt.
1. Protein French Toast with Chocolate and Peanut Butter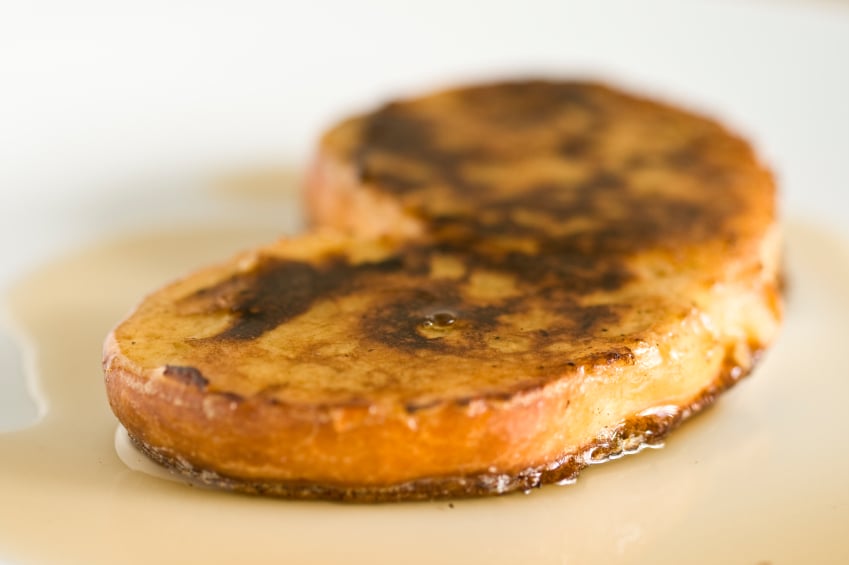 This first recipe from Food Faith Fitness proves that you can have the best of both worlds. French toast with a serving of protein and chocolate and peanut butter, too? It sounds like a dream, and needless to say, this is one breakfast you'll have no problem waking up for. The recipe for this French toast requires egg whites, protein powder, almond milk, and whole wheat bread. The addition of peanut butter, cocoa powder, and mini chocolate chips also keeps it sweet. Enjoy this breakfast on a slow weekend morning and have energy for a full day. This recipe only serves one, so be sure to double it if you're expecting guests.
Ingredients:
½ cup liquid egg whites
2 tablespoons chocolate protein powder
1 teaspoon cocoa powder
¼ cup unsweetened vanilla almond milk
1/2 tsp vanilla extract
Sweetener of choice, and to taste
2 slices whole wheat bread
1-2 tablespoons peanut butter
Mini chocolate chips, for garnish
See recipe directions at Food Faith Fitness. 
2. Healthy Cinnamon Roll Waffles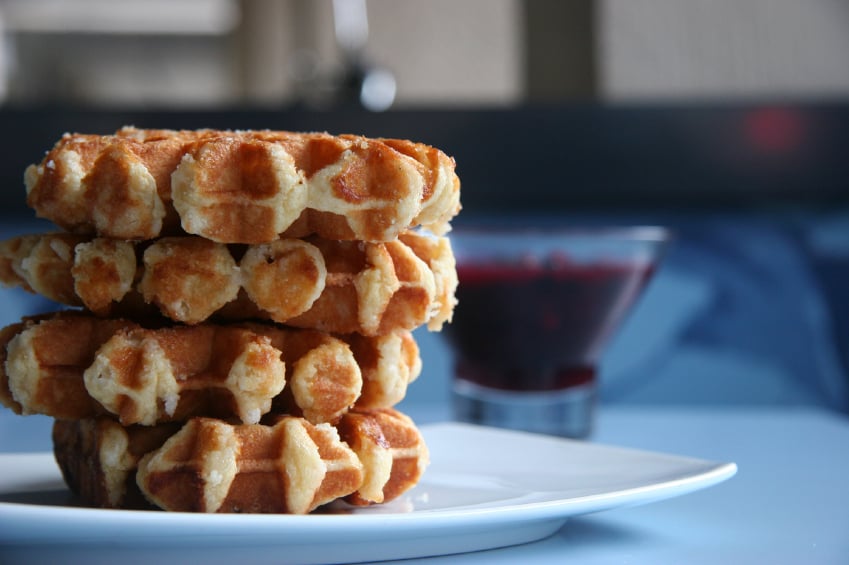 This next recipe from Big Man's World is also seemingly too good to be true. Cinnamon Rolls are undoubtedly associated with comfort food comas, and when they come in waffle form, it's hard to believe they could ever be healthy for you. Fortunately, this breakfast denies the odds and proves it. Big Man's World has a recipe for Cinnamon Roll Waffles that are paleo, gluten-free, and surprisingly not gluttonous. He uses coconut flour, baking powder, dairy free milk, and egg whites. Those ingredients get combined and then popped into a waffle iron and you're good to go. There's even a (healthy) frosting recipe to go with them.
Ingredients:
2 tablespoons coconut flour, sifted
½ scoop paleo friendly vanilla or cinnamon protein powder
½ teaspoon cinnamon
½ teaspoon baking powder
2 egg whites
1 tablespoon – ¼ cup dairy free milk
Frosting:
1 tablespoon coconut butter, melted
1 tablespoon paleo friendly/vegan friendly vanilla protein powder
Milk to thin out
Cinnamon for dusting
See recipe directions at Big Man's World. 
3. Healthy Crepes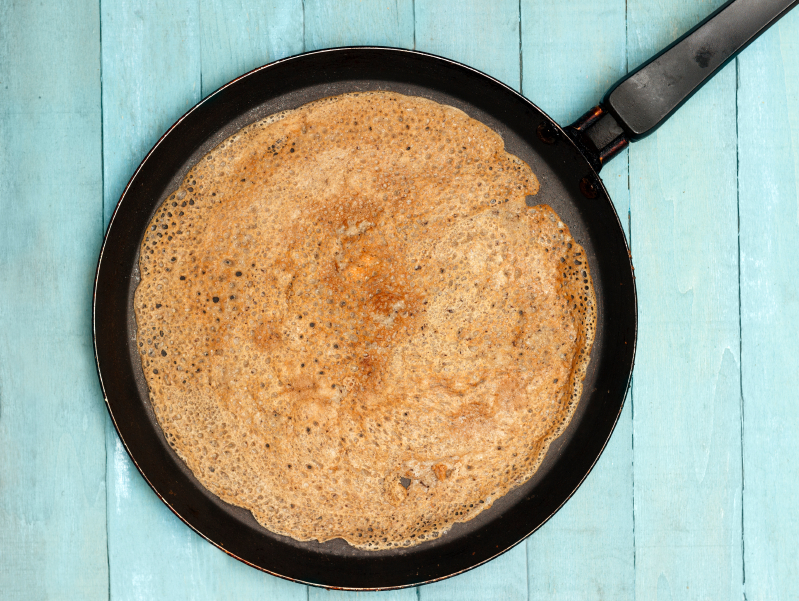 Care for a crepe? Indulge the healthy way with one of these Healthy Crepes from Foodie Fiasco. The crepes are 23 calories each and boast 0 grams of fat. Stuff them with your favorite filling and say goodbye to your favorite food truck that usually serves the indulgent treats. A healthy homemade crepe is a breakfast you can enjoy again and again without the guilt… And the possibilities for customizing are endless!
Ingredients:
2 eggs or 1 tablespoon Ener-g egg replacer mixed with 4 tablespoons water
¾ cup almond milk
½ cup water
1 cup white whole wheat flour
3 tablespoons applesauce
See recipe directions at Foodie Fiasco. 
4. 4-Ingredient Protein Pancakes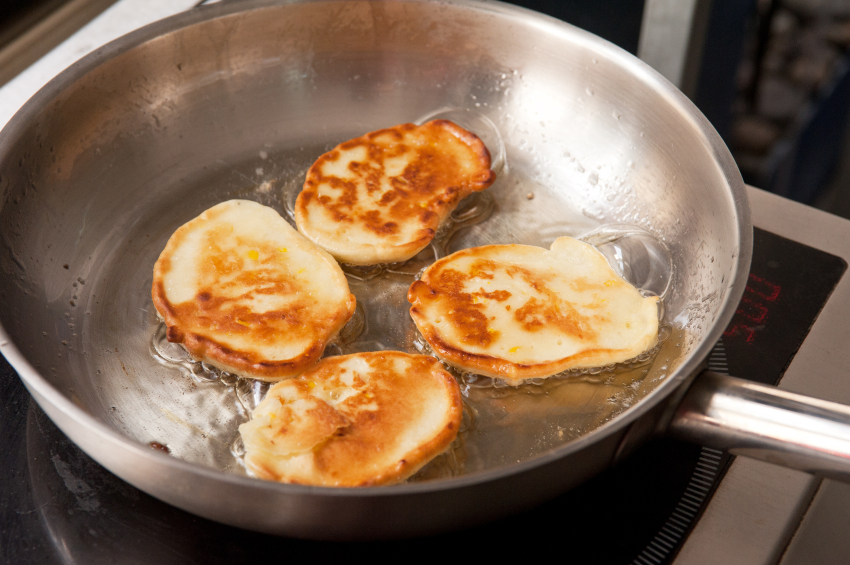 Our fourth recipe on the breakfast list only requires 4 ingredients: Eggs, a banana, baking powder, and protein powder. As long as you have those staples, you're good to go and you can have protein pancakes on your plate in 15 minutes or less. Willow Bird Baking is responsible for this Protein Pancake recipe, which can be enjoyed on slow Saturday and Sunday mornings. Pack yourself a punch of protein when you indulge in these 4-Ingredient Protein Pancakes and you'll learn to never opt for iHop again.
Ingredients:
1 large banana (it should yield about 1/3 – ½ cup, mashed)
2 eggs
1/8 teaspoon baking powder (optional but recommended)
2 tablespoons vanilla whey protein powder (optional; you can also add a touch of vanilla extract instead)
See recipe directions at Willow Bird Baking. 
5. Spinach and Cheese Breakfast Skillet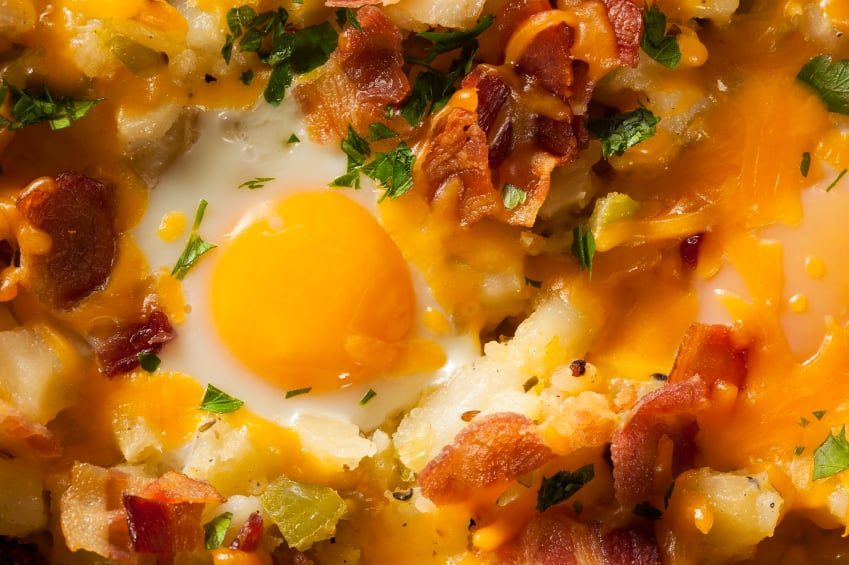 If cheese comes to mind when you picture weekend comfort food, this healthy spin on a Spinach and Cheese Breakfast Skillet is for you. The recipe from Eating Well serves one and as its name suggests, is mastered in a skillet. Into said skillet go potatoes, bacon, eggs, Cheddar cheese, and spinach, and the healthy breakfast only takes 20 minutes to make. If you don't believe you can have your cheese and eat well, too, this Spinach and Cheese Breakfast Skillet will prove you wrong. A savory morning meal has never tasted so good.
Ingredients:
1 small russet potato, scrubbed (skin left on)
1 slice bacon
1 tablespoon extra-virgin olive oil
3 cups baby spinach
1/8 teaspoon salt
2 large eggs
2/3 cup shredded Cheddar cheese
Freshly ground pepper
See recipe directions at Eating Well. 
6. Blueberry Greek Yogurt Scones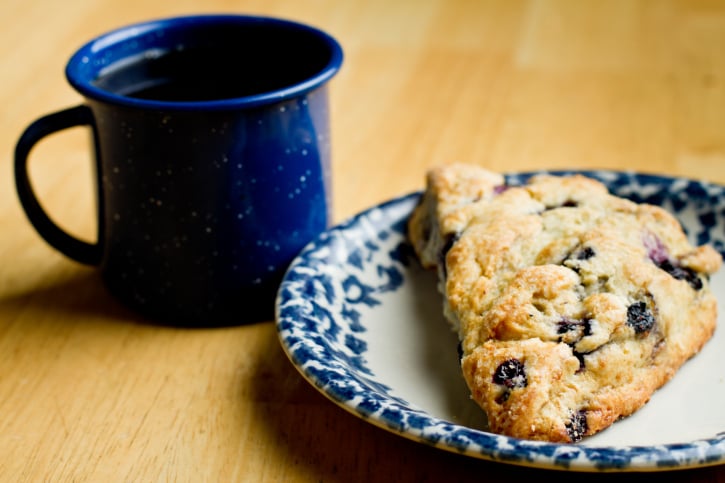 You might not want to have your weekday Greek yogurt on Saturday and Sunday, but what about throwing it in some scones? This recipe from Ambitious Kitchen serves up killer Blueberry Greek Yogurt Scones that seem sinful but are still relatively healthy  thanks to the employment of whole wheat flour and yogurt. You even get your fruit fix with the blueberries! Try these scones that come in at only 161 calories a pop and you won't be disappointed. The recipe yields 6 so you can enjoy one and then freeze the rest for leftovers.
Ingredients:
2/3 cup all purpose flour
½ cup whole wheat pastry flour or white whole wheat flour
3 tablespoons brown sugar
1 teaspoon baking powder
½ teaspoon baking soda
Pinch of salt
1/3 cup nonfat plain greek yogurt
½ teaspoon vanilla
3 tablespoons butter
1 egg white
½ cup fresh or frozen blueberries
Cooking spray
½ tablespoon granulated sugar
Pinch of cinnamon
See recipe directions at Ambitious Kitchen. 
7. Sprouted French Toast Breakfast Casserole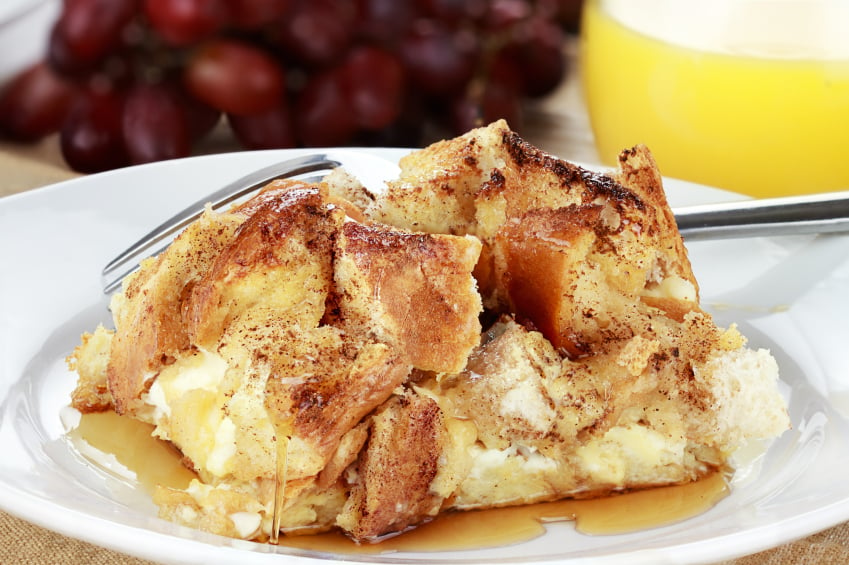 This last recipe featured on iFoodReal is one you can make ahead of time and pop in the oven in the morning.  A Sprouted French Toast Bake is the perfect breakfast to prepare when you have overnight guests but still want to keep your meals on the healthy side. Unlike most indulgent French Toast recipes, this food formula calls for sprouted whole wheat bread, almond milk, and egg whites. You can top your casserole with anything you like and leave it up to your guests to decide what kind of morning meal they want to create. Serve the French Toast Breakfast Casserole and then enjoy leftovers which will stay good in the fridge for up to 2 days.
Ingredients:
8 sprouted bread slices, cut into large cubes
4 eggs
1 cup egg whites
1 cup almond milk, unsweetened
1 tablespoon pure vanilla extract
½ teaspoon stevia
½ teaspoon cinnamon
½ cup pecans, coarsely chopped
1 tablespoon raw brown sugar
Cooking spray
See recipe directions at iFoodReal. 
More from Culture Cheat Sheet: