7 Spicy Cocktail Recipes Giving Your Drink a Kick
Classic cocktails get different twists all the time. Some bartenders add muddled fruit, unusual herbs, or mix in some unexpected spirits to give their drinks an edge. More adventurous folks are taking things in a different direction, opting for spicy chiles. Cocktails with a kick of heat have been around for a number of years, but they didn't gain mass popularity until more recently. No longer something you have to search high and low to find, spicy cocktails are cropping up on bar and restaurant menus all over the country. But why shell out upwards of $15 for something you can make at home? Try one of these seven cocktails the next time you play bartender to give your beverage a spicy boost.
1. Devil's Garden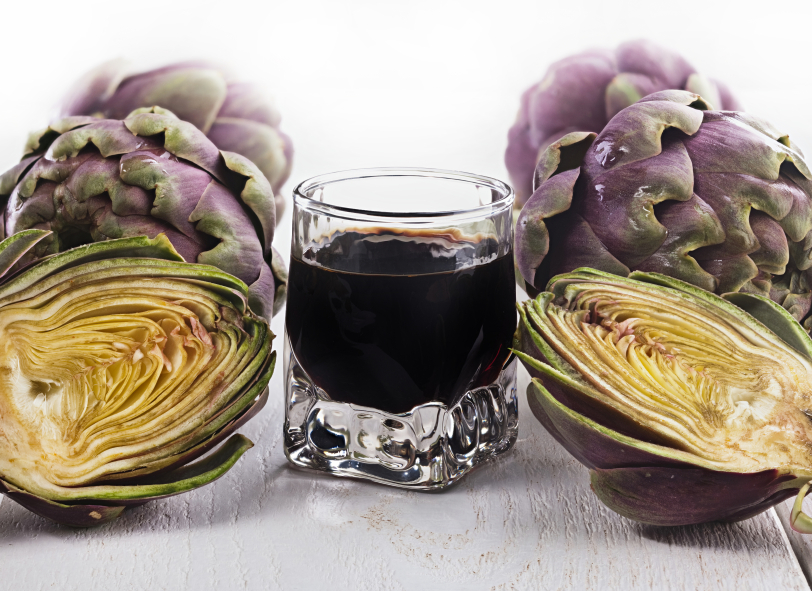 When you're looking for something refreshing but more unique than a basic margarita, this unusual cocktail from Saveur will hit the spot. Lime juice and mint make it great for quenching your thirst while chipotle adds even more depth to smoky mezcal. Never heard of Cynar before? It's an Italian liqueur made from a bunch of different botanicals, including artichoke. It adds a much-needed touch of bitterness.
Ingredients:
Chipotle-infused mezcal
1 dried chipotle chile
1 cup mezcal
Cocktail
4 to 6 mint leaves
¾ ounce lime juice
¾ ounce agave nectar
½ ounce Cynar
½ ounce chipotle-infused mezcal
1½ ounces resposado tequila
Directions: To make the mezcal, toast the chile in a dry pan over high heat until it begins to smoke. Remove to a sealable jar, add the mezcal, and cover. Let sit overnight, and remove chile.
In an ice shake, combine mint, lime juice, agave, Cynar, mezcal, and tequila. Shake for 30 seconds, and strain into an iced coupe glass. Serve.
2. Serrano-Spiced Paloma Cocktail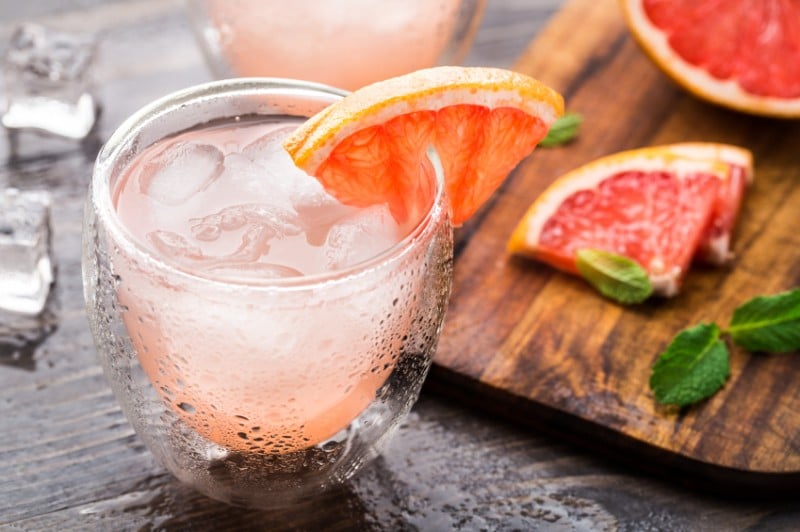 La Paloma is sort of like the greyhound's cousin from south of the border. Often just a mix of grapefruit soda, lime, and grapefruit, this version from The Atlantic adds jalapeño for a fun twist. While this recipe calls for agave, soda water, and grapefruit juice, you can stick with the citrus soda to cut down on ingredients. Just know the resulting cocktail will probably taste a bit sweeter.
Ingredients:
Jalapeño-infused tequila
2 jalapeños, sliced, seeds removed
2 (2-inch) slices green pepper
1 (750-milliliter) bottle silver tequila
Cocktail
2 ounces infused tequila
½ ounce lime juice
3 ounces fresh grapefruit juice
¼ to ½ ounce agave nectar
Soda water
Directions: To make infused tequila, add chile slices and pepper slices to tequila bottle. Allow to sit on hour, then taste to check heat. Remove peppers when desired heat is achieved.
Combine all cocktail ingredients in a shaker filled with ice. Shake until thoroughly chilled, and strain into an ice-filled glass rimmed with salt. Top with soda water, and serve.
3. Ginger Kiss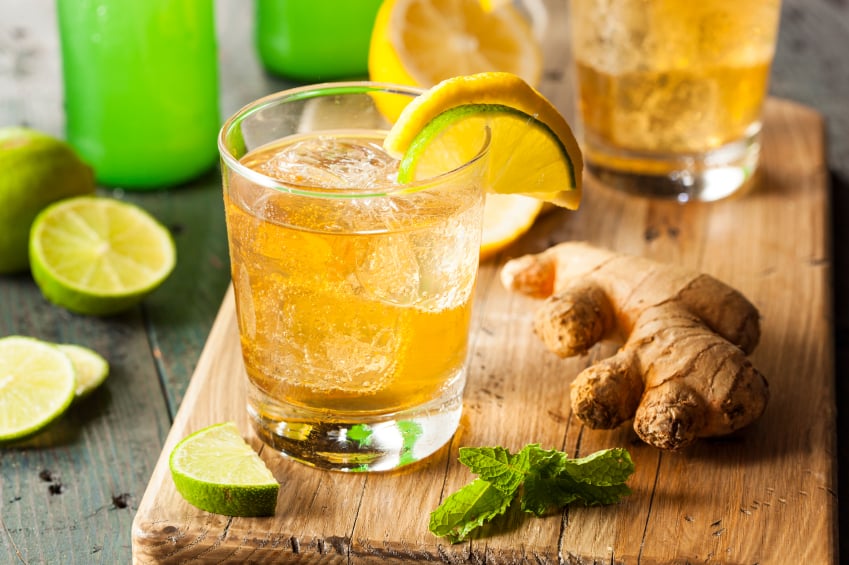 Though you hardly notice through all the heat, habaneros actually have a delicious, citrusy flavor. This zesty cocktail from Allrecipes.com uses the tiniest amount of the fiery chile to great effect with some fresh ginger. If you're a gin drinker who likes spicy food, this could be your ultimate cocktail.
Ingredients:
1 very thin sliver of habanero
3 slices fresh ginger
1½ ounces gin
¾ ounce lime juice
½ ounce simple syrup
1 cup ice cubes
Directions: Muddle habanero slice with 2 slices ginger in a cocktail shaker until finely ground, about 20 seconds. Add gin, lime juice, simple syrup, and ice. Cover, and shake until well chilled. Strain into a cocktail glass. Garnish with remaining slice of ginger, and serve.
4. Chile Martini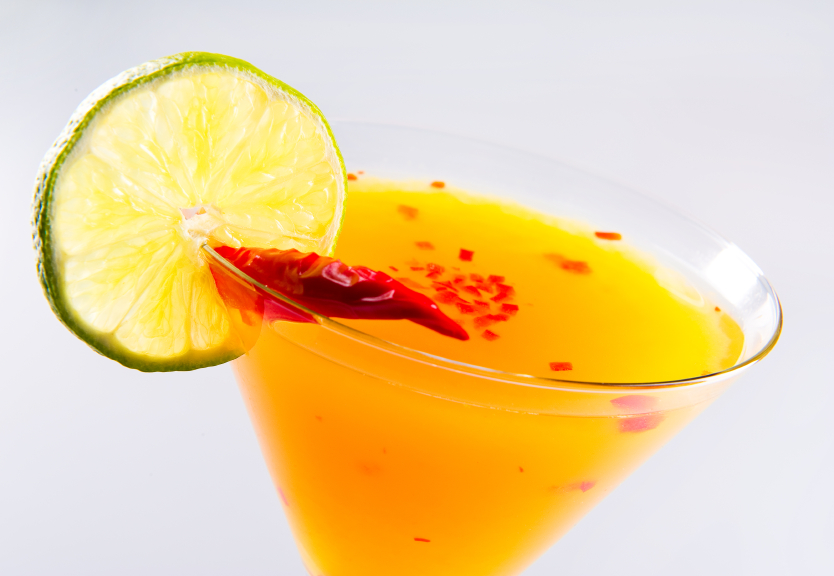 Thai chiles might be tiny, but they pack a serious amount of heat. This fruity cocktail from White On Rice Couple pairs the spicy ingredient with peach nectar and vodka for a simple, but great-tasting drink. Though this method advises removing the seeds, you can boost the heat even more by leaving them intact.
Ingredients:
2 Thai chiles, divided
1½ ounces vodka
2 ounces peach nectar
½ ounce simple syrup
Directions: Remove seeds from 1 chile, and muddle with syrup and vodka. Drain liquid into an ice-filled shaker, and add peach nectar. Shake well, and strain into a martini glass. Garnish with additional chile.
5. Spicy Pineapple Mint Juleps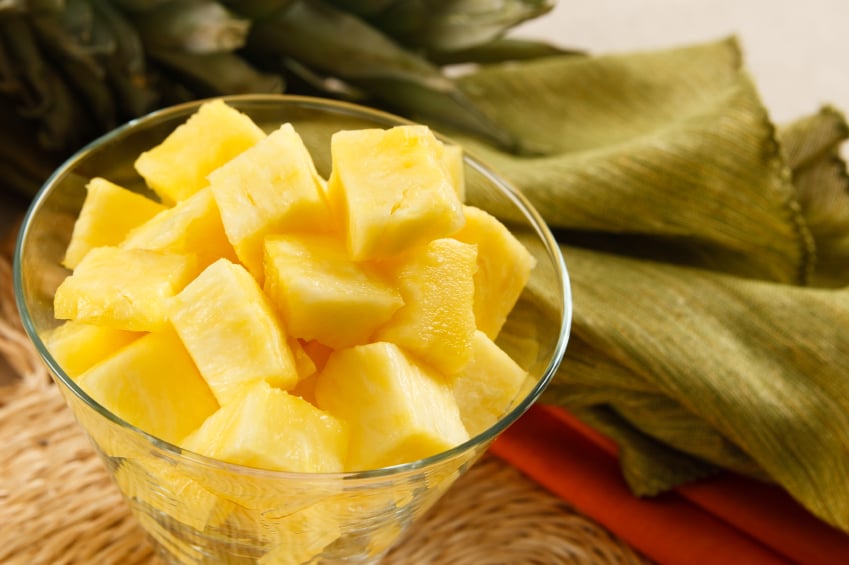 With so much attention focused on super-powered greens, it's easy to forget about other foods that were once annoyingly trendy. Back in the 1990s it was fish with fruit salsa, particularly versions made with pineapple. No matter where you lived in the U.S., you were sure to find mahi mahi crowned with the sweet and spicy condiment. While there's no denying pineapple and chiles make a great pairing, we prefer to combine them in this tasty cocktail from Just Putzing Around The Kitchen. We think you'll agree.
Ingredients:
Jalapeño-infused simple syrup
1 cup sugar
1 cup water
1 large jalapeño, sliced
Juleps
1 cup fresh pineapple cubes
1½ ounces whiskey
2 ounces water
1½ tablespoons infused syrup
3 to 4 mint leaves
Powdered sugar
Crushed ice
Directions: In a medium pot, bring sugar and water to a boil, swirling occasionally. Once sugar is dissolved, remove from heat, add chile, and allow to steep 20 to 30 minutes. Strain into a jar, cover, and refrigerate until ready to use.
In a large cocktail shaker, combine pineapple, mint leaves, whiskey, and water. Muddle until everything is well combined. Add infused syrup, cover, and shake vigorously to chill. Strain into a glass filled with crushed ice. Sprinkle top of ice with powdered sugar, and serve.
6. Cucumber Jalapeño Margarita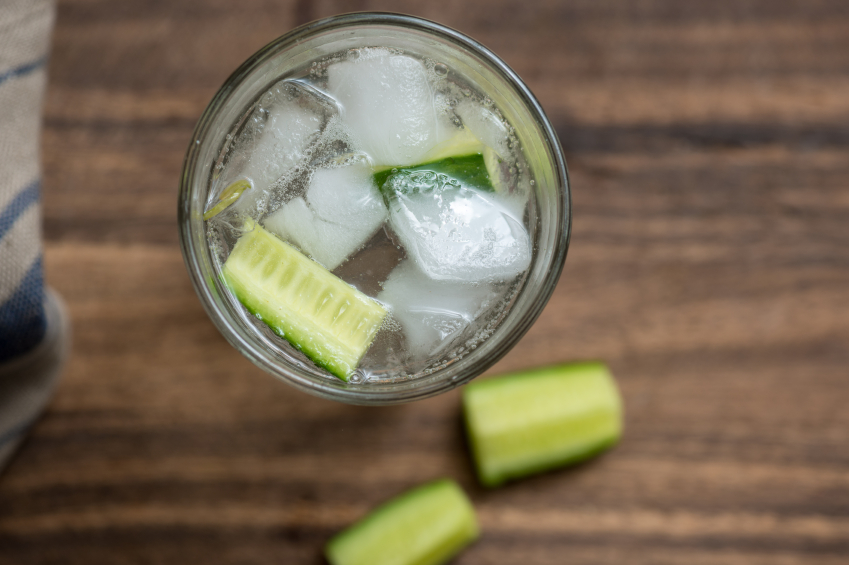 Flavored margaritas are usually syrupy concoctions that come in an array of frightening colors. Though this cucumber and chile drink from A Happy Food Dance might sound like it's headed that route, a quick glance at the ingredients reveals it's not far off from a classic margarita. It's a great choice for those who don't like things too sweet.
Ingredients:
4 ounces tequila
2 ounces fresh lime juice
2 ounces agave nectar
2 (¼-inch-thick) slices cucumber, quartered
2 slices of jalapeño
Salt
Directions: Combine tequila, cucumber, and jalapeño slices into a shaker, and muddle until cucumber and jalapeño start to break down. Add lime juice and agave. Fill shaker with ice, and shake 1 minute. Strain into an ice-filled glass rimmed with salt. Serve.
7. This Spicy Bourbon Drink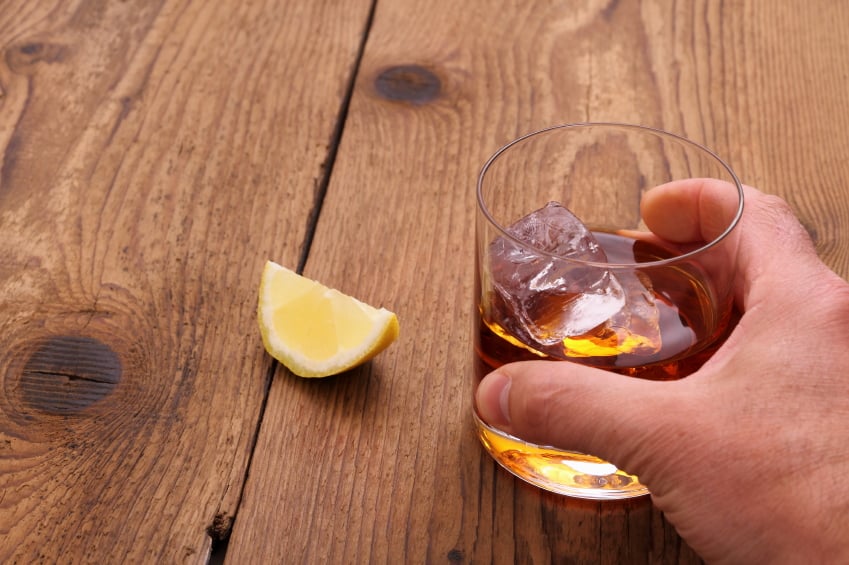 The mistake most people make when crafting inventive bourbon-based cocktails is adding too many ingredients. All those competing flavors wipe out the taste of the spirit, making it kind of a waste of good whisky. Bon Appétit's creative cocktail keeps things simple with just a splash of cherry liqueur, a squeeze of Meyer lemon juice, and a dash of spicy honey, giving the bourbon a chance to shine.
Ingredients:
2 ounces bourbon
½ ounce Cherry Heering liqueur
½ ounce Meyer lemon juice, plus a twist
2 teaspoons Thai Chile Honey
A few dashes orange or angostura bitters
Directions: Combine bourbon, liqueur, Meyer lemon juice, and honey in a cocktail shaker. Fill with ice, and shake until outside of shaker is frosty, about 30 seconds. Strain into a chilled coupe glass. Add a few dashes of bitters, garnish with lemon twist, and serve.
More from Culture Cheat Sheet:
Want more great content like this? Sign up here to receive the best of Cheat Sheet delivered daily. No spam; just tailored content straight to your inbox.