7 Spiked Hot Chocolate Recipes to Try Tonight
There's no better way to finish off the day than with a nightcap, particularly a hot one during chillier weather. A splash of booze in a mug of coffee is a great way to go, though you may find yourself wanting something a little more indulgent from time to time. Halfway between dessert and cocktail, spiked hot chocolate is one of our favorite after dinner drinks. Taste why with these seven recipes.
1. Brandied Hot Chocolate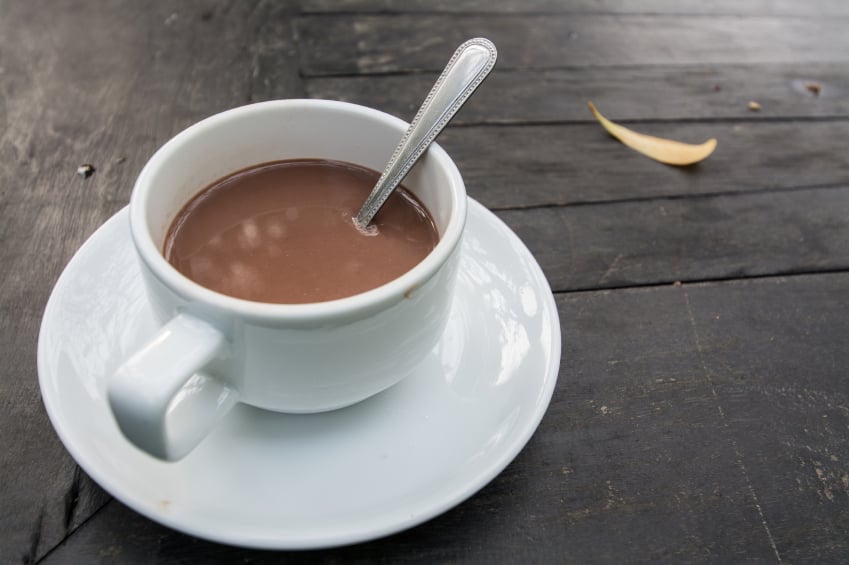 For the ultimate indulgence, make this creamy chocolate drink from Epicurious. It uses a bit of cornstarch to slightly thicken the beverage, which helps it taste even more luxurious and makes it perfect for dunking any of your favorite cookies. Because this recipe is so simple, go for a really good quality chocolate bar.
The brandy is used more as a way to enhance the flavor than as a method to spike this recipe, but you can feel free to add more. As with the chocolate, use something that actually tastes good rather than the cheapest thing you can find. If you need some guidance, check out VinePair's favorite bottles.
Ingredients:
2 teaspoons cornstarch
1½ cups whole milk
½ cup water
10 ounces good quality bittersweet chocolate, finely chopped
Pinch of salt
½ cup heavy cream
1 tablespoons unsweetened cocoa powder (optional)
2 tablespoons brandy, plus more
Directions: Whisk together cornstarch and 2 tablespoons of milk. Bring water to a boil in a heavy 2-quart saucepan, reduce heat, add chocolate and salt, and whisk until smooth.
Add cream, remaining milk and increase heat to medium. Cook, whisking occasionally, until mixture is smooth and heated through. Taste and whisk in cocoa, if desired.
Whisk cornstarch mixture to recombine and add half to hot chocolate, whisking, until slightly thickened, about 2 minutes. Add brandy and remaining cornstarch to thicken, if desired. Continue to simmer and whisk for 1 additional minute. Serve.
2. Mexican Hot Chocolate with Tequila and Cayenne Pepper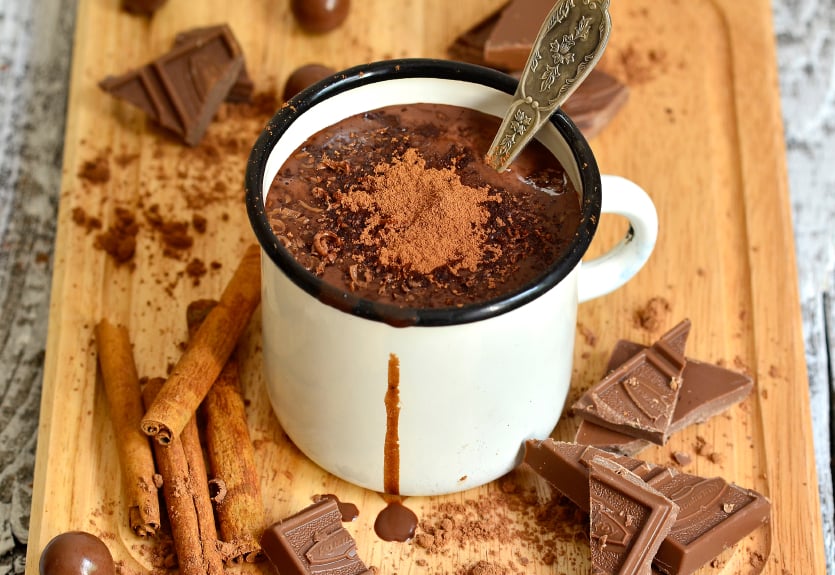 Tequila tastes perfectly at home in Creative Culinary's cayenne-infused hot chocolate. While this recipe calls for Mexican chocolate, you can also get by without it by adding a tad more cayenne and some cinnamon with your usual bittersweet bars. If you'd like to add a smoky dimension, throw in a bit of chipotle powder and use mezcal instead of tequila.
Ingredients:
3 cups milk
1½ (3.1-ounce) bars Mexican chocolate, broken into pieces
6 tablespoons cocoa powder
2 tablespoons can sugar
⅛ to ¼ teaspoon cayenne pepper
4 ounces tequila
½ cup whipped cream
Ground cinnamon
Directions: Heat milk in a heavy, medium saucepan set over medium heat, being careful not to boil. Stir in the chocolate, cocoa powder, and sugar. Continue to cook, whisking, until chocolate melts and sugar is fully dissolved.
Add cayenne and adjust level to your preference. Divide hot chocolate between two mugs and add 2 ounces of tequila to each serving. Top with whipped cream and garnish with cinnamon.
3. Hot Chocolate with Rum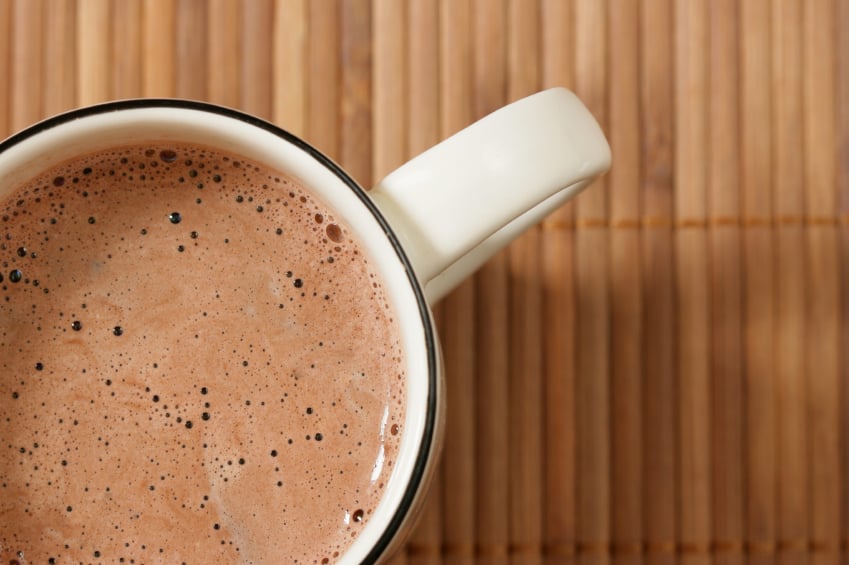 Rum and chocolate are certainly no strangers, but they typically meet in cakes, custards, or truffles. The only problem with those treats is they take quite a bit of time and effort to make. When you want the flavor without the hassle, this rum-spiked hot chocolate from Food & Wine is the next best thing. With just four ingredients and a 10-minute simmer, it's about as easy as dessert gets.
As written, this recipe makes 6 servings, but you can easily scale it for double that amount. Why would you want to double it? Because it's an easy way to make an impressive dessert for a get together.
Ingredients:
5½ cups whole milk
½ cup heavy cream
2 tablespoons dark rum
9 ounces bittersweet chocolate, coarsely chopped
Directions: In a medium saucepan, combine milk, cream, and rum. Bring to a simmer over medium heat. Remove pan from heat, add chocolate, and let stand until melted. Whisk until smooth. Pour into warmed mugs and serve.
4. Boozy Pumpkin White Hot Chocolate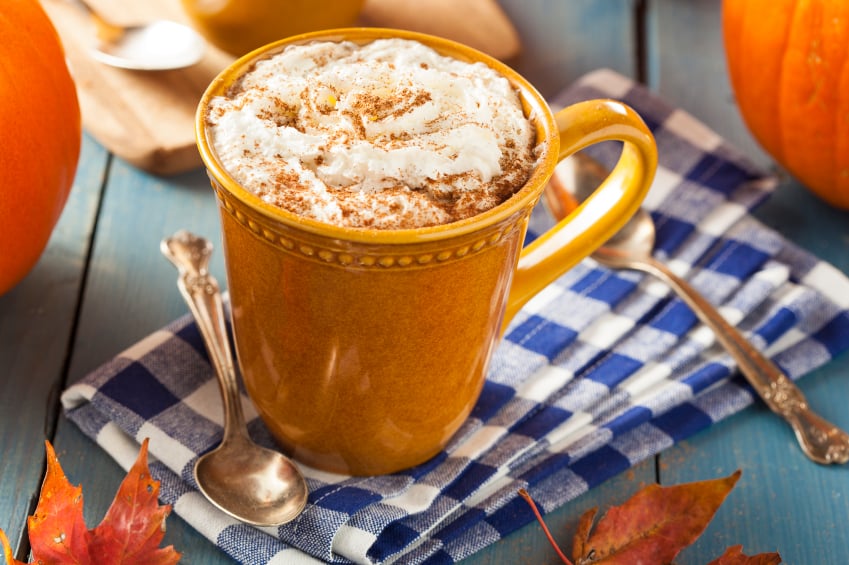 Forget those artificial coffee drinks you've tried in the past because pumpkin drinks really can be delicious, as long as they come out of your kitchen. This unique twist on hot chocolate from Minimalist Baker shows you how it's done. Yes it contains pumpkin spice, but there's also a decent amount of actual squash in here. It'll wow you with flavor.
While you can use white chocolate chips, keep in mind they won't melt as well as bars. Most commercial chips contain stabilizers so they maintain their shape when heated. That's great for cookies, but not so much for drinks.
Ingredients:
½ cup white chocolate chips or chopped pieces from a bar
2½ cups milk, divided
¼ cup pumpkin purée
¼ teaspoon pumpkin pie spice, plus more
1 ounce coffee liqueur or ½ ounce bourbon
Whipped cream
Caramel sauce
Directions: In a medium saucepan, melt white chocolate with ½ cup milk over low heat, whisking constantly, until melted and smooth. Add remaining milk, pumpkin, spices, and stir well to combine.
Pour hot chocolate into two small mugs and add your booze of choice. Stir just to incorporate. Top with whipped cream, caramel sauce, and a sprinkle of pumpkin pie spice. Serve.
5. Salted Butterscotch Hot Chocolate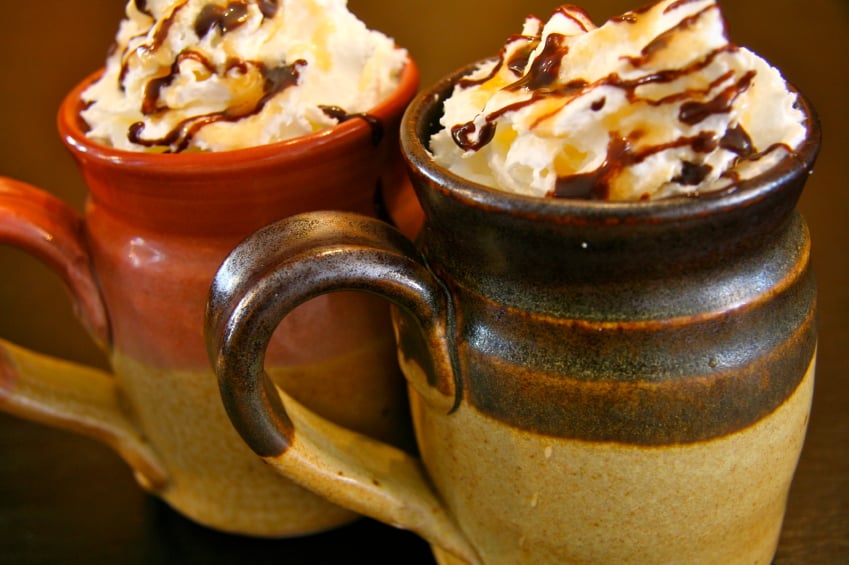 If you're a fan of sweet and savory combinations, Serious Eats' hot chocolate with salted butterscotch is calling your name. Though butterscotch doesn't traditionally contain the whiskey, it's a pretty delicious addition. We like to serve this treat with a pretzel rod for stirring.
Ingredients:
2 tablespoons sugar
6 ounces Scotch, divided
Kosher salt
¼ cup heavy cream
¼ cup cocoa powder
3 cups whole milk
4 ounces milk chocolate chips
4 ounces bittersweet chocolate chips
Whipped cream
Directions: Heat sugar in a small saucepan set over medium-high heat. Swirl pan as sugar melts and starts to color. When golden, add 2 ounces Scotch and all of cream. Whisk until smooth and season with a pinch of salt. Remove to a bowl and set aside.
In a medium saucepan, combine cocoa with another pinch of salt. Stir in milk, milk chocolate, and bittersweet chocolate. Set pan over medium heat and cook, stirring constantly, until melted and hot. Whisk to ensure mixture is completely smooth. Whisk in all but a few teaspoons of caramel and remaining Scotch.
Divide hot chocolate among mugs, top with whipped cream, drizzle with remaining sauce, and serve.
6. Kahlua Hot Chocolate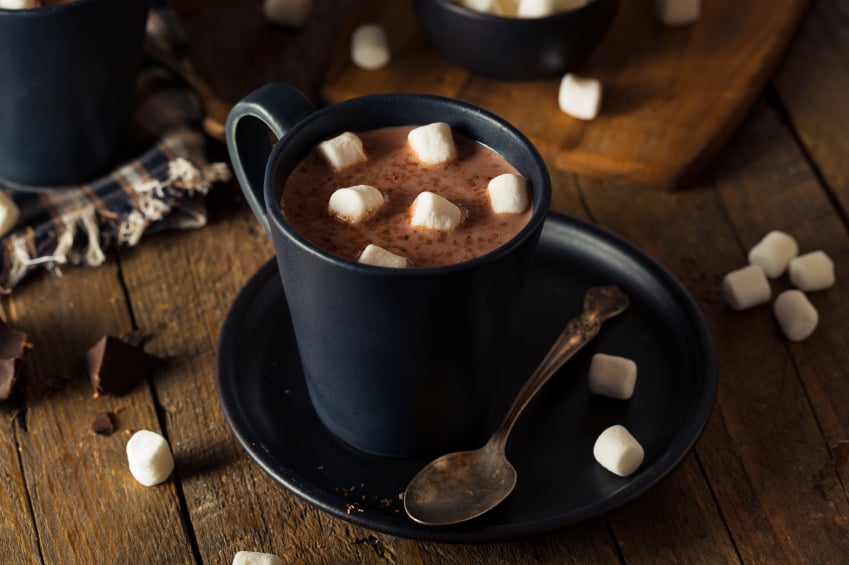 Some people like a little bit of chocolate with their coffee while others prefer a little coffee with their chocolate. If you find yourself in the latter group, this spiked hot cocoa from Damn Delicious is just the treat to satisfy your sweet tooth. A hint of nutmeg and cinnamon makes this drink even more cozy. And don't worry about the name, because any type of coffee liqueur will work.
Ingredients:
2 cups milk
2 tablespoons sugar
1½ tablespoons Dutch-process cocoa powder
¼ teaspoon cinnamon
Pinch of nutmeg
1 ounce coffee liqueur
Mini marshmallows
Salted caramel sauce
Chocolate syrup
Directions: Heat milk, sugar, cocoa, cinnamon, and nutmeg in a medium pot set over medium for about 2 to 3 minutes, or until hot. Remove mixture from flame and stir in coffee liqueur. Pour into mugs and garnish with marshmallows, caramel sauce, and chocolate syrup. Serve.
7. Nutella Hot Chocolate with Hazelnut Liquor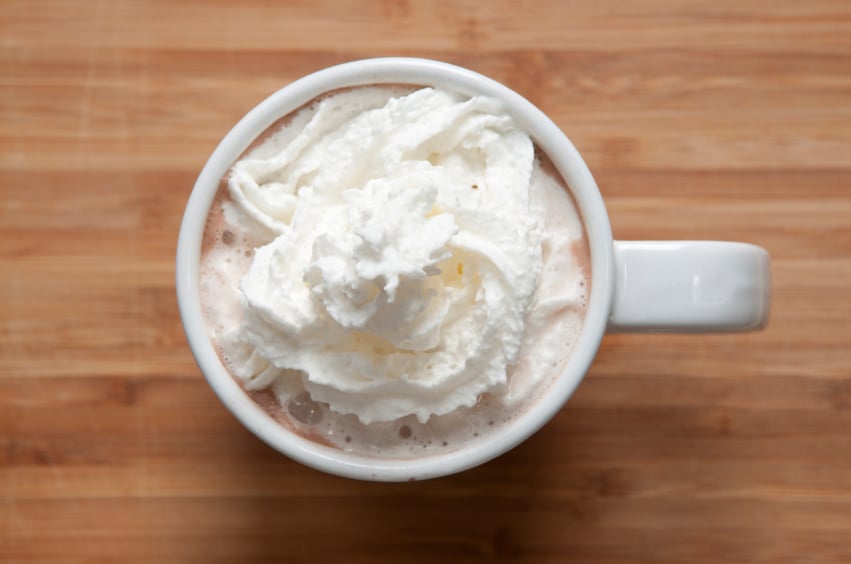 Though it's perfectly acceptable to eat a scoop or two of chocolate-hazelnut spread right out of the jar for a post-dinner treat, a single serving of hot chocolate definitely feels more special. Saveur uses the delicious spread to make this individually portioned dessert and even adds a splash of hazelnut liqueur to sweeten the deal. Your lazy night at home just got a lot more delicious.
Ingredients:
1 cup milk
2 tablespoon chocolate-hazelnut spread
1 tablespoon hazelnut liqueur
Whipped cream
Directions: Heat milk in a 1-quart saucepan over medium heat until beginning to bubble around edges, about 3 minutes. Remove from heat and whisk in chocolate-hazelnut spread and liqueur. Pour into a mug, top with whipped cream, and serve.
More from Culture Cheat Sheet: