7 Ways to Make Healthy and Delicious Dishes Using Seeds
An easy way to amp up the nutrition in your diet is by eating more seeds. Hemp seeds, chia seeds, pumpkin seeds, and sunflower seeds are especially popular for use in healthy recipes, and for good reason. The tiny seeds pack a punch, and boast high amounts of nutrients including fiber, protein, iron, minerals, and fatty acids. Health activists have recently put a spotlight on chia seeds as according to Authority Nutrition, chia seeds are packed full of fiber, protein, potassium, omegas, and magnesium, and on top of that, they're low in calories and high in antioxidants. The black seeds don't taste like much, but they can add significant texture to your dishes. Today, we're highlighting seven ways to add seeds of all kinds to your meals so you can reap the nutritional benefits of the tiny superfoods.
1. Overnight Chocolate Chia Seed Pudding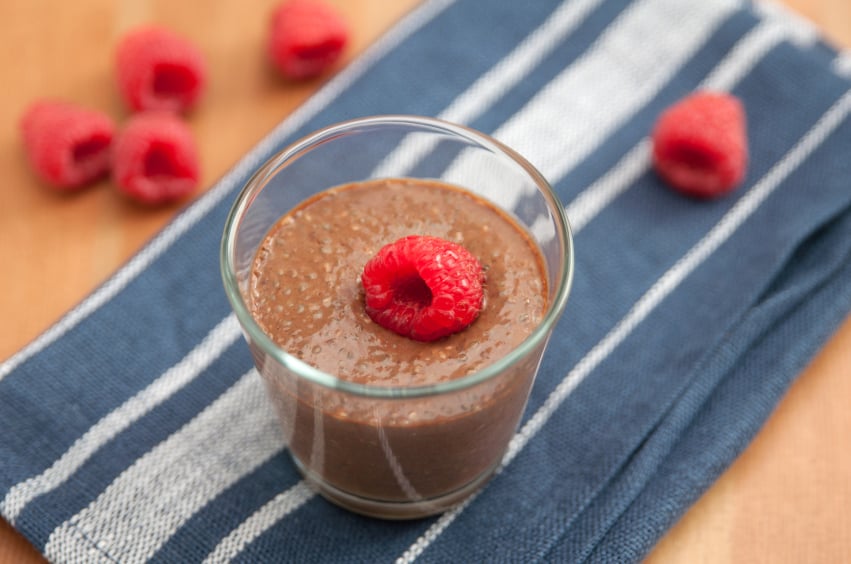 One of the most popular recipes that stars chia seeds is Chia Seed Pudding. Soaking chia seeds in a liquid of your choice allows the seeds to absorb the moisture and expand, giving way to a silky pudding that is loaded with nutrients, and can be eaten for breakfast, lunch, or dinner. Follow this recipe from Minimalist Baker and see if you can get on board with the protein-packed Chia Seed Pudding. This is the perfect pudding to first sink your spoon into, because if you're going to like any Chia Seed Pudding, it's likely to be of the chocolate variety.
Ingredients:
1½ cups almond milk
⅓ cup chia seeds
¼ cup cacao or unsweetened cocoa powder
2 to 5 tablespoons maple syrup if not blending
½ teaspoon ground cinnamon (optional)
¼ teaspoon sea salt
Optional: ½ teaspoon vanilla extract
Directions: Add all ingredients except sweetener to a mixing bowl and whisk vigorously to combine. If not blending, sweeten to taste with maple syrup at this time. If blending, you can sweeten later with maple syrup or dates.
Let rest covered in the fridge overnight or at least 3 to 5 hours.
If blending, add to a blender and blend until completely smooth and creamy, scraping down sides as needed. Sweeten to taste.
Leftovers keep covered in the fridge for 2 to 3 days, though best when fresh. Serve chilled with desired toppings, such as fruit, granola, or coconut whipped cream.
2. Blueberry Banana Smoothie with Chia Seeds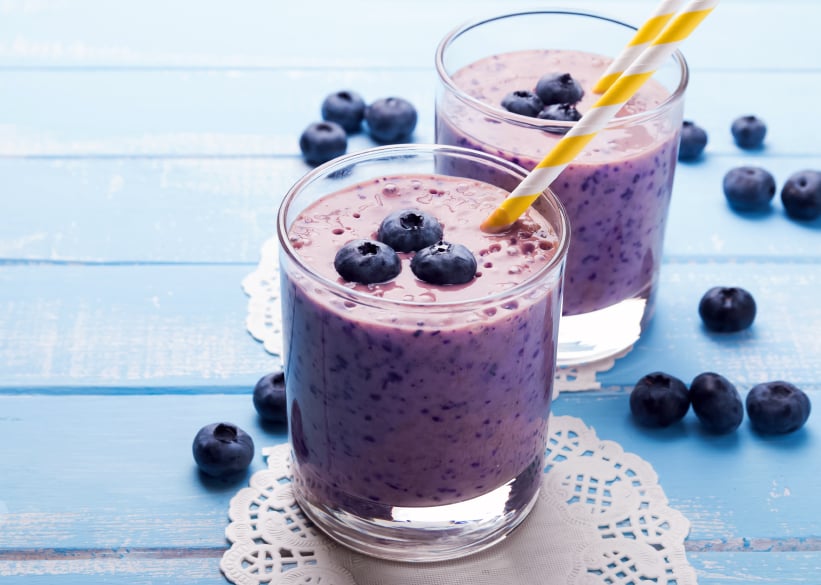 You can also throw your chia seeds in smoothies and hide the grainy texture of the seeds within the layers of your fruity drink. Adding chia seeds to your smoothies bulks up the beverage's nutritional profile and can easily transform a simple snack into a nutrient powerhouse. Sweet and Delish has a recipe for a Blueberry Banana Smoothie, and it's packed with chia seeds. The smoothie recipe requires only 4 ingredients, and can be made completely in a food processor.
Ingredients:
1 cup frozen blueberries
1 cup low fat milk
2 tablespoons chia seeds (blended or sprinkled on top)
2 medium frozen and sliced bananas
Directions: Take the bananas out of the freezer about 15 minutes before you are going to make the smoothie, or microwave for 20 to 30 seconds so you can easily remove the banana skin. Slice the bananas so they will blend well.
Add one cup of frozen strawberries or the one cup of frozen blueberries and one cup of skim milk or 1% milk. Add chia seeds or if you like top the smoothie with the chia seeds.
Blend well in a food processor until mixture is creamy and smooth.
3. Zucchini-Pecan Flaxseed Bread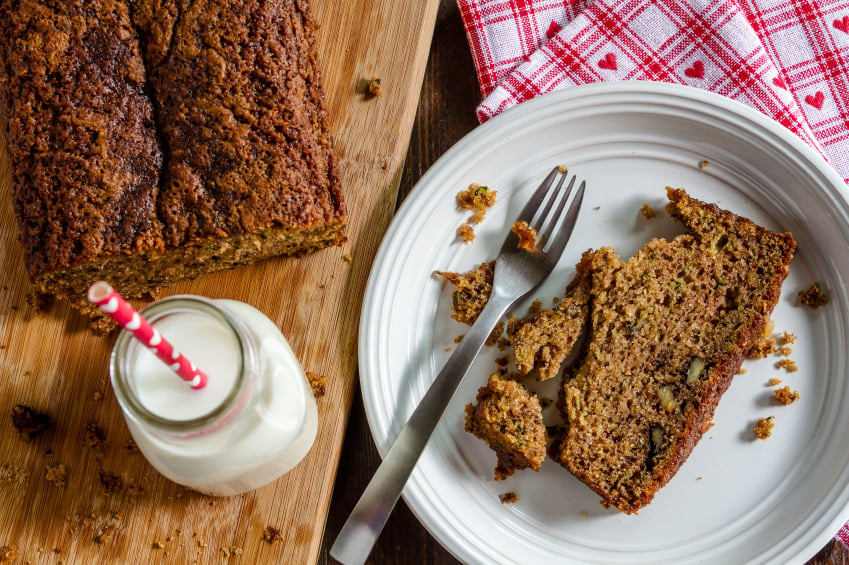 This next bread is one you can enjoy with zero guilt. The Zucchini-Pecan Flaxseed Bread from Cooking Light is full of good-for-you ingredients including zucchini, pecans, flaxseed, and yogurt. You'll even use a mix of all-purpose and whole-wheat flour. Like the other seeds on our list, Cooking Light explains that flaxseeds are rich in fatty acids, fiber, and antioxidants, so eat up! You'll barely be able to taste them in this bread but you'll still be able to reap the health benefits.
Ingredients:
1½ cups all-purpose flour
1 cup whole-wheat flour
¾ cup granulated sugar
½ cup ground flaxseed
¼ cup packed brown sugar
1 tablespoon baking powder
1 teaspoon ground cinnamon
¾ teaspoon salt
¼ teaspoon baking soda
¼ teaspoon ground nutmeg
2 cups shredded zucchini
1 cup vanilla low-fat yogurt
½ cup egg substitute
3 tablespoons canola oil
1 teaspoon vanilla extract
¼ cup chopped pecans, toasted
Cooking spray
3 tablespoons chopped pecans, toasted
Directions: Preheat oven to 350 degrees Fahrenheit.
Lightly spoon flours into dry measuring cups; level with a knife. Combine flours, granulated sugar, and next 7 ingredients in a large bowl, stirring well with a whisk.
Spread zucchini onto several layers of heavy-duty paper towels; cover with additional paper towels. Press down firmly to remove excess liquid.
Combine yogurt, egg substitute, oil, and vanilla in a medium bowl, stirring well with a whisk. Stir in zucchini. Add zucchini mixture and ¼ cup pecans to flour mixture, stirring until well combined. Pour batter into a 9-by-5-inch loaf pan coated with cooking spray. Sprinkle batter with 3 tablespoons pecans. Bake at 350 degrees for 1 hour or until a wooden pick inserted in center comes out clean. Cool in pan 10 minutes on a wire rack. Remove bread from pan; place on wire rack.
4. Quinoa Granola with Coconut, Chia Seeds, and Pumpkin Seeds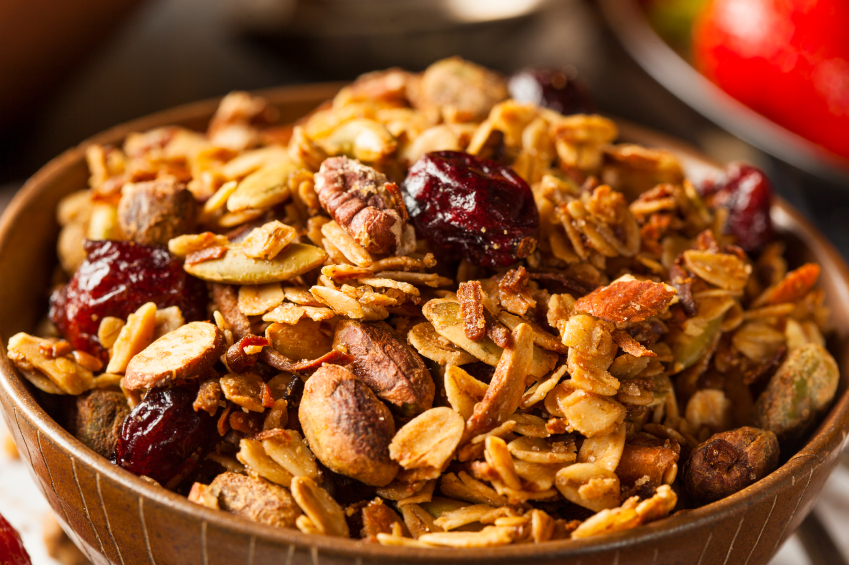 This next recipe from Vegangela enlists two types of seeds and requires a little more chewing. Enter: Quinoa Granola with Coconut and Chia Seeds. Enjoy this granola in oats, yogurt, milk, or eat it alone. While most granolas are packed full of sugar and additives, the only thing this granola is packed full of is nutrients, including protein, fiber, omegas, and potassium. It is also vegan and gluten-free. Chia seeds and quinoa add a nice crunch to the baked granola and the good stuff is also studded with coconut, pecans, walnuts, almonds, and pumpkin seeds.
Ingredients:
2 cups quinoa flakes
½ cup shredded unsweetened coconut
¼ cup coconut oil
¼ cup raw almonds
¼ cup chia seeds
¼ cup raw pecans
¼ cup pumpkin seeds
¼ cup raw walnuts
¼ cup agave syrup
1 teaspoon cinnamon
Directions: Preheat oven to 300 degrees Fahrenheit and prepare a baking sheet by lining it with parchment paper. Set aside.
In a large bowl, gently mix the ingredients until fully combined. Spread mixture evenly onto the baking sheet. Bake for 30 minutes, stirring halfway to ensure the nuts don't burn. Let cool and store in an airtight container, no more than a couple weeks.
5. Apple Hemp Muffins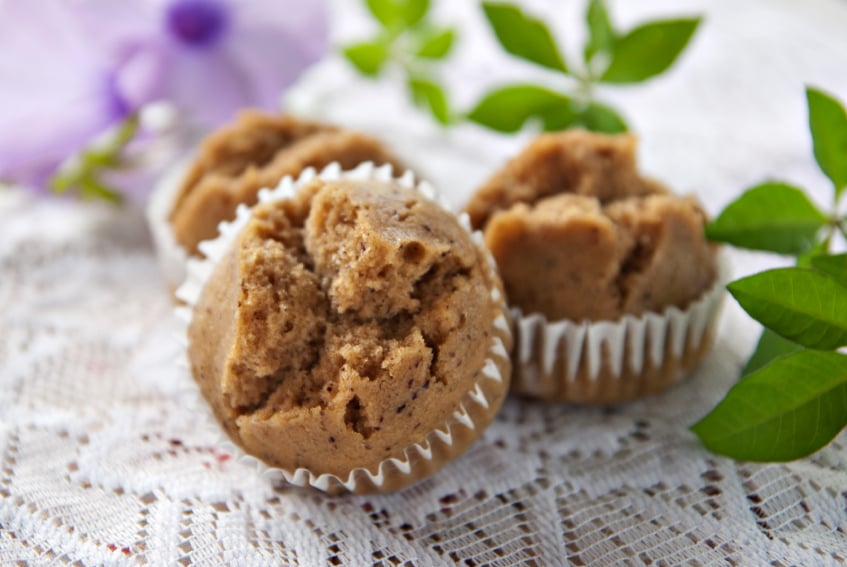 As its name suggests, Apple Hemp Muffins call in the hemp seeds. These muffins from Plant Powered Kitchen are vegan, oil-free, and wheat-free, but they certainly aren't free of nutrients, as the hemp seeds easily bulk up the nutritional profile of this baked good, sharing their protein, fatty acids, and antioxidants. Also listed in the ingredients list are oat flour, spelt flour, non-dairy milk, applesauce, and a handful of other baking staples. You'll feel good about sinking your teeth into one of these warm nutrient-packed muffins.
Ingredients:
1½ cups whole-grain spelt flour
1 cup oat flour
⅔ to ¾ cup hemp seeds
2 teaspoons baking powder
1 teaspoon baking soda
¼ teaspoon sea salt
1½ to 1¾ teaspoon cinnamon
¼ teaspoon ground cardamom
1 cup unsweetened organic applesauce
½ cup pure maple syrup
¾ cup plain or vanilla non-dairy milk
1½ teaspoon pure vanilla extract
⅓ cup raisins or chopped raw banana spears
Directions: Preheat oven to 350 degrees Fahrenheit. In a large bowl, combine the dry ingredients, sifting in the baking powder and baking soda. Stir through until well combined. In another bowl, combine applesauce, maple syrup, non-dairy milk, and vanilla, and mix together. Add the wet mixture to the dry mixture, and gently fold and mix through, until just combined. Spoon the mixture into a muffin pan lined with cupcake liners. Bake for 21 to 23 minutes, or until a toothpick inserted in the center comes out clean.
6. Chia Coconut Ginger-Carrot Soup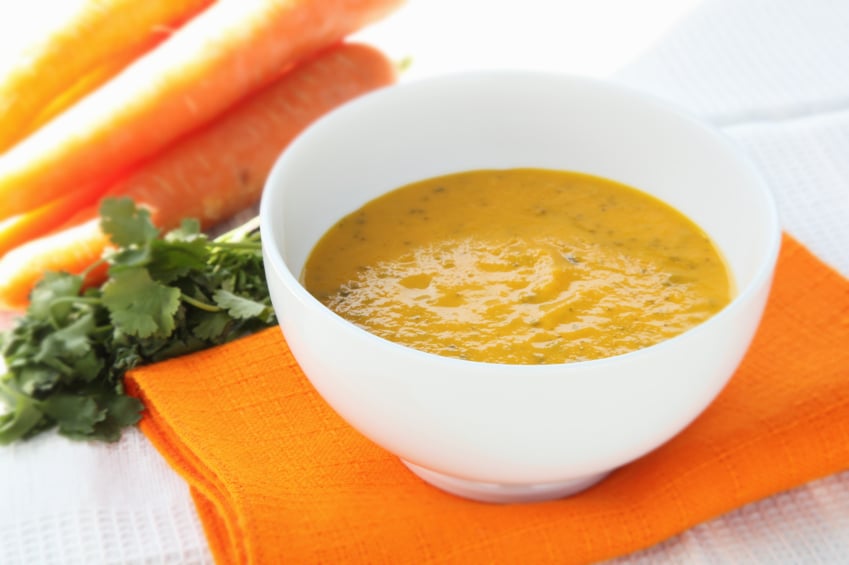 Next up is a savory dish that also enlists chia seeds. This Chia Coconut Ginger-Carrot Soup from Epicurious gets a spicy kick thanks to fresh ginger. The vegetarian dish is healthy on its own but the addition of chia seeds takes its nutritional profile over the top. The chia seeds also give the Coconut Ginger-Carrot Soup some crunch and make it more aesthetically-pleasing, so don't feel guilty about slurping this soup up!
Ingredients:
1 can coconut milk
1 medium yellow onion, chopped
¾ teaspoon sea salt
2 teaspoons peeled, grated fresh ginger
2 teaspoons Thai yellow or red curry paste
1 clove garlic, peeled and chopped
12 ounces baby carrots, quartered lengthwise
2¾ cups low-sodium vegetable broth, plus more as needed
2 tablespoons freshly squeezed lime juice
15 large cilantro sprigs plus 5 small cilantro sprigs
¼ cup plus 1 teaspoon black or white chia seeds
Directions: Heat ⅓ cup of the coconut milk in a large saucepan over medium-high heat. Add the onion and salt and cook while stirring until onion is softened, about 5 minutes. Stir in the ginger, curry paste, and garlic and cook while stirring until well combined and fragrant, about 1 minute.
Add the carrots, 2¾ cups of broth, the lime juice, the 15 large cilantro sprigs, and the remaining coconut milk and bring to a boil over high heat. Reduce heat to low and simmer, covered, until the carrots are very tender, about 30 minutes. Remove the cilantro sprigs and puree soup in batches in a blender, using the hot fill line as a guide.
Transfer the pureed soup to a clean saucepan and place over low heat. Stir in ¼ cup of the chia seeds and simmer uncovered until chia seeds are fully hydrated and soup reaches desired consistency, about 20 minutes, stirring occasionally. Taste and adjust seasonings, garnish with the remaining 1 teaspoon of chia seeds and small cilantro sprigs, and serve.
7. Chia Chocolate Chip Breakfast Cookies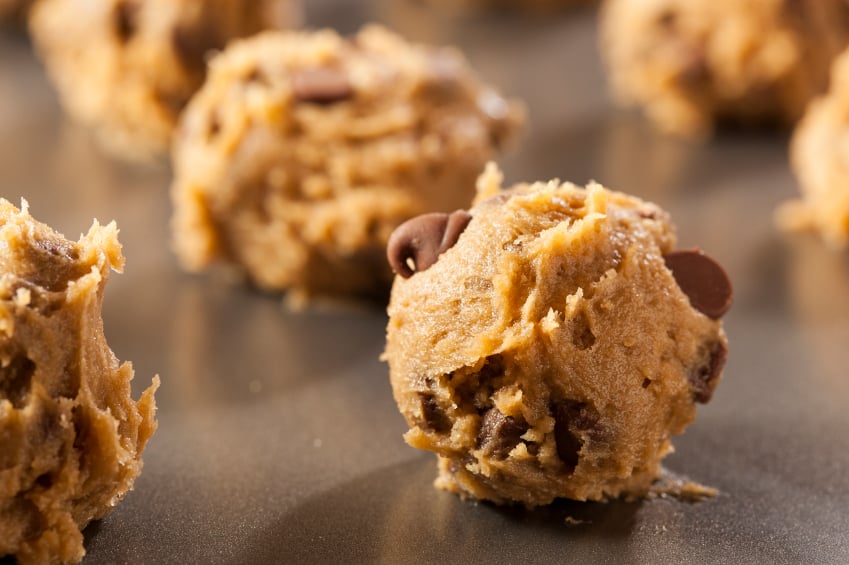 Lastly: Cookies so healthy you can eat them for breakfast. Monique from Ambitious Kitchen provides us with a cookie recipe that is not only gluten-free, but only packed with omega-3s. This recipe for Chia Chocolate Chip Breakfast Cookies yields 15 cookies, all of which have no butter, flour, or added sugar. The star ingredients in the cookies are chia seeds, walnuts, almonds, oats, and of course, chocolate chips, and while the cookies taste just sweet enough to call them dessert, their clean ingredients list ensures they won't send you into a sugar coma.
Ingredients:
1 cup shelled walnuts
1 cup raw unsalted almonds
2 tablespoons honey
1 teaspoon vanilla
1 egg
½ teaspoon baking soda
½ teaspoon cinnamon
¼ teaspoon salt
½ cup dried cherries, coarsely chopped
¼ cup dark chocolate chips
1 tablespoon chia seeds
½ cup gluten free rolled oats
Directions: Preheat oven to 350 degrees Fahrenheit. Spread walnuts and almonds over baking sheet. Toast nuts in the oven for 8 to 10 minutes, stirring once halfway through. Keep heat in oven.
Next, place toasted nuts in the food processor. Process until completely smooth and very creamy similar to peanut butter; this should take about 5 minutes.
Add honey, vanilla, egg, baking soda, cinnamon, and salt to processor and process again until well combined, about 2 minutes. Transfer to a medium bowl and fold in cherries, chocolate chips, chia seeds, and oats. Use a small cookie scoop to drop cookies and roll into balls. Place on cookie sheet then slightly flatten with the palm of your hand. Bake for 7 to 9 minutes or until edges are slightly golden brown. Allow to cool on cookie sheet for 10 minutes, then transfer to a wire rack to finish cooling. Makes 15 cookies. Store in an airtight container; cookies will keep well for 3 to 5 days.
More from Culture Cheat Sheet:
Want more great content like this? Sign up here to receive the best of Cheat Sheet delivered daily. No spam; just tailored content straight to your inbox.