Surprisingly Delicious Beet Recipes to Try This Week
Beets burst onto the scene a number of years ago and they're not going away anytime soon. The good news is the root veggie has a delicious, naturally sweet flavor and is loaded with nutrition. One 2-inch beet contains 35 calories, 2 grams of fiber, and loads of important nutrients. The bad news is most preparations at restaurants are pretty much the same, so you'll need to get into the kitchen to taste some more variety. These five recipes will turn you into a beet believer.
1. Sweet Potato and Beet Hash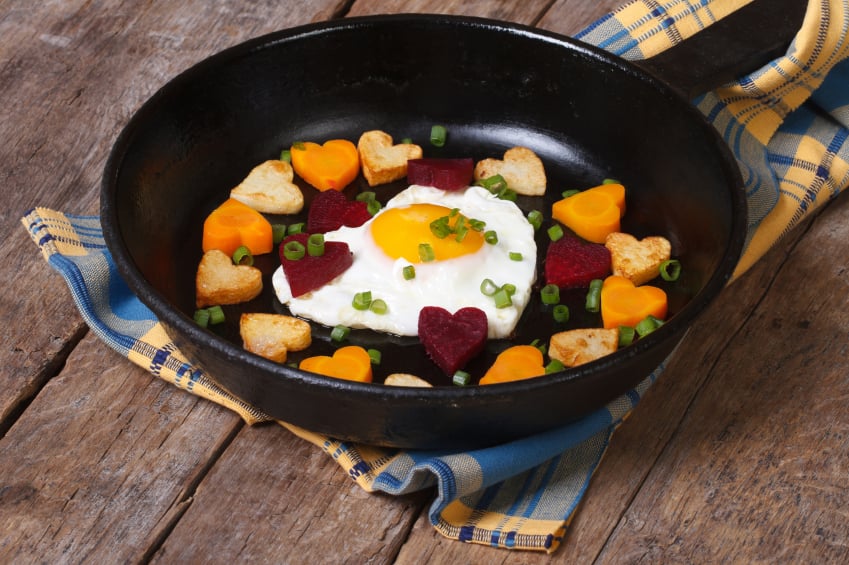 Breakfast can be a bore when you make the same thing morning after morning. Introduce some new flavors to your regular routine with this vibrant red and orange hash from The Kitchen Paper. Loaded with sweet potatoes and beets, this breakfast skillet is brimming with good-for-you nutrients. Don't worry about including a little bit of bacon because you need the added fat to cook the veggies and it'll help you better absorb certain vitamins.
This might be the perfect breakfast to eat if you have a tough workout scheduled later in the day. A 2012 study found participants performed better in treadmill time trials after consuming baked beets 75 minutes prior to the run. Participants also ranked their perceived effort as lower during the trial following beet consumption.
Ingredients:
4 slices of bacon, chopped
½ small onion, diced
3 large beets, scrubbed and cut into cubes
1 large sweet potato, scrubbed and cut into cubes
½ teaspoon salt
1 teaspoon pepper
½ teaspoon crushed red pepper flakes
3 to 4 eggs
2 green onions, chopped
Directions: Heat a large cast-iron skillet over medium-low heat. Add bacon pieces and cook until bacon is fully cooked, but not yet crisp. Remove bacon from skillet and set aside.
Add onions to bacon grease in the skillet and cook, stirring, for 2 minutes. Add the beets and cook, stirring, for 5 to 7 minutes. Stir in the sweet potatoes and continue to cook, stirring very occasionally, for 15 to 20 minutes, or until veggies are browned and fully cooked.
Stir in salt, pepper, red pepper flakes, and bacon pieces. Use a spoon to create an indentation in vegetable mixture for each egg. Add an egg to each indentation, cover pan with a lid, and cook until whites are set, but yolks remain runny, about 5 minutes. Remove from heat, sprinkle with green onions, and serve.
2. Seared Fish with Beet Salsa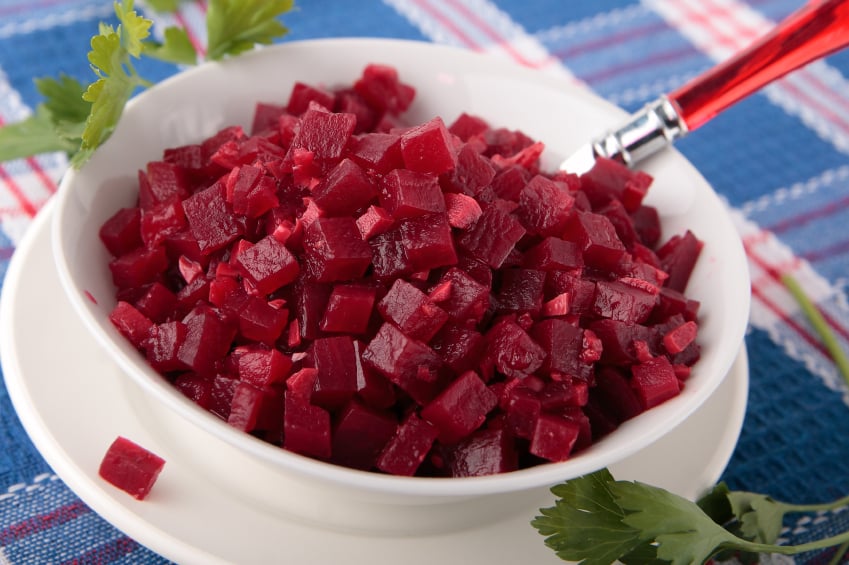 Roasted beets have a hearty texture that works well in dishes that might otherwise be too soft, like this fish and salsa dish from The New York Times. It manages to be both substantial and light at the same time, perfect for a healthy midweek meal. Leftover salsa would be great tossed with cooked grains for an easy lunch.
Most people are already trying to eat more fish to boost heart health and it turns out beets can help out even more. In a recent study published in Hypertension, patients who supplemented their diets with beet juice experienced a drop in blood pressure. The responsible nutrient is nitrate, which is abundant in beets.
Ingredients:
Salsa
3 medium or 4 small beets, roasted, peeled, and cut into a small dice
2 to 3 serrano or jalapeño chiles, minced
¼ cup chopped cilantro
Salt
2 tablespoons fresh lime juice
2 tablespoons minced shallot or chives (optional)
½ small tart apple, cored and cut into very small dice
2 tablespoons extra-virgin olive oil
Fish
1½ pounds cod or other light-fleshed fish fillets
Salt and freshly ground pepper
1 tablespoon sunflower, grapeseed, or extra-virgin olive oil
Juice of 1 lime
Directions: Combine all ingredients for salsa in a medium bowl. Stir to combine, taste, and adjust seasoning. Set aside for at least 30 minutes.
Preheat oven to 400 degrees Fahrenheit. Season fish with salt and pepper on both sides. Heat a heavy, oven-safe skillet over high heat and add oil. Swirl to coat pan with oil. Add fish and cook for 1 minute, or until you can easily slide a spatula under fillets.
Flip fish and transfer pan to oven. Cook until fish is opaque and flakes, 5 to 10 minutes, depending on the thickness of fillets. Squeeze lime juice over top. Serve fish with salsa.
3. Borscht with Beef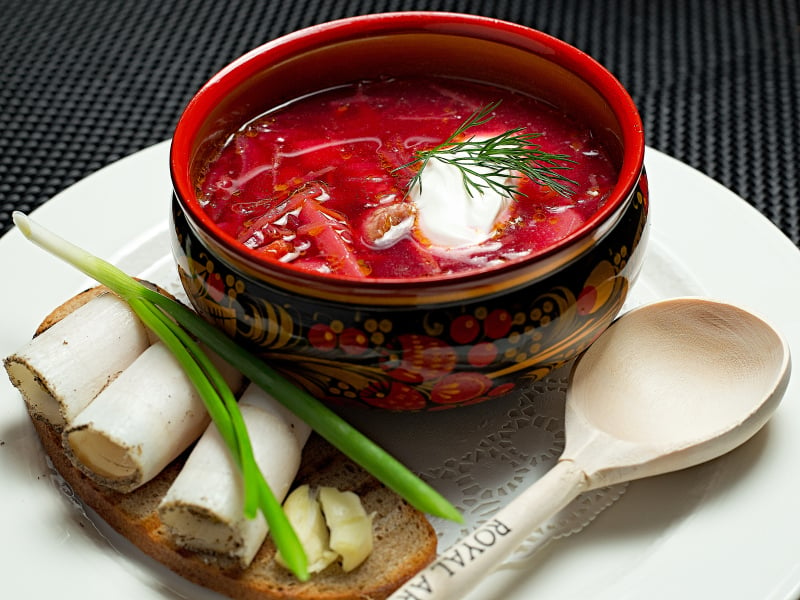 Borscht recipes are as varied and numerous as it gets in the culinary world. Some versions are mostly beets, some are mostly meat, but they all taste good. We like Eating Well's take on the popular soup because it's rich in vegetables, but still offers a little bit of meat to boost satiety. Don't worry about spending a fortune on the wine. As long as it's something you'd drink, it'll work for this recipe.
Soup of any kind is great for warming up during the colder months. This particular recipe may even help give you a mood boost during the dreariest time of the year thanks to the betaine in beets. Research published in the Journal of Multidisciplinary Healthcare found treating subjects with a combination of betaine and an anti-depressant was more effective than the drug alone.
Ingredients:
4 teaspoons canola oil, divided
8 ounces sirloin or flank steak, trimmed and cut into ½-inch cubes
8 ounces mushrooms, sliced
4 medium beets, peeled and shredded
1½ cups shredded cabbage
1 cup shredded carrots
1 cup finely chopped onion
1 cup finely chopped celery
½ cup red wine
6 cups reduced-sodium beef broth
1 cup no-salt-added tomato sauce
1 tablespoon Worcestershire sauce
¼ cup chopped fresh dill, plus more
½ cup reduced-fat sour cream
Directions: Heat 2 teaspoons oil in a large soup pot or Dutch oven over medium-high heat. Add steak and cook, stirring frequently, until beginning to brown, 2 to 4 minutes. Remove to a bowl.
Add 1 teaspoon oil to same pot and heat over medium high. Add mushrooms and cook, stirring, until beginning to brown, 3 to 5 minutes. Transfer to a bowl.
Add remaining oil to pot. Stir in beets, cabbage, carrots, onion, and celery. Cook, stirring frequently, until they're beginning to soften, about 10 minutes. Add wine and cook, scraping any browned bits from bottom of pan with a wooden spoon. Stir in mushrooms, broth, tomato sauce, and Worcestershire sauce. Cover and bring to a boil. Reduce heat to maintain a simmer and cook, covered, until vegetables are tender, about 30 minutes.
Add reserved beef and simmer, covered, until heated through, 1 to 2 minutes. Stir in ¼ cup dill. Top each serving with 1 tablespoon sour cream and garnish with additional dill. Serve.
4. Beet Risotto with Greens, Goat Cheese, and Walnuts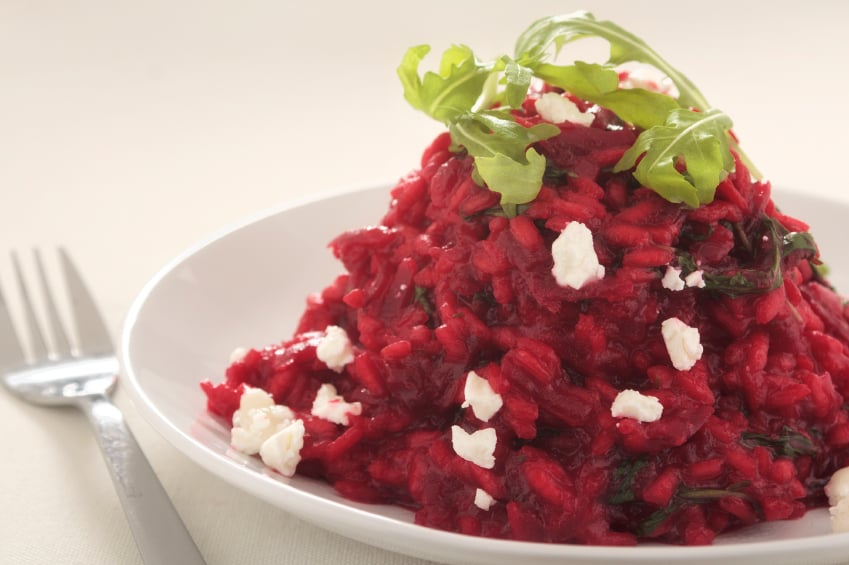 If meatless meals usually leave you feeling peckish in just an hour or two, it's time you tried Cooking Light's beet risotto. It's rich and creamy without being heavy thanks to a stirring method that releases the starches in the rice. Including some Swiss chard, goat cheese, and walnuts turns the dish into a complete meal.
One of the best reasons to eat beets is to get a hefty dose of folate. This B vitamin is usually associated with women's health, but it's just as crucial for guys. And because it's one of the most common nutrient deficiencies, eating beets is an easy way to ensure you get your fill.
Ingredients:
2 teaspoons olive oil
1 cup chopped onion
1 cup Arborio rice
1 tablespoon minced fresh ginger
2 teaspoons finely chopped fresh rosemary
½ cup dry white wine
3 cups finely chopped peeled beets
½ cup water
¼ teaspoon fine sea salt
1 (14-ounce) can vegetable broth
6 cups finely sliced Swiss chard
½ cup crumbled goat cheese
¼ cup chopped toasted walnuts
Directions: Heat oil in a Dutch oven or other heavy pot over medium-high heat. Add onion and cook, stirring, for 3 minutes. Add rice, ginger, and rosemary. Continue to cook and stir for 1 minute. Add wine and cook for 3 minutes, or until liquid is nearly absorbed, stirring constantly.
Add beets, water, salt, and broth. Bring to a boil, cover, and reduce heat. Simmer, stirring occasionally, for 20 minutes or until beets are tender.
Stir in chard and cook 5 minutes longer. Add cheese, stirring to combine. Sprinkle each portion with walnuts and serve.
5. Pork Tenderloin with Beets and Greens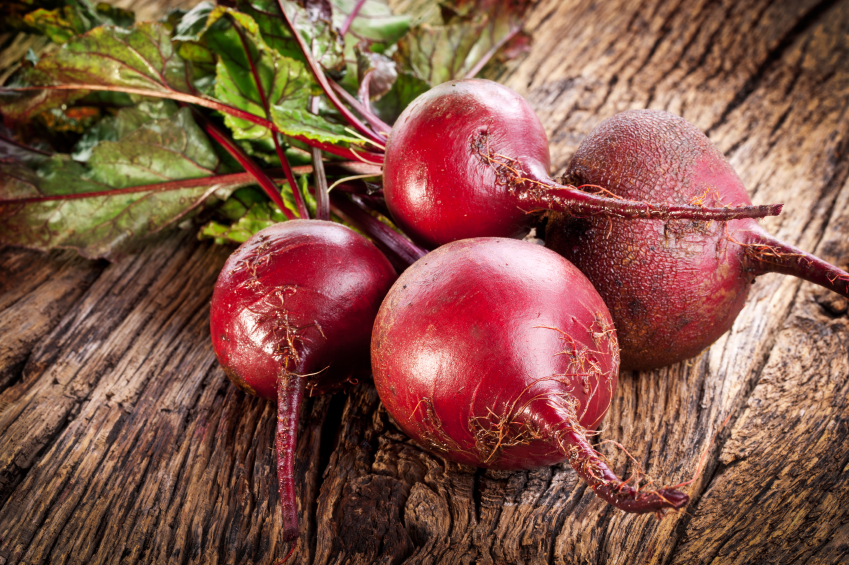 If you usually head straight for the bulk bin when buying beets, keep your eyes peeled for bunches with the greens still attached. The tops are every bit as edible as the root, so you basically get two veggies in one. Use both parts of the plant in this pork and beet dish from Martha Stewart's Whole Living. This recipe is simple, healthy, and delicious.
Just in case you're still doubting the benefits of beets, it's worth noting preliminary research is finding they can help in the fight against cancer. One recent study published in Phytotherapy Research found beet extracts are capable of killing breast cancer cells without damaging normal cells.
Ingredients:
1 (2- to 3-pound) bunch beets with greens, green separated and chopped
1 (1-pound) pork tenderloin, trimmed
Salt and pepper
1 tablespoon vegetable oil
4 teaspoons Dijon mustard
2 tablespoons red-wine vinegar
7 tablespoons extra-virgin olive oil, divided
2 garlic cloves, thinly sliced
Directions: Preheat oven to 425 degrees Fahrenheit. Loosely wrap beets in parchment-lined foil. Set on a rimmed baking sheet and bake until easily pierced with a knife, about 1 hour. Let cool sightly, peel off skins, and slice. Set aside.
Season pork generously with salt and pepper. Heat vegetable oil in a large ovenproof skillet over medium-high heat. Sear pork on all sides until golden, about 6 minutes. Transfer to oven and cook until an instant-read thermometer inserted into the thickest part registers 150 degrees Fahrenheit, about 8 to 10 minutes. Remove from pan and let rest for at least 10 minutes.
Meanwhile whisk mustard and vinegar in a bowl Gradually whisk in 6 tablespoons olive oil to emulsify. Season with salt and pepper.
In a large skillet heat remaining olive oil over medium heat. Add garlic and cook until fragrant, about 1 minute. Add beet greens, season with salt and pepper, and cook, stirring occasionally, until wilted, about 2 to 4 minutes. Remove from heat, add reserved beets and half of dressing. Toss to combine.
Slice pork and drizzle with remaining dressing. Serve with beets and greens.
More from Culture Cheat Sheet: