6 Delicious Beef Hamburger Recipes to Cook on the Grill
Oftentimes, it's best to stick to the basics, and while meat lovers can enjoy the tasty and usually healthier alternatives to their favorite beef burgers, the substitutes don't always cut it — you need to kick your craving the right way. We're rounding up six of the best beef hamburger recipes to make during grilling season. There aren't any veggie, chicken, or turkey burgers on this list, but there is a lot of red meat, and even a little bit of bacon. Serve your burgers with a salad and feel good about your beef and greens.
1. Classic Beef Burger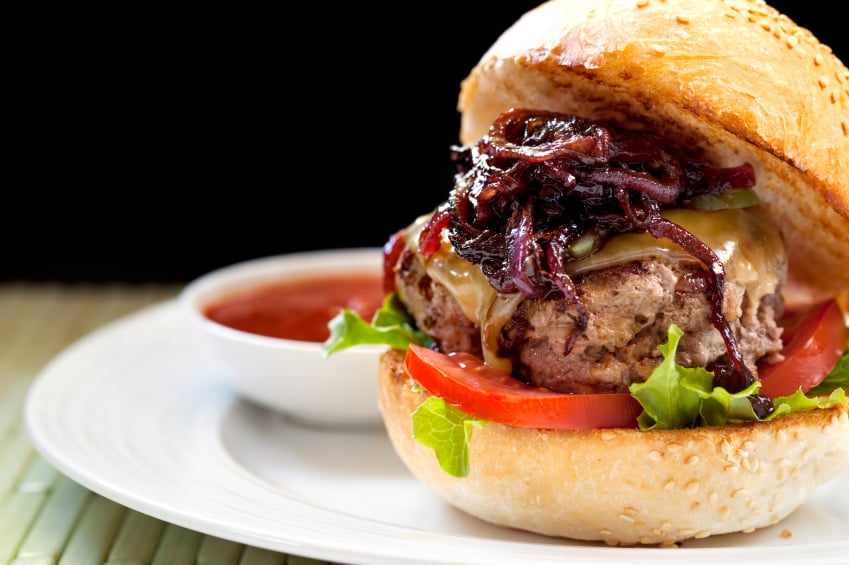 The best thing about beef burgers is that they're easy and require only a handful of ingredients. Martha Stewart has a recipe she calls the "best beef burger" and it only enlists 3 main ingredients: ground chuck, Dijon mustard, and Worcestershire sauce. Combine your ingredients, season with salt and pepper, and then form your beef into patties. The burgers will take less than 10 minutes to grill and you can serve them on buns with any garnishes you like.
Ingredients:
2 pounds ground chuck
1 tablespoon Dijon mustard
1 tablespoon Worcestershire sauce
Coarse salt and pepper
4 hamburger buns
Directions: Heat grill to high. In a medium bowl, use a fork to gently combine beef, mustard, and Worcestershire sauce; season with salt and pepper. Gently form mixture into four 1-inch-thick patties.
Place patties on hottest part of grill; sear until browned, 1 to 2 minutes per side. Move patties to cooler part of grill; continue grilling until desired doneness, 4 to 8 minutes per side.
Split the hamburger buns and toast on the grill if you like; place a burger on each bun and serve with the desired accompaniments.
2. Bacon Cheeseburgers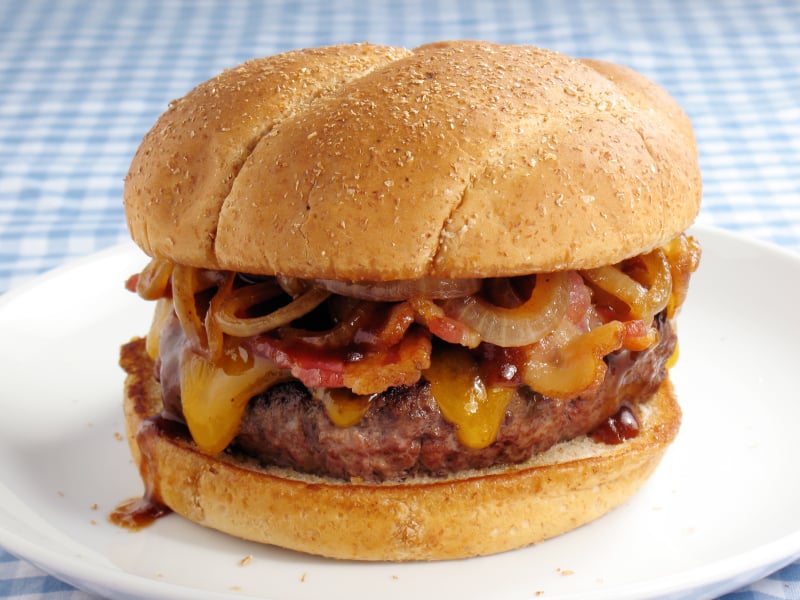 With burgers, it's always best to add bacon and cheese. See this recipe featured on Serious Eats for bacon cheeseburgers for guidance. It serves 4 and will take you 45 minutes, start to finish. The directions are longer than the aforementioned recipe on our list but that's only because you'll need to cook the bacon and make a mayonnaise-based sauce to serve with your burgers. We can guarantee the extra effort will be worth it.
Ingredients:
12 slices thick-cut, naturally smoked bacon
6 tablespoons mayonnaise
1 tablespoon ketchup
1 tablespoon spicy brown or dijon mustard
2 tablespoons sweet pickle relish
Freshly ground black pepper
24 ounces (1½ pounds) freshly ground beef chuck
Kosher salt
4 soft hamburger rolls
4 slices American or cheddar cheese
1 medium onion, finely sliced (about ¾ cup)
12 dill pickle chips
Directions: Adjust oven rack to center and bottom positions, place a 12-inch cast iron skillet on the bottom rack, and preheat oven to 400 degrees Fahrenheit.
Meanwhile, line a rimmed baking sheet with heavy duty aluminum foil. Place six slices of bacon on baking sheet side to side running perpendicular to the edge of the counter. Fold down the top halves of 1st, 3rd, and 5th slices. Place a slice of bacon across the top of the folds, running perpendicular to the first 6 slices, then unfold the bacon so that the new slice is woven over and under every other slice. Fold down the 2nd, 4th, and 6th slices and lay another slice of bacon across the top of the fold. Unfold the slices. Repeat until all 12 slices of bacon have been laid on the baking sheet in an interwoven pattern. Place baking sheet in oven and cook until bacon is crisp, about 25 minutes.
While bacon cooks, combine mayonnaise, ketchup, mustard, relish, and 1 teaspoon black pepper in a medium bowl. Stir to combine. Form ground beef into 4 patties slightly wider than the buns. Press the center of each patty to make a slight indentation with your fingertips. Season liberally with salt and pepper on all sides. Set aside.
When bacon is cooked, remove baking sheet from oven and set broiler to high. Pour off excess bacon fat into a small bowl and set aside. Transfer bacon to a paper towel-lined plate, being careful not to break it. Allow to drain for 30 seconds, then transfer to cutting board. Cut the bacon weave into four smaller squares and set aside.
Pour 2 tablespoons of rendered bacon fat into mayonnaise mixture and stir to combine. Brush hamburger rolls on inside surfaces with bacon fat and place on a broiler pan or baking sheet brushed-side up.
Remove cast iron skillet from oven using oven mitts or a folded kitchen towel. Place over medium-high heat. Add remaining bacon fat to skillet. Add burger patties and cook, turning occasionally, until well-crusted and center of each burger registers 120°F on an instant read thermometer. Top with cheese and continue cooking until cheese is melted and burgers register 125°F for medium rare or 135 degrees Fahrenheit for medium. Transfer to a large plate.
Add onions to skillet and cook, stirring frequently, until softened and lightly browned, about 5 minutes. Season to taste with salt and pepper and transfer to a bowl.
Place burger buns under broiler while onions cook and broil until golden brown and toasted, about 2 minutes.
Spread mayonnaise mixture on both sides of burger buns. Place 3 pickles on each bottom bun. Top with a burger patty, a pile of onions, and a square of bacon weave. Close buns and serve.
3. Cheese-Stuffed Burgers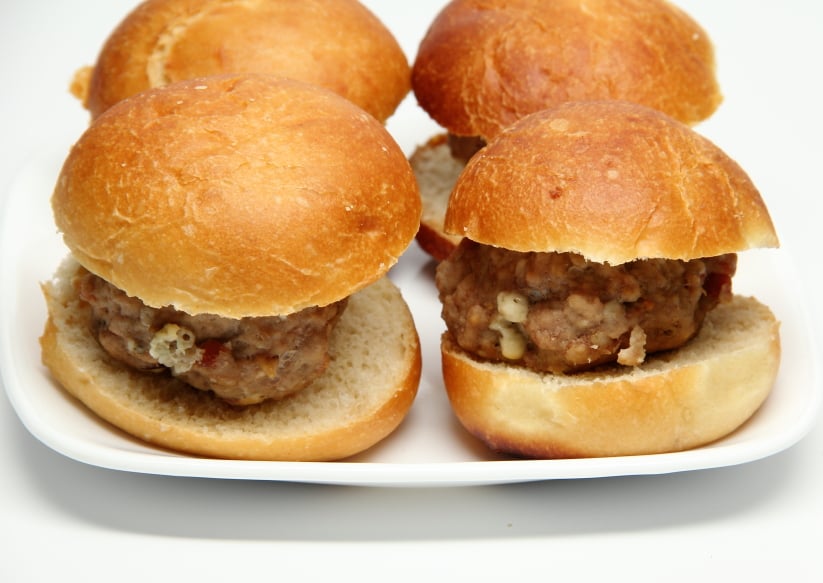 There are cheeseburgers and then there's cheese-stuffed burgers. This recipe featured on Food Network is for the latter. Stuffing a burger patty with a cube of cheese before cooking is pure genius, and you'll kick yourself for not having thought of it before. Pick your cheese of choice and then preheat the grill. Your meat-loving dinner guests aren't going to know what hit them.
Ingredients:
2 pounds ground beef
1 teaspoon salt
½ teaspoon pepper
Cheese Options:
8 ounces blue cheese, cut into 1-inch cubes
8 ounces Pimiento Cheese Spread
8 ounces mozzarella, cut into 1-inch cubes
4 hamburger buns
Directions: Mix the ground beef, salt and pepper in a large bowl and form the mixture into 8 equal-sized balls. Press a cube of desired cheese into the center of each ball and cover completely with meat. Form the balls into hamburger patties, about ¼-inch thick. Grill burgers until desired doneness. Top with lettuce, tomatoes, onions and pickles as desired on a toasted bun.
4. Barbecued Burgers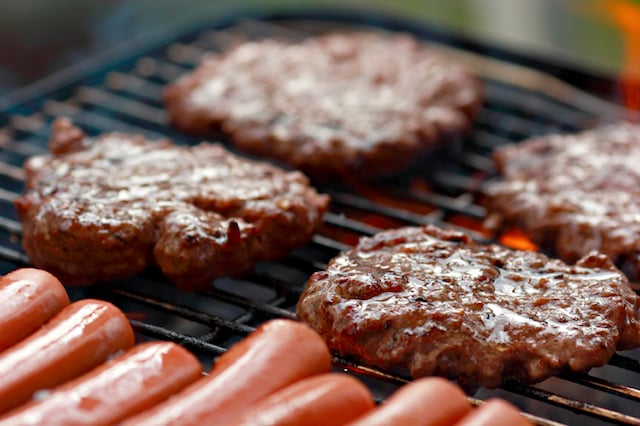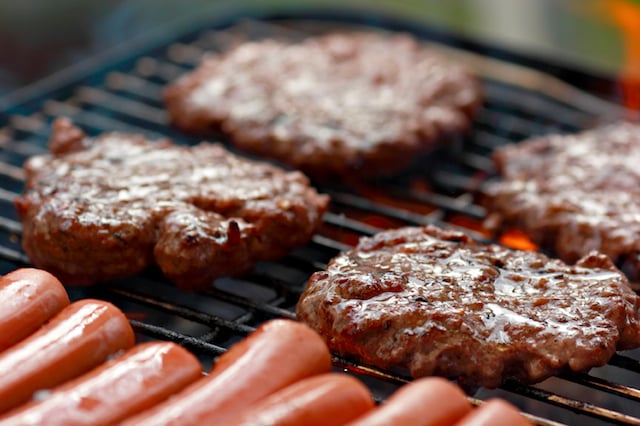 Whip up your special barbecue sauce and throw it on your beef burgers. Taste of Home has the recipe for barbecued burgers, and you'll soon see barbecue sauce isn't only the perfect complement to chicken. Barbecued burgers are a tasty deviation from the norm and they'll keep your grilling interesting. This recipe serves 6.
Ingredients:
1 cup ketchup
½ cup packed brown sugar
1/3 cup sugar
¼ cup honey
¼ cup molasses
2 teaspoons prepared mustard
1-½ teaspoons Worcestershire sauce
¼ teaspoon salt
¼ teaspoon liquid smoke
1/8 teaspoon pepper
Burgers:
1 large egg, lightly beaten
1/3 cup quick-cooking oats
¼ teaspoon onion salt
¼ teaspoon garlic salt
¼ teaspoon pepper
1/8 teaspoon salt
1-½ pounds ground beef
6 hamburger buns, split
Toppings of your choice
Directions: In a small saucepan, combine the first 10 ingredients. Bring to a boil. Remove from the heat. Set aside 1 cup barbecue sauce to serve with burgers.
In a large bowl, combine the egg, oats, ¼ cup of the remaining barbecue sauce, onion salt, garlic salt, pepper and salt. Crumble beef over mixture and mix well. Shape into six patties.
Grill, covered, over medium heat for 6 to 8 minutes on each side or until a thermometer reads 160°, basting with ½ cup barbecue sauce during the last 5 minutes. Serve on buns with toppings of your choice and reserved barbecue sauce.
5. Cheddar and Onion Smashed Burgers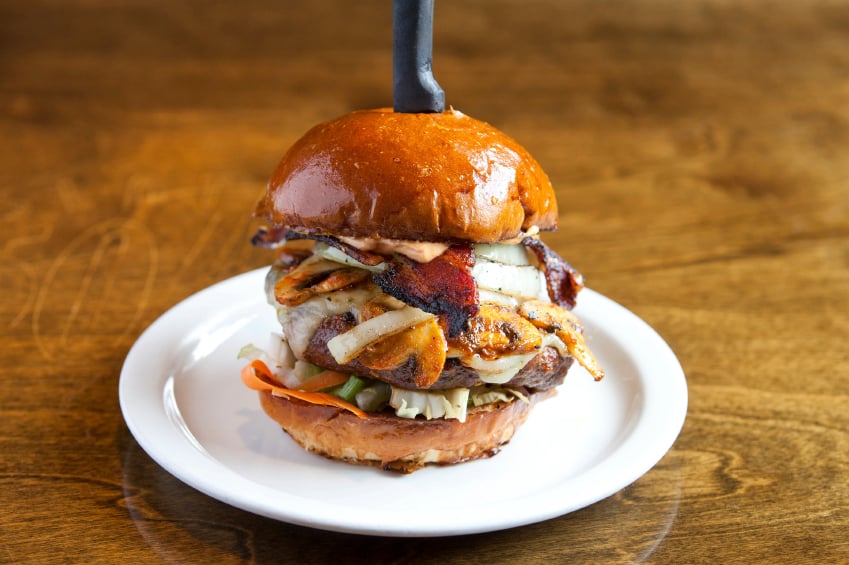 Here's another flavor-packed burger recipe from Food & Wine. Enter: cheddar and onion smashed burgers. These burgers get their name from their preparation. The beef patties are made by flattening balls of ground meat on the griddle, and the recipe instructs you to handle the ground meat as little as possible so as to avoid a meatloaf texture. For these burgers, the ingredients list is short and the prep time isn't long either. The food formula will make you 4 burgers that are sophisticated but not fussy.
Ingredients:
16 thin bread-and-butter pickle slices, patted dry
Four 4-inch potato buns, buttered and toasted
1 ¼ pounds ground beef chuck (30 percent fat)
Salt and freshly ground pepper
2 small onions, sliced paper thin
4 ounces sharp cheddar cheese, sliced
Directions: Heat a cast-iron griddle until very hot. Layer the pickle slices on the bottom buns.
Without overworking the meat, loosely form it into 4 balls and place them on the griddle. Cook the meatballs over moderately high heat for 30 seconds. Using a sturdy large spatula, flatten each ball into a 5-inch round patty.
Season the patties with salt and pepper and cook for 2 minutes, until well seared. Press a handful of sliced onions onto each patty. Using the spatula, carefully flip each burger so the onions are on the bottom. Top with the cheese and cook for 2 minutes. Cover with a roasting pan and cook just until the cheese is melted, 1 minute more.
Transfer the burgers with the onions to the buns and sprinkle with umami dust. Top with the buns and serve.
6. Bacon Double Cheeseburger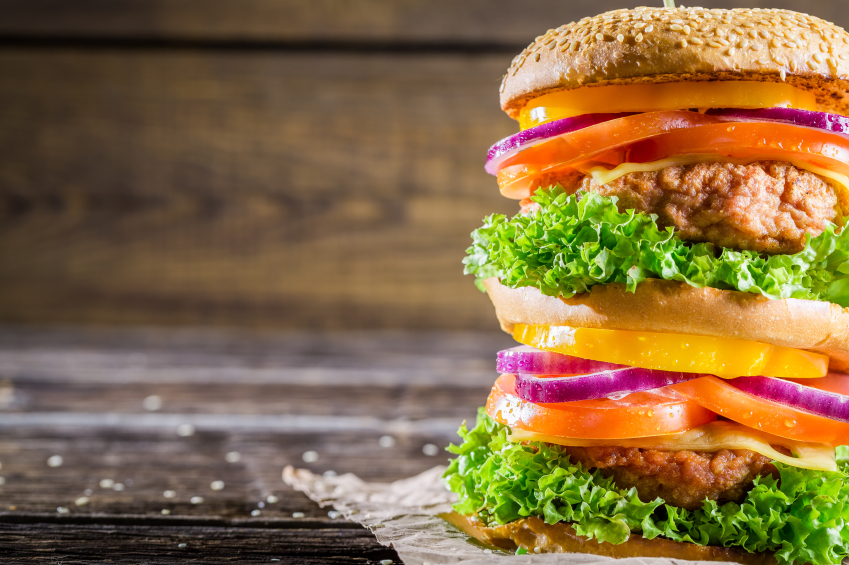 We're saving the best for last, and hopefully, you saved your appetite for this. You'll need to be seriously hungry if you want to finish this homemade bacon double cheeseburger for dinner. Drive away from the McDonald's drive-thru and make the iconic burger at home instead. This dinner isn't exactly health food, but at least you'll know exactly what's going into your burger patties. Follow this formula featured on Food Network Canada and get ready to treat yourself. A double burger fixed with bacon, cheese, mustard, ketchup, lettuce, tomato, and onion will make all of your homemade fast food dreams come true.
Ingredients:
3 slices bacon ends or thick-cut bacon
2 slices cheese, of your choice
¼ pound ground beef chuck
Salt and pepper
1 hamburger bun, lightly toasted
2 slices dill pickle
2 slices tomato
1 handful shredded lettuce
2 slices white onion, or to taste
Mustard, to taste
Ketchup, to taste
Mayo, to taste
Directions: Place the bacon in a saucepan with enough water to cover it. Bring to a boil and then reduce to a slow simmer for about 45 minutes, or until the bacon shreds easily.
Meanwhile, form the ground beef chuck into a patty and season with salt and pepper. Reserve.
Remove the bacon from the water and place a small pile on one side of a large frying pan. Use a flat metal spatula to press down on the bacon as it cooks, forming into a thin, flat, patty.
Place the beef patty on the other side of the frying pan and score with the edge of the spatula.
Flip both the beef and bacon patty over, cooking on both sides. Continue to press the bacon patty with the spatula to flatten it. Cook bacon until it is crisp on both sides and resembles a hashbrown. Cook the burger patty to desired doneness.
Begin assembling the burger. Slather mustard and mayo on the bottom half of the bun. Stack onion rings on top of each other and drizzle with ketchup. Stack tomato slices and pickles on top of onions. Top with lettuce.
Place a slice of cheese on the bacon patty and the hamburger patty. Place the top bun on the bacon and transfer the bacon patty on top of the beef patty. Lift the whole contraption off the grill and place on top of the bottom half of the burger.
More from Culture Cheat Sheet: