Healthy Snacks to Curb Your Late-Night Hunger
Midnight snacking may not be good for you (uncontrolled late-night eating could lead to weight gain and sleep problems), but it's a habit many of us indulge in from time to time. If your stomach is rumbling late at night, try whipping up one of these healthier alternatives rather than reaching for a bag of chips or a handful of cookies.
1. Oatmeal with Berries, Walnuts, Spices, and Creamy Milk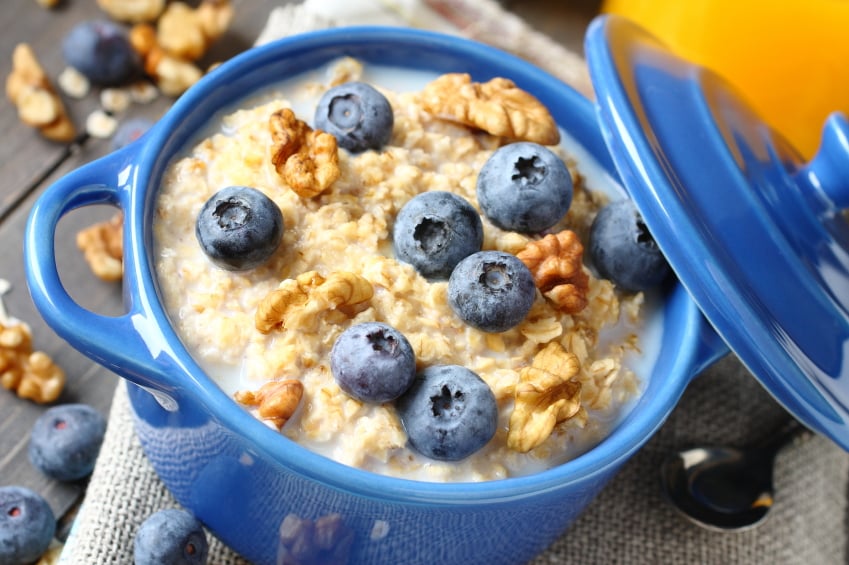 Not only are the whole grains in oatmeal good for you, but this carb-heavy snack will also boost your serotonin, which can help calm you down and make it easier to sleep. "A cup of oatmeal made with milk is the perfect snack before bed," Michael Breus, Ph.D., author of The Sleep Doctor's Diet, told Details. This recipe from The Picky Eater also includes healthy berries and nuts.
Ingredients:
½ cup rolled oats or multi-grain oats
1½ cups water
½ to ¾ cup of frozen organic wild blueberries
1 tablespoon chopped walnuts
1 tablespoon ground flaxseed
¼ teaspoon cinnamon
½ cup 1% organic milk, unsweetened soy milk, or unsweetened almond milk
Stevia, agave, or honey to taste
Directions: Cook the oats with the water in the microwave for 2 minutes. Stir, and cook again in the microwave for 1 to 2 minutes more until all the water is absorbed.
Stir in the blueberries, cinnamon, flax seed, and walnuts. Add the milk and your sweetener of choice and stir until the oatmeal reaches your preferred consistency.
2. Kale Chips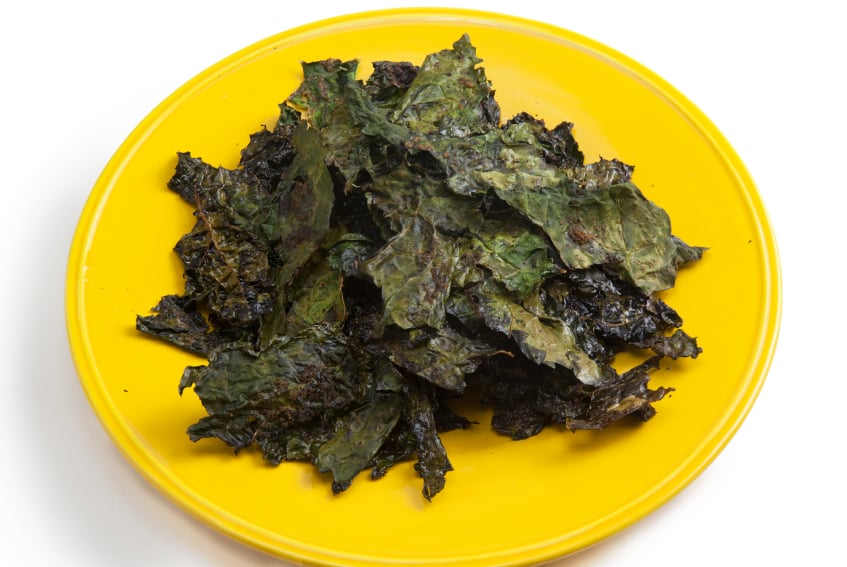 Salty, crispy potato chips are a tempting late-night snack, but they're not exactly good for you. If you're craving a bag of Lay's, healthy kale chips are a better alternative, says Men's Fitness. This recipe from Oh She Glows yields between 1 and 2 servings.
Ingredients:
Approximately ½ bunch kale leaves
½ tablespoon extra-virgin olive oil or melted coconut oil
1½ tablespoons nutritional yeast
1 teaspoon garlic powder
¾ teaspoon chili powder
½ teaspoon onion powder
½ teaspoon smoked paprika
¼ teaspoon fine grain sea salt or pink Himalayan sea salt
⅛ teaspoon cayenne pepper (optional)
Directions: Preheat oven to 300 degrees Fahrenheit. Line a large rimmed baking sheet with parchment paper.
Remove leaves from the stems of the kale and roughly tear it up into large pieces. Wash and spin the leaves until thoroughly dry.
Add kale leaves into a large bowl. Massage in the oil until the kale is completely coated in oil. Sprinkle on the garlic power, nutritional yeast, chili powder, onion powder, paprika, salt, and cayenne pepper and toss to combine.
Spread the kale on the prepared baking sheet into a single layer, being sure not to overcrowd the pan.
Bake for 10 minutes, rotate the pan, and bake for another 12 to 15 minutes until the kale begins to firm up. Cool the kale on the sheet for 3 minutes before eating.
3. Butter-Free Popcorn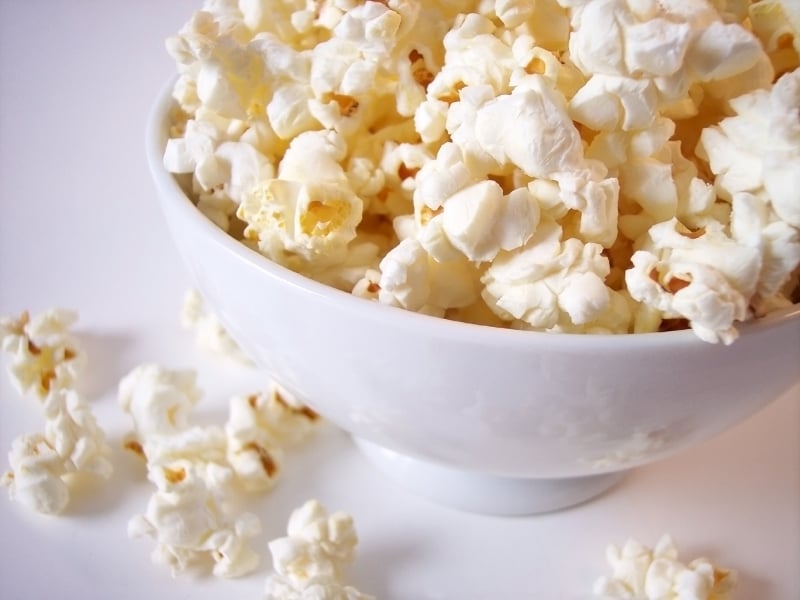 If you're settling in to watch a movie, popcorn is the obvious snack choice. Skip the microwave variety and make your own for a low-cal snack. Adding nutritional yeast will give your popcorn a nutty, cheesy flavor and an extra boost of protein. Recipe from Gimme Some Oven.
Ingredients:
1 tablespoon of coconut, grapeseed, or canola oil
½ cup popcorn kernels
¼ cup nutritional yeast, more or less to taste
1 to 2 teaspoons salt
Directions: Add oil to a medium saucepan over high heat. Let it warm slightly, then add the popcorn kernels. Shake the pan so that the kernels form a single layer across the bottom. Cover.
As the kernels begin to pop, occasionally shake the pan (about every 15 seconds) so the unpopped kernels fall to the bottom to prevent burning. When the popping stops, pour the popcorn into a large bowl and sprinkle with nutritional yeast and salt. Toss to combine.
4. Chocolate Raspberry Frozen Yogurt Pops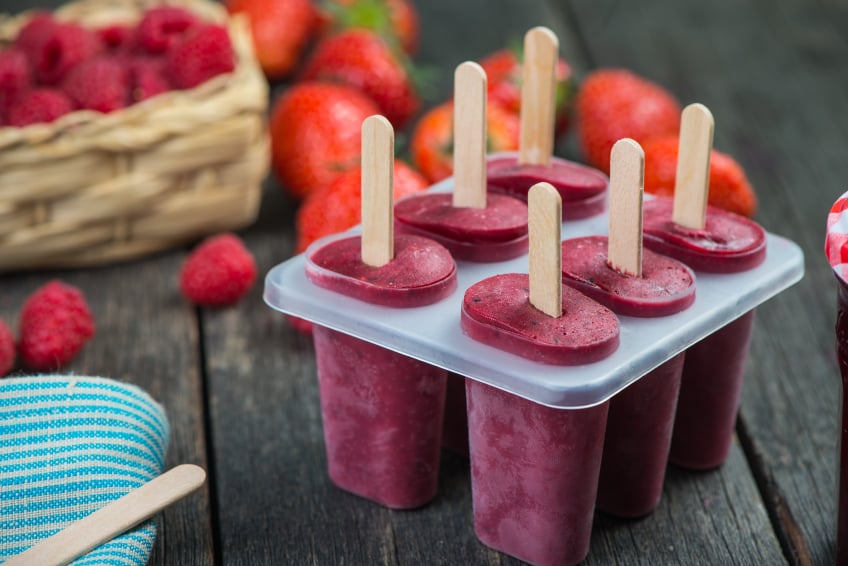 Giving in to a late-night ice cream craving won't do your waistline any favors. These chocolate raspberry ice pops are made with Greek yogurt, an excellent source of protein, plus healthy fresh or frozen fruit. This recipe from Eating Well makes 10 popsicles.
Ingredients:
2 cups fresh or frozen raspberries
2 cups nonfat or low-fat plain yogurt, preferably Greek-style
3 to 5 tablespoons sugar
½ cup mini chocolate chips
Directions: Puree raspberries, yogurt, and sugar in a food processor until smooth.
Divide the mixture among freezer-pop molds, stopping about 1 inch from the top. Evenly divide chocolate chips among the molds. Stir the chips into the raspberry mixture, stirring out any air pockets at the same time. Insert the sticks and freeze until completely firm, about 6 hours. Dip the molds briefly in hot water before unmolding.
5. Bacon and Egg Salad Sandwich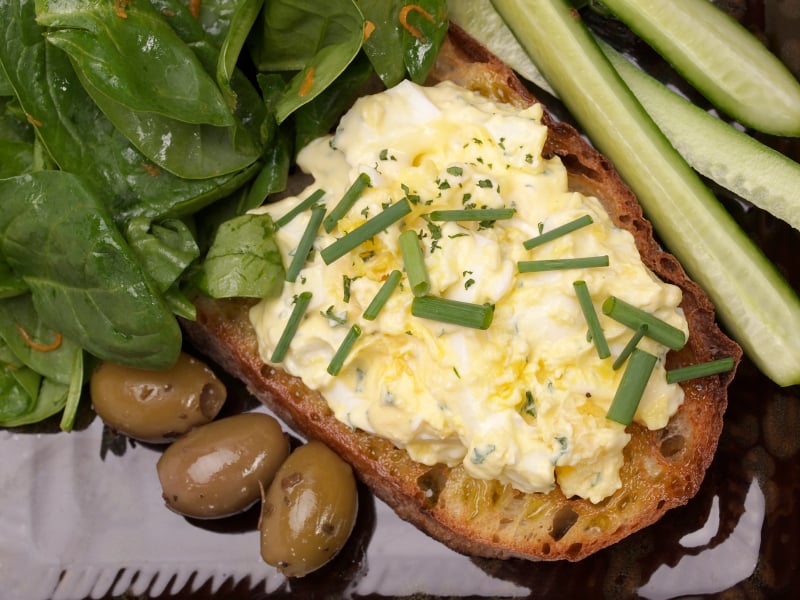 A bacon-and-egg sandwich might sound like more of a breakfast food than a late-night snack, but chef Todd English, who shared this recipe with Shape, says high-protein eggs make this dish an ideal nighttime hunger killer. Serve on whole-grain bread for a healthy dose of carbohydrates.
Ingredients:
½ cup mayonnaise
2 tablespoons Dijon mustard
1 tablespoon red wine vinegar
½ teaspoon kosher salt
¼ teaspoon fresh-ground black pepper
½ cup red onion, finely diced
3 celery ribs, finely diced
3 large hard-cooked eggs, peeled and chopped
2 slices of thick bacon, cooked and coarsely chopped
4 slices of toasted whole-wheat bread
Mayonnaise
Dijon mustard
2 large Romaine lettuce leaves
Directions: Mix first five ingredients in a bowl. Stir in onions and celery, then add eggs and bacon, stirring gently to combine.
Spread Dijon mustard and mayonnaise on toasted bread. Spoon ¾ cup egg salad onto toast, add a leaf of lettuce, and then top with another toast slice.
6. Canned Tuna with Olive Oil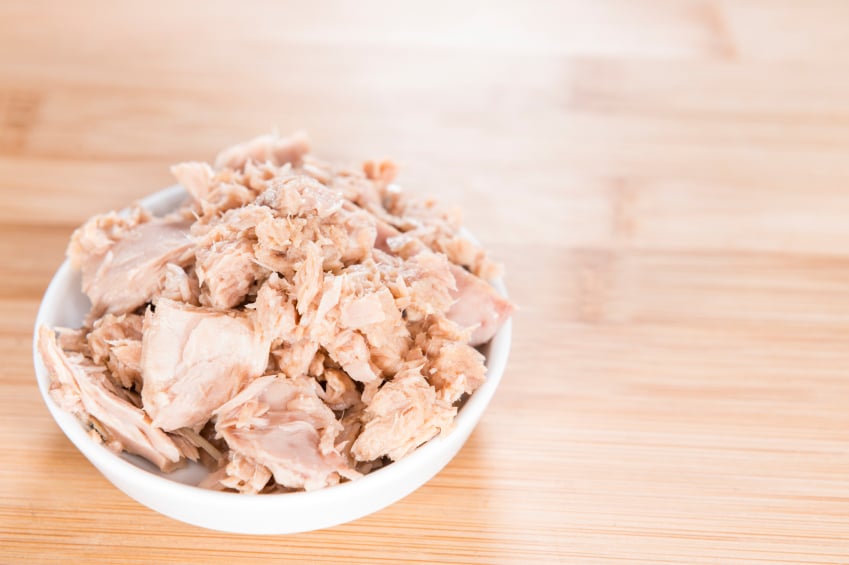 You can accelerate your quest to build muscle by choosing a smart late-night snack. Bodybuilding.com urges you to plan out your munchies in advance so that you don't end up consuming too many calories. In addition, choose foods that won't wreak havoc on your blood glucose levels. One easy-to-prepare snack is canned tuna dressed up with a little olive oil and served with fresh spinach, a good source of vitamins A and C.
Ingredients:
1 (5-ounce) can of tuna packed in water
1 tablespoon olive oil
Fresh spinach
Directions: Drizzle one tablespoon of olive oil over the tuna and serve on a bed of spinach.
7. Tiny Tacos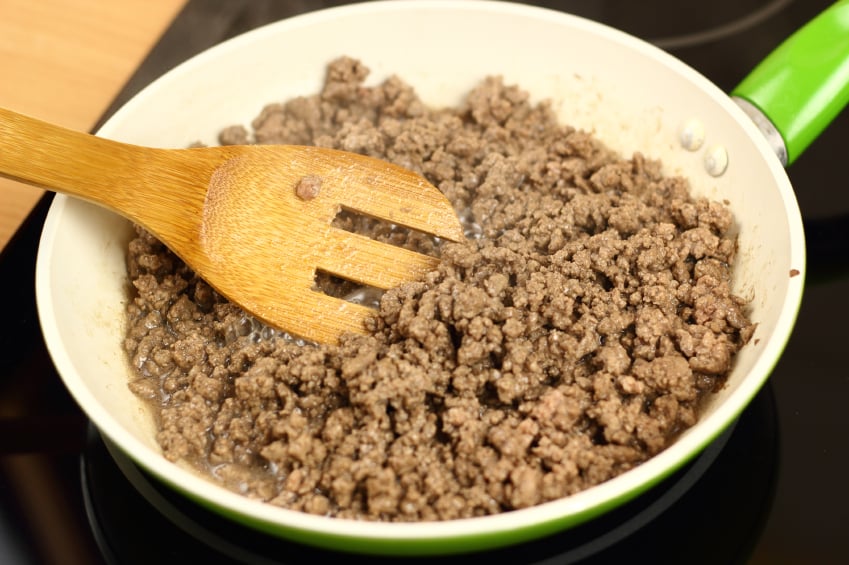 Have a craving for Mexican food but don't want to hit the drive-thru? These mini tacos from Biggest Loser chef Devin Alexander are just 20 calories apiece.
Ingredients:
10 Tostitos Baked! Scoops
¼ cup finely shredded romaine lettuce
2 tablespoons finely chopped tomatoes
½ ounce (about 2½ tablespoons) finely shredded low-fat cheddar cheese
1 teaspoon lower-sodium taco seasoning
2 ounces 96% lean ground beef
1 tablespoon mild or hot red taco sauce
Directions: Arrange the Scoops side by side on a plate.
Mix the lettuce, tomatoes, and cheese in a medium bowl until well combined. Divide evenly among the Scoops (about 1½ teaspoons per chip).
Stir 2 teaspoons water into the taco seasoning in a small bowl until it has no lumps. Set aside.
Preheat a small nonstick skillet over medium-high heat. Put in the beef. Use a wooden spoon to coarsely crumble the meat as it cooks. When the beef is no longer pink, after 1 to 2 minutes, stir in the seasoning mixture. When no liquid remains, after about 1 minute, remove from the heat.
Divide the meat evenly among the chips (about 1 teaspoon in each). Top each tiny taco with taco sauce. Serve immediately.
Follow Megan on Twitter @MeganE_CS
More from Culture Cheat Sheet: