Master the Art of Packing a Suitcase for Hassle-Free Travel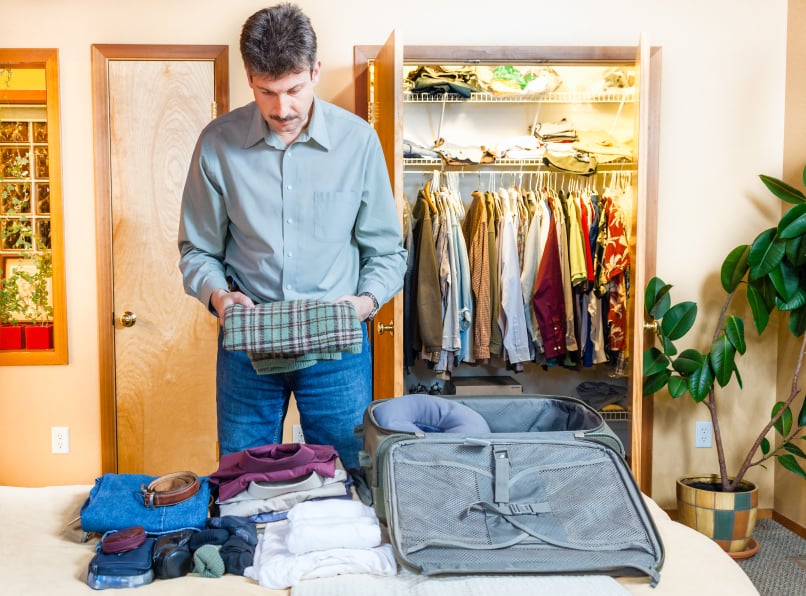 Traveling is both one of the most enjoyable and most stressful ways to spend your free time. Certain snafus, like cancelled flights or a multi-day storm at the final destination, are out of your control, but you'd be surprised how much smoother your trip will go just by packing your bag a little smarter. If your current strategy is to throw items in a rolling duffle and pray you remembered everything, it's time to rethink the way you pack.
We reached out to travel host and professional speaker Channon Dade to get the scoop on packing for any type of trip. With more than 16 years of experience working for major airlines, she was more than up for the task. Below is an edited version of our conversation. Her tips will make your trip easier and more organized than you ever thought possible.
---
The Cheat Sheet: When you start packing for a trip, what's the best way to get organized to make sure you don't forget anything?
Channon Dade: The best way to ensure you're well prepared for your travels is to always check the weather outlook for the duration you'll be at your destination. This will dictate what type of clothing to bring, any additional items, and what won't be necessary. Nothing is worse than going somewhere and discovering you have to add a shopping trip for clothes or items you need, which takes away from our two most precious travel assets: time and money.
You should also search online for "top items to bring to _________." Mosquitoes in the Dominican Republic can make for a miserable trip if you don't have a repellent. You'll pay an arm and a leg for it at the resort or hotel and, trust me, you will pay whatever is necessary.
---
CS: How do you make sure you have what you need without bringing half of your belongings?
CD: I like to use my numbers activity rule. I go over the number of days and nights I will be there quickly in my head. This lets me know how many pairs of undergarments and outfits I'll need. Then, if I plan on doing an activity that requires a different type of garment, like swimming or a gown for a really nice event, I will associate those items with that activity.
I also try to pack shoes that will be used on multiple occasions. Your toiletry bag, which is a duplicate, mini version of all your essentials, should be given a quick overview to see if there are any refills needed. Remember, this toiletry bag should never be unpacked; it lives in your suitcase so you don't have to remember to pack it.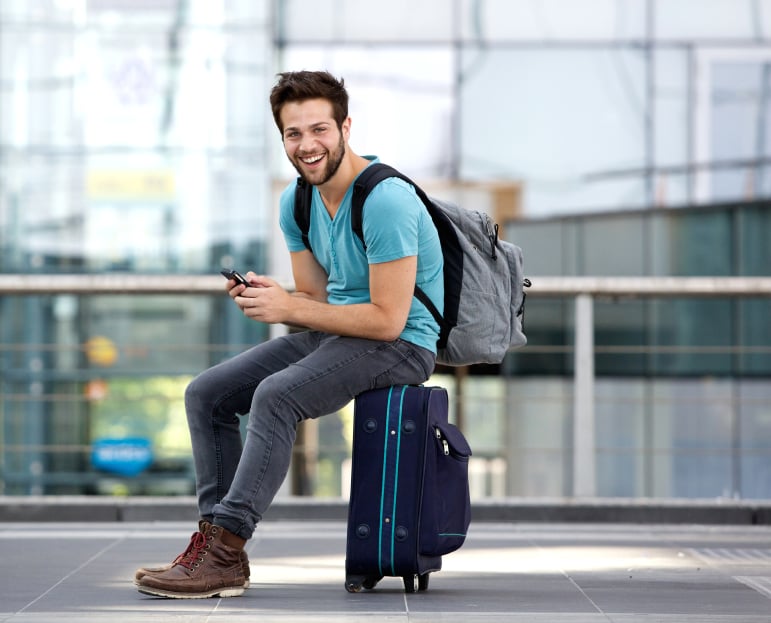 CS: Is there a method you use every time you pack?
CD: Out of habit and to save space, I use one of two methods. The first is the pyramid packing method. Start with a layer of clothes at the bottom of the bag, then in the center, pack your shirts, then rolled undergarments or small shirts to form a pyramid. Around the pyramid, you have plenty of room for small objects like shoes stuffed with socks and your toiletry bag.
The other method I use, and sometimes combine with the pyramid method, is to use compression packing bags, which are great on saving space. Regardless of the method, I always pack clothes first, then I fill the open spaces with shoes and my toiletry bag.
---
CS: Is there a particular style of suitcase you recommend?
CD: Always go for quality. A dark color, preferably black, with 360-degree wheels and a warranty. Never get pretty, cute, or sophisticated luggage. Not even a carry-on because it may get checked if the flight is full, and it gets un-pretty quickly. It's easier to simply get black luggage with a unique tag.
I have used both regular-wheeled luggage and 360-degree wheels and, let me tell you, it is a world of difference. It's so worth getting the 360-degree wheels for convenience and ease of use. I also go for luggage that has a lifetime warranty in case those wheels break off or anything else happens. Just make sure you keep a copy of the receipt with the luggage tag that has the policy printed on it. Lifetime warranties are rare, but worth it.
---
CS: What's your take on checking a bag versus going with just a carry-on?
CD: Because I travel so much and time is essential, carry-on is always the best option for me. You don't have to wait in baggage claim to get it, not to mention the fees you can incur for checking your bags. Save that money for the holidays or your next trip.
Some people prefer checking their bags just so they don't have to hassle with them. If you don't have the elite status or airline credit card to get your bags checked for free, pack your things in a carry-on and take it to the gate. Most airlines, but double-check the policy first, are more than happy to check your bag for free at the gate so they can save in overhead space and ensure an on-time departure.
If you do check a bag, always immediately check your contents while at the baggage claim. Often, you only have about four hours once you land to place a claim with the airlines if anything has been stolen. As far as claiming any damages to your checked luggage, good luck. I stick to my warranty for that part.
---
CS: Traveling with just a carry-on can be a challenge with liquid limitations. What's the best way to overcome this?
CD: Unfortunately, after 9/11, things will never be the same in this arena. The best thing to do is invest in travel bottles that are 3.4 ounces or purchase trial-size liquids. Label them and place them in your toiletry bag, which should only be taken out of your luggage to refill. Also, having as many non-liquid alternatives as possible helps. Instead of shower gel, pack a bar of soap. Dry shampoo and solid fragrance sticks are other great non-liquid options.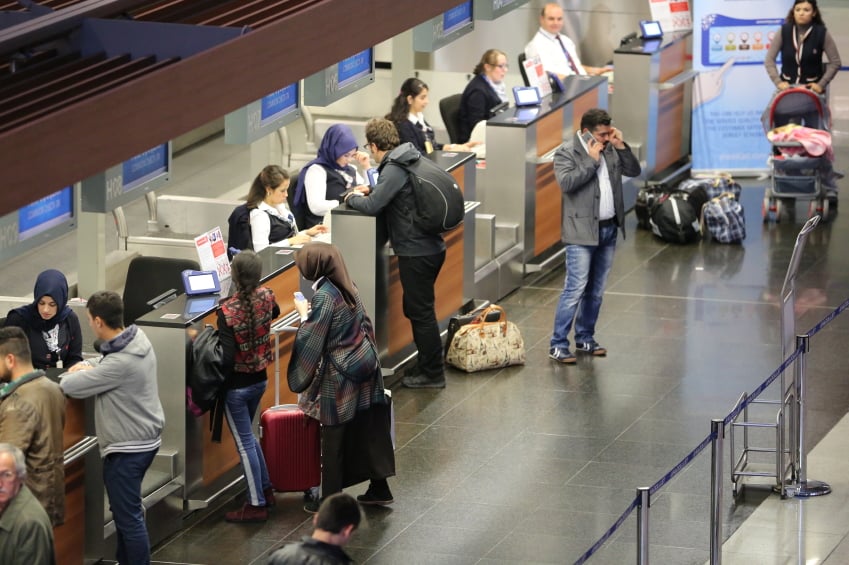 CS: People often travel for holidays, work, or something else that requires nice clothing. How do you avoid ending up with a wrinkled mess?
CD: For nice clothes, I typically fold along the seams and use Downy Wrinkle Releaser spray for those hard-to-release wrinkles. Also, allow your garment to hang in the bathroom when you shower; the hot steam can help get rid of wrinkles. If there's time, always check to see if the hotel has a steamer, iron, or laundry service. As a last resort, you can always head to the nearest one-hour cleaners if that level of pressing is necessary.
---
CS: During the holidays, how can you bring gifts and return with your own without facing a massive overweight fee?
CD: To avoid this, my family sticks to gift cards or cash for the kids. Using $2 bills, which you can get from your local bank, is even better because they don't weigh anything and are a bit more valuable because they're unique. The other option is to pack an empty, sturdy, collapsible bag with a zipper. This way, if you need to on your trip home, you only have to check one bag.
Another option is to simply tell anyone planning on getting you a gift to have the item shipped to your home address while away. During the gift exchange, they can have an envelope with a photo of the item that is now waiting for you at home. This can be so much fun because someone can get really creative by personalizing the envelopes and photos of the gifts they're giving. Also, it's fun for the receiving person because they have the gift to look forward to when they return home. They kind of get to re-open it.
---
CS: What about if you're bringing delicate objects?
CD: I always carry my delicate objects in my carry-on backpack so I can control any impact it may face. If it must be checked because it's a large liquid, for instance, always check with the store where you purchased the item to see if they have any shipping material that could protect the item. Some liquor stores have free or inexpensive custom boxes and Styrofoam that snugly fit the bottles. If this isn't an option, bubble-wrapping an item is your best bet. After you wrap it and think it's snug enough, wrap it once more. Place the item in the center of your luggage, on top of at least one layer of clothing, then pack around the item to make sure it won't move. Lastly, pack another layer of clothing on top.
If you have the airlines put a fragile sticker on the luggage, be aware they will most likely make you sign a waiver that protects them from any damages. And FYI, this label does not guarantee it will be handled delicately.
---
CS: Any other tips?
CD: Just allow whatever happens, good or bad, to enrich your travel venture because you can't control it. In my 40 plus years of traveling and over 16 years working in this industry, I have come to use the motto "Travel: it's all about the journey. The destination is just dessert!"
More from Culture Cheat Sheet:
Want more great content like this? Sign up here to receive the best of Cheat Sheet delivered daily. No spam; just tailored content straight to your inbox.