One-Pot Seafood Recipes You Have to Try
No matter the time of year or day of the week, seafood is always a good option. While you may be used to cooking your salmon on the grill or throwing a few pieces of tilapia in a baking dish, it's time to change it up a bit and add some new flavor to old favorites. And if dirtying up extra dishes for sides is keeping you from trying out new seafood recipes on the weeknights, then we have the answer for you. These one-pot seafood recipes simplify things, so you won't be left scrubbing every pot and pan you own.
1. One-Pot Fish Paella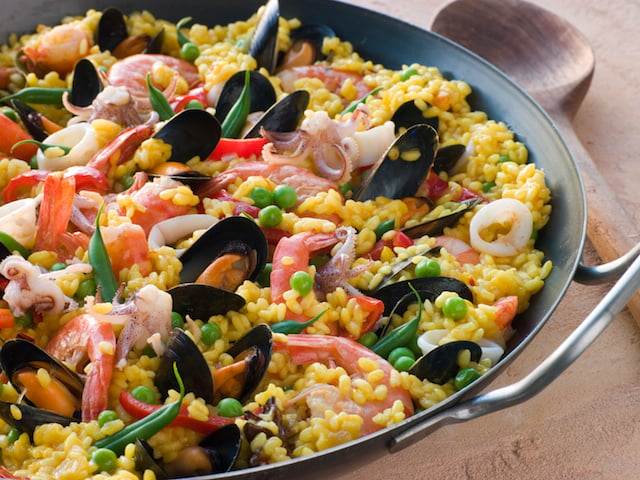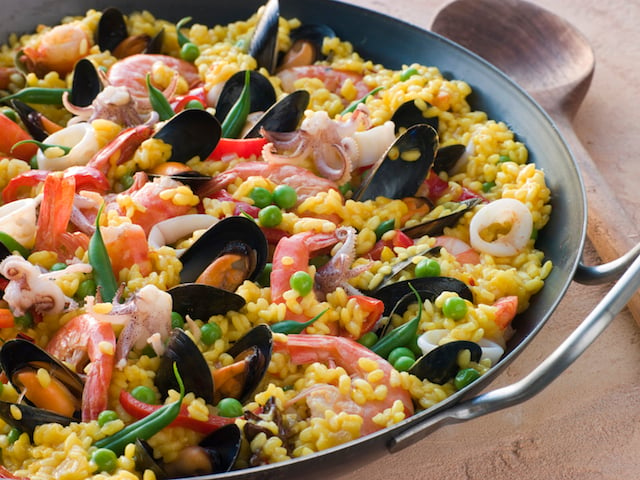 This dish from Naïve Cook Cooks pulls out all the stops with garlic, saffron, and paprika running through the rice, plus your favorite white fish. It's a delicious and easy rice dish that adds in plenty of fresh veggies for color. You may never go back to your old way of cooking tilapia after you try this.
Ingredients:
1 tablespoon butter
1 tablespoon olive oil
4 garlic cloves, chopped
1 large leek, halved lengthwise and chopped in half-circle shapes. Only half of the leek will be used.
½ cup frozen or fresh green peas
1 large tomato fresh or frozen, chopped
1½ cups short-grain rice
3½ to 4 cups water
Salt and pepper
Big pinch of saffron
1 to 2 teaspoons hot paprika
Handful of fresh parsley, chopped
Juice of ½ a lime or lemon
1 to 2 white fish fillets, such as tilapia, cut into pieces
Directions: Preheat oven to 350 degrees Fahrenheit. In a pot, add oil and melt better. Add chopped garlic and leeks. Season with salt and sauté over medium-low heat for a few minutes. Add peas and tomato and stir to combine.
Cook the mixture for a few minutes. Add rice and 2½ cups of water, saffron, lemon juice, paprika, and half of fresh parsley. Stir to combine and season with salt and pepper. Cover and cook over medium high for about 15 minutes. If the rice begins to dry out, add more water to the pan.
Rub salt and paprika on both sides of the fish and lay the fish pieces in the pot on top of the half-cooked rice. Cover and transfer the pot to the oven and cook for 8 minutes. Flip the fish and continue cooking for another 7 to 9 minutes, until the fish is fully cooked.
Serve with additional lemon juice and parsley sprinkled over the top.
2. Dashi-Braised Shellfish Stew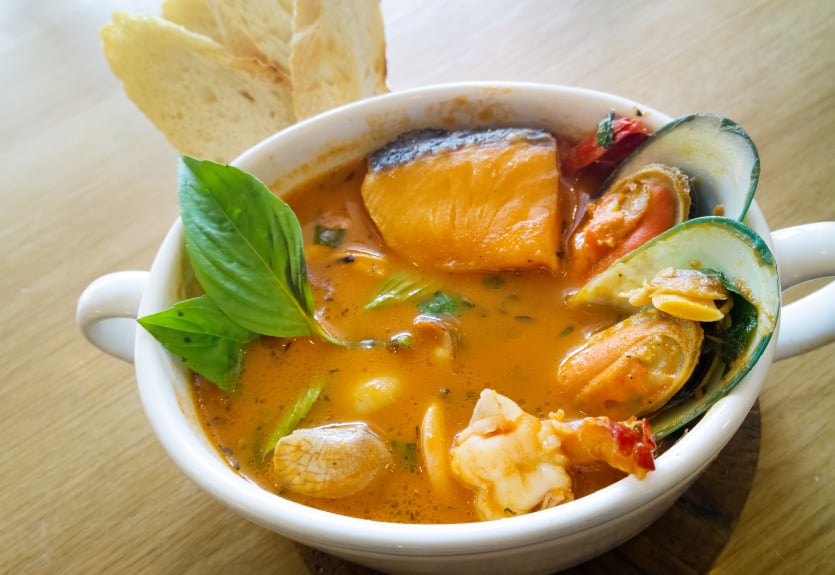 If you love to incorporate Asian flavors into your favorite dishes, you have to try this dashi-braised shellfish stew from Tasting Table. Dashi is a traditional Japanese stock made from bonito (dried fish flakes) and kombo, and it becomes even more flavorful as this dish simmers. The lobster, clams, and mussels add richness and sophistication to this recipe, and the ginger and chili add notes of heat. Bring this dish to any dinner party and it's sure to be a hit.
Ingredients:
2 tablespoons peanut oil
1 pound head-on shrimp, peeled and deveined with heads still intact
½ cup sake
1 cup dashi
3 tablespoons sugar
2 tablespoons soy sauce
1 (1-inch) piece of ginger, peeled and cut into ¼-inch strips
2 garlic cloves, thinly sliced
1 fennel bulb, thinly sliced
1 whole dried hot chili
¼ cup thinly sliced scallion, divided
1 (2 to 2½-pound) live lobster
12 cherrystone clams, scrubbed clean
1 pound mussels, rinsed with beards removed
6 tablespoons unsalted butter
Sushi rice, for serving
Directions: Preheat a large wok over medium-high heat. Add the oil and swirl it around the pan. Add the shrimp in a single layer and sear on one side until lightly browned, 1½ to 2 minutes. Flip and sear the other side for another minute. Transfer the shrimp to a plate and set aside.
Add the sake, dashi, sugar, soy sauce, ginger, garlic, fennel, chili and half of the scallions. Bring to a boil. Add the lobster and cook, covered, for 1 minute. Reduce the heat to medium-low to gently simmer the mixture and cook with the lid on for 10 minutes. Turn off the heat and transfer the lobster to a cutting board. When it's cool enough to handle, remove the lobster meat and portion it into four bowls. Add the lobster head back into the wok.
Place the wok over medium heat. Once the liquid has come to a simmer, add the clams and cook, covered, for 4 minutes. Add the mussels and cook for 2 minutes. Add the reserved shrimp back into the wok and add the butter. Stir the contents of the wok very gently until the butter is fully incorporated, about 1 more minute. Discard any clams and mussels that do not open.
Divide the clams, mussels and cooked shrimp among the 4 bowls. Pour the broth over the shellfish, making sure to get a little fennel into each bowl. Garnish with the remaining scallions and serve with sushi rice.
3. Baked Crab and Shrimp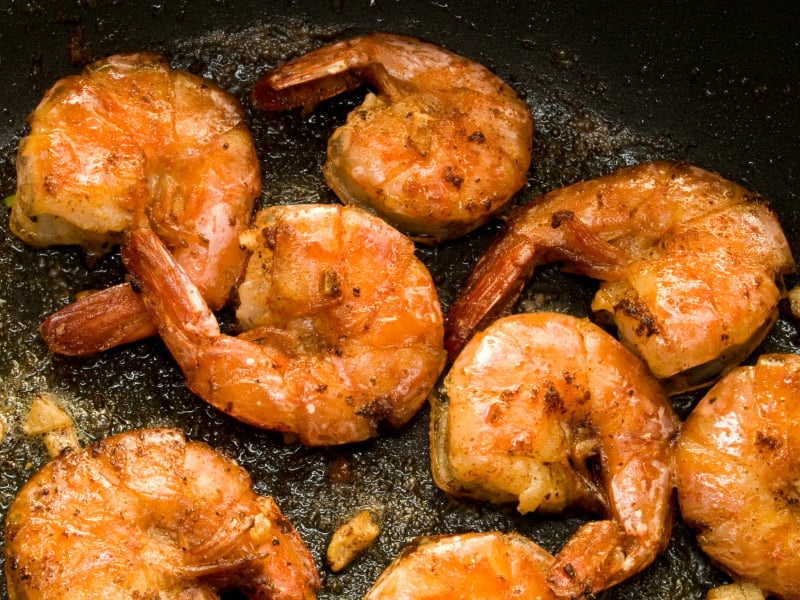 This easy recipe for a delicious baked shrimp and crab dish from The Washington Post is modified from classic one-pot Louisiana seafood dishes that are common for Sunday night dinner. The onion, bell pepper, and garlic make for a classic combination, and the crab and shrimp add a huge dose of flavor. You'll be making this dish for years to come.
Ingredients:
2 ribs celery, diced small
1 medium onion, diced small
1 medium green bell pepper, diced small
2 large cloves garlic, minced
3 tablespoons unsalted butter
1 large pinch ground cayenne pepper
1 large pinch chili powder
2 teaspoons flour
1 cup fish or shrimp stock
8 ounces lump crabmeat
12 ounces peeled, deveined large raw shrimp
2 to 3 tablespoons heavy cream
1 bunch scallions
½ cup plain fresh bread crumbs
½ lemon or lime
Directions: Melt the butter in a 10-inch cast-iron skillet over medium heat. Stir in the celery, onion, garlic, and green bell pepper. Cook for 5 minutes, stirring often, until the mixture has softened but not browned, adjusting the heat as needed. Sprinkle the pinches of cayenne pepper and chili powder over the mixture, and then the flour. Cook for about 1 minute, stirring, until the vegetables are evenly coated.
Gradually pour in the fish or shrimp stock as you continue to stir; increase the heat to medium-high to bring to a boil, continuing to stir. Cook for about 5 minutes or until the mixture has thickened into a sauce that pulls cleanly away from the bottom of the skillet when you pull a spatula through.
Pick over the crab, discarding any bits of cartilage. Reduce the heat to medium-low. Add the crabmeat and shrimp to the skillet, along with the heavy cream. Stir as you cook for about 2 minutes or until the shrimp become just opaque and the crab is warmed through.
Position an oven rack 4 to 6 inches from the broiler element, and preheat the broiler. Finely chop the white and light-green parts of the scallions, then combine them with the bread crumbs. Scatter this mixture over the contents of the skillet, then transfer the pan to the oven. Broil for less than 1 minute, watching closely, just until the crumbs have lightly browned.
Squeeze the lemon or lime juice over the top. Serve immediately.
4. One-Pot Lemon Garlic Shrimp Pasta
If you're looking for an easy one-pot meal that's packed with the delicious flavors of perfectly cooked shrimp, fresh herbs, and salty Parmesan, then this lemon garlic shrimp pasta from BuzzFeed is the perfect recipe. It's quick enough that you can throw it together when you're home for work, but still elegant enough for an upscale dinner party with your friends. We guarantee you'll love the comfort and taste of this meal.
Ingredients:
8 ounces linguine
2 tablespoons olive oil
8 tablespoons unsalted butter
4 cloves garlic, minced
1 teaspoon crushed red pepper
1¼ pounds large shrimp
Salt and pepper to taste
1 teaspoon dried oregano
4 cups baby spinach
¼ cup Parmesan cheese
2 tablespoons parsley, chopped
1 tablespoon lemon juice
Directions: In a large pot, boil water and add pasta. Cook according to pasta directions, stirring frequently, or until al dente. Drain and set aside. In the same pot, heat olive oil and 2 tablespoons of butter. Add garlic and crushed red pepper, and cook until fragrant.
Toss in shrimp and salt and pepper to taste, and stir until shrimp start to turn pink but have not fully cooked. Add oregano and spinach. Cook until wilted. Return cooked pasta to the pot and add remaining butter, Parmesan, and parsley. Stir until the butter is melted and the components are mixed.
When the shrimp are cooked, add lemon juice. Mix once more and serve immediately.
5. Salmon and Corn Chowder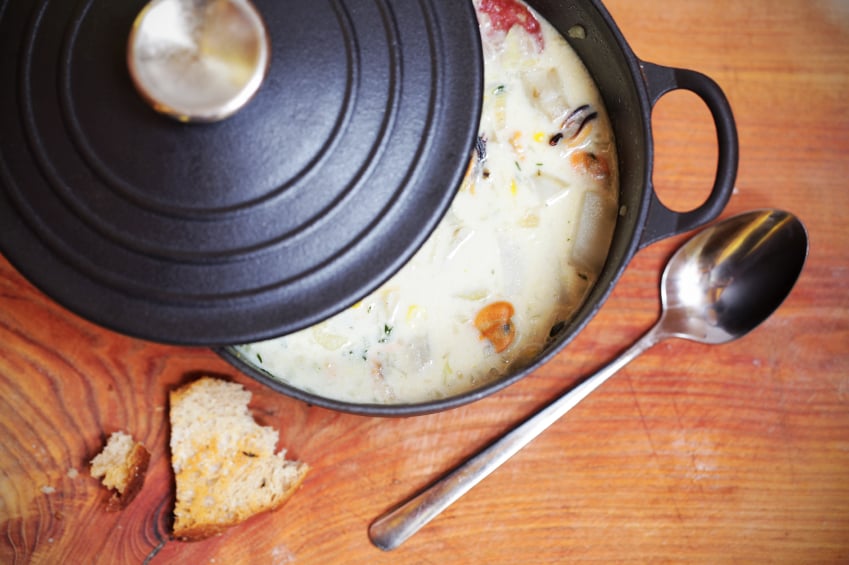 This one-pot meal from Epicurious has a rich and luxurious texture from the addition of heavy cream, and the potatoes and corn are the perfect hearty additions make this chowder the warm and filling meal you'll want this season. If you're not a salmon fan, try substituting your favorite type of flaky white fish. It's sure to be crowd-pleasing favorite.
Ingredients:
3 tablespoons olive oil
2 stalks celery, cut into ½-inch slices
8 ounces unpeeled small red potatoes, cut into 1-inch cubes
1 teaspoon kosher salt
1¼ teaspoons freshly ground white pepper
1 bunch green onions, coarsely chopped, including half of greens
1½ cups corn kernels (about 2 ears)
4 cups fish or chicken stock
1 cup heavy cream
2 pounds salmon fillets, skin and pin bones removed, cut into 2-inch pieces
Grated zest and juice of 1 lemon
¼ cup minced fresh dill
Directions: Prepare a campfire or wood-fired grill for cooking with indirect heat. (You can also use a gas grill for cooking with indirect heat — check out directions on how to do this over at Taste of Home.) Alternatively, use your stove.
Heat the olive oil in a large, heavy saucepan or Dutch oven over medium heat and sauté the celery for 3 minutes. Add the potatoes, salt, and pepper and cook, stirring occasionally, for 5 minutes. Stir in the green onions and corn and add 2 cups of the stock. Bring to a boil, then reduce the heat, cover, and simmer until the potatoes are almost tender for about 15 minutes.
Add the cream and simmer, uncovered, until the potatoes are tender for 5 to 7 minutes. Stir in the salmon and lemon zest and simmer gently until the salmon is just cooked through, 3 to 4 minutes. Add more stock as needed and lemon juice to taste. Taste and adjust the seasoning. Serve topped with dill.