11 Surprising Things You Didn't Know About Donald Trump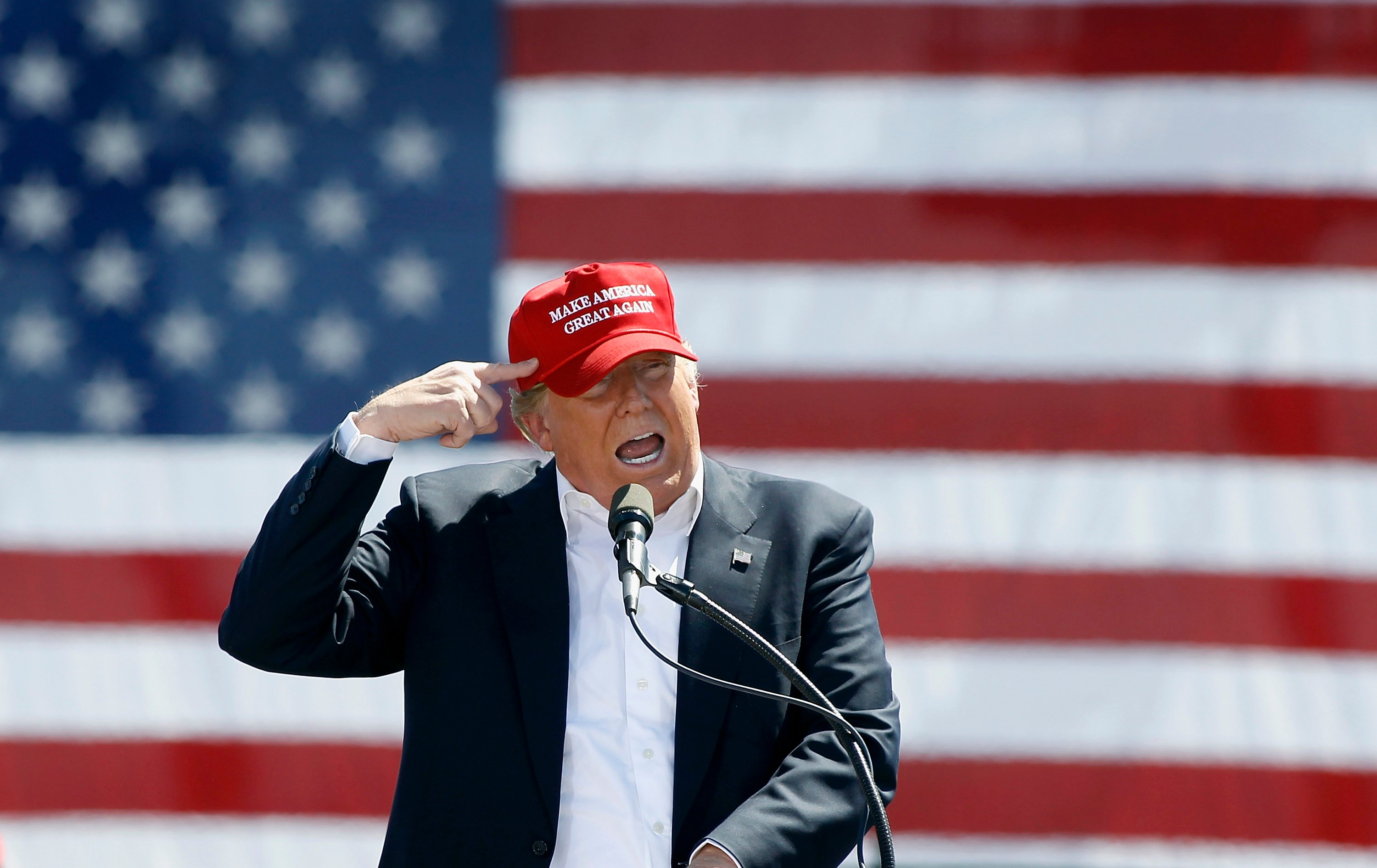 Once viewed as a joke candidate by some, the current President of the United States, Donald Trump, is known as a real estate mogul whose wealth is notoriously difficult to pin down. He's also known for not being afraid of taking on any issue — or any person — on Twitter. In fact, here are some other things you might have already heard about him. Like the fact that he doesn't smoke or drink. Or that he enjoys the media spotlight — the proof being in his time spent on The Apprentice, and his controversial statements during the political campaign.
Still, despite the onslaught of media attention surrounding Trump, there are a few things you might not know about the President. Here are some things that might, in fact, surprise you.
1. Trump makes money from just selling his name
Part of the reason Trump's estimations of his wealth vary so much from Fortune and other publications is because he adds a few zeros based on his "brand." To varying degrees of success, he puts his name on mortgage companies, magazines, vodka, steaks, real estate companies, an airplane company, and various resorts and golf courses.
Many of those ventures have been backed by Trump's own business-focused mind. But Trump also makes money by licensing his name to a variety of projects that he's not a part of. In those cases, it's literally in name only. As New York magazine reports, this became a popular business tactic for Trump in the late 1990s and early 2000s, when condominium developers and other real estate moguls would offer Trump a stake in their profits if he lent his name to their building. Trump, who had made his name in developing, decided this setup was a favorable one, because it's "better than ownership, because it's a licensing. You don't put up money. You don't put up anything."
Not surprisingly, those ventures don't always work out so well, but people are sometimes led into making sub par investments, believing Trump is actually behind the project. John Oliver walks through the issue in the clip above from Last Week Tonight (beginning around 12:38).
2. He doesn't use a hair dryer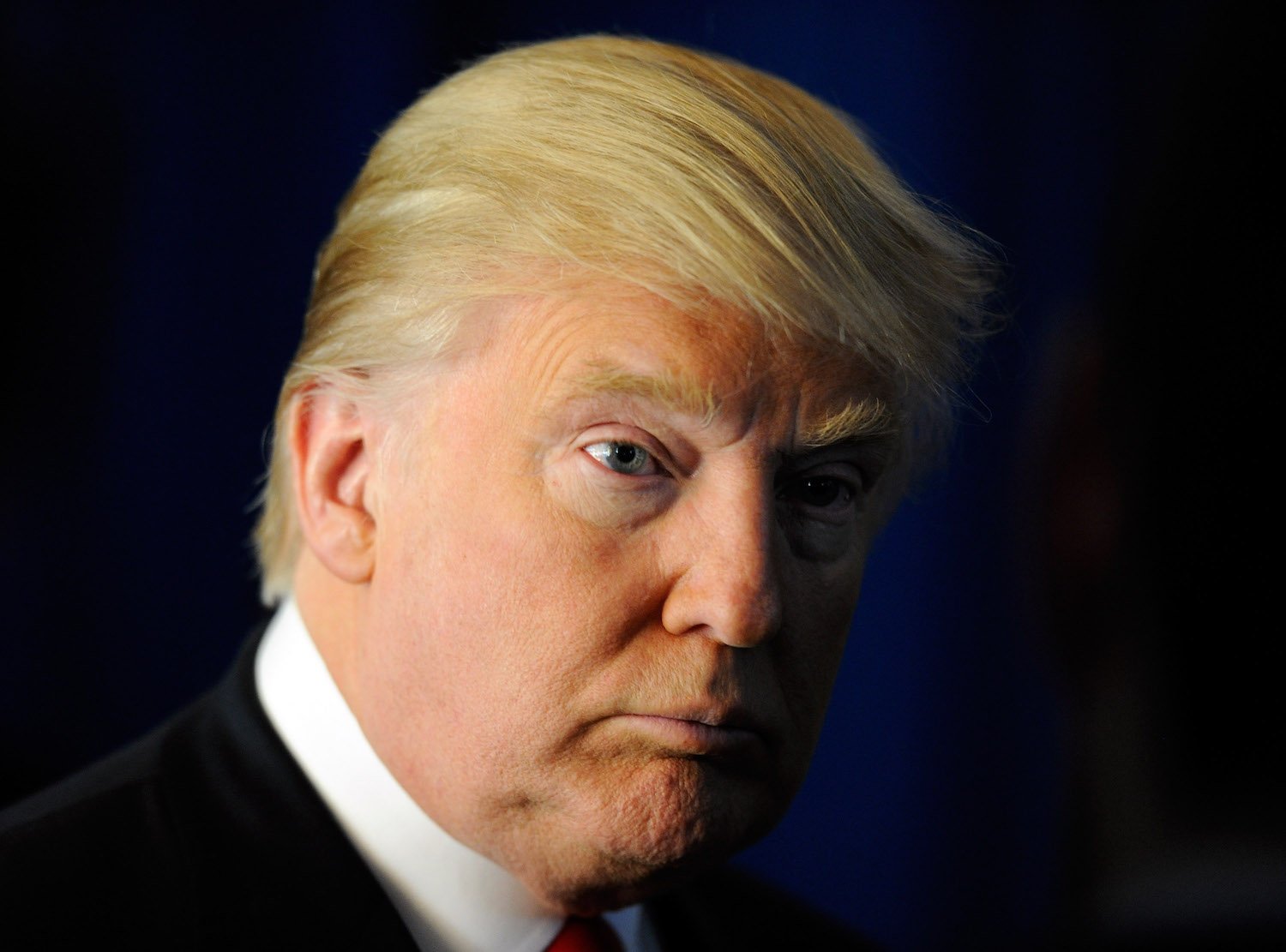 The 2016 election cycle was the first time multiple candidates came under fire for their hairstyles — and in most cases, it wasn't even centered around the female candidates. Bernie Sanders didn't like discussing his wispy white mane very much, but The Donald has spoken quite openly about his hair styling tricks of the trade.
One hair stylist told TIME that to create Trump's signature locks, all you'd have to do is blow-dry your hair forward, fold and blow the front section back, sweep your locks to both sides, and then empty a can of hairspray onto your head to keep it in place. But Trump states he doesn't use a hair dryer.
"I get up, take a shower and wash my hair. Then I read the newspapers and watch the news on television, and slowly the hair dries. It takes about an hour. I don't use a blow-dryer. Once it's dry I comb it. Once I have it the way I like it — even though nobody else likes it — I spray it and it's good for the day," Trump told Playboy in a 2004 interview.
Trump also admits to vanity — especially when it comes to defending his locks. In his book Trump: How to Get Rich, he spends a chapter talking about his hairstyle and his habits surrounding it, categorically denying he's ever worn a hairpiece or wig. "I will also admit that I color my hair," Trump writes. "Somehow, the color never looks great, but what the hell, I just don't like gray hair."
In the book, originally published in 2004, Trump wonders how long his hair would continue to be a national conversation piece. Apparently, running for and becoming President cements it permanently.
3. He's largely credited for the failure of a NFL rival league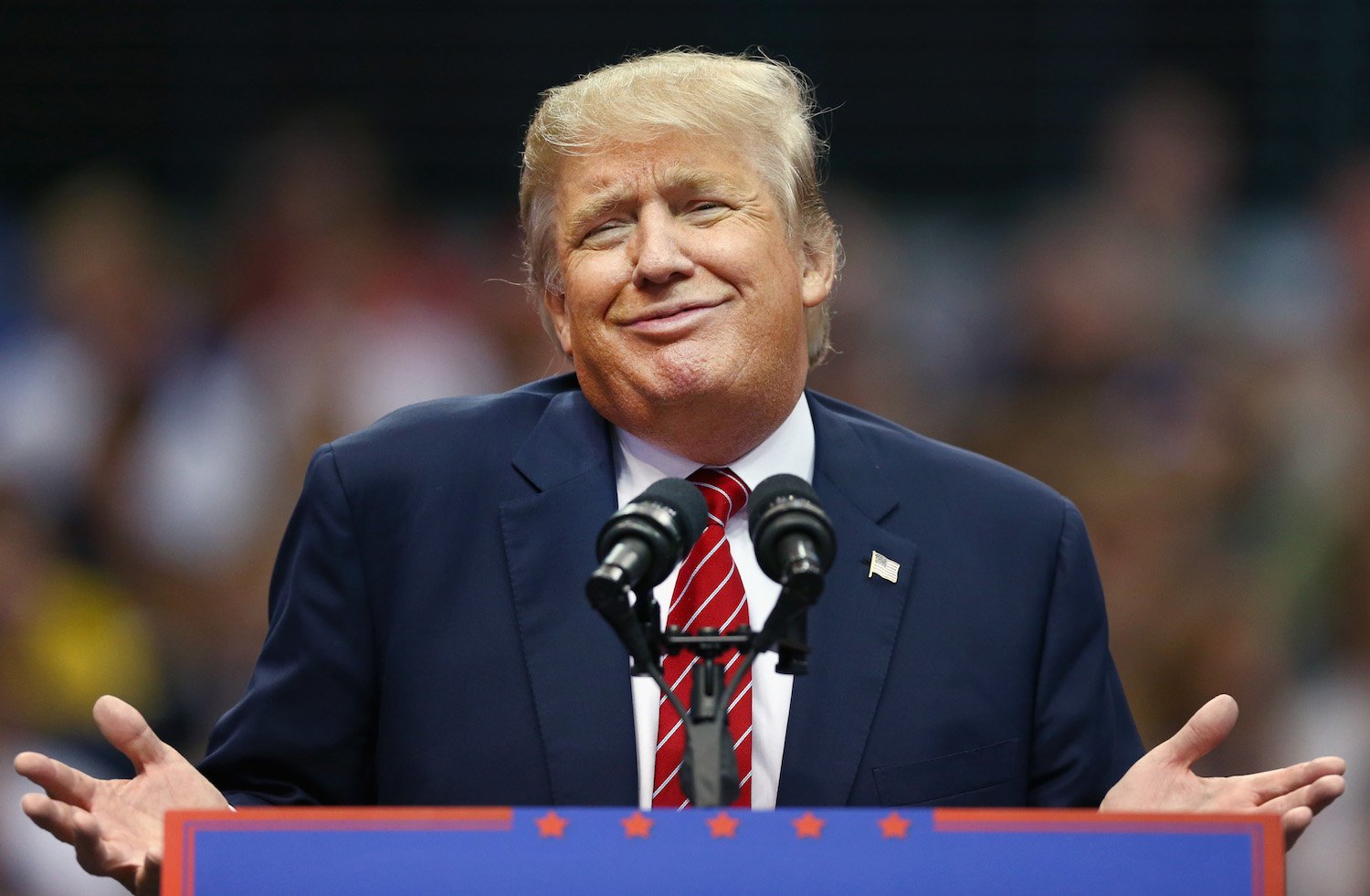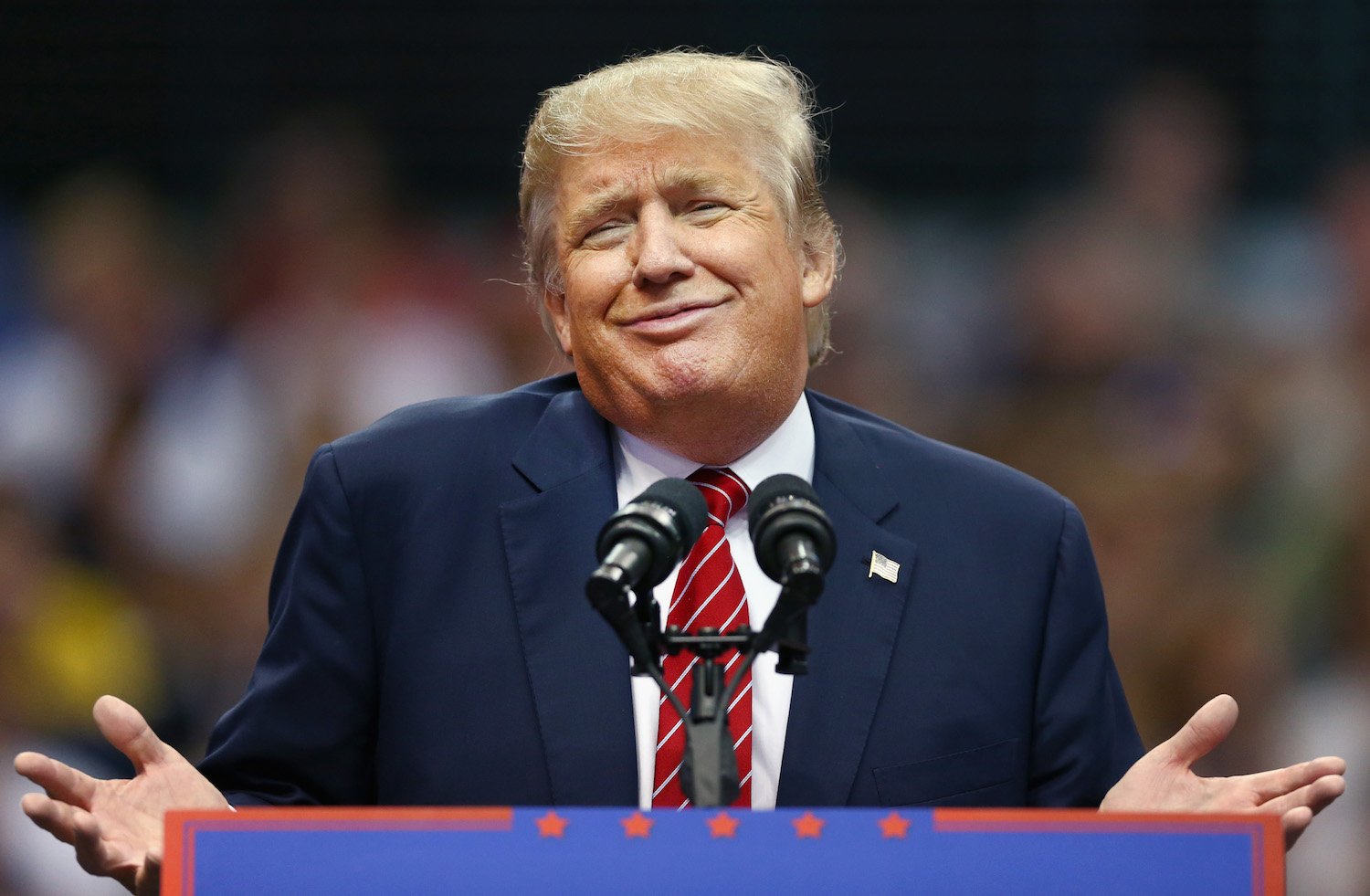 A little sports background for posterity: From 1983 until 1985, the United States Football League attempted to grow in popularity with hopes of becoming a rival to the NFL. But the league folded after just three seasons — a sour turn of events for which many sports fans blame Donald Trump.
These days, Trump is mostly known in the sports world as being an ambassador of golf. In 1983, however, Trump became the owner of the New Jersey Generals, and pushed for the league to move from a spring schedule to a set of games in the fall — taking on the NFL directly. The Generals did better in their two seasons under Trump than their inaugural year under other ownership, but that didn't stop people from placing blame for the entire league's failure at Trump's feet.
According to Fortune, Trump led the charge of owners in the USFL, who sued the NFL for antitrust violations. The goal was to either earn TV spots after a successful lawsuit, or encourage the NFL to merge with the USFL. "We're going to have a league that's going to be just as valuable as the NFL, or we're going to have a merger," Trump said.
Instead, the USFL won just $3 from the lawsuit, and the league folded before ever moving to a fall schedule. ESPN's 30 for 30 documentary series (now on Netflix) details the rise and fall of the league — and Trump's role in it — in one installment called "Small Potatoes: Who Killed the USFL?"
4. He's always had his sense of confidence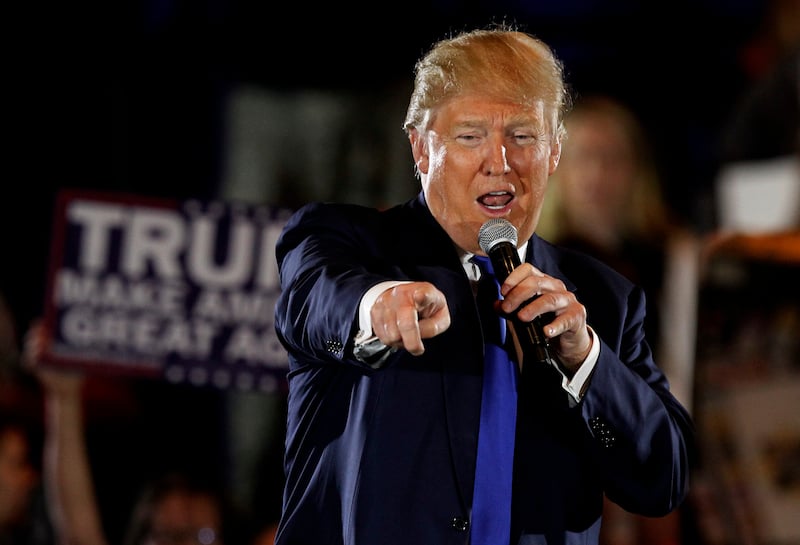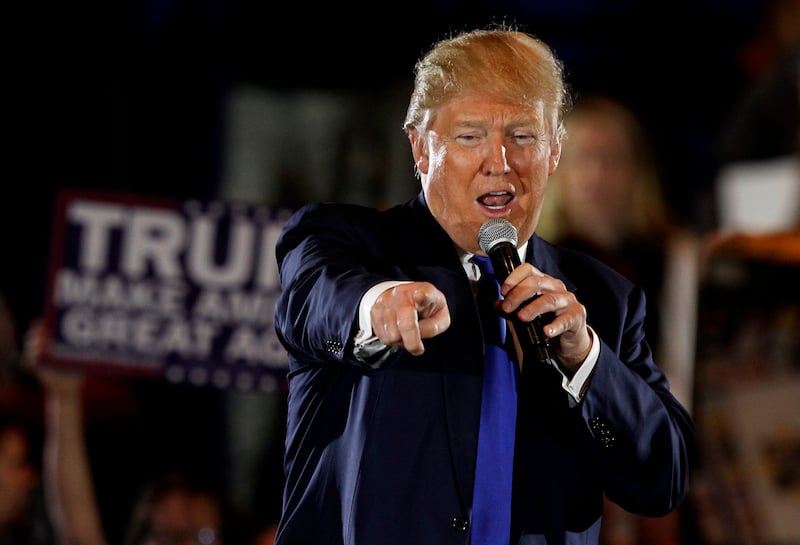 Trump doesn't do take-backs or apologies often — it's just not his style. Instead, he continues to use rhetoric that praises his own work. The self-boosting attitude isn't just a campaign tactic — he's always had a strong sense of confidence in himself and his abilities.
One classmate from Trump's high school days at the New York Military Academy told Business Insider that Trump aspired to own real estate on Fifth Avenue even as a teenager — long before Trump Tower came to be.
Trump's early-established confidence also apparently had a positive effect on the opposite sex. Trump was voted "Ladies' Man" in the yearbook for his senior year. "He was a very good-looking, handsome guy, and he held himself in a way that everyone thought he'd be very desirable for the opposite sex," said classmate George Beuttell. Trump told the publication it was because he's always admired women and has "always treated women with the greatest respect."
Evidently, the confidence carried on well into his career. In a 2004 interview with The Daily News, Trump said women couldn't help but flirt with him. "All of the women on The Apprentice flirted with me — consciously or unconsciously. That's to be expected," he said.
5. He's a bigger family man than you might think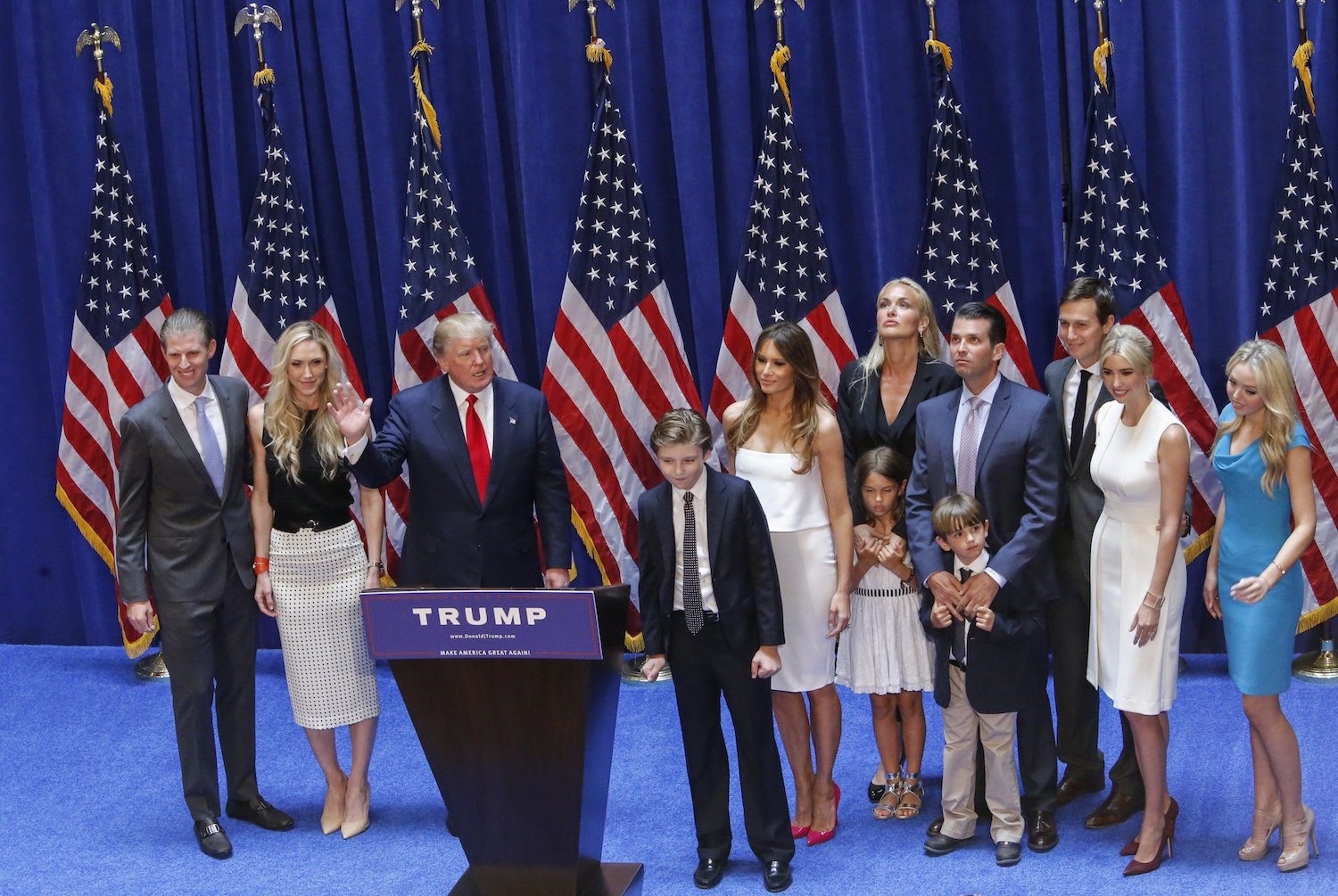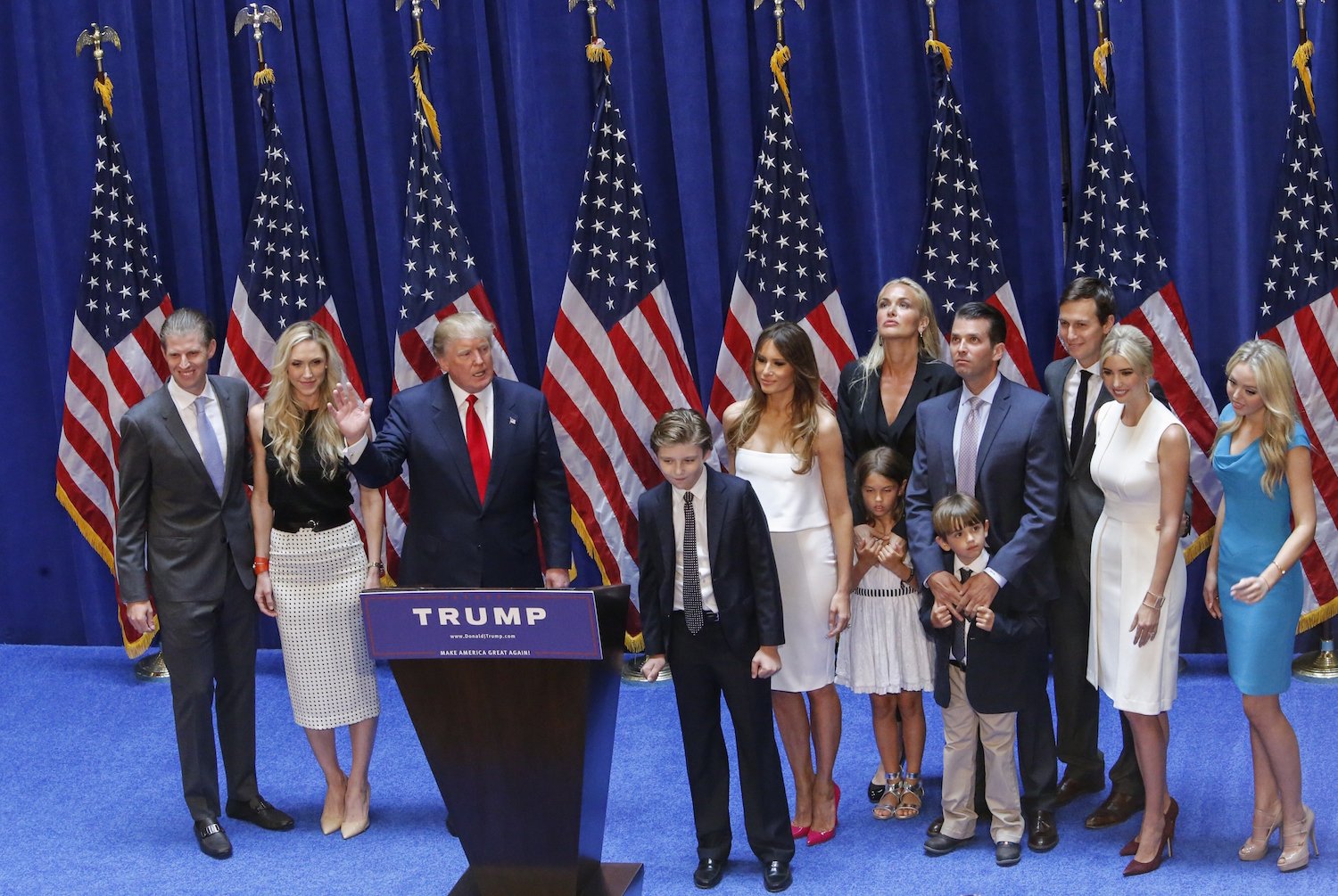 Though most of his family doesn't share the spotlight in the same way he himself does, Trump actually has five children. Donald Jr., Ivanka, and Eric were all born during Trump's marriage to his ex-wife Ivana Zelnícková; Tiffany was born during his marriage to ex-wife Marla Maples; and Barron was born in 2006, a year after Trump married his current wife, Melania Knauss.
Trump is also a grandfather to eight grandchildren, counting the son Ivanka recently had with her husband, Jared Kushner. All told, Trump sees himself as a family man. "I've always said I've been a great father. Less of a good husband," he joked on The Oprah Winfrey Show in 2011. "I love my family."
It also appears Trump will follow in his own father's footsteps by passing on the family business to his heirs. Trump's three eldest children are already high-level executives in the Trump Organization, while college-aged Tiffany is studying business at the University of Pennsylvania. (Barron is just 10 years old.) "I'd like them to carry on what I've done," Trump said on Oprah. "I've done a good job, and I'd like them to carry on and enjoy another level, and enjoy their lives."
6. Trump's paternal grandparents and his mother were immigrants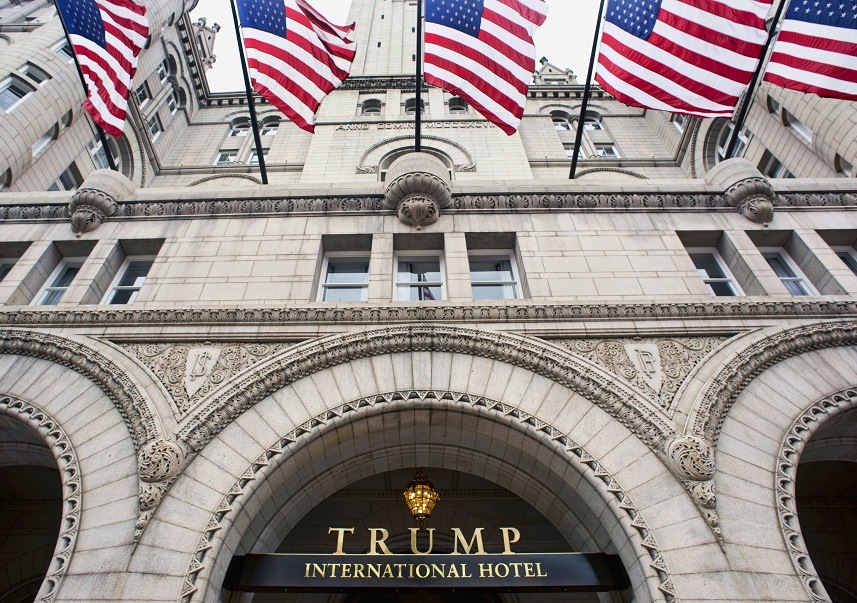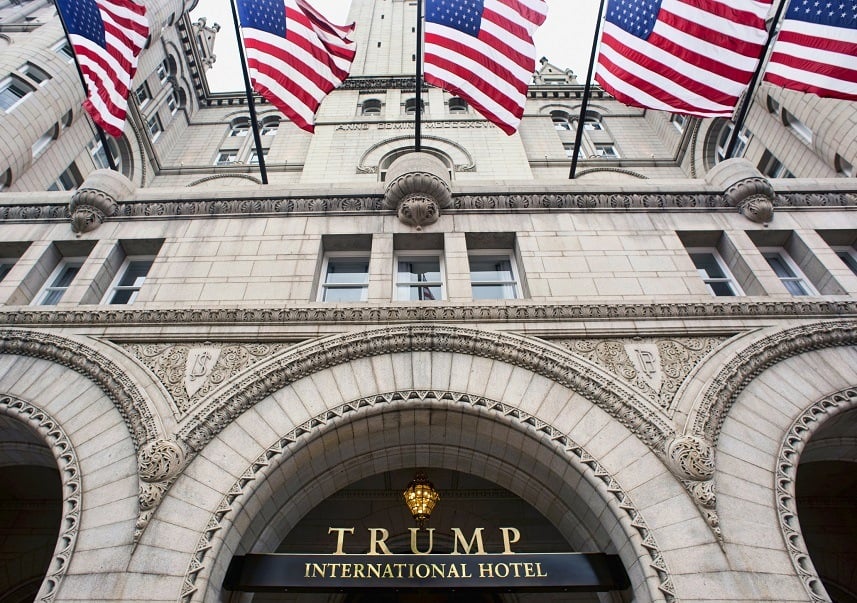 Trump kicked off his presidential campaign with some headline-grabbing remarks on immigration. As The Week notes, those remarks were "targeting the mass of disaffected, angry, and largely white voters who feel that immigrants have stolen their jobs, their sense of security, and their self-respect." But his anti-immigration views seem to belie his own family's immigrant past — and they contradict Trump's promise to "tell it like it is."
Like most Americans, Trump's family has immigrants in its not-so-distant past. His mother, Mary Anne MacLeod Trump, was born in the Hebridean island of Lewis, part of the Outer Hebrides in Scotland. His grandfather, Friedrich Trump, emigrated from the small German village of Kallstadt. It was this Trump who amassed what The Week characterizes as "the first Trump family fortune" by opening restaurants that supplied alcohol.
Friedrich's wife, Elizabeth, wanted to return to Germany. But because Friedrich had left the country before he was old enough to complete Germany's compulsory military service, the authorities dismissed him as a draft dodger and wouldn't restore his German citizenship. So Friedrich and Elizabeth, who was five months pregnant with Frederick "Fred" Christ Trump, President Donald Trump's father, returned to New York. Frederick became the man of the house after his father died. Thanks to the growing tide of anti-German sentiment between World War I and World War II, he began to say that his ancestry was Swedish.
The New York Times notes that Frederick's choice to bury the family's German ancestry coincided with his effort to get in the real estate game, and to market his properties to the growing Jewish middle class in Brooklyn and Queens, New York. 
7. Trump has a specific handshake technique

Trump hates shaking hands. As NYMag reports, he wrote in his 1997 book Trump: The Art of the Comeback that "One of the curses of American society is the simple act of shaking hands, and the more successful and famous one becomes, the worse this terrible custom seems to get. I happen to be a clean hands freak. I feel much better after I thoroughly wash my hands, which I do as much as possible."
In 1999, the first time Trump considered a presidential campaign, he referred to the handshake as being "barbaric" in an interview with Time. Nonetheless, he did say that he'd shake hands on the campaign trail. Trump didn't end up running in 1999, though. He told Fox News in 2002 that he didn't like his few months as a prospective candidate. "I had to shake too many hands. That was always a problem," he admitted.
While Trump seems to have gotten over his distaste for shaking hands, his handshake technique is making headlines. Various handshake websites refer to Trump's technique as "the pull in." And according to NYMag, "Once Trump latches onto your hand, he will vigorously — here's where the name comes in — pull you in close to his body, as if your arm is the rope in a game of tug-of-war."
Trump's repeated use of this handshake technique has resulted in pop psychology analysis of the motivation behind his style. Politicians and diplomats have been caught off-guard by Trump's vigorous handshake, and the way it pulls them into the President's personal space. But it doesn't look like Trump is going to break the habit any time soon.
8. His speaking style is pretty unique, too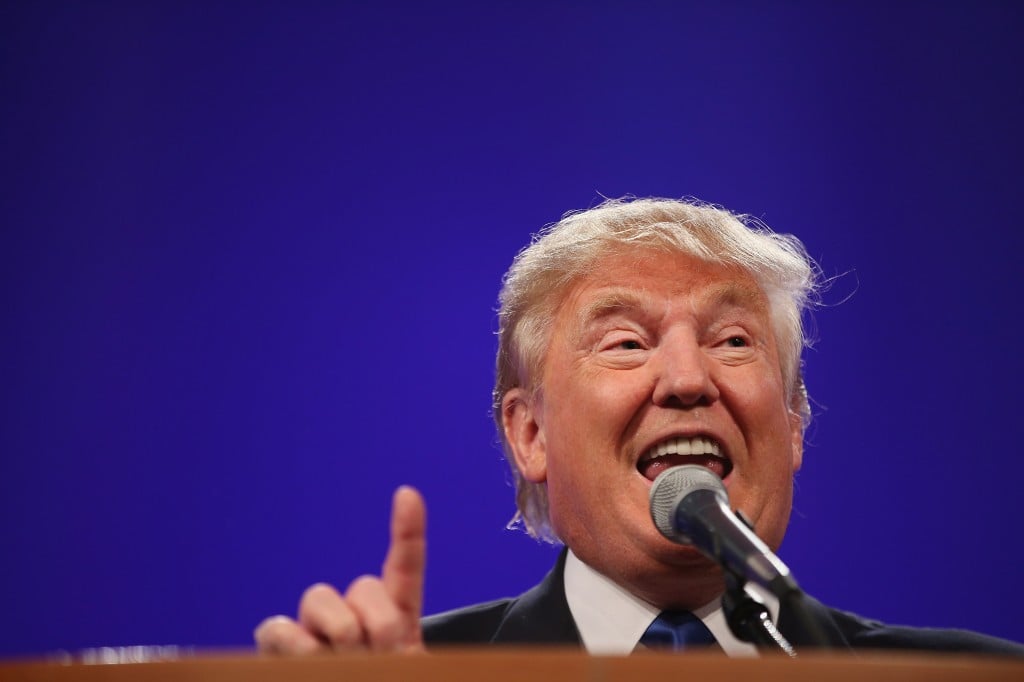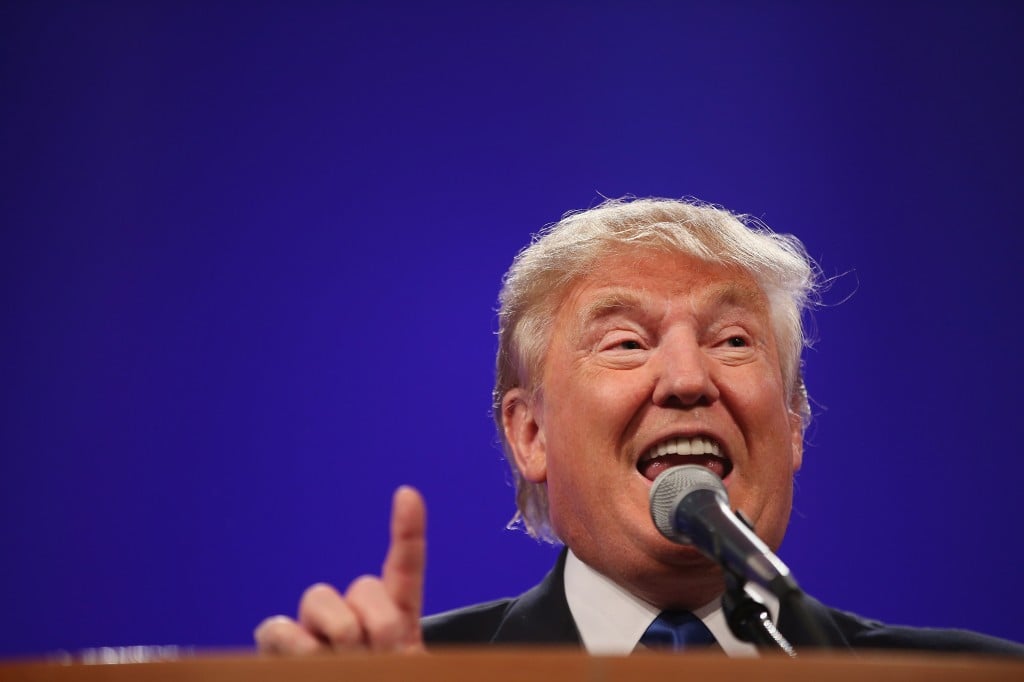 Trump is also making headlines for his distinctive speaking style. According to Vox, Trump "often jumps to an entirely new thought before finishing his previous one." The news site adds that after consulting professional linguists and historians, what most agreed upon was that "Trump's speeches aren't meant to be read or used for sound bites, which is probably why Trump is so frustrated with how he comes off in the media." Of course, Trump had an explanation for this, which he gave at his victory tour rally:
For the last month, I decided not to do interviews, because they give interviews and they chop up your sentences and cut them short. You will have this beautiful flowing sentence, where the back of the sentence reverts to the front, and they cut the back of the sentence off, and I say I never said that.
Trump's speeches are typically unscripted. They include many unfinished sentences, false starts, and parentheticals. Trump moves quickly from one thought to another. Vox notes that the President's style of speaking is conversational, and may even stem from his upbringing in New York, where it's a natural part of conversation to finish other people's sentences. Some linguists think that Trump's speaking style is indicative of scattered thoughts, a short attention span, or a lack of analytical skills.
But what seems to bother Trump critics most about the President's speaking style is what makes it appealing to so many other people. Vox reports that "Many of Trump's most famous catchphrases are actually versions of time-tested speech mechanisms that salespeople use. They're powerful because they help shape our unconscious." And that's to say nothing of the fact that what he's saying resonates with many of his listeners.
9. He loves fast food, but followed a very different diet in the past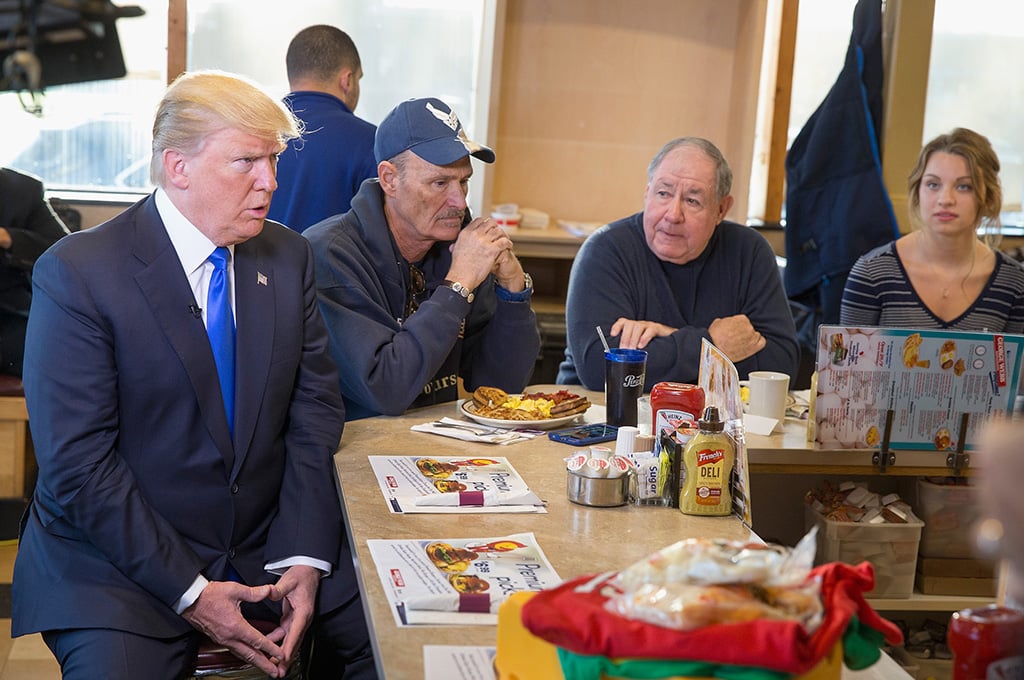 On the campaign trail, Trump admitted that he loves fast food. According to Vanity Fair, he even occasionally has it delivered to his private plane. Trump said in a town hall debate on CNN, "I think the food is good. I think all of those places, Burger King, McDonald's, I can live with it. The other night I had Kentucky Fried Chicken. Not the worst thing in the world."
Surprisingly enough, Trump attributes his fast food habit to the standards of cleanliness at fast food chains, which seems to assuage his germaphobic tendencies. "The one thing about the big franchises: one bad hamburger, you can destroy McDonald's. One bad hamburger, you take Wendy's and all these other places and they're out of business."
But Trump wasn't always a fan of fast food. "Before he morphed from reality TV star into presidential candidate, he sounded a lot more like a health-conscious foodie than a fast-food aficionado," Vox reports. "There was a time when Trump favored heirloom tomatoes, lemongrass-infused salmon, and lingonberry sorbet." In fact, in his 2004 book, Trump: Think Like a Billionaire: Everything You Need to Know About Success, Real Estate, and Life, Trump advised readers to follow the Mar-A-Lago Diet.
This diet generally consists of eating wholesome, fresh, and minimally processed foods. But that's not all. According to Trump, food "has to be served in a fantastic setting," and needs to not only "look fantastic" but "taste incredible." Trump's shift in diet coincides with presidential hopefuls' long tradition of using food to relate to voters. "In a campaign like Trump's to 'Make America Great Again,' nothing says America more than McDonald's," Vox reports.
10. Phsychiatrists disagree about whether he has a personality disorder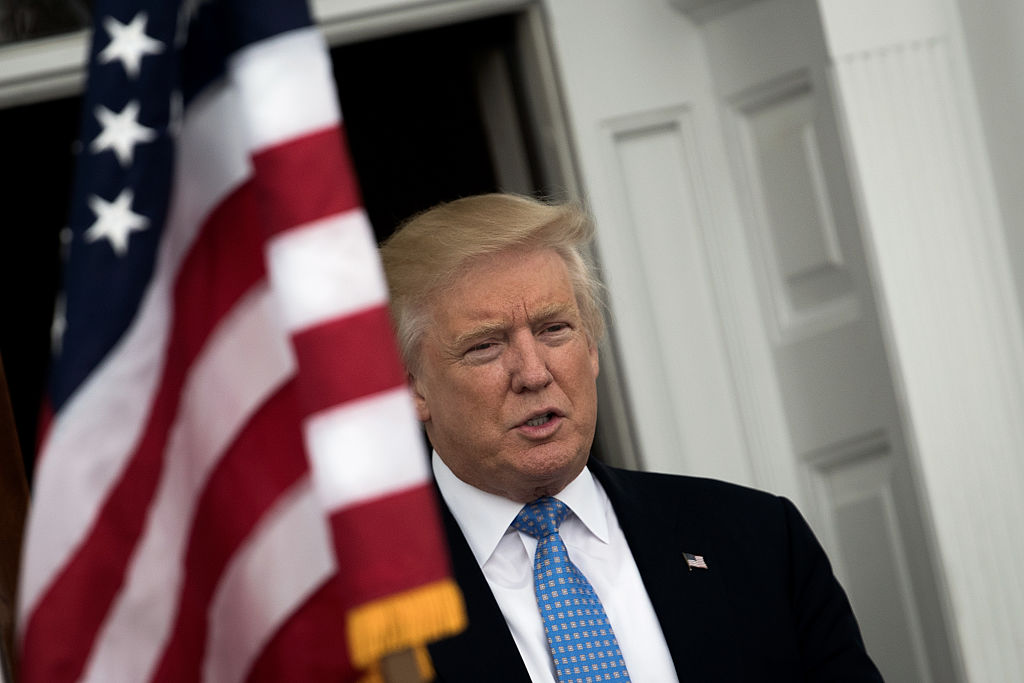 Like many celebrities and reality TV stars, Donald Trump has a big personality. But The Atlantic notes that many people who have interacted with him have gotten the feeling that Trump is an actor playing a character. "More than even Ronald Reagan, Trump seems supremely cognizant of the fact that he is always acting. He moves through life like a man who knows he is always being observed," The Atlantic reports. For that and other reasons, Trump's personality is pretty unique (and unusual) in Washington.
Many media platforms have offered up assessments of the particulars of Trump's personality, noting his extroversion, his reputation for disagreeableness, and his tendencies toward social ambition and aggressiveness. Intense speculation about Trump's psychological motivations, and potential psychiatric diagnoses, have led many who oppose him to posit that he has narcissistic personality disorder.
But Allen Frances, the psychiatrist who led the task force that wrote the Diagnostic and Statistical Manual of Mental Disorders IV, wrote to The New York Times that Trump "may be a world-class narcissist, but this doesn't make him mentally ill, because he does not suffer from the distress and impairment required to diagnose mental disorder."
Additionally, the American Psychiatric Association warned psychiatrists against publicly speculating about Trump's mental state without an in-person evaluation. The organization cited the Goldwater Rule, which NPR notes the APA adopted "after a 1964 survey of psychiatrists found that nearly half of those polled felt that GOP presidential candidate Barry Goldwater was psychologically unfit to be president." Whether psychiatrists comply or not, the debate over Trump's unusual personality will likely rage on for the foreseeable future.
11. He's the same person he was as a child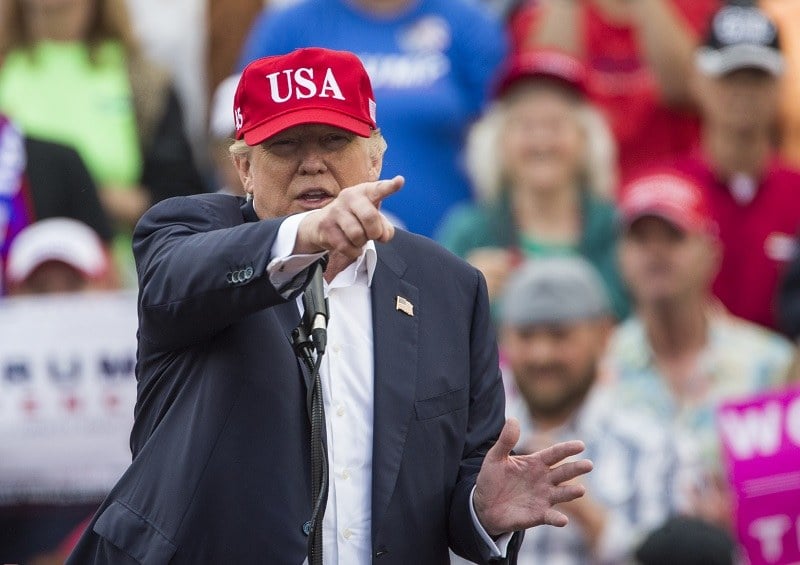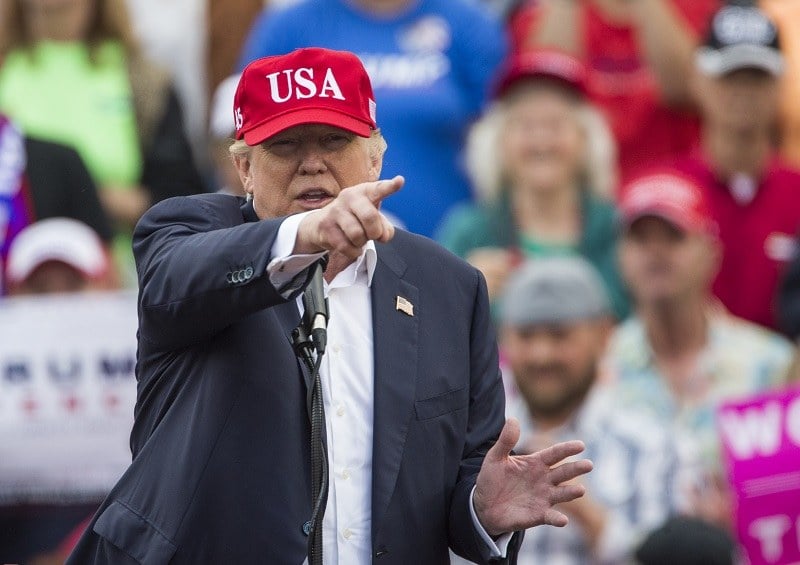 The Washington Post reports that according to interviews with more than three dozen of Trump's childhood friends, classmates, and neighbors, the childhood version of the current president was just "Trump in miniature."
Trump reportedly erupted in anger and misbehaved often in school. He was a bully to other children and once gave a music teacher a black eye. When he was 13, he was sent away from his family's luxurious home to attend a military boarding school. Trump was confident and aggressive — which probably sounds familiar — and by the time he was 18, he had resolved that he was "going to be very famous one day."
According to the Washington Post, "young Donald commanded attention with his playground taunts, classroom disruptions and distinctive countenance, even then his lips pursed in a way that would inspire future mimics."
In fact, Trump himself says that his personality hasn't changed that much since he was a child. "When I look at myself in the first grade and I look at myself now, I'm basically the same," Trump told a biographer. "The temperament is not that different." That may not be surprising. But it's interesting in light of the longest running personality study, which recently found that people's personalities typically change drastically, to the point of being unrecognizable over the course of decades.