The 10 Cheapest (and Most Expensive) Cities to Drink a Beer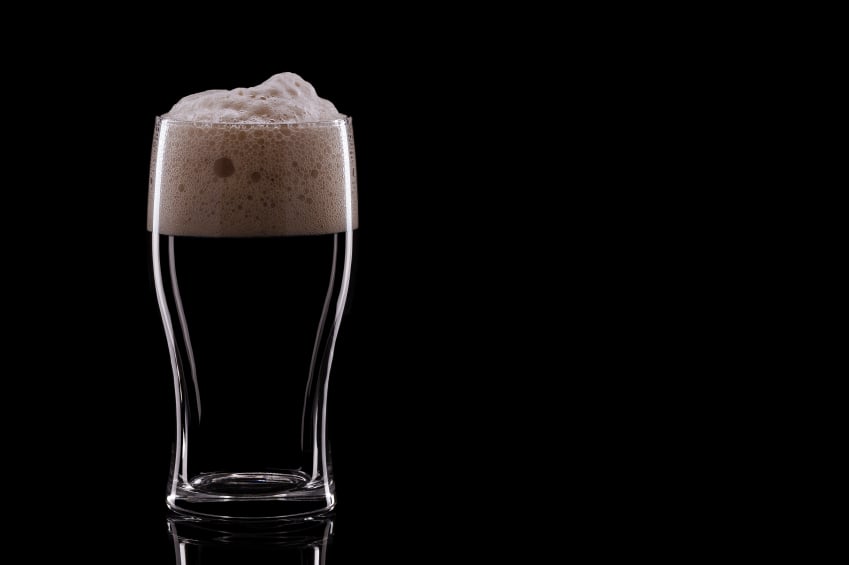 It's a goal, albeit sometimes a subconscious one, for many men: find cheap beer. Beer, of course, is a celebrated beverage all around the world, and living in North America or Europe can spoil us. In the U.S., we live in the middle of a beer paradise — with literally hundreds, if not thousands of choices to be had, and differing tastes and confections from region to region. Whether you find yourself enjoying one of the many microbrews from the Pacific Northwest, a Budweiser in St. Louis, or a Dogfish Head IPA on the Delaware shore, you're pretty much guaranteed to find a wide selection of beer all across the country.
But that doesn't mean that you can find brews on the cheap — and when you're traveling on a budget, tracking down those discount suds can feel like winning the lottery.
Internationally, there's a rather wide disparity in beer prices. Sure, you can go to your local grocery store in pretty much any state and see the price difference between Busch Light and Black Butte Porter. But those prices differ even more wildly abroad. There are several reasons for that, from simple supply and demand or cultural differences, to shipping and logistics issues. Taxes and tariffs are a big one as well.
Either way, GoEuro has its Beer Price Index to give international travelers a bit of a cheat sheet to finding the world's cheapest brews. The Index "combines data from 75 cities around the world, including the 5 most commonly imported beers as well as the main local beer."
With that data, here are the 10 cities around the world where you can find the cheapest beer:
1. Krakow, Poland – $1.66
2. Kiev, Ukraine – $1.66
3. Bratislava, Slovakia – $1.69
4. Malaga, Spain – $1.72
5. Delhi, India – $1.75
6. Ho Chi Minh City, Vietnam – $1.78
7. Mexico City, Mexico – $1.96
8. Belgrade, Serbia – $1.97
9. Asuncion, Paraguay – $1.98
10. Bangkok, Thailand – $2.11
As for the most expensive cities to find a brew, here's a rundown of the top 10:
1. Geneva, Switzerland – $6.32
2. Hong Kong, China – $6.16
3. Tel Aviv, Israel – $5.79
4. Oslo, Norway – $5.31
5. New York, U.S.A. – $5.20
6. Singapore – $5.13
7. Miami, U.S.A. – $5.13
8. Helsinki, Finland – $4.91
9. Tokyo, Japan – $4.77
10. Abu Dhabi, U.A.E. – $4.66
Obviously, there's quite a disparity from the most expensive to the least expensive countries, with Krakow and Geneva ending up as polar opposites on this particular index. GoEuro also included a few graphics to show just how different some of these cities truly are when it comes to both price and demand for beer.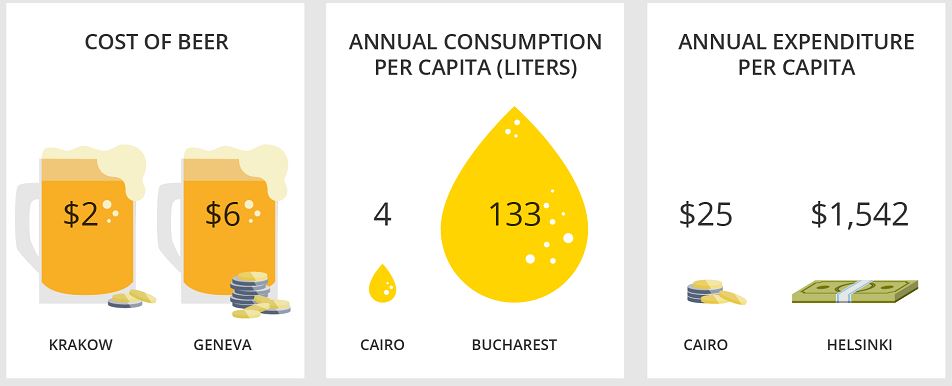 As you can see, the difference between European cities like Helsinki and Bucharest, when compared to an African metropolis like Cairo, is fairly huge. Again, there are a lot of reasons for this, and a lot of it comes down to cultural and religious differences between the populations of these areas.
Another thing that has had an effect on the prices and rankings in this year's Index is fluctuations in currency valuations. For example, we all know that the U.S. dollar has a had a fairly strong year, gaining a lot of value against competing currencies like the Euro. As a result, beer prices are different than in previous years — though Americans may not notice a huge spike in price at the local store or bar.
For travelers on the hunt for a discount at local watering holes, there's some significant information to be taken from the Index. While it's unclear how many people, if any, actually plan their entire trip around cheap beer prices, a quick look at the Index can help you figure out where overall prices might be lower — not just beer. A look at the most expensive cities include places like New York, Hong Kong, and Tel Aviv — cities that are expensive in many ways, not just when you look at beer prices.
Conversely, a trip to eastern or central Europe, or even southeast Asia, will likely be a lot easier on your wallet.
Follow Sam on Twitter @Sliceofginger
More from Culture Cheat Sheet:
Want more great content like this? Sign up here to receive the best of Cheat Sheet delivered daily. No spam; just tailored content straight to your inbox.