The Best-Ever Holiday Pie Recipe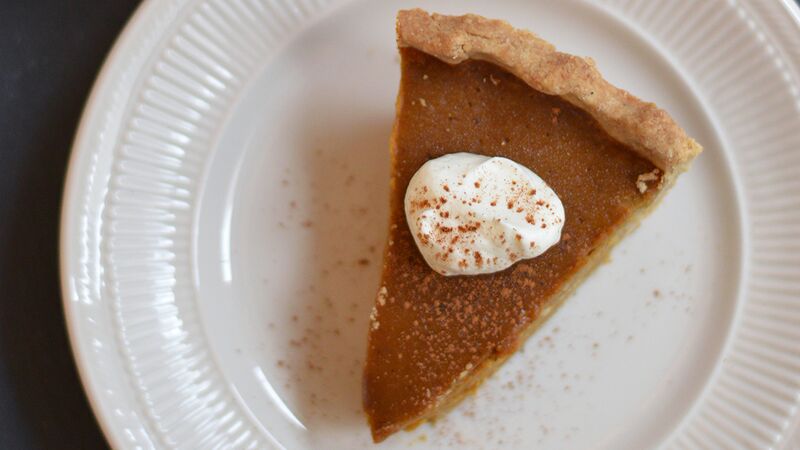 Fall might signal the end of sorbet season, but it also ushers in something possibly more delectable: pie season. No, we're not talking savory pies (though five pot pie recipes to satisfy every kind of eater sounds pretty good, if you ask us), but the sweet finish you crave post-festive fall dinner, pre-autumn happy hour, or heck, pre- or post-any kind of seasonal moment.
We turned to the culinary whizzes at New York City's Natural Gourmet Institute, a health-supportive culinary school that also offers public classes, for their signature fall pie recipe. Pro tip: The recipe yields just one nine-inch pie, but you might want to set up an assembly line of workers and make a few in the oven. They are a perfect and unexpected fall gift. (After a few mouthfuls, the coworker who always seems peeved at you or the car mechanic who never prioritizes your repairs will suddenly treat you like the royal family. Not that we tried that or anything.)
The Best-Ever Holiday Pie
If there is any one food representative of fall and the pending holiday season, it is, undoubtedly, pumpkin pie. Its brown filling is synchronous with the color of fallen leaves, and its warming spices — including ginger, cinnamon, and nutmeg — are exactly what we crave as the weather starts to cool.
But pumpkin pie is not loved by all. The velvety interior (generally made with canned pumpkin) oft-times comes out, well… sort of gloopy, and may turn some people off. This recipe, however, yields the most flavorful, the most non-gloopy, the most perfect pie ever. The secret? Freshly roasted kabocha squash. You certainly won't have to worry about your guests turning this dessert down — it is the holiday spirit incarnate.
The crust is adapted from a recipe by Peter Berley. If you feel bold, try one of these seven healthy crust recipes instead.
Yields: 1 9-inch pie
Ingredients:
For crust:
1½ cups whole-wheat pastry flour
½ teaspoon salt
8 tablespoons cold, sweet butter
¼-½ cup ice water
For filling:
2 pounds kabocha squash, roasted (about 2 cups cooked squash)
1 cup maple crystals
2 teaspoons ground ginger
2 teaspoons ground cinnamon
1 teaspoon freshly grated nutmeg
¼ teaspoon ground cloves
½ teaspoon salt
⅔ cup organic whole milk
⅔ cup organic heavy cream
4 large eggs, lightly beaten
Directions: To make the crust: Sift flour into a bowl and combine with salt. Using two knives or a pastry cutter, cut butter into flour to form a very coarse meal. Using a rubber spatula, lightly toss flour while sprinkling water in mixture 1 tablespoon at a time until dough forms. Press together, wrap in plastic and chill 20 to 30 minutes. Roll on lightly floured surface to desired shape and transfer to a pie dish. Blind-bake in a 350-degree preheated oven for about 25 minutes.
To make the filling: Preheat oven to 360 degrees Fahrenheit. Puree roasted squash, maple crystals, and spices in a food processor. Transfer to a pan and cook over medium heat, stirring constantly until mixture thickens and sputters, about 5 minutes. Whisk in milk and cream, and bring to a simmer. Turn heat off, cool mixture, and whisk in eggs. Pour filling into partially blind-baked pie shell and bake for 30-40 minutes, or until filling is lightly cracked around edges and jiggles slightly in the center. Cool for 1 hour before slicing.
More from Culture Cheat Sheet:
Want more great content like this? Sign up here to receive the best of Cheat Sheet delivered daily. No spam; just tailored content straight to your inbox.