Try This Fried Bar Snack: Broccoli Rabe-Ricotta Fritters
Inviting some pals over to hang out can quickly turn stressful when you realize they're going to expect some food. Before you reach for your phone to order delivery, take a few deep breaths. Homemade eats don't have to be difficult. With original recipes from our Everyday Appetizers series, you can pull off showstopping starters without losing your cool. 
When most people think of fried food, their minds journey to chicken wings and onion rings. These casual bar foods are certainly delicious, but frying can do fancy just as well as any other preparation. These golden ricotta fritters studded with broccoli rabe more than prove the point, so get cooking.
About this recipe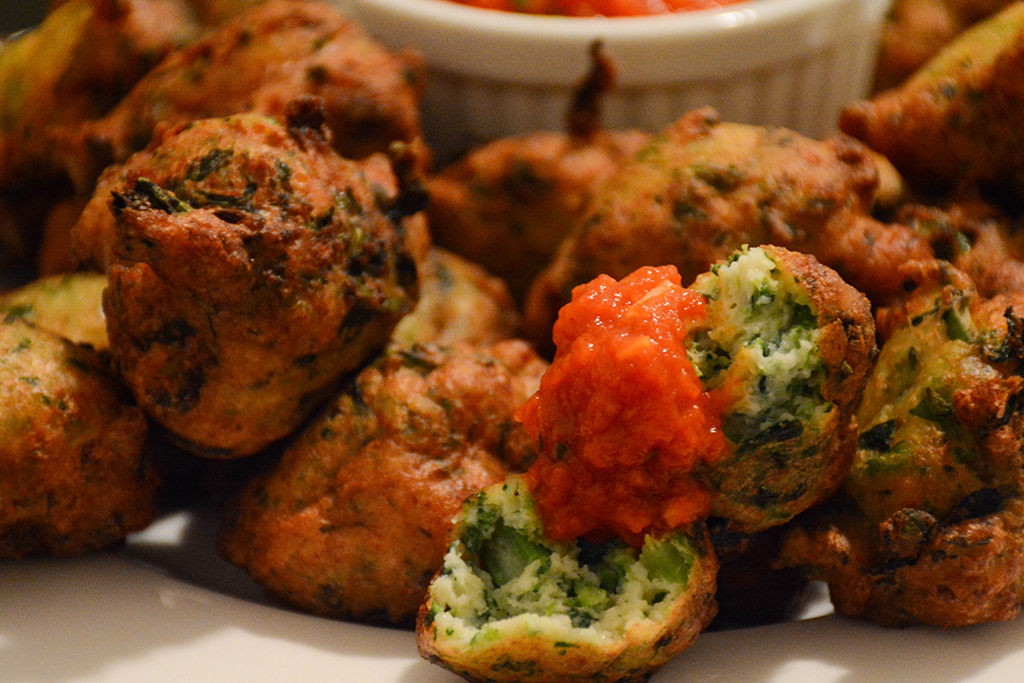 Deep frying at home seems a lot scarier than it really is. Contrary to what you may have heard, you don't need specialty equipment. As long as your kitchen lineup includes a decent deep-fry thermometer, which should seriously cost less than $10, and a some sort of sturdy pot, you already have everything you need. This is a very good thing because these cheesy fritters studded with the slightly bitter vegetable, a recipe we developed with Andy Boy Broccoli Rabe, are too delicious to pass up. We chose this particular veggie because it helps break up what would otherwise be a very rich dish. And since every fried snack needs a good dip, we whipped up a dead-simple tomato sauce for dunking.
Before you get to the fritters or the sauce, you want to make sure you have some broccoli rabe already blanched. Nearly all of our favorite preparations for the hearty green require a quick dip in some boiling water first, so it's often a good idea to blanch the veggies as soon as you return from the store. Just bring a pot of water to a boil, salt the water, trim the tough stems, then cook the broccoli rabe. Let it cool down in an ice bath, drain, then you can store the pre-cooked vegetables in your fridge to use for a few different recipes.
The next step is making the sauce because, once cooked, you can reheat it in less than a minute. All you have to do is cook the garlic until it smells fragrant, then stir in the tomatoes and plenty of salt. Let it reduce, giving it a stir every so often, until the sauce thickens. Add the basil, and it's ready to go.
Once your broccoli rabe is cooked and cooled, chop what you need for this recipe into small pieces. From there, add the veggies to a mix of ricotta, grated Parmesan, nutmeg, and eggs. Add the dry ingredients, then mix just until the batter comes together. We go straight into the oil at this point, but you also have another option. As written, this recipe yields an unbelievably light texture, but it doesn't have the crunch many other fried foods do. If you prefer a crispy coating, you can pop the batter into the freezer to firm up, scoop into balls, then roll in breadcrumbs.
Either way, fry the batter in portions just larger than a tablespoon until they're deeply golden on the outside. Because of the cheese and seasoning in the batter, these fritters really don't need an additional sprinkle of salt after cooking. Quickly reheat the sauce and serve these at once so they retain their cloud-like texture.
Broccoli rabe is a bold veggie, so your drink choices need to stand up to the assertive flavor. Sunset said a white IPA goes really well with foods that combine cheese and broccoli rabe because the sweetness pairs well with the cheese while the hops hold up to the veggie. A Belgian-style witbier is another fantastic choice.
For wines, you can go red or white with this recipe. You want to choose a white with citrus and even a little bit of peppery bite for this dish. Food & Wine likes to pair Grüner Veltliner with broccoli rabe for this reason. If you're opting for red, go for something fruity and medium-bodied. Try Zinfandel or Merlot.
The cocktail crowd can't go wrong with something inspired by Italy. Broccoli rabe often partners with lemon, so a cocktail using the bright citrus spirit known as limoncello would be a good match. Try The Kitchn's simple gin and lemon cocktail. You can also highlight the broccoli rabe's bite with a slightly bitter Americano.
Broccoli Rabe-Ricotta Fritters with Tomato Basil Sauce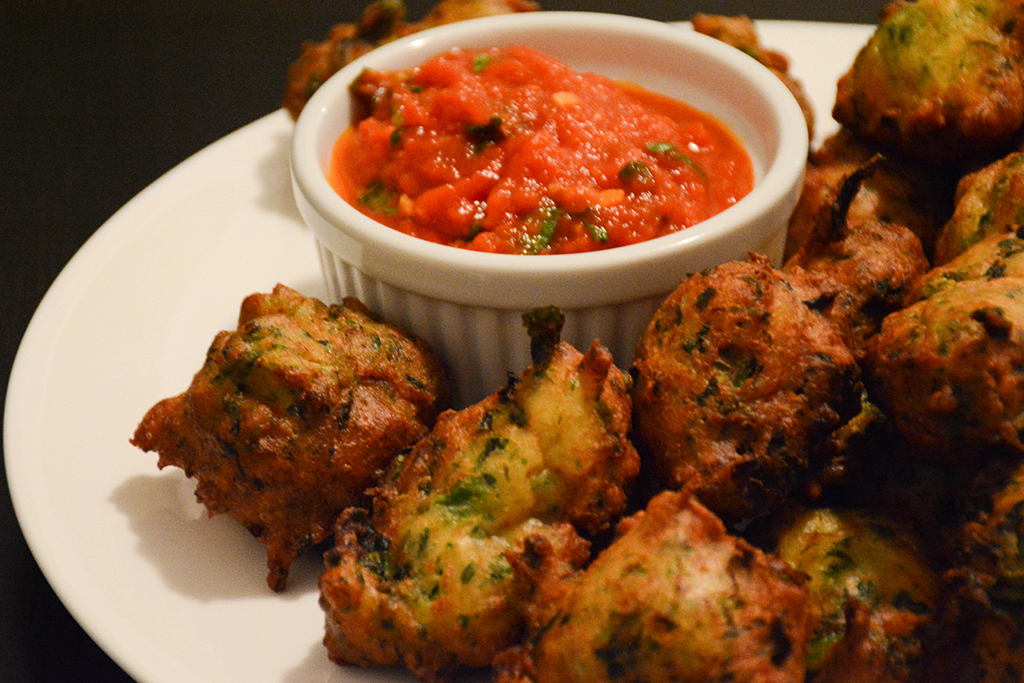 Though we like really fresh ricotta cheese for uncooked preparations, the packaged stuff from the supermarket is actually a better bet for this recipe since it's a tad dried and tends to be more consistently salted. If you do use fresh, you'll want to let it strain over some cheesecloth overnight to help remove the excess moisture. This recipe makes about 24 fritters.
Ingredients:
3 quarts vegetable oil
1 tablespoon olive oil
1 large garlic clove, minced
1 (14.5-ounce) can crushed tomatoes
3 tablespoons chopped fresh basil
¾ teaspoon kosher salt, plus more, divided
1 cup ricotta cheese
⅓ cup finely grated Parmesan cheese
¾ cup finely chopped blanched and cooled broccoli rabe
⅛ teaspoon nutmeg
2 eggs, lightly beaten
½ cup all-purpose flour
½ teaspoon baking powder
Directions: Preheat vegetable oil in a deep, heavy pot over medium heat until a deep-fry thermometer registers 360 degrees Fahrenheit. Meanwhile, heat olive oil in a medium saucepan over medium-high heat. Add garlic and cook until fragrant, stirring, about 1 minute. Stir in tomatoes and season with salt. Simmer, stirring occasionally, until sauce has thickened, about 15 minutes. Stir in basil and adjust seasoning. Set aside until ready to use.
In a medium bowl, mix ricotta, Parmesan, chopped broccoli rabe, nutmeg, ¾ teaspoon salt, and eggs until well combined. Carefully fold in flour and baking powder until just combined.
Fry batter in heaping tablespoonfuls, working 6 to 7 fritters at a time, adjusting heat to maintain temperature, flipping fritters occasionally to ensure even cooking. Fry fritters until cooked through and outside is deeply golden, about 2½ minutes. Remove to a paper towel-lined baking tray. Repeat with remaining batter.
Simmer sauce until just heated through and serve with fritters.
See you back here next week.
More from Culture Cheat Sheet: