19 Ways Donald Trump's Diet Is Different From Barack Obama's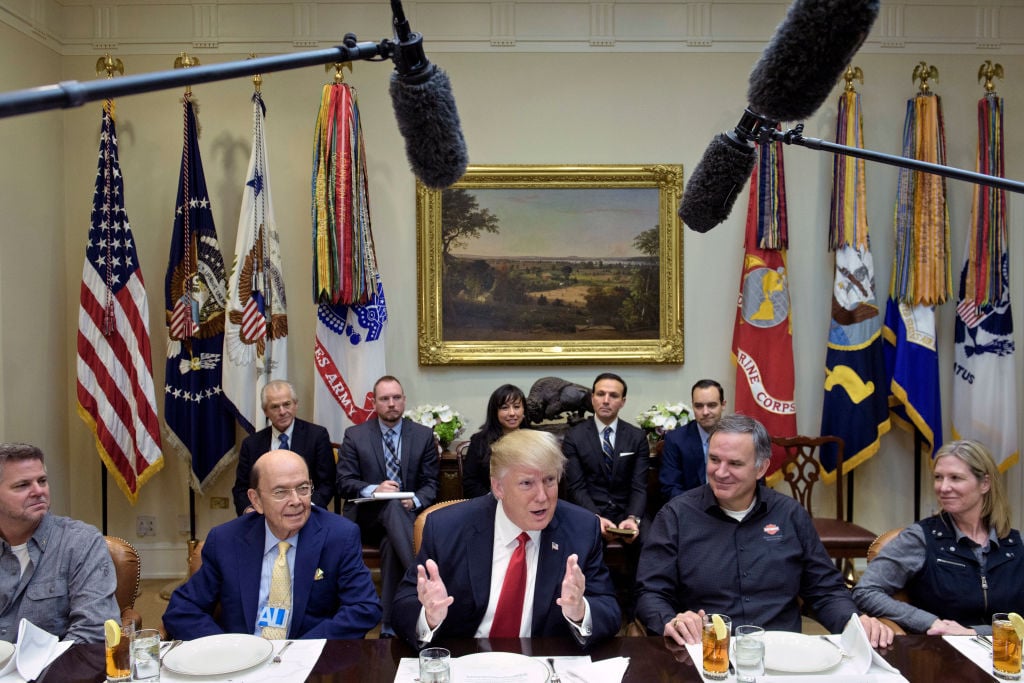 Each president of the United States has had his favorite foods. George W. Bush likes cheeseburger pizza. Bill Clinton loves enchiladas. And Ronald Reagan adored jelly beans. We also know quite a bit about what our current president, Donald Trump, and his predecessor, Barack Obama, like to eat. And the two presidents' diets couldn't be any more different.
Trump famously loves fast food (at least in part because the germaphobic president likes the cleanliness standards of fast food chains). And Trump's favorite recipes include meatloaf and steak. The most widely known anecdote about Obama's eating habits, on the other hand, is a joke that he snacks on just seven almonds in the evening.
Curious about the ways Trump's (often satirized) diet differs from Obama's? Read on to find out all the juicy details.
1. Trump loves ice cream, but Obama can't stand it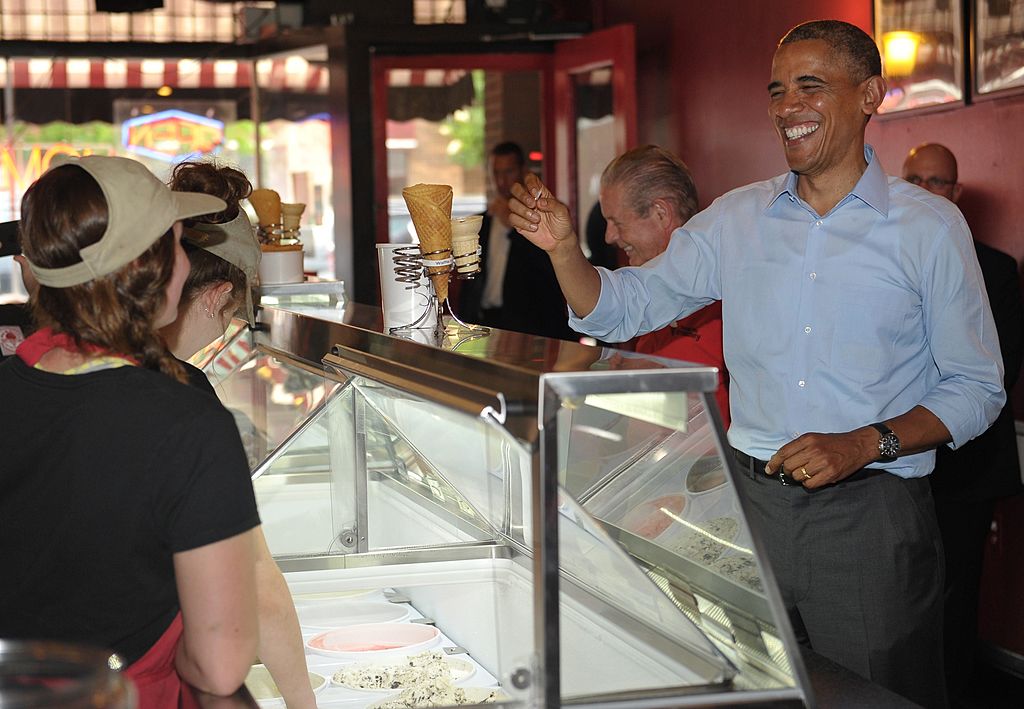 Trump
Nobody has ever accused Trump of shying away from dessert. And it's no surprise the president is a fan of ice cream. In fact, he's on record as preferring cherry vanilla ice cream. And, quite famously, a Time interview revealed at dinner in the White House, Trump got two scoops of vanilla ice cream with the chocolate cream pie served for dessert, while everybody else at the table was served just one.
Obama
Obama, on the other hand, doesn't like ice cream. He worked at Baskin-Robbins as a teenager and ever since has disliked ice cream. But he wrote about the value of that summer job, "while I may have lost my taste for ice cream after one too many free scoops, I'll never forget that job — or the people who gave me that opportunity — and how they helped me get to where I am today." However, Obama's distaste for ice cream didn't stop a Russian ice cream manufacturer fromn ruffling feathers with a questionable product called the Little Obama. And it certainly hasn't stood in the way of Biden's ice cream obsession.
Next: One president eats a hearty breakfast, but the other often skips it.
2. Obama likes a hearty breakfast, while Trump often skips the meal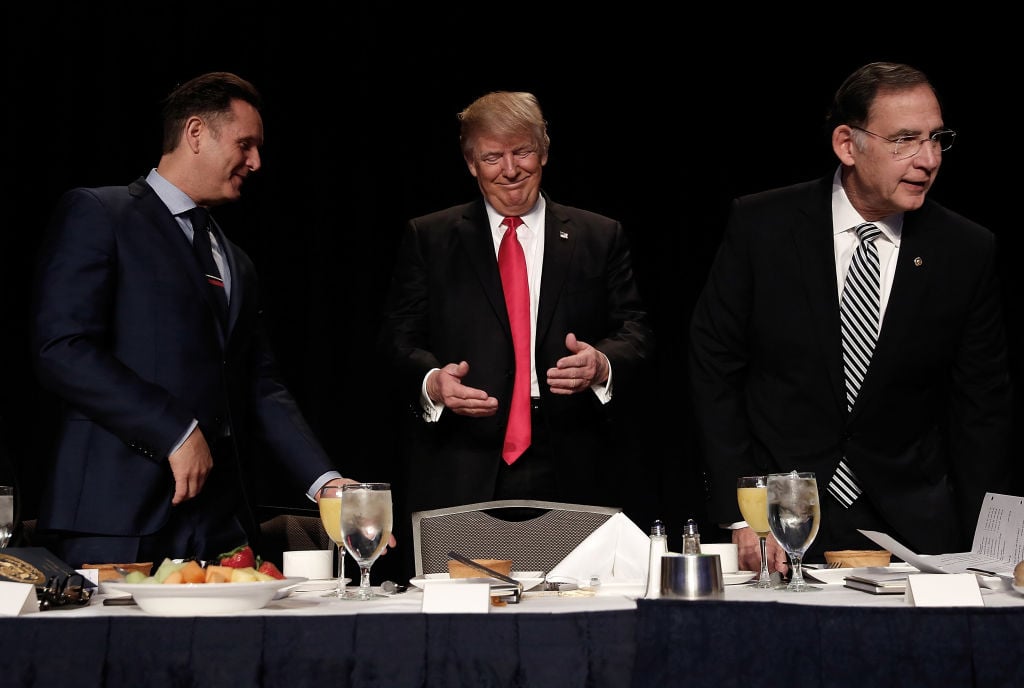 Trump
Trump doesn't always start his day with a hearty meal. When asked what he eats for breakfast, the president responded, "I love bacon and eggs. Usually I would have that." He added, "Oftentimes I skip breakfast." (That's a sentiment most of us can relate to, even if we've never worked in the White House.) In another interview, he noted breakfast is his least favorite meal of the day. But if he isn't skipping breakfast or eating bacon and eggs, he likes cornflakes "right out of the fields of Iowa."
Obama
Conversely, Saveur asked Obama about his breakfast preferences back when he was an Illinois senator and a first-time presidential nominee. The publication learned for the first meal of the day, Obama likes "four to six eggs, potatoes, and wheat toast." (No word on how, exactly, he prefers his eggs prepared.) But Obama also switches it up. Sometimes he'll start his day with "fruit, bacon, and oatmeal."
Next: One president loves doughnuts, but the other doesn't seem to indulge.
3. Obama likes doughnuts, but Trump doesn't seem to eat them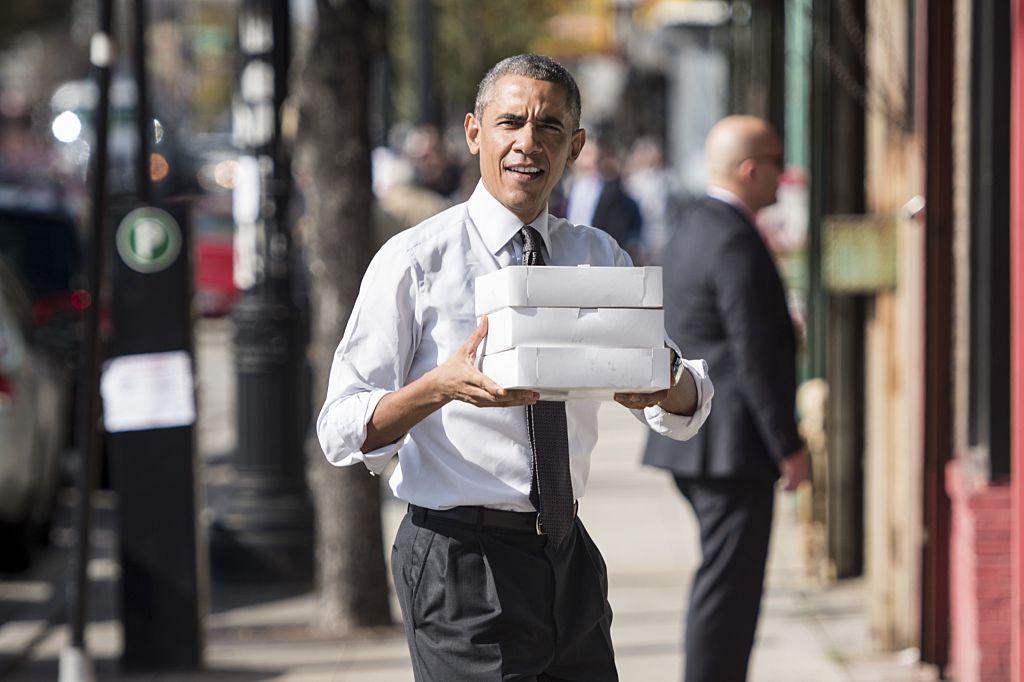 Trump
Though many Americans love doughnuts, Trump doesn't appear to have strong opinions on them — except for when he saw a photo of senate minority leader Chuck Schumer eating a Krispy Kreme doughnut with Russian President Vladimir Putin in New York.  (The photo in question dates to 2003, a time when the U.S. and Russia were "far friendlier to each other than they are today.")
And on another occasion, Trump politicized the coffee cups at Dunkin' Donuts, which, like Starbucks, didn't include the words "Merry Christmas" on its holiday-season cups. He mentioned he doesn't patronize Dunkin' Donuts — which probably means he isn't really a big fan of doughnuts in the first place.
Obama
Though he might not eat them often, Obama seems to like doughnuts. He famously stopped at a Krispy Kreme to buy three dozen doughnuts for firefighters in Tampa, Florida. (But interestingly enough, his campaign at the time had spent more money on Dunkin' Donuts than on Krispy Kreme.) Obama also ordered dozens of doughnuts at an independently owned shop. And despite false reports that his administration was moving to ban doughnut sprinkles, the president reportedly enjoys the occasional doughnut.
Next: One president loves guacamole, but the other seems to pass on it.
4. Obama loves guacamole, but based on his policies Trump seems ambivalent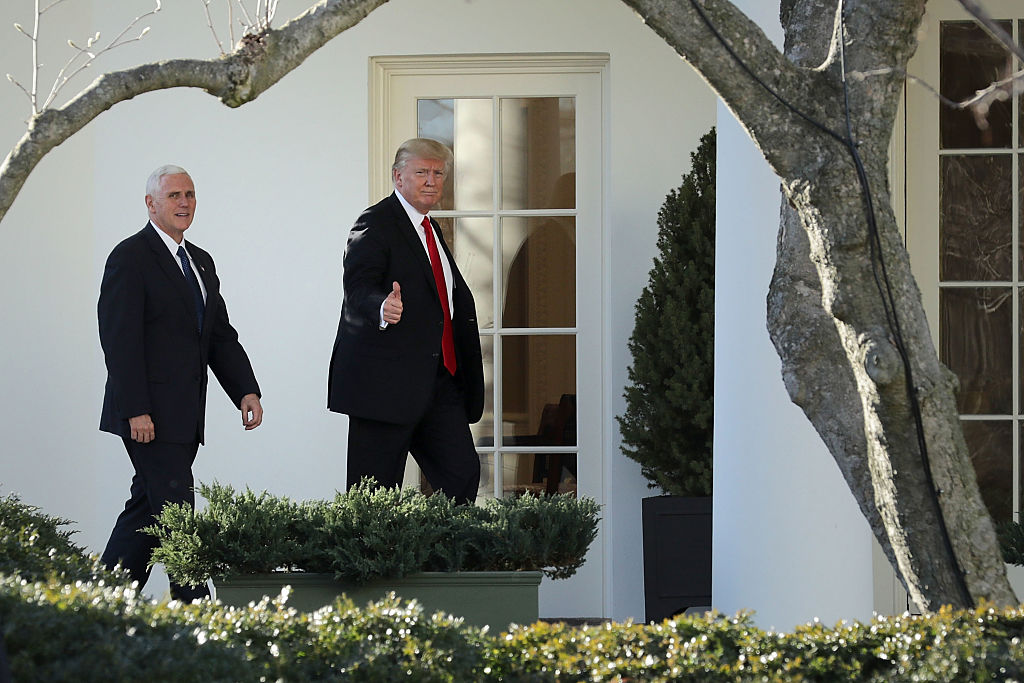 Trump
Trump doesn't seem to be a big fan of guacamole. At least that's what the internet concluded after learning of the aggressive taxes Trump considered for U.S. imports from Mexico. The avocado is the kind of "pricey-but-accessible product, that people buy relatively often, with their own money." So the internet worried avocados — and guacamole — would suddenly get extremely expensive. Of course, we don't know how Trump actually feels about guacamole or avocados. But many guacamole fans think Trump can't possibly be part of the club.
Obama
Like many Americans, Obama seems to be a fan of guacamole. And, like those Americans, he seems pretty attached to the idea of keeping avocados in his guacamole. He quite famously got involved in the controversy over the New York Times' suggestion that people use peas, instead of avocados, in their guacamole. As Slate reports, the then-president wrote on Twitter, "respect the nyt, but not buying peas in guac. onions, garlic, hot peppers. classic."
Next: One president "hates" grits, but the other loves them.
5. Trump reportedly dislikes grits, but Obama loves them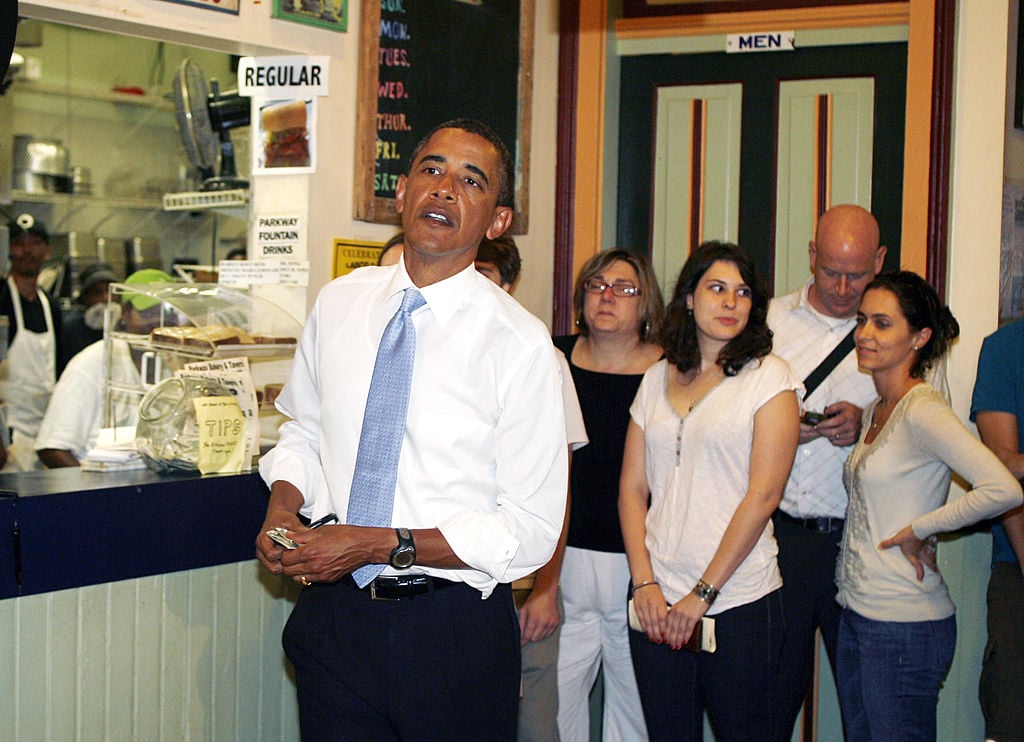 Trump
Southern protesters at Trump rallies have been known to carry signs that read, "Donald Trump hates grits." We don't know for sure whether Trump actually hates grits. For that matter, we don't even know whether he's tried them. But as Extra Crispy reports, grits have emerged as a way for presidential hopefuls to connect with Southern voters. So Southern voters who disliked Trump turned the symbol against him. But even if Trump doesn't eat shrimp and grits, he does eat crab and shrimp. Maybe shrimp and grits will be on the menu next.
Obama
Obama has been spotted eating shrimp and grits, a Southern staple. That might be at least partially because Southern voters love a presidential candidate who eats grits. (The side might just be the most quintessentially Southern food of them all.) But Obama does seem to actually have a taste for the corn-based dish. As Extra Crispy reports, Obama "ordered grits along the 2012 campaign trail no matter where he was — even Rust Belt states where they're less culturally ingrained."
Next: One president favors meatloaf while the other goes for chili.

6. Trump likes meatloaf, while Obama prefers chili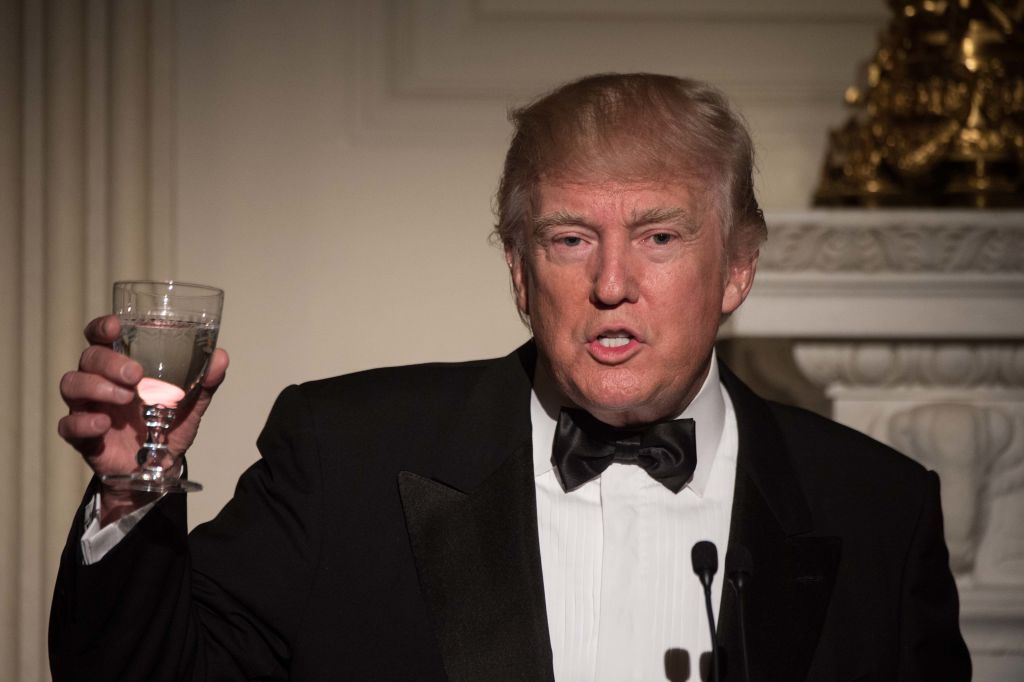 Trump
It's no secret Trump loves meatloaf, which The Washington Post reports "seems to be the mogul's ambrosia. The dish, based on a family recipe, appears on the menu at his club at Mar-a-Lago. And his sister, federal judge Maryanne Trump Barry, has baked meatloaf for him on his birthday." Plus, PopSugar notes Trump himself once prepared meatloaf with Martha Stewart and has said he loves meatloaf sandwiches.
Obama
There's no official word on whether Obama likes or dislikes meatloaf. But his all-American dish of choice appears to be chili. The former president's favorite recipe is what Serious Eats characterizes as a "solidly Midwestern recipe with green bell peppers, kidney beans, tomatoes, and other inauthentic additions like red wine vinegar and the possibility of using ground turkey. He even calls for serving it over rice."
Next: One president dislikes British food, while the other likely wouldn't mind it.
7. Obama isn't a fan of British food, but Trump probably wouldn't mind fish and chips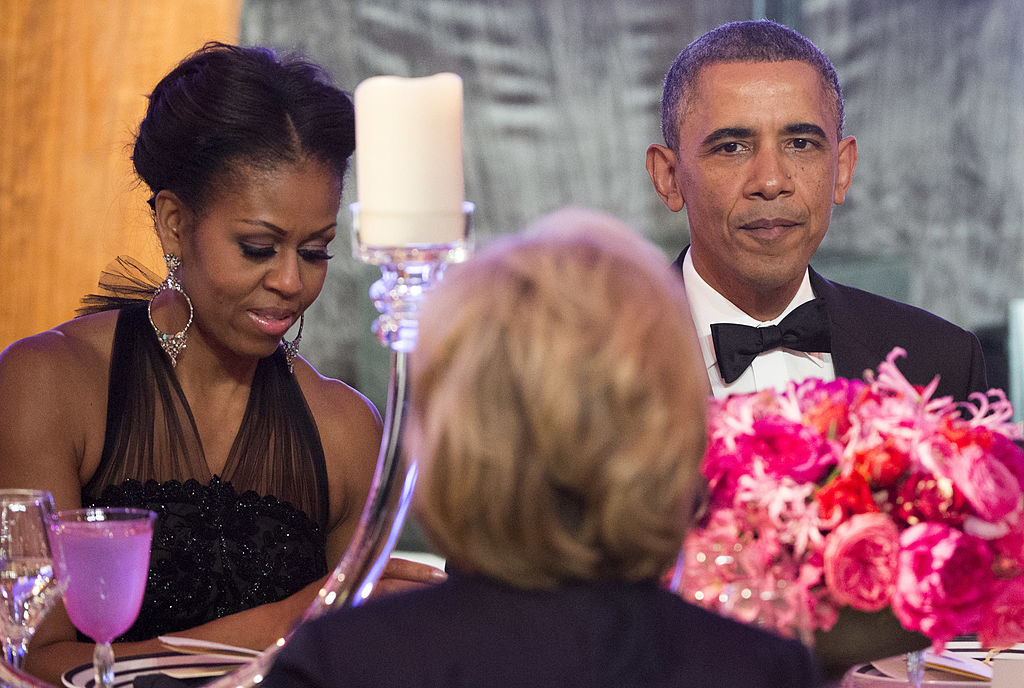 Trump
At least so far, Trump hasn't had much to say about British food, unlike his predecessor. But we'd venture to guess he probably likes a quintessential British takeout meal: fish and chips. The dish is similar, at least in principle, to Trump's beloved McDonald's "fish delight," otherwise known as the Filet-O-Fish. Both include battered-and-fried fish and French fries.
Obama
On the campaign trail late in 2007, Obama revealed his distaste for British food. When a voter made a comment on the improved quality of food in England, Obama "looked at her quizzically, shook his head and dismissed this improvement." He differentiated Indian food — which he learned to appreciate thanks to an Indian roommate — from "traditional British food," a term The New York Times reports he said "with an exaggerated cringe, scrunching up his nose and shaking his hands in the air for good measure."
Next: One president prefers simple spaghetti while the other chooses more complex pasta dishes.

8. Trump likes simple spaghetti, while Obama chooses more adventurous pasta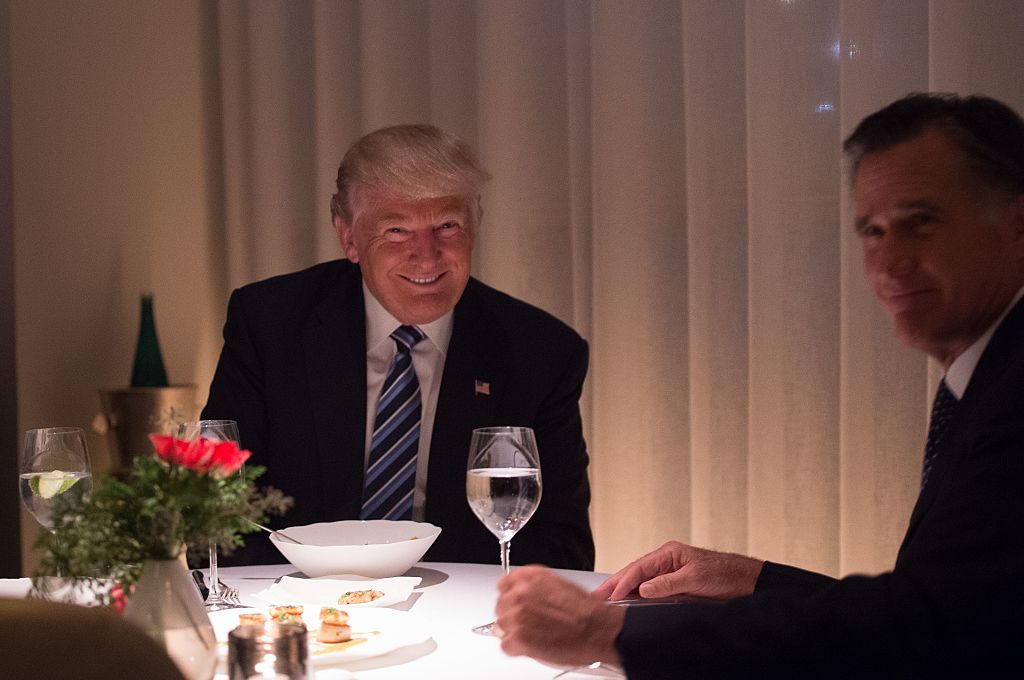 Trump
Trump is obviously not an adventurous eater. (That's probably a quality with which picky eaters across the country identify.) He told The New York Times his wife Melania is "a good cook. She has a lot of imagination. She makes spaghetti and meat sauce." That doesn't sound like a particularly imaginative or adventurous dish to us. But we all have our comfort foods.
Obama
Obama, on the other hand, seems more willing to try new things in the realm of pasta. His final state dinner involved catering by Mario Batali, who served "a velvety pillow of paper-thin pasta called agnolotti, which is stuffed with sweet potato, nutmeg, parsley and sage (with sprinkled cheese on top)." He's also eaten pasta at a variety of high-end restaurants, where it seems unlikely simple spaghetti with meat sauce was ever on the menu.
Next: One president won't eat his broccoli, but the other one loves it.
9. Trump isn't big on vegetables, but Obama loves them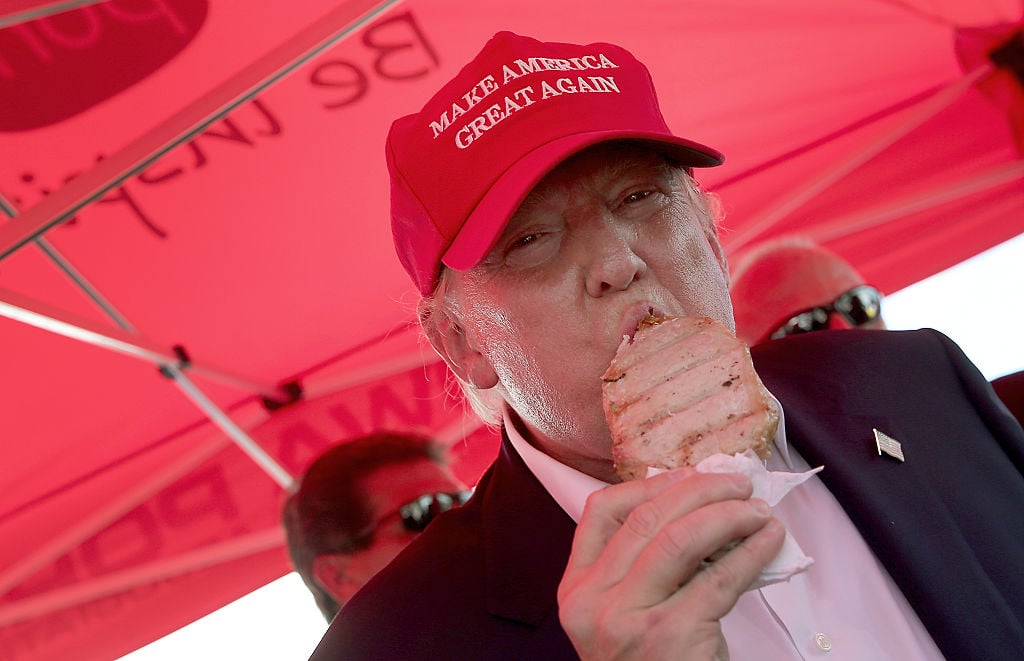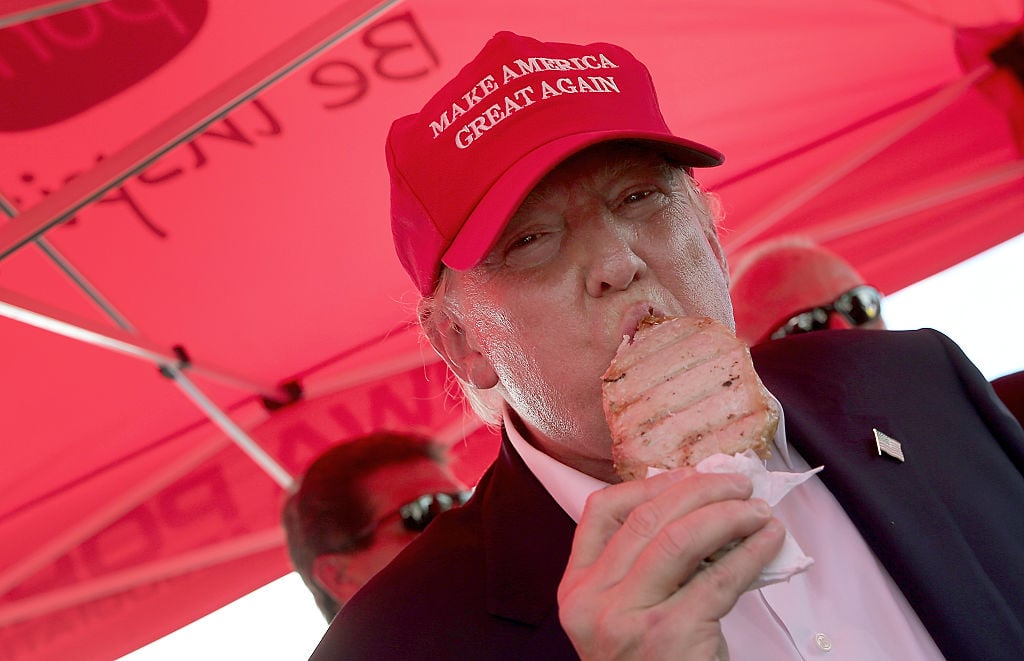 Trump
The president isn't so big on vegetables. Axios reports he'll eat them — but typically as a side with his steak. However, Trump does like Cobb salads. He also favors a virgin Bloody Mary, which would at least give him a healthy dose of tomato juice (even if he orders it without celery, olives, or other traditional garnishes).
Obama
Michelle Obama made headlines for planting a vegetable garden at the White House. The organic garden began with 55 varieties of seeds. But Barack Obama reportedly dislikes beets, so they didn't make the cut. The garden yielded 2,000 pounds of vegetables, fruits, and herbs each year. Barack Obama is on record as liking most vegetables, "especially broccoli and spinach."
Next: One president likes Lay's, while the other prefers almonds.
10. Trump snacks on chips, while Obama likes almonds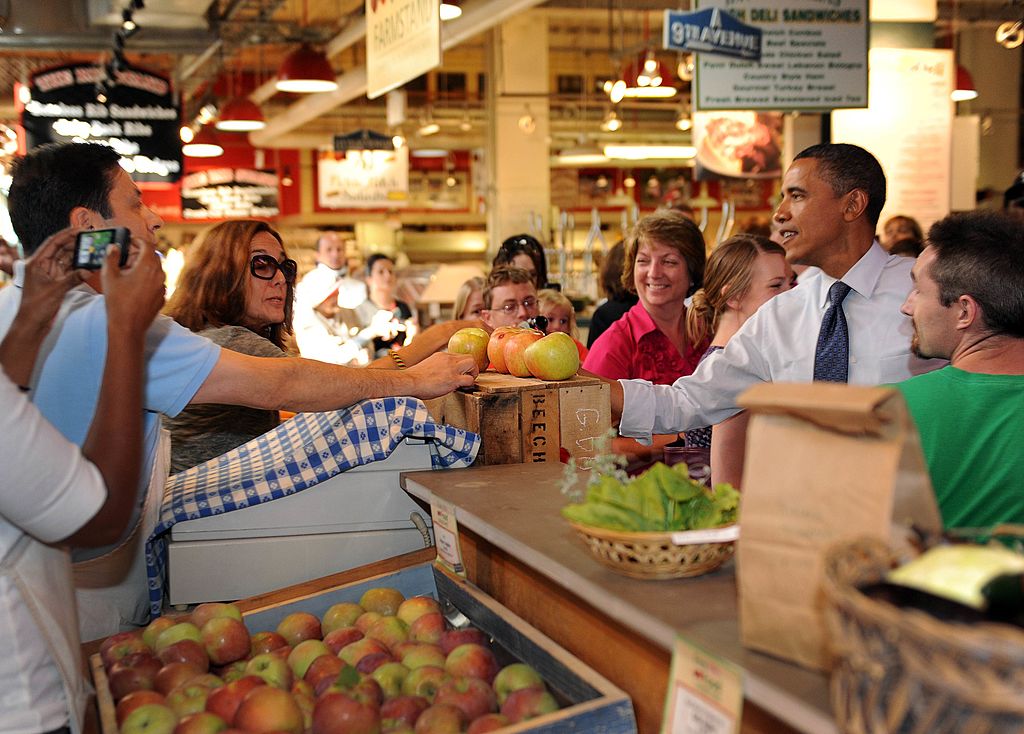 Trump
When asked whether Trump ever snacks on fruit or nuts, an aide told Axios, "Never seen it." Instead, Trump reaches for original-flavored Lay's potato chips and vanilla-flavored Keebler Vienna Fingers. He likes Oreos but apparently stopped eating them once the company moved plants to Mexico. The New York Times cited Lay's chips, specifically, as a snack Trump stocked on his private plane and now keeps in the White House kitchen.
Obama
The Times also quipped, "Out with almonds, in with Doritos," on the transfer of power from Obama to Trump. Although it was just a joke, most people have heard the story that Obama opts for just seven almonds for "late-night nibbling over briefing books." (The president later clarified he doesn't actually count out the almonds.) Obama also kept a large bowl of apples on a table in the Oval Office.
Next: One president brews his own beer, while the other doesn't drink at all.
11. Trump doesn't drink beer, but Obama brews his own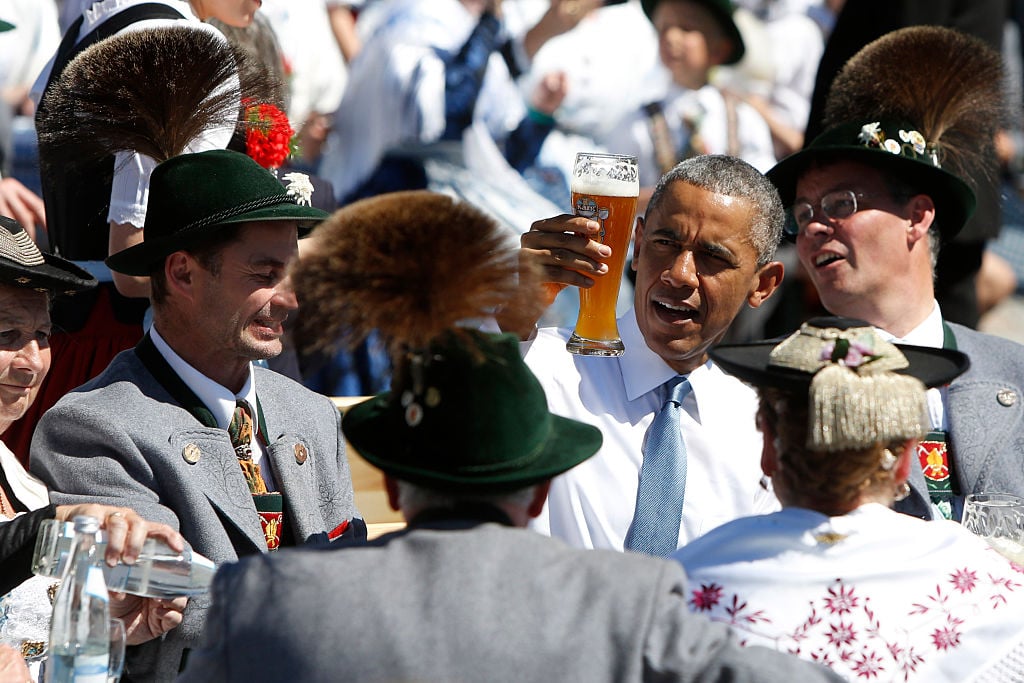 Trump
Even though Slate crowned Trump the candidate many voters would most like to have a beer with, the president doesn't actually drink. (Slate acknowledged that, noting, "The want-to-have-a-beer-with metric is metaphorical in nature.") Newsweek notes Trump doesn't partake of beer or other alcoholic beverages because of his alcoholic brother Fred. But that hasn't stopped several breweries from introducing beers that air their distaste for the president.
Obama
Conversely, Obama drinks beer. And during his presidency, the White House began brewing craft beer. The New York Daily News reports Obama was awarded a lifetime membership to the American Homebrewers Association for turning 1600 Pennsylvania Ave. into a microbrewery. Obama worked with personal chef Sam Kass to create the recipe for the White House Honey Ale and Honey Porter, which used honey from the beehive on the South Lawn.
Next: One president orders steak, while the other goes for barbecue.
12. Trump likes steak well-done, while Obama prefers flavorful barbecue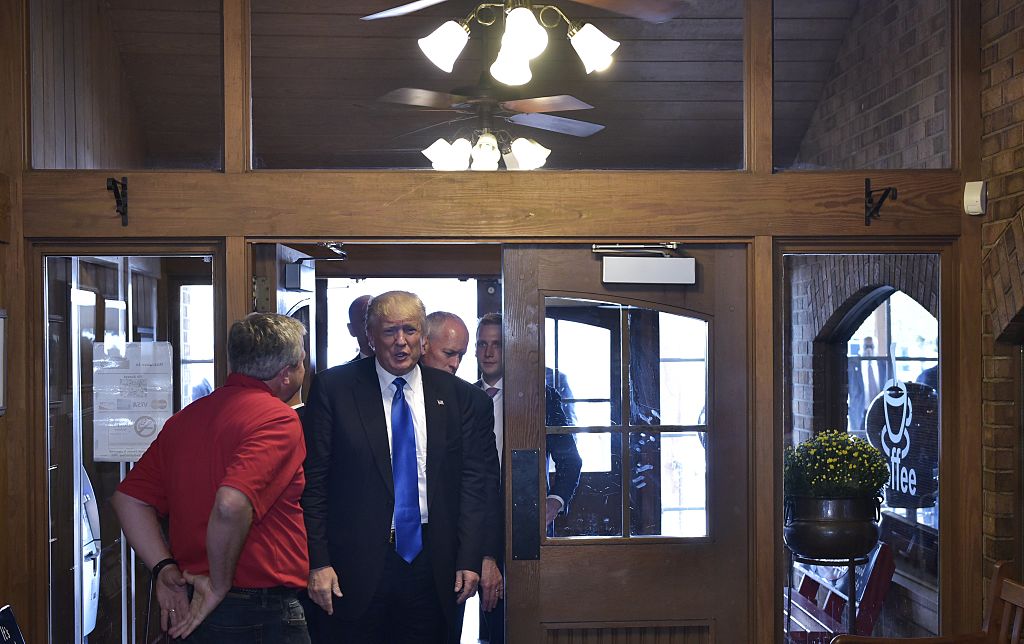 Trump
According to a Quinnipiac poll, more Americans would want Trump to attend their backyard cookout than Hillary Clinton. Rolling Stone lamented the result, projecting that Trump wouldn't be a good barbecue guest — if only because he'd make you cook him a well-done steak.
According to a New York Times interview with Trump's longtime butler, Trump likes his steak so well done that "it would rock on the plate." That preference might not sound that important. But to some people, it really matters.
Obama
Obama is reportedly a big fan of barbecue instead. He has made several stops at beloved barbecue joints, including Texas' famous Franklin Barbecue, North Carolina's 12 Bones Barbecue, and Missouri's Arthur Bryant's Barbecue. And closer to home, he has eaten at Kenny's BBQ Smokehouse on Capitol Hill.
Obama and former Vice President Joe Biden are apparently divided on the issue of barbecue sauce. According to the New York Daily News, "Biden prefers to soak his ribs in Mississippi brand the Shed's Original Southern Sweet BBQ Sauce, while Obama loves dousing his dishes in North Carolina's Bone Suckin' Sauce."
Next: One president prefers pie, while the other likes cake.

13. Obama likes pie, but Trump seems to prefer cake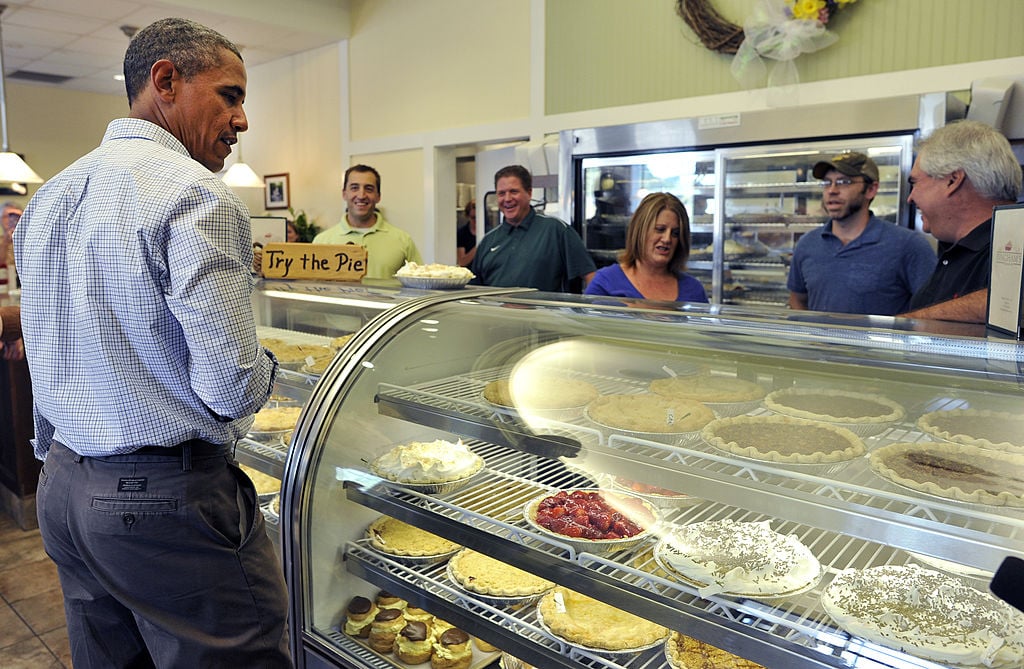 Trump
Trump doesn't seem to have weighed in on the pie versus cake debate. But he seems to be partial to cake. And in true Trump form, he's made headlines with his cake choices.
Trump's inauguration cake drew scrutiny for looking a lot like Obama's 2012 inauguration cake. A cake fashioned into a bust of Trump made a splashy appearance at his Election Day victory party. Plus, the Thanksgiving menu at Mar-a-Lago famously includes "three layer Trump chocolate cake." And Trump "appeared dazzled" by being able to bomb Syria while eating what he described as "the most beautiful piece of chocolate cake."
Obama
Obama tweeted that he prefers pie over cake, shaking up what many believe is the rightful hierarchy of the dessert world. According to the Los Angeles Times, Obama admitted in 2010 that one of his secret (or not-so-secret) cravings was pie but that he "needed to start passing up the rich desserts and pastries served by eager-to-please chefs." At the time, the White House was planning a Thanksgiving menu with six different kinds of pie. And the first family's favorite dessert was huckleberry cobbler served with caramel ice cream.
Next: One president orders Domino's, but the other frequents independent pizzerias.
14. Obama likes independent pizzerias, but Trump calls Domino's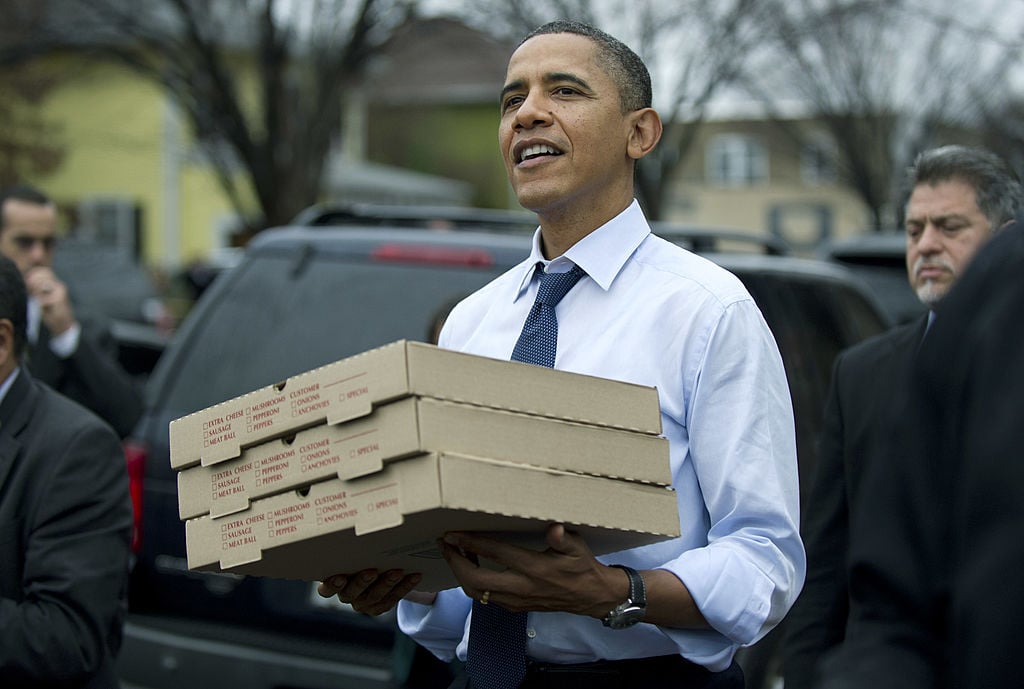 Trump
Everybody loves pizza. As for the kind of pizza Trump eats? A report from Axios characterizes Domino's as one of the three staples of Trump's campaign trail diet. (The other two were McDonald's and KFC.) Years ago, Trump attracted attention for a strange method of eating pizza: stacking two slices and eating them with a fork and knife.
We also can't resist mentioning that, according to the Palm Beach Post, a Florida pizzeria introduced a Donald Trump Pizza. It's topped with mozzarella cheese, Russian caviar, and gold leaf in the shape of a T.
Obama
Obama's favorite pizza reportedly comes from a pizzeria in St. Louis called Pi. After the 2008 election, the restaurant served a Broccoli Obama pizza. The name might reveal the kind of pizza Obama orders from Pi. Or his preferences could be closer to the Hyde Park — named for the Chicago neighborhood where Obama lived before his presidency — which includes chicken and hot sauce.
Next: One president loves a good fast food burger, while the other choose local burger joints.
15. Trump loves burgers from fast food chains, while Obama likes local D.C. burger joints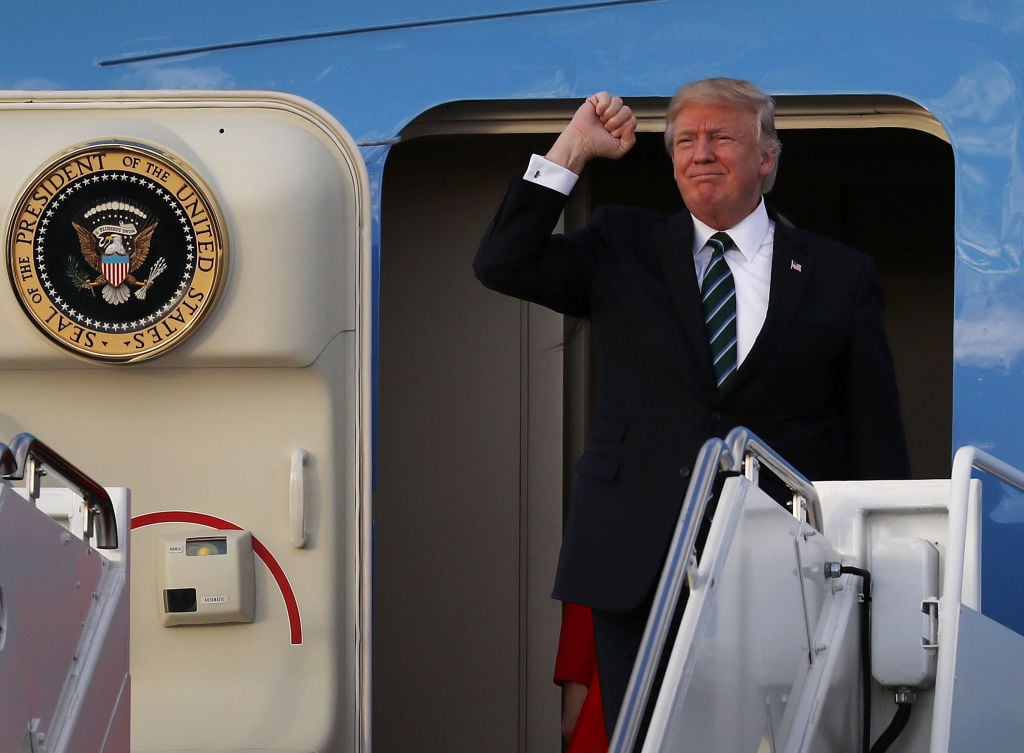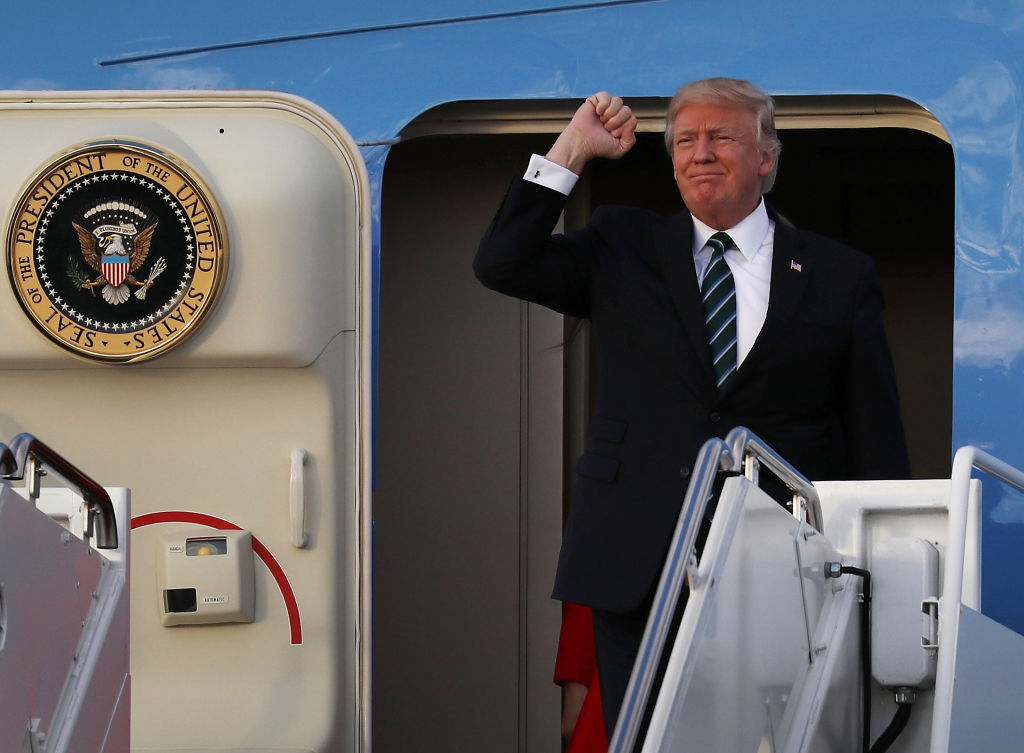 Trump
We all know Trump loves McDonald's. His favorites on the chain's menu include the Big Mac, the Quarter Pounder with Cheese, and the Filet-o-Fish. He even celebrated a major primary win with a Big Mac, accompanied by french fries and a Diet Coke. He also likes Burger King and KFC.
Obama
It's been well-documented that Obama is a fan of burgers, too — just typically not the fast food kind. Eater reports the Obamas have made stops at Five Guys. But they've also eaten at local D.C. favorites, including Ray's Hell Burger and Good Stuff Eatery.
Chef Spike Mendelsohn of Good Stuff Eatery even made a bacon and blue cheese burger honoring Obama. Later, he added a turkey burger with caramelized onions, Swiss cheese, and herb-garden mayo to the menu in honor of Michelle Obama.
Next: One president likes a fish sandwich from McDonald's, but the other prefers upscale seafood places.
16. Trump enjoys McDonald's fish sandwiches, but Obama likes upscale seafood restaurants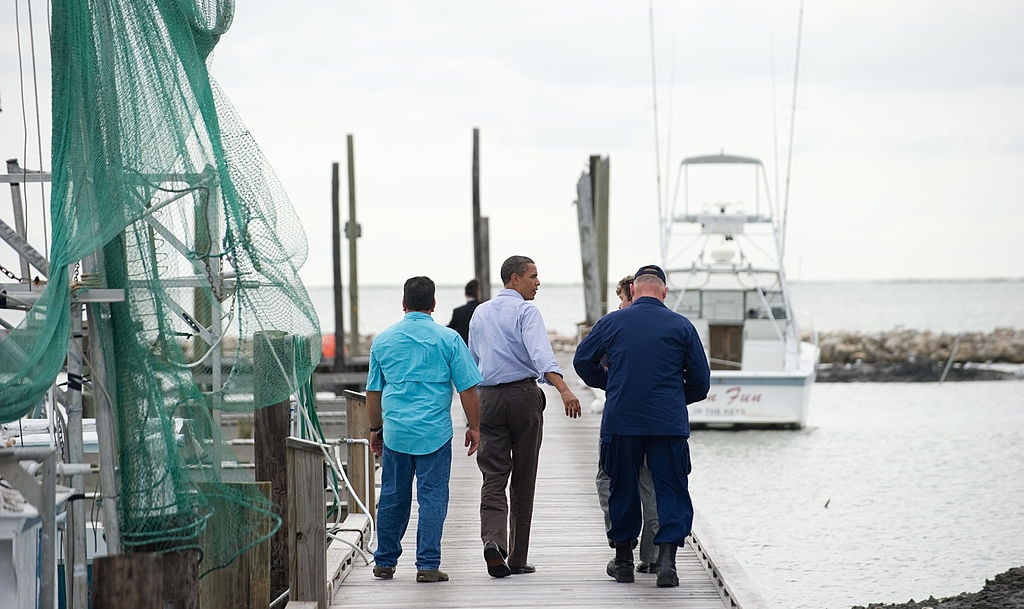 Trump
Trump famously favors McDonald's fish sandwich. Of course, his saying so caused quite an uproar — not only because the sandwich seems to have more critics than fans, but also because Trump referred to it as the Fish Delight instead of the Filet-o-Fish. And Axios reports Trump's taste in seafood extends beyond McDonald's. He also eats crab and shrimp.
Obama
Interestingly, KFC hired an Obama impersonator to sell its fish sandwiches in China. But there doesn't seem to be any official word on whether Obama likes the sandwich in question. The Obamas enjoy seafood restaurants at their favorite vacation destination of Martha's Vineyard. And among the many D.C.-area restaurants the Obamas have checked out is Fiola Mare, a noted seafood restaurant in Georgetown.
Next: One president is a fan of Mexican food, but the other — not so much.
17. Obama loves Mexican food, but Trump isn't a fan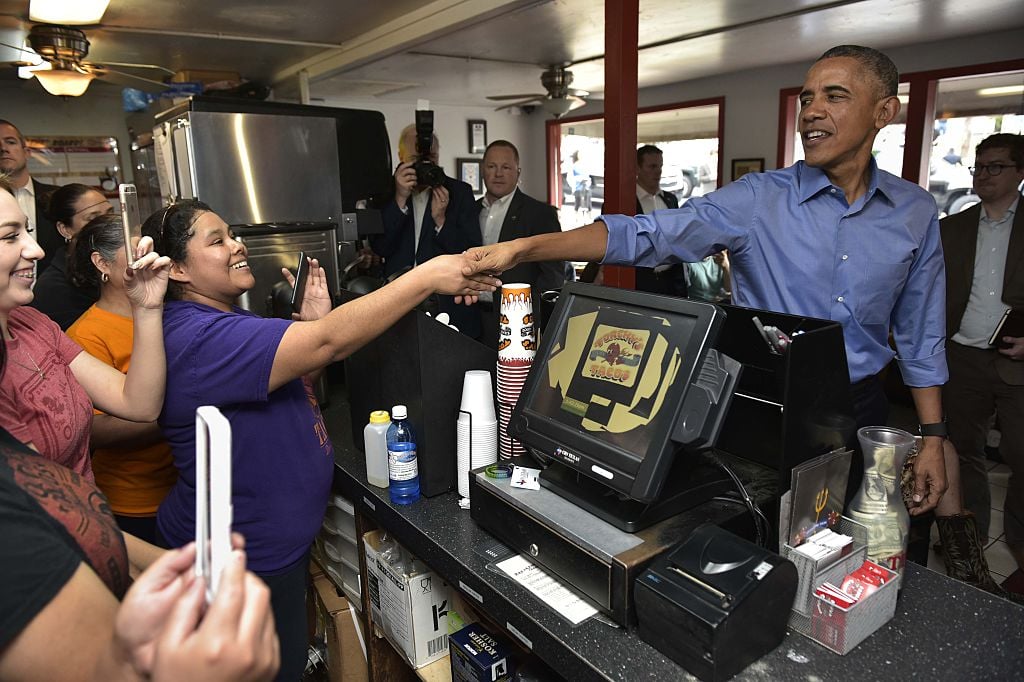 Trump
Many Americans genuinely love Mexican food. Trump's taste for Mexican food might be a little less sincere. He infamously posted a photo of himself digging in to a taco bowl to celebrate Cinco de Mayo, declaring, "I love Hispanics!" The tweet didn't go over so well.
Obama
At the beginning of his presidency, Obama was already a noted fan of Mexican cuisine. He particularly likes chili and exhibits "a weakness for chips and salsa and tends to put hot sauce on everything."
Next: One president drinks Starbucks, but the other boycotts the popular chain.
18. Obama likes Starbucks while Trump boycotts the chain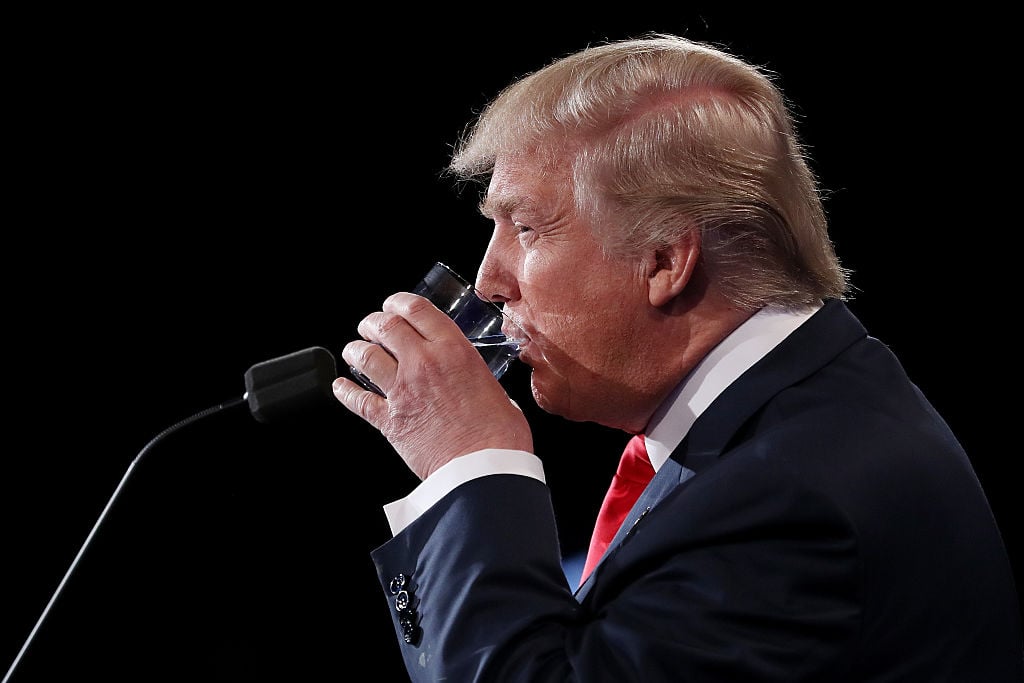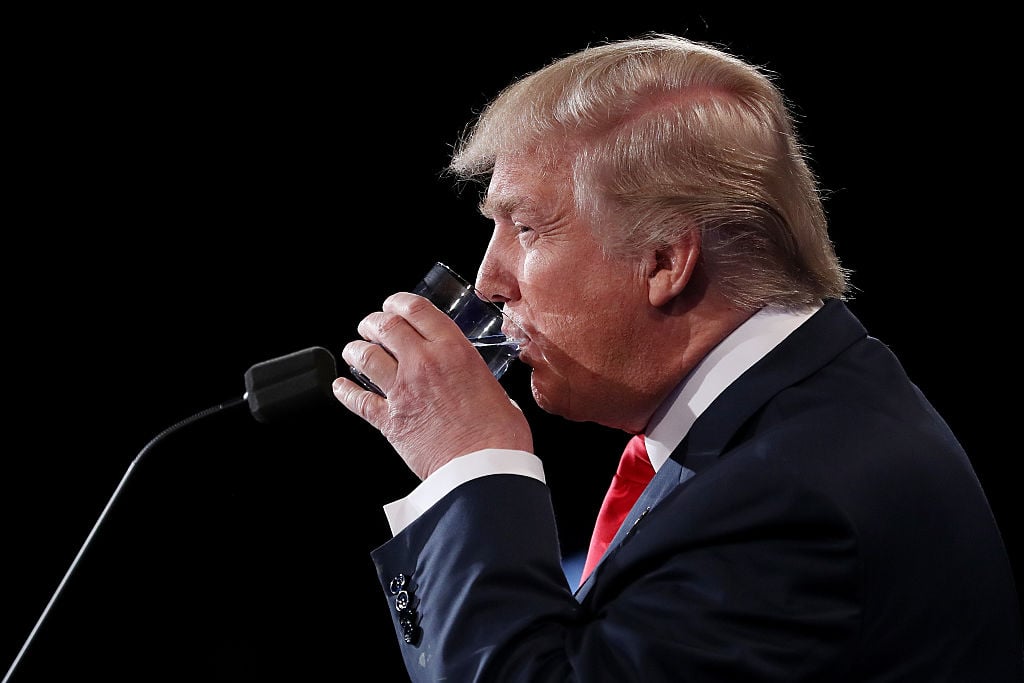 Trump
Trump has a rocky relationship with Starbucks (and coffee in general). He casually proposed boycotting the coffee chain over holiday cups that didn't have any explicit references to Christmas. Later, Trump supporters boycotted Starbucks to protest the company's decision to hire 10,000 refugees.
Trump probably wouldn't miss the Seattle-based company if he boycotted it, as he doesn't drink coffee or tea. Trump likes orange or tomato juice. He said of coffee, "I never liked it. I never liked the caffeine thing. I really don't need anything to wake up."
Obama
It's not clear whether Obama actually drinks coffee. Many staffers reported in 2014 they'd never seen him with a cup. But unlike Trump, Obama is on good terms with Starbucks. During a notable Starbucks run, Obama ordered a tea instead of coffee. (In fact, he often starts his day with water, green tea, or orange juice.) He was apparently supposed to go to Dunkin' Donuts that day but changed his mind and headed to Starbucks instead, showing preference.
Next: One president likes Diet Coke, but the other drinks Honest Tea.
19. Trump drinks Diet Coke while Obama prefers Honest Tea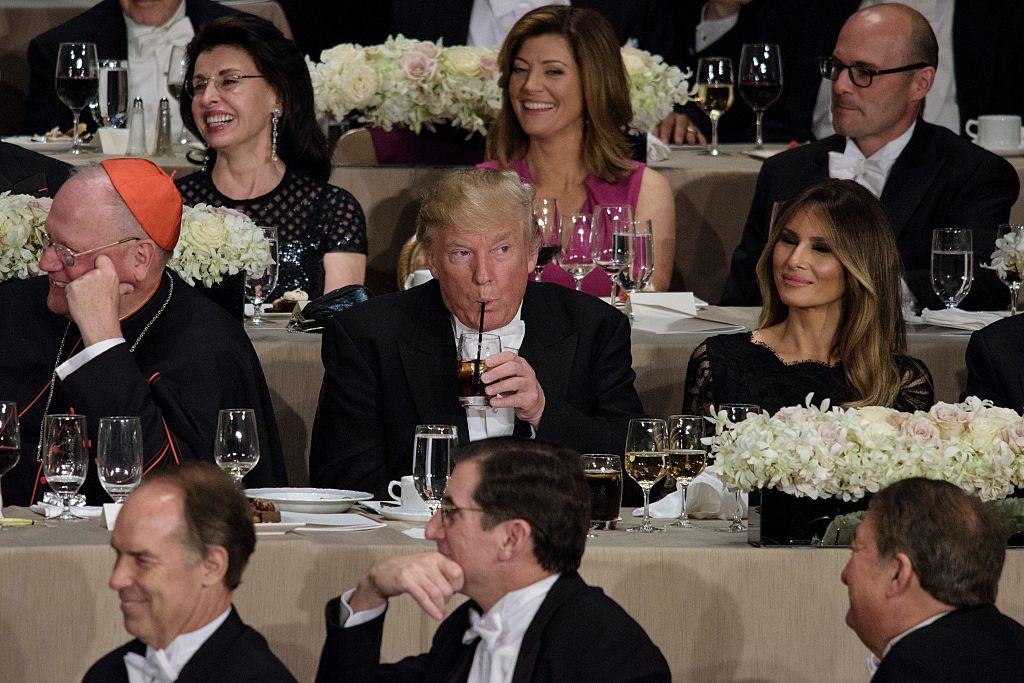 Trump
Trump might not drink beer, but he's not opposed to indulging in soda. His beverage of choice appears to be Diet Coke. In fact, Trump apparently watched TV on election night with a Diet Coke in hand. That's in spite of a bizarre 2012 tweet where Trump mused, "I have never seen a thin person drinking Diet Coke." And, according to Axios, Trump sometimes opts for the full-sugar Coke after a particularly trying day.
Obama
Time reports in the Obama White House, most staffers preferred Coca-Cola products to their Pepsi competitors. But Obama himself doesn't seem to be a big soda drinker. The health-conscious president hasn't professed his love for either Coke or Pepsi (and not for diet sodas, either). However, he is a fan of Honest Tea, a bottled organic tea produced by a company 40% owned by Coca-Cola.