5 of the Most Disappointing Movies of 2015
Hollywood is all about hype. The entire movie industry lives and dies on its ability to get us, the fans, excited about the movies it makes for us. Often, the amount of effort that studios put into marketing their movies pays off — because they're able to gauge our interest and the quality of the film in question. But sometimes, they totally miss the mark and get fans incredibly excited about a movie that ends up underwhelming us.
This year, we had plenty to be excited about. From franchise reboots to surprise indie hits, it felt like there was always at least one movie out there that met our expectations. But that doesn't mean that everything was perfect. For every Jurassic World or Ex Machina, there was a movie or two that left us wishing we hadn't spent the price of admission. Here are the five most disappointing movies of 2015.
1. Jupiter Ascending
Once upon a time, the Wachowskis were two of the most exciting filmmakers in Hollywood. They brought us the revolutionary Matrix trilogy, and followed it up with the popular graphic novel adaptation V for Vendetta. But since the early 2000s, they haven't quite lived up to the high expectations movie fans set for them. And that was never more obvious than with their most recent cinematic attempt, Jupiter Ascending.
It's hard to know where to start with this jumbled, comically bad sci-fi adventure. Jupiter Ascending featured over-the-top performances from otherwise reliable actors like Eddie Redmayne and Sean Bean, an almost unintelligible storyline, and a plot so ridiculous that even the performers seemed to have a hard time keeping a straight face. Jupiter Ascending was so bad, it became an immediate subject of scrutiny, both by critics and snark-happy moviegoers on the Internet. Despite its "so bad you have to see it" buzz, the movie performed poorly at the box office. It currently holds a dismal 26% approval rating on Rotten Tomatoes, making it one of the biggest failures of 2015.

2. Tomorrowland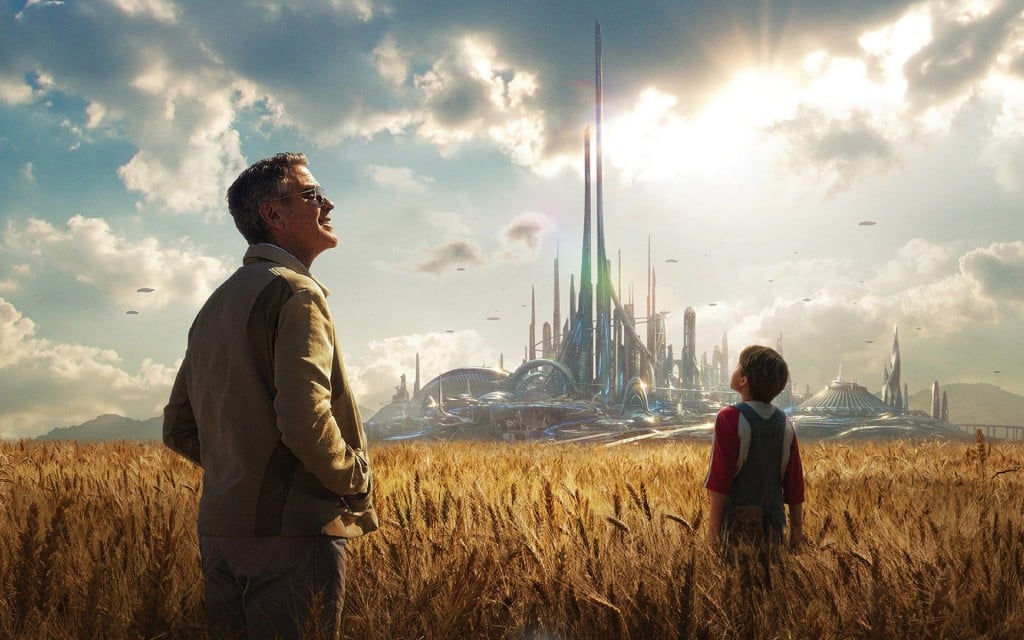 When this futuristic fantasy film starring George Clooney was first announced, it sounded pretty promising. And early trailers played up its exciting premise — a young girl (Britt Robertson) and her brother transport to the future and experience the adventure of a lifetime. But unfortunately, Tomorrowland failed to deliver on both its premise and its promise for a family-friendly good time. Instead, this Disney movie got lost in a convoluted plot and uneven production values. While it's visually interesting, Tomorrowland's overly complicated plot and heavy-handed moral made it one of the least enjoyable movies of 2015.

3. Mortdecai
A decade ago, it seemed like Johnny Depp could do no wrong. But the quirky actor has proven that even the most talented and bold performers are capable of a few missteps. One of his biggest to date was Mortdecai, a poorly executed crime comedy. As usual, Depp concocts a bizarre, neurotic persona — but while it has worked for him before, it falls completely flat in this painfully dull film. Mortdecai was panned by critics and almost entirely ignored by moviegoers, proving that even Hollywood's biggest stars have to at least try a little bit if they want fans to come see their films.

4. 50 Shades of Grey
The 50 Shades of Grey book series was a worldwide sensation. And hype for the sexy, BDSM-themed adaptation of E.L. James's first book reached almost astronomical levels. But there was one major problem with the 50 Shades movie — it wasn't sexy at all. While 50 Shades of Grey raked in some pretty impressive numbers at the box office, it was almost universally disliked by critics. They frequently cited the stiff performances and lack of chemistry between the film's leads Dakota Johnson and Jamie Dornan as a reason for the movie's failure to scintillate as promised. But that didn't stop the 50 Shades train — the second installment, 50 Shades Darker is due out in 2017.

5. Lost River
More than a few actors, including Ron Howard, Clint Eastwood, and Ben Affleck, have successfully tried their hand at directing. But that doesn't mean that each and every one of them should. We learned that the hard way this year when Ryan Gosling released his directorial debut Lost River. The indie drama had a promising premise — an ethereal fairytale-like story about people down on their luck in a mostly abandoned small town. It also boasted an impressive cast, including Mad Men's Christina Hendricks and Doctor Who's Matt Smith. But Lost River never quite came together. The story felt disjointed, the film's best actors were underutilized, and even an amazing soundtrack with haunting melodies from The Chromatics couldn't save the movie from itself — or redeem it in the eyes of most moviegoers.
More from Entertainment Cheat Sheet:
Want more great content like this? Sign up here to receive the best of Cheat Sheet delivered daily. No spam; just tailored content straight to your inbox.