6 Musicians Who Have Been Arrested for Their Political Beliefs
Making music isn't all about entertainment. There have been numerous instances over the past several decades when musicians have paid the price for taking a stance against the powers that be. Here's a look at six bands and musicians that have been arrested for their political activism.
1. Tom Morello
The frontman of the rap-metal band Rage Against the Machine was arrested for civil disobedience when protesting with a union of garment workers against the use of sweatshop labor by the designer brand Guess. In October 1997 Morello took part in a march against Guess' use of sweatshop labor in Santa Monica when he was arrested. Shortly after, the band took out billboard advertisements in Las Vegas and New York that read "Rage Against Sweatshops: We Don't Wear Guess? — A Message from Rage Against The Machine and UNITE (Union of Needletrades Industrial and Textile Employees)."
Rage Against the Machine has been highly active politically on a number of issues. Aside from sweatshop labor, Morello and the band have been involved with organizations including the Anti-Nazi League, the United Farm Workers, Women Alive, Fairness and Accuracy in Reporting, National Commission for Democracy in Mexico, and many other national and international activist groups. The band has protested against censorship from the Parents Music Resource Center by standing on stage fully nude with the letters "PMRC" painted across their chests and campaigned with other musicians to close the prison Guantanamo Bay.
In 2000, the band held a free performance protesting the National Democratic Convention across the street from where the convention was being held. The performance incited a riot and many protesters were arrested. They repeated the move in 2008, performing in St. Paul, Minnesota while the Republican National Convention was being held and again fans were arrested.
"America touts itself as the land of the free, but the number one freedom that you and I have is the freedom to enter into a subservient role in the workplace. Once you exercise this freedom, you've lost all control over what you do, what is produced, and how it is produced. And in the end, the product doesn't belong to you. The only way you can avoid bosses and jobs is if you don't care about making a living. Which leads to the second freedom: the freedom to starve," Morello said in an interview with Guitar World magazine.
2. Pete Seeger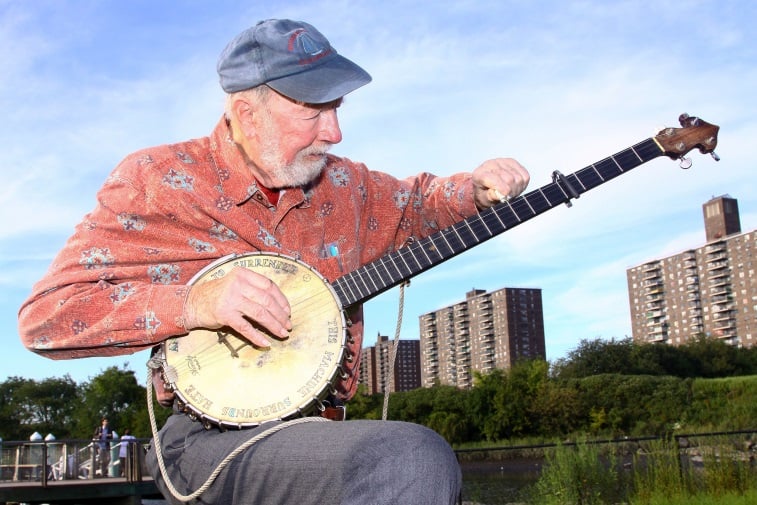 Iconic folk musician Pete Seeger is most famous for creating the version of the traditional gospel song "We Shall Overcome" that was used to boost moral during civil rights protests in the 1960′s. Seeger, who passed away last year at the age of 93, was a huge influence on musicians in the folk movement of the '60s, including Bob Dylan and Joan Baez. Seeger used folk music to advance his political causes throughout his career. He sang anti-war songs, pro-union songs, songs about the environment, and songs in support of civil rights.
Seeger was found in contempt of the court and indited after failing to give satisfactory testimony to the House of Un-American Activities Committee in 1955. HUAC's anti-communist witch hunt led by Senator McCarthy resulted in many celebrities and artists being blacklisted under the suspicion of supporting the Communist agenda. Seeger refused to cooperate with questioning and was sentenced to a year in prison.
"I have sung for Americans of every political persuasion, and I am proud that I never refuse to sing to an audience, no matter what religion or color of their skin or situation in life. I have sung in hobo jungles, and I have sung for the Rockefellers, and I am proud that I have never refused to sing for anybody," he said to the Committee members that questioned him. His entire testimony before the Committee can be read here. Seeger ended up getting let off on a technicality before being thrown in prison to serve his one year sentence.
3. MC5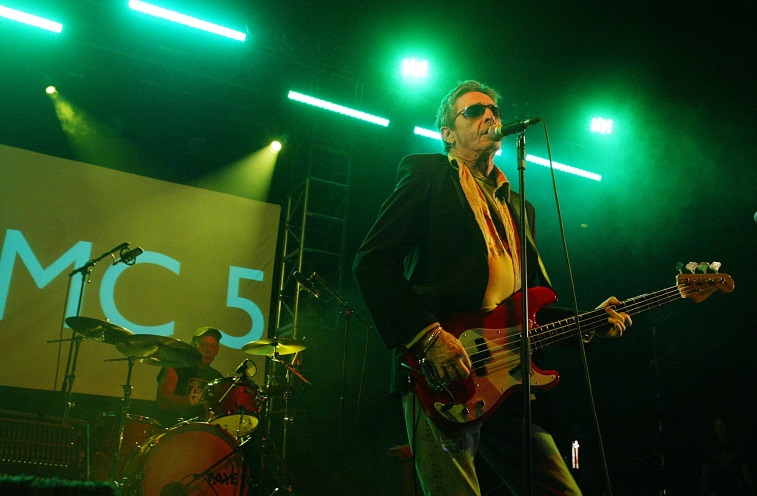 Detroit-based proto-punk band the MC5 were arrested in Ann Arbor, Michigan in 1968 for disturbing the peace and disorderly conduct after performing a concert in an Ann Arbor park that got out of hand. The band's high-energy shows became notorious in Michigan for both being the place to see the some of the best live rock music in the country and being a gathering place for militant political radicals.
The MC5 were known for using their music to support their leftist political beliefs and are also generally recognized as a key early influence on the punk movement. The group's manager John Sinclair got the MC5 involved with the cause of the White Panther Party, which was a group for white activists who supported the Black Panther Party. The band's politics were also influenced by Marxist ideas and the Beat poets of the 1950s. The band performed at events protesting the Vietnam War and played at the infamous 1968 Democratic National Convention that was broken up by police after a riot broke out.
"Late nights were spent tripping on acid, smoking the best Mexican herb to be found, listening to Sun Ra, John Coltrane and Albert Ayler, and plotting the future. Our political idols were the Black Panther Party and crazed poets like Allen Ginsberg, Charles Olson, and Ed Sanders. These guys were talking in terms we could relate to: 'It's time to move, brothers.' Man, did we plot," singer Wayne Kramer said in an article written for the L.A. Times.
Sinclair himself was arrested in 1969 and sentenced to 10 years in prison after being caught selling two joints to an undercover police officer. Many believed the charge was inflated due to Sinclair's political leanings and the sentence was widely viewed as being unfair. Sinclair gained some famous supporters after his arrest, including John Lennon and Yoko Ono, as is detailed in the documentary Twenty-to-Life: The Life and Times of John Sinclair.
4. Fela Kuti
Fela Kuti was a Nigerian musician and human rights activist responsible for pioneering the Afrobeat genre. His music is influenced by the Black Power movement, which he discovered during a brief stay in Los Angeles. After returning to Nigeria, Kuti created a band called the Afrika '70 as well as a commune, recording studio, and home for people and musicians who identified with his cause called the Kalakuta Republic. Kuti called for Africans to return to their roots and he supported the observance of traditional Yoruban ceremonies. Overall, he called for Africans to embrace traditional African values over the version of society that was handed to them by European colonialists.
Kuti's militant and black power ideals spread through his incredibly popular music, which gained him unfavorable attention from the Nigerian government. After being first arrested in 1974, Kuti declared that the Kalakuta Republic was not a part of the Nigerian state and people living there weren't subject to Nigerian law. Kuti aimed to create a society based on African traditions rather than the colonialist Western model. His music protested against government corruption, military brutality, and neocolonialism. After 1974, he was arrested by the Nigerian government numerous times and in 1977 one thousand Nigerian soldiers stormed Kalakuta. The soldiers raped women living there, fatally wounded Kuti's mother, and burned down the commune, after which Kuti and his followers were exiled to Ghana.
"Imagine Che Guevara and Bob Marley rolled into one person and you get a sense of Nigerian musician and activist Fela Kuti," said the Herald Sun.
5. Victor Jara
Victor Jara is the most famous member of the Chilean "New Song" folk music movement of the late 1960s and early 1970s, which closely paralleled the folk music revival of the 1960s in the U.S. The New Song movement supported the socialist president of Chile Salvador Allende, whose political regime was dedicated to socioeconomic change in a country that was dominated by the mineral industry and the U.S. corporations controlling it. Allende promised to bring the country out from under the thumb of the United States and to more evenly distribute wealth among its citizens. Allende owed much of his victory in a three-party election to the artists of the New Song movement including Jara, who advocated on his behalf, according to author Craig A. Lockard.
The Chilean right-wing elites were less than thrilled with Allende's policies and the U.S. was looking to stamp out any variation of communism anywhere that it could. The Chilean ring-wing backed by the U.S. government staged a military coup on September 11, 1973, during which Allende was killed. An estimated 6,000 supporters of Allende's government were murdered or disappeared during the coup, and the U.S.-backed military dictatorship that reigned until 1989 saw the burning of books, records, and other subversive art materials.
Since Jara had spoken on in support of Allende on numerous occasions, he was arrested, tortured, and ultimately murdered as the right-wing-sponsored military dictatorship took over Chile. Jara was publicly executed in a sports stadium in Santiago but remained defiant until the end, singing his last song moments before he was killed, according to Victor's biographer and window Joan Jara.
6. Pussy Riot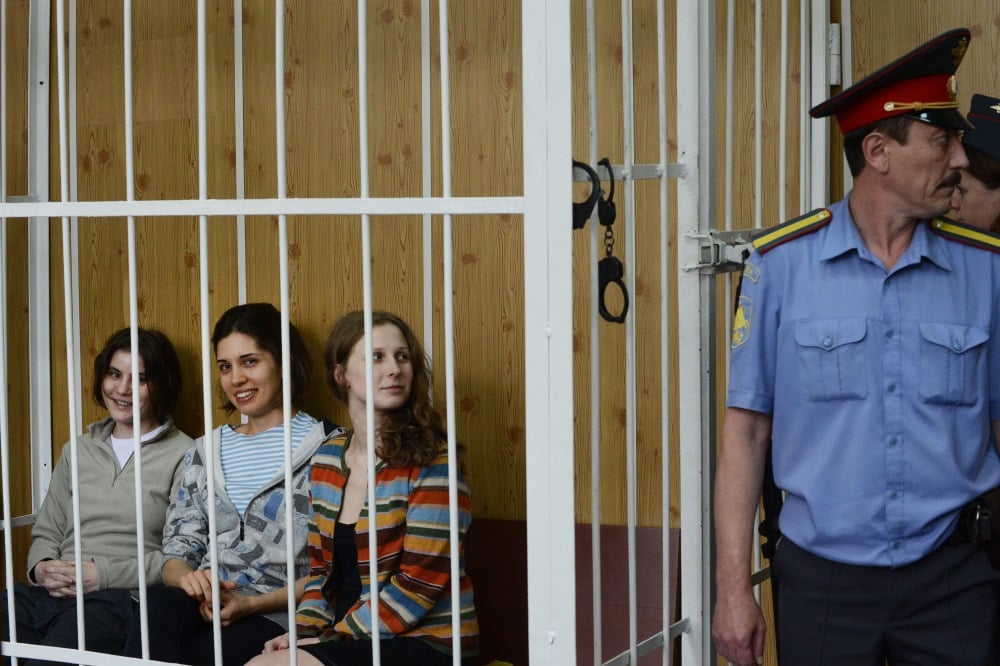 Pussy Riot is an all-female group of political activists and punk rock band from Russia. The group is known for protesting against Vladimir Putin's anti-gay and anti-democratic laws. Members of the group were arrested for "hooliganism inspired by religious hatred" after performing a song entitled "Punk Prayer — Mother of God Chase Putin Away," which they sang inside Moscow's Cathedral of Christ the Savior. The performance was to protest the Russian Orthodox Church's support of Putin. After those arrests, the group began to gain a considerable amount of international attention. Many in the West were outraged by Putin's attempt to suppress free speech and famous musicians including Madonna, Sting, and Paul McCartney have come out in support of the group.
Nadezhda Tolokonnikova and Maria Alyokhina served 21 month sentences and were released from Russian prison at the end of last year. The women believe that part of the reason Putin chose to release them was in order to gain some favorable press for the country in advance of the 2014 Winter Olympics held in Sochi. "We don't think it was a very successful political stunt. We don't think it improved the image of Russia, so maybe Putin made a mistake and he should just throw us back in jail," Tolokonnikova said in an interview with Stephen Colbert.
"When the whole country sees completely innocent people being jailed, and authorities make it very clear that this can happen to absolutely anyone, that of course is going to make a lot of people become more silent," Tolokonnikova said in an interview with the New York Times. "But not everybody agrees to be silent, and right now our task is to unite those people once again."
Check out Entertainment Cheat Sheet on Facebook!