There have been plenty of controversies in the history of modern popular music. From John Lennon's infamous claim that The Beatles were more popular than Jesus to Janet Jackson's notorious Super Bowl halftime show "wardrobe malfunction," there are countless examples of things musicians have done that have offended people. In some cases, all it takes is an album cover. Here's a look at some of the album covers that have gotten records banned merely based on appearances.
1. The Dead Kennedys, Frankenchrist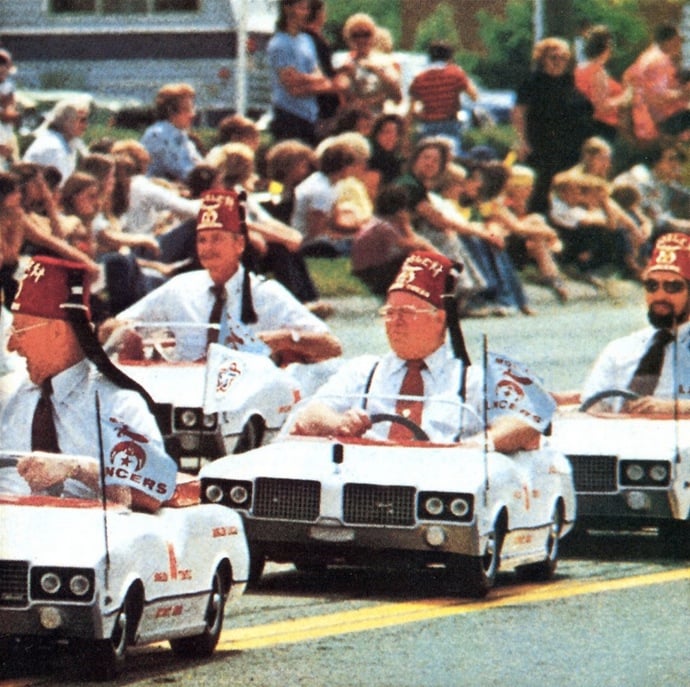 In 1987, Dead Kennedys lead singer Jello Biafra was acquitted on charges of distributing pornography due to the H.R. Giger artwork for the band's Frankenchrist album. Giger's painting, called "Landscape #XX," or "Penis Landscape," was included as a poster in the album sleeve. Although technically the image wasn't on the cover (the image above was), it still managed to get the album banned.
Biafra was prosecuted over the artwork by an attorney after the attorney's daughter bought a copy of the album for her brother for Christmas, according to a brief history of banned rock music from the radio station, Rock 103. Copies of the album were seized and destroyed, and the resulting trial nearly bankrupted Biafra's record label, Alternative Tentacles Records. The trial gained Biafra a reputation as a proponent of free speech, and the label was kept alive by the support of fans.
2. Prince, Lovesexy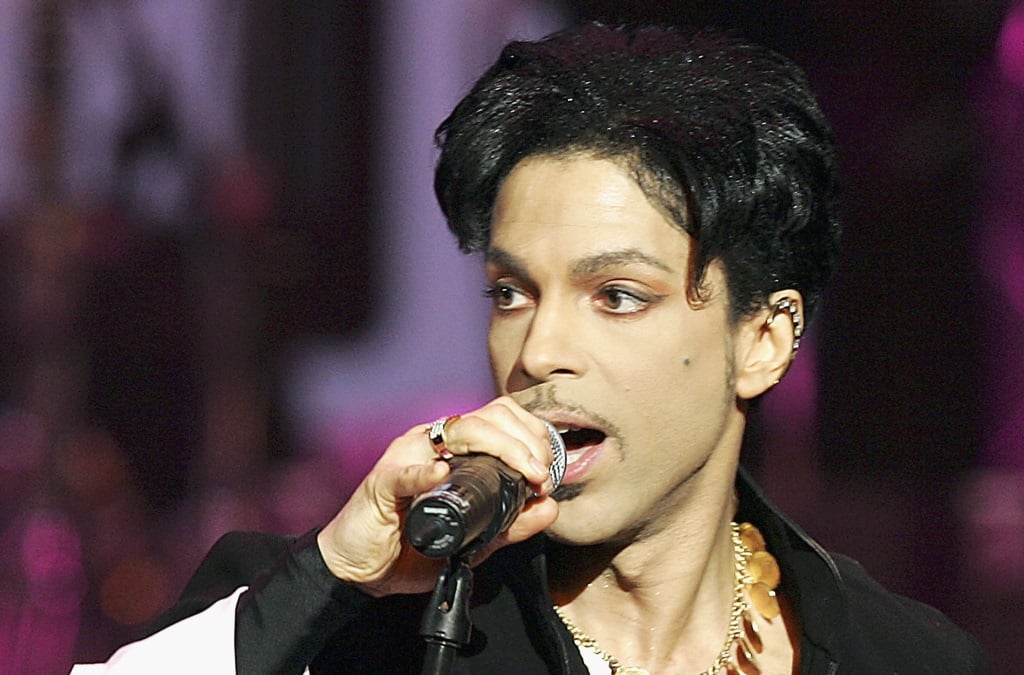 In 1988, copies of Prince's album, Lovesexy were removed from shelves after the cover photograph was deemed too … sexy. The cover art features a photograph of Prince naked, sitting on a flower. And although he's strategically covering himself, some stores considered the photo too risqué to sell. Some outlets wrapped the album in black paper, which was a bit misleading, considering the same year Prince released (and then quickly withdrew) The Black Album, which had an all-black cover.
That strategy was not very appreciated by fans, as The Black Album got great reviews and was a highly coveted bootleg, while Lovesexy got mediocre reviews and was not so highly desired. With Lovesexy wrapped in black paper, you couldn't tell the difference between the two in the store, according to Time. Lovesexy would end up being Prince's least successful record since 1982, more likely due to lackluster reviews than the controversial album cover.
3. Nirvana, In Utero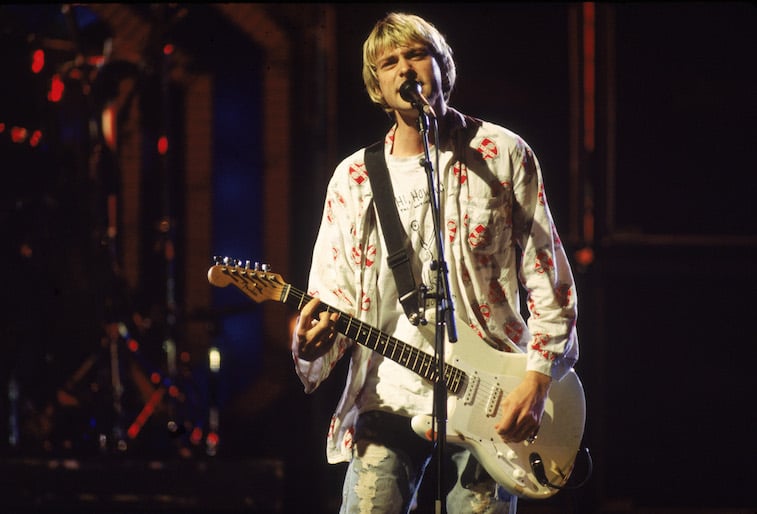 The cover art for Nirvana's third album is kind of creepy. It features a female anatomical mannequin with angel wings and enough weird nudity to inspire bans, but it wasn't the artwork that got this album pulled from the shelves at Kmart and Walmart. The song "Rape Me" is what made the chain stores angry, and frontman Kurt Cobain relented by changing the song title on the records sold at those locations to "Waif Me."
While Cobain's punk ethos were against censorship, he said he made the change so that his fans living in the middle of nowhere who had to get their music from big chain stores would still be able to buy the album. "I just feel bad for all the kids who are forced to buy their music from big chain stores and have to have the edited music," Cobain said, according to Mental Floss.
4. Nirvana, Nevermind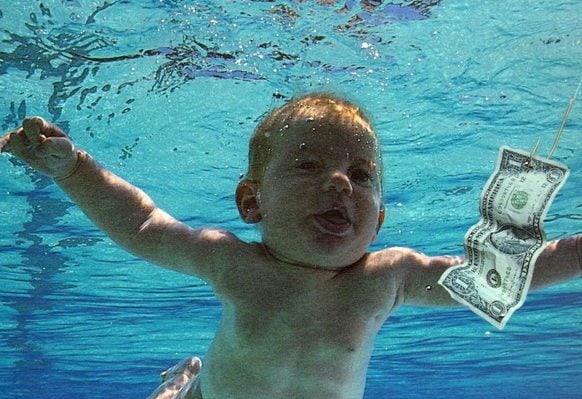 That wasn't the first time Nirvana caught flak for an album cover. The photo used for the band's major-label debut Nevermind is one of the most famous album covers of all time, though it was met with some controversy when sales blew up in the wake of the band's massive fame. The picture of a naked male baby floating in a pool, swimming toward a dollar on a fishing hook, faced censorship. According to band biographer Michael Azerrad, the label wanted to place a sticker over the cover to censor it, but Kurt Cobain would only agree if the sticker said, "If this offends you, you must be a closet pedophile." The album art went to stores unaltered.
5. The Mamas & the Papas, If You Can Believe Your Eyes and Ears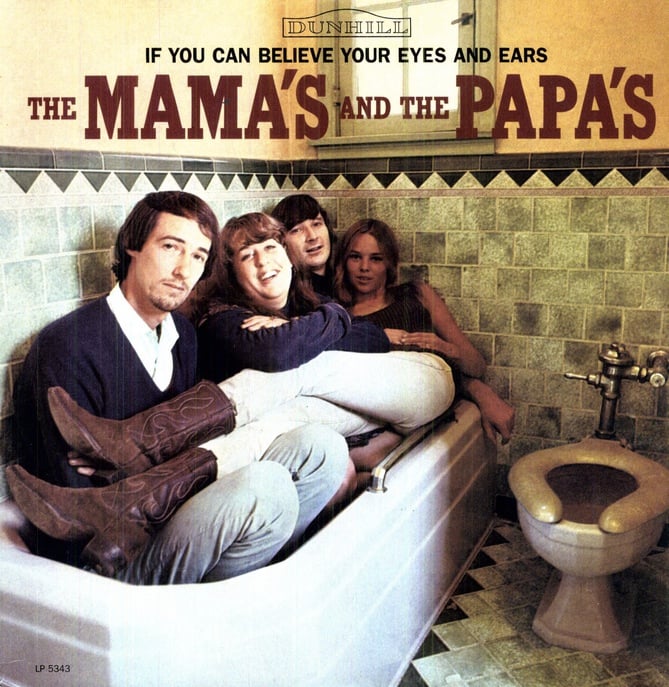 At first glance, this cover for The Mamas & the Papas' 1966 debut album seems pretty benign. Sure, all four members are crammed into a bathtub together, but they're fully clothed and there's not even any water in it. The thing people had a problem with, it turns out, was in the corner of the photo: the toilet. Censors were offended by the mere presence of a toilet in the album cover photo. The toilet was first covered up by a text box and later completely cropped out of the picture, according to Rolling Stone.
6. The Rolling Stones, Beggars Banquet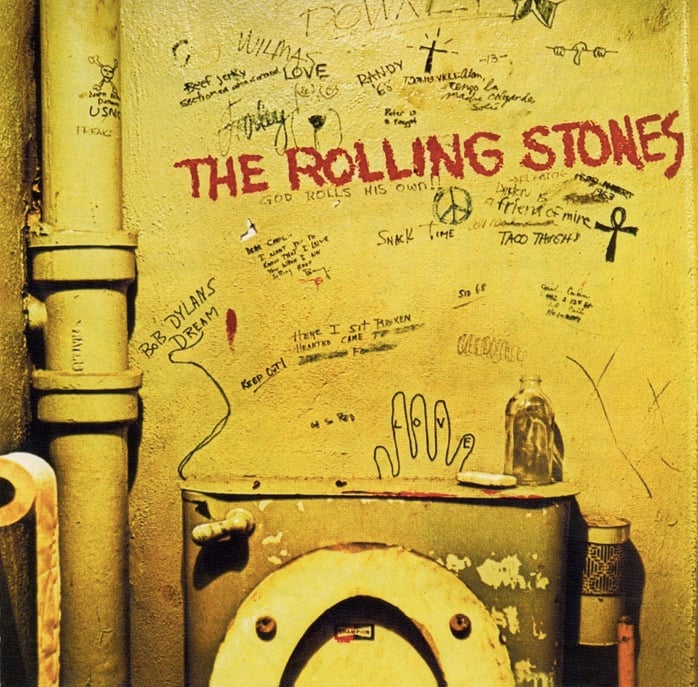 The Rolling Stones' 1968 album, Beggars Banquet, was another cover that suffered from the "no toilets" rule. The iconic cover art is a wall of bathroom graffiti at a Porsche dealer in Los Angeles, but that cover artwork didn't come out until the '80s. The album release was delayed for months while they came up with a more suitable, albeit boring and plain, cover.
7. Blind Faith, Blind Faith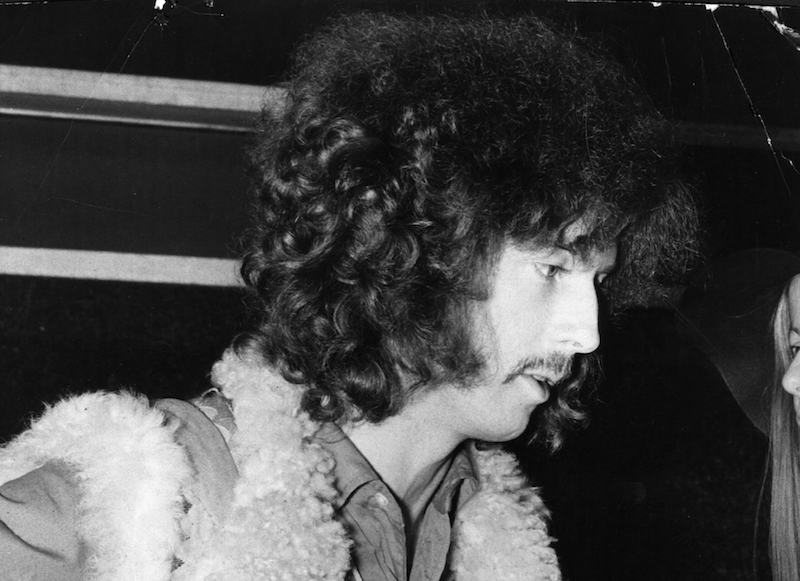 This supergroup composed of Eric Clapton, Ginger Baker, and Steve Winwood didn't have a name until they saw the photograph that would make the controversial cover of their album. Taken by Bob Seidemann, the photo is of a topless girl holding a toy airplane, with her innocence juxtaposing the technology she's holding.
According to Rolling Stone, the model Mariora Goschen said that she was promised a horse in exchange for posing for the picture, but had to accept 40 pounds sterling instead. The photo was too outrageous for sale in the U.S., though it didn't provoke as much outrage in 1969 as it might now. The photo was replaced by a more standard picture of the band.
8. Kanye West, My Beautiful Dark Twisted Fantasy
Some artists seem to be asking for trouble with their graphic or bizarre album art, and some artists actually ask for cover art that will be banned. Kanye West reportedly told artist George Condo that he wanted an album cover that would get banned, and Condo responded with a painting of a naked West being straddled by a naked white woman with wings and a polka dot tail.
West got what he asked for, and when some retailers refused to carry the album due to the cover, he substituted one of a ballerina instead. "Banned in the USA!!! They don't want me chilling on the couch with my phoenix!" West wrote on Twitter, per Pitchfork, when reports came out that retailers like Walmart and Best Buy wanted changes made to the cover if they were to sell the album. "In all honesty … I really don't be thinking about Wal-Mart when I make my music or album covers #Kanyeshrug!" West added.
9. Sky Ferreira, Night Time, My Time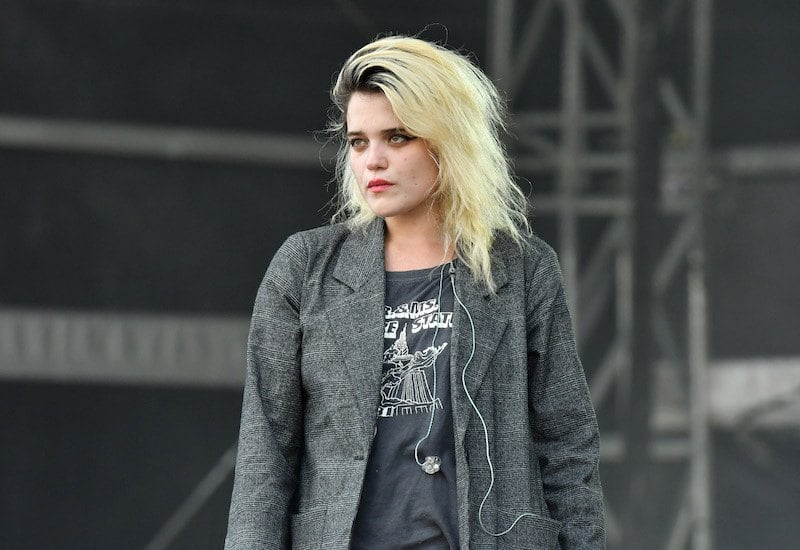 Sometimes a controversial album cover can make a new artist. No one really sells albums anymore anyway, so getting a record pulled from the few shelves that still stock them isn't all that detrimental to sales, while getting the press from a raunchy cover is advantageous. That's how things worked for underground pop singer Sky Ferreira and her debut album, Night Time, My Time.
Ferreira chose a nipple-baring photo of herself in the shower looking like a scared child for the cover of her debut record. Her label also released a version with her nipple cropped out, but the vulnerable pose was still fairly shocking. "It says a lot to me … my face says it all. I don't really feel like my left nipple is all that important … and yeah people are going to make that the main focus, but I don't really have an issue with nudity," Ferreira said to Stereogum of the cover, which she repeatedly defended in interviews about the album.
10. The Beatles, Yesterday and Today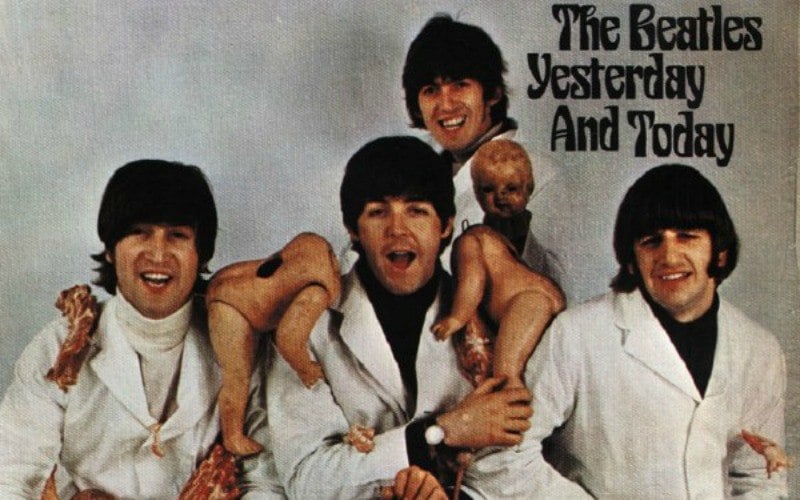 The ninth album showed the members of the band covered with baby doll heads and slabs of meat. It has been infamously referred to as the "butcher" cover. It was definitely controversial so it had to be replaced with a completely different cover. So where did the idea come from?
"It was inspired by our boredom and resentment at having to do another photo session and another Beatles thing," explained John Lennon to Playboy. "We were sick to death of it." The idea was also inspired by German surrealist Hans Bellmer's artwork.

11. Alice Cooper, Love It to Death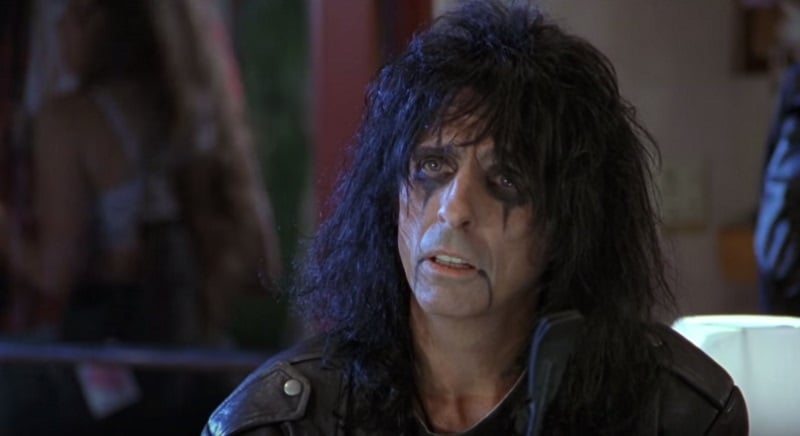 This album cover comes across as more juvenile than shocking. However, this still offended a lot of people when it was released in 1971. Cooper stuck his thumb out in order to mimic a penis. The cover was later replaced by Warner Bros. with the same cover but the thumb missing.
12. Master P, Ghetto D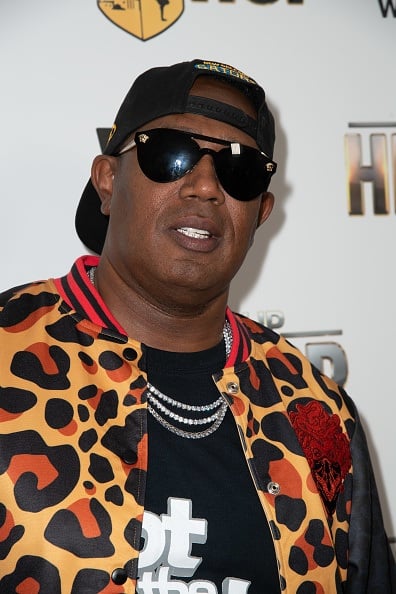 The rapper's sixth album showed a crack addict sitting on a curb and smoking a crack pipe. The album name is actually Ghetto Dope. However both the name and the cover was changed after it was recalled from shelves at various stores.
When asked about the album, the rapper said he felt pretty invincible making it, "And so to be able to give that to the world to see: This what a real trap star live like, and we want to change our life. Ghetto D opened the doors. That was the record I got the world hooked, I got the world high on Master P."
Additional reporting by Nicole Weaver.
Check out Entertainment Cheat Sheet on Facebook!