7 Craziest Film Productions of All Time
When it comes to film production, the classic adage of "Anything that can go wrong will go wrong" — better known as Murphy's Law — is often the most crucial way to approach the project. That is because while most art forms consist of only a few central creators, movie productions can include hundreds, if not thousands, of positions essential for a film to move forward before uncontrollable factors like weather are added to the equation. To put it simply, there's a lot that can go wrong on a film set.
But if Murphy's Law is an essential guideline for any film's production, there are some examples that prove even careful consideration of all that can go wrong is not always enough. Check out seven movie productions in which seemingly everything that could go wrong did, sometimes with the help of the director. 
7. The Man Who Killed Don Quixote (Unreleased)
Starting off the list is director Terry Gilliam's failed production of The Man Who Killed Don Quixote, the only film here to never have been completed. Adding to the legendary failings of this production is the fact that behind-the-scenes footage was captured by Keith Fulton and Louis Pepe, who would later go on to turn the recordings into a critically acclaimed documentary called Lost in La Mancha, which is currently available on Netflix.
Many of The Man Who Killed Don Quixote's disastrous events were beyond the control of its filmmakers, even if the film certainly feels as if it were too ambitious to begin with, given its budget. On the first day of shooting, the filmmakers find that the shooting location in Bardenas Reales, Spain, renders sound nearly unusable due to constant noise from a nearby NATO aircraft target practice area. Then, on the second day of shooting, the same area was hit hard by a storm. The resulting flash flood damaged a majority of the production's equipment while casting the entire appearance of the location in a different color, an issue that conflicted both with the first day's shooting and Gilliam's initial reason to shoot in the area to begin with.
As if that wasn't enough, the film's lead, Jean Rochefort, soon afterward became ill and was later diagnosed with a herniated disc, effectively shutting down the production. All in all, the production resulted in a record $15 million insurance claim that put the rights to the screenplay in the hands of the insurance company for several years before being transferred back to Gilliam.
However, Gilliam has still not given up on his dream. In June 2015, the director told Indiewire that making a movie about Don Quixote is part of his recently signed deal with Amazon Studios. "It's my madness!" Gilliam told Indiewire.
6. Waterworld (1995)
Waterworld has often been cited as the perfect example of a disastrous runaway production, but the truth is that its $264 million worldwide gross on a budget of $175 million makes it clear the film was not as financially disastrous for Universal Pictures as it could have been. Still, the Kevin Costner and Dennis Hopper-led action sci-fi film is certainly an example of a production beset by huge issues that led to a budget spiraling out of control.
If film history has taught us anything, it's that productions based around water are no easy task. Director Steven Spielberg famously told fellow director Jonathan Mostow, "Whatever you do, never shoot on water," referring to his experiences with Jaws, and chances are the filmmakers behind Waterworld could have used that advice. What initially began as a $100 million production — a huge amount to begin with in 1995 — quickly rose to a then-record $175 million because of delays and setbacks. At one point, a hurricane hit the massive set and inflicted millions of dollars in damages while leading to long delays as the complicated sets were rebuilt.
The production had no shortage of disastrous events. At one point, Costner reportedly nearly drowned when he was caught in a squall, and Costner's stunt double — pro surfer Laird Hamilton — was lost at sea when his jet ski ran out of fuel. There's also the story of stunt coordinator Norman Howell being sent to a hospital for decompression sickness and stunt coordinator Tina Majorino being stung by jellyfish on three different occasions. Worst of all, Costner and director Kevin Reynolds are said to have fought so much that Reynolds eventually walked off the set entirely with two weeks left in the shoot.
5. Cleopatra (1963)
Cleopatra is the first film on this list whose disastrous production ultimately led to huge financial losses for 20th Century Fox, which was nearly bankrupted by the runaway film before the 1965 phenomenon The Sound of Music brought the studio back from the brink. When one considers just how much the film's budget rose from its initial price tag, it's not at all a surprise how financially dangerous the production was.
Directed by Joseph L. Mankiewicz and starring Elizabeth Taylor and Richard Burton, Cleopatra was originally budgeted at $2 million and eventually wound up costing 20th Century Fox a whopping $44 million. The main causes of the film's hugely inflated budget were the film's extravagant sets, props, and costumes, which were essentially constructed twice — the film's initial London shoot was abandoned, and a second shoot was relocated to Rome. Mankiewicz was later fired during the editing phase before being brought back when the studio could not find a way to successfully edit the film. Mankiewicz would initially screen a six-hour cut for the studio that was later trimmed to four hours and edited even further to three hours, at the behest of 20th Century Fox.
Adding to the actual production issues plaguing the film was Taylor seeing her record-setting $1 million contract grow to $7 million as a result of Cleopatra's production delays; she was also given a tracheotomy after falling ill. Taylor and co-star Burton would also enter into a highly public affair, which made headlines around the world while giving the film additional bad publicity.
4. Heaven's Gate (1980)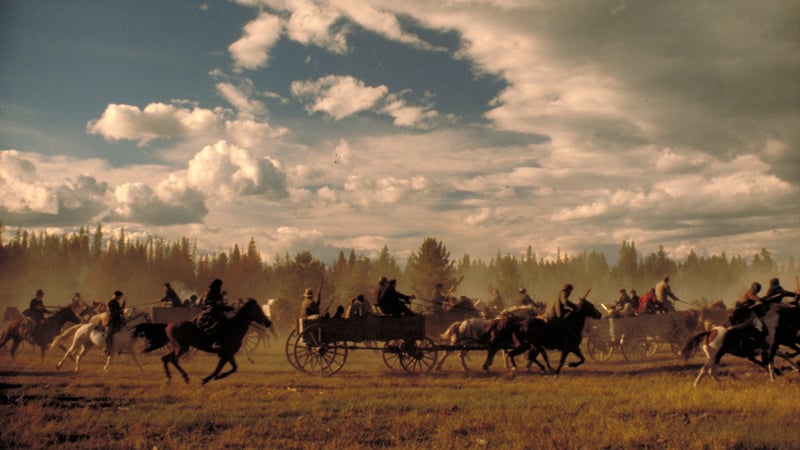 Director Michael Cimino's Heaven's Gate has a number of infamous distinctions when it comes to film history. Heaven's Gate ranks as the eighth greatest box office flop of all time, with $3.4 million earned at the box office against a $44 million budget — numbers equal to about a $124 million budget and $9.6 million box office gross when adjusted for inflation. But by far the worst result of the Heaven's Gate was its effect on director-driven projects, as studios used Cimino's disastrous production to assume control over films and have never looked back.
Details of Cimino's directing on the set have acquired mythic proportions over the years as an example of a director totally out of control. A stickler for detail, Cimino is said to have overseen the construction, teardown, and reconstruction of elaborate sets on numerous occasions and would sometimes redo a shot dozens of times in order to get exactly what he wanted. With tension running high between United Artists and Cimino, the studio discussed firing the director on several occasions, with rumors swirling that David Lean had been considered to come right the ship.
When all was said and done, Cimino had shot 1.3 million feet of footage — equal to almost 220 hours of footage — and had gone over budget by about $13 million. Cimino's behavior continued into the editing room, where he locked out United Artists executives until the final cut was completed and reportedly ignored much of the input given by Oscar-winning editor William H. Reynolds. When Cimino was done, he showed the studio a cut that ran five hours and 25 minutes, spurring United Artists to again consider firing the director. But Cimino relented and eventually completed a three hour and 39 minute cut, which was panned by critics.
Cimino's career never recovered from the Heaven's Gate disaster, but it's worth it to note that modern viewings of the film have been far more favorable, leading some critics and film scholars to wonder whether the critical and commercial failure of the film upon release was the result of media intent.
3. The Abyss (1989)
It can sometimes feel as though The Abyss is a forgotten film among director James Cameron's works, and with a worldwide box office total of $90 million against the film's $70 million budget, it is certainly one of his least successful in a series of box office phenomenons. But The Abyss is also among Cameron's most critically acclaimed movies, and its legendary production is sure to secure the film's legacy.
In what has become a trend for Cameron as a filmmaker, the director took no shortcuts in making a movie that takes place almost entirely underwater. Cameron eventually settled on shooting at the Cherokee Nuclear Power Plant outside Gaffney, South Carolina, where two specially constructed tanks were created, the larger of which held 7.5 million gallons and was 55 feet deep and 209 feet across. While many of the actors were shot at depths of around thirty feet to avoid the need for decompression, Cameron and his diving crew would often go as deep as fifty feet for up to five hours.
The physically demanding set would ultimately affect the film's actors in varying ways, and they unanimously called the production one of the toughest of their careers. With six-day, 70-hour weeks a normal occurrence, members of the cast like Ed Harris described crying on the way home from set, while Elizabeth Mastrantonio stormed off the set when Cameron suggested the actors relieve themselves in their wetsuits in order to stay on schedule.
2. Fitzcarraldo (1982)
The legendary pairing of German-born director Werner Herzog and actor Klaus Kinski has produced no shortage of memorable moments, both behind the scenes and on film, but the 1982 Fitzcarraldo is probably the craziest. Based on true historical events surrounding Peruvian rubber baron Carlos Fitzcarrald's attempt to transport a steam ship across an isthmus in order to access rubber, Herzog decided to make the film the hard way, even though the actual events were not nearly as extravagant.
While the historical Fitzcarrald transported a 30-ton steamship that was carried in pieces and reassembled on the the other river, Herzog's steamship weighed in at 320 tons  and was carried in one complete piece. Filmed without any special effects, the actual depiction of towing the huge steamboat over the isthmus in Fitzcarraldo is is real occurence. And despite what seems like one of the most dangerous productions ever attempted, only six people were injured during filming, three of whom were hurt when the steamship crashed through rapids.
No pairing between Herzog and Kinski would be complete without huge clashes between the two personalities, and the extent of the film's on-set conflict is revealed in Herzog's documentary My Best Fiend, specifically about his friendship and working relationship with Kinski. With the film's native extras upset by Kinski's antagonistic behavior, Herzog claims that a native chief offered kill Kinski in complete seriousness. And according to Herzog, the tension felt between Kinski's character and the natives throughout the film is due to the fact that the natives truly hated him.
1. Apocalypse Now (1979)
Easily one of the most troubled productions of all time, Francis Ford Coppola's Vietnam War masterpiece, Apocalypse Now, came very close to being the kind of unmitigated disaster that could have abruptly ended Coppola's directing career, like Heaven's Gate did for Cimino. But unlike Cimino, Coppola's runaway production proved worthwhile, as the film became a cultural milestone while going on to win the Palme d'Or at Cannes and an Academy Award nomination for Best Picture.
The troubled production of Apocalypse Now is chronicled in the 1991 documentary Hearts of Darkness: A Filmmaker's Apocalypse, which reveals a series of events that would have caused any other director to call it quits. Among the film's most disastrous events was actor Marlon Brando's arrival on set overweight and unprepared for his role, lead actor Martin Sheen having a heart attack while on location, and the destruction of hugely expensive sets by severe weather.
By the time the production was completed, Coppola had shot 1 million feet of film footage and became embroiled in a brutal editing process. After several delays, a three-hour "work in progress" cut was shown at the 1979 Cannes Film Festival, which was received with a standing ovation and won the Palm d'Or along with Volker Schlöndorff's The Tin Drum. And in what might be one of the Academy's most egregious slights, Apocalypse Now would go home with only the Academy Awards for Best Cinematography and Best Sound after being nominated for Best Picture, Best Supporting Actor (Robert Duvall), Best Art Direction, Best Directing, Best Editing, and Best Writing.
More from Entertainment Cheat Sheet: