7 Famous Actors You Didn't Know Had Music Careers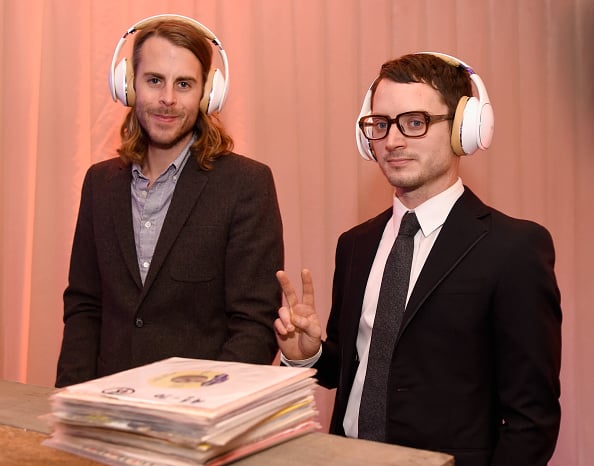 We've seen musicians infiltrate Hollywood plenty. Justin Timberlake has made a healthy career out of chick flicks as well as The Social Network. Will Smith's rap career preceding his illustrious Hollywood career is no secret. Even LL Cool J and Ice-T have carved out niches for themselves on television. But what about the other side of this coin: Actors with musical aspirations. It's a tradition that goes as far back as Eddie Murphy. Hollywood is full of artists, and as such many of them won't settle for simply one medium.
Most don't make it terribly well-known that they've crossed into the musical realm. Others still have become even more famous for it. However much success they've found though, you'd be surprised who you find behind the mic.
1. Elijah Wood is one half of a DJ duo known as Wooden Wisdom
You read that right. Elijah Wood, famous for his role as Frodo in the Lord of the Rings trilogy, is a DJ, and has been for some time now. For the last five years, Wood has been perfecting his craft alongside Zach Cowie as the duo Wooden Wisdom. In that period, he's played festivals like SXSW as he's built his image as more than simply an actor. He's far more than a press-play DJ though, preferring to spin off of crates of vinyl records that he's accumulated over his time with Cowie. He even just wrapped up a tour of small clubs across the country, hitting cities like Seattle, New York, and Miami along the way.
2. Bruce Willis made it to #14 on Billboard under his music alter ego, Bruno Randolini
Back in 1987, Bruce Willis was more known for his role in Die Hard than he was for his singing ability. But that didn't stop him from releasing The Return of Bruno, a 10-track R&B album that actually managed to top out in the top 20 on Billboard. The lead single "Respect Yourself" even managed to crack No. 5 on the charts, showing us a much different time for what defined hit pop music. The album was released alongside a mockumentary under the same name, and was sadly Willis' first and final serious foray into the musical world.
3. Jeff Goldblum's been playing a jazz show in Los Angeles every week since 1999
Jeff Goldblum saw stardom after his spell as Dr. Ian Malcolm in Jurassic Park, and has since made a career off his beautifully awkward stammering style of acting. Outside of just Hollywood though, Goldblum has been playing piano since he was a small child, and according to an interview he did with NPR, plays a small jazz lounge show every week, a tradition that started over 15 years ago. Back in 2011, he even played a "secret" impromptu jazz set at Coachella that saw him perform to a surprised yet grateful crowd. He claims to have no "careerist ambitions," treating it more like a hobby than anything. That said, it's hard not to be curious as to what a riffing Jeff Goldblum cocktail lounge performance would be like.
4. Idris Elba has worked with Jay-Z as a hip-hop artist and performed as a DJ in Ibiza
Idris Elba has exploded these last couple years as a big-named A-list actor, starring in Pacific Rim, Thor, and Mandela, and cementing himself as a mainstay of Hollywood. Even longer than that though, he's had a storied musical career that dates back over a decade. For Jay-Z's 2007 album American Gangster, he co-produced and performed on the intro, and has been known to make appearances performing as a DJ in the club-centric haven of Ibiza, and at Miami's famous Winter Music Conference. He even co-directed and appeared in the music video for Mumford & Sons' "Lover Of The Light," showing that Elba is truly a Renaissance man in ever sense of the term.
5. Christopher Lee released multiple heavy metal Christmas singles
Starting back in 2012, the actor known for his role as Saruman in Lord of the Rings began coming out with heavy metal covers of timeless Christmas carols. Lee has even accomplished renown for his role as a devoted metalhead, having come out with a symphonic metal concept album in 2010 entitled Charlemagne: By the Sword and Cross. In that same year, he was given the "Spirit of Metal" award at the 2010 Metal Hammer Golden Gods ceremony, recognizing his outstanding accomplishments within the genre. Sadly, this talented actor and musician passed away in June 2015.
6. Michael Cera played bass for Mister Heavenly, a band featuring Modest Mouse's Joe Plummer
Michael Cera's Hollywood history as the adorably awkward go-to actor is well-documented. From Juno to Scott Pilgrim, he's been typecast since he first came into the industry. But one role we wouldn't have expected him to fill is bassist for Mister Heavenly, a supergroup composed of Modest Mouse's Joe Plummer, Honus Honus of Man Man, and Nick Thorburn of Islands. For one performance at Seattle's Moore Theater, Cera hopped on stage to join the band on bass guitar. Pitchfork reports he even continued on with Mister Heavenly as part of their West Coast tour, showing that even the most awkward of characters can be a rockstar.
7. Kristian Nairn (Hodor from Game of Thrones) recently embarked on a "Rave of Thrones" DJ tour
When he's not starring as everyone's favorite one-word giant Hodor in HBO's Game of Thrones, Kristian Nairn is investing time in his other passion: DJing. Hodor is set to take Season 5 of the show off, which gave Nairn the perfect opportunity to double down on his love of music. He recently wrapped up a series of tour dates in clubs across the United States for what he lovingly dubbed "Rave of Thrones." Performances featured fire-eaters, Game of Thrones house crests projected on the walls, and a smooth two hours of deep and heavy house music. Hodor indeed.
More From Entertainment Cheat Sheet:
Want more great content like this? Sign up here to receive the best of Cheat Sheet delivered daily. No spam; just tailored content straight to your inbox.