The Greatest Liam Neeson Action Movies of All Time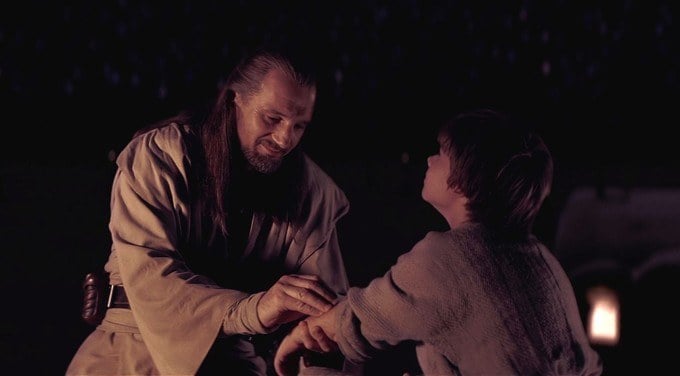 Liam Neeson has portrayed multiple tough guy characters in various action films (The A-Team, Non-Stop, and A Walk Among the Tombstones) ever since the unexpected success of 2008's Taken. However, this multi-talented actor is far from being a one-trick pony.  Neeson has tackled all types of different roles throughout his wide-ranging career, from his breakout performance as Sir Gawain in 1981's Excalibur, to his Academy Award-nominated portrayal of Oskar Schindler in 1994's Schindler's List. Obviously, Neeson has a "very particular set of skills" that allow him to handle anything from serious drama (Michael Collins) to comedy (The Lego Movie).
That being said, the films in which Neeson plays a badass who dishes out physical punishment to the bad guys will always hold a special place in our hearts. In celebration of Liam Neeson's many action movie performances, here are seven of the actor's best butt-kicking movie roles. Since there are so many films in which Neeson plays intimidating characters, the movies selected to be included on this list were chosen on the basis of our personal preferences. Films are ordered according to their critics' aggregate ratings from Rotten Tomatoes, from lowest to highest.
7. Qui-Gon Jinn in Star Wars Episode I: The Phantom Menace (1999)
The first of the long-awaited prequels to George Lucas's highly successful original Star Wars trilogy was a letdown for many fans due to its overwrought plot, some questionable computer-generated special effects, and the inclusion of a of a much-loathed character named Jar Jar Binks. As a result, the film received mixed reviews and currently only has a 57 percent approval rating from the critics at Rotten Tomatoes. However, one aspect of the film that did not disappoint was Liam Neeson's portrayal of Jedi master Qui-Gon Jinn. In a mostly negative review of the film, Entertainment Weekly noted that "If there's an actor who holds 'The Phantom Menace' together, it's Liam Neeson. Tersely commanding, he gives the film its only hints of emotional dynamism."
Not only did Neeson bring an appropriate amount of gravitas to the role of Obi-Wan Kenobi's teacher, he also engaged in some amazing lightsaber battles with a certain horned Sith. Okay, so admittedly his last duel with Darth Maul did not end well and apparently Qui-Gon is terrible at picking Jedi trainees. Still, we feel Qui-Gon Jinn qualifies as one of Neeson's greatest butt-kicking action roles.
6. Bryan Mills in Taken (2009)
Any list of Neeson's best butt-kicking movie roles would be remiss if it did not include his portrayal of ex-CIA operative and scariest dad in the world, Bryan Mills. In the film, human traffickers abduct Mills's daughter while she is on vacation in France. After delivering one of the most menacing monologues in the history of phone calls, Mills travels to France to mete out justice with his "very particular set of skills," which apparently includes delivering vicious throat punches to multiple bad guys.
While the film received mixed reviews from the critics, Taken was widely credited for reigniting Neeson's career as an action star. Although it only has a 58 percent approval rating from the critics at Rotten Tomatoes, it garnered an 85 percent audience approval rating. Proving that moviegoers can never see enough of Neeson's butt-kicking, Taken 2 was released in 2012, while Taken 3 was released on January 9, 2015.
5. Rob Roy MacGregor in Rob Roy (1995)
Years before Neeson picked up a lightsaber in Star Wars Episode I: The Phantom Menace, he swung a broadsword as the title character in this film about legendary Scottish outlaw Rob Roy MacGregor. In the film, Rob Roy seeks revenge on an English aristocrat named Archibald Cunningham — played with sinister relish by Tim Roth — who raped his wife. Needless to say, things do not end well for Cunningham. Seriously, when will people learn to stop messing with Neeson's movie families?
Besides giving moviegoers yet another chance to see Neeson dispatch a deserving bad guy, Rob Roy also proved that he is no less initimidating kicking butt in a kilt than he is in a business suit. Rob Roy received largely positive reviews and the film currently has a 72 percent approval rating from the critics at Rotten Tomatoes.
4. "Priest" Vallon in Gangs of New York (2002)
While Neeson only had a brief role in Martin Scorsese's epic historical drama, his character made a big impression. In the film, Neeson played "Priest" Vallon, the leader of the Irish Catholic immigrant gang, the "Dead Rabbits." His nemesis was Bill "The Butcher" Cutting, played with over-the-top enthusiasm by Daniel Day-Lewis. Although Cutting kills Vallon quite early in the movie, the violent priest still manages to gruesomely dispatch at least a dozen members of Cutting's gang before he dies.
As if that wasn't enough, Vallon is later revealed to have given Cutting what he called "the finest beating I ever took," proving that even bad guys can appreciate Neeson's butt-kicking abilities. Gangs of New York was praised by most critics and the film currently has a 75 percent "Certified Fresh" rating from the critics at Rotten Tomatoes.
3. John Ottway in The Grey (2011)
The Grey tells the story of a group of oil rig workers who must fend off a pack of ravenous wolves after becoming stranded in the Alaskan wilderness. In a development that should have surprised no one, Neeson's character emerges as the group's leader. Because — let's face it — if you're taking on a pack of hungry wolves with nothing to defend yourself with but improvised weapons, your best chance of survival is probably just to stand back and let Neeson do the fighting.
Although the film includes multiple man-versus-animal battles, The Grey also offers plenty of philosophical musings about the ultimate meaning of life, which gives it a little more depth than your typical Liam Neeson action movie. Thanks in large part to Neeson's believable performance as a man who might actually be able to kill a wolf with his bare hands; The Grey received mostly positive reviews and currently has a 79 percent "Certified Fresh" rating from the critics at Rotten Tomatoes.
2. Darkman in Darkman (1990)
Before he helmed the original Spider-Man trilogy, Sam Raimi created his own twisted superhero with Liam Neeson in Darkman. In the film, Neeson plays Peyton Westlake, a kindly scientist who is working to create an artificial skin for burn victims. Unfortunately Westlake's artificial skin only lasts for 99 minutes before it has to be replaced.
After a brutal attack leaves Westlake horribly disfigured, he is given an experimental medical treatment that makes him preternaturally strong and impervious to pain. The medical treatment also makes him prone to fits of rage, which is never a good thing if you're a bad guy in a Liam Neeson action film. The film garnered mostly positive reviews and currently has an 82 percent "Certified Fresh" rating from the critics at Rotten Tomatoes.
1. Ra's al Ghul in Batman Begins (2005)
The first film in Christopher Nolan's critically acclaimed Dark Knight trilogy tells the origin story of Batman, played by Christian Bale. In the film, Liam Neeson plays Henri Ducard/Ra's al Ghul, the leader of a mysterious group known as the League of Shadows.  Naturally, when it comes time for Bruce Wayne to learn how to fight, Liam Neeson's character is there to show him the ropes.
Besides further boosting Neeson's film career as a veteran butt-kicker, Batman Begins also added another mentoring credential to his résumé after having also trained Obi-Wan Kenobi in 1999's Star Wars Episode I: The Phantom Menace. Batman Begins was hailed by most critics and currently has an 85 percent "Certified Fresh" rating from the critics at Rotten Tomatoes.
Follow Nathanael on Twitter @ArnoldEtan_WSCS
Check out Entertainment Cheat Sheet on Facebook!