Marvel and DC Comic Books Worth Big Money
It's easy for us to forget that many of the superheroes we've seen in movie theaters have been around for upwards of 50 to 60 years in the pages of comic books. Generations ago, the only place to take in these stories was in print, leading to an empire that's made for some of the most valuable collectibles out there. Of course the market likely hasn't been hurt much by Marvel pumping out blockbuster after blockbuster, with DC starting to do the same.
Because of these thorough cinematic universes, the heroes in comic books have never been more recognizable to the general public. This leads us to wonder though: When did these heroes first appear, and how much are their first issues worth? Some carried their own comics, beginning in their titular "Issue #1." Others first surfaced in the pages of other heroes' editions. Regardless, it hasn't hurt the worth of their first appearances in print, whether it's a well-known DC or Marvel superhero.
1. Tales of Suspense #39 (First appearance of Iron Man)
Highest Price Sold For: $262,000
Today, we recognize Iron Man as a first-tier hero thanks in large part to Robert Downey Jr.'s spot-on portrayal in the Marvel Cinematic Universe. But Tony Stark wasn't always as famous as he is now, first showing up in the 39th issue of the Tales of Suspense issue. The lowest this one has ever sold for at auction was $900, so needless to say no matter what condition it's in, Iron Man is worth far more than the metal he's named for.
2. Amazing Fantasy #15 (First appearance of Spider Man)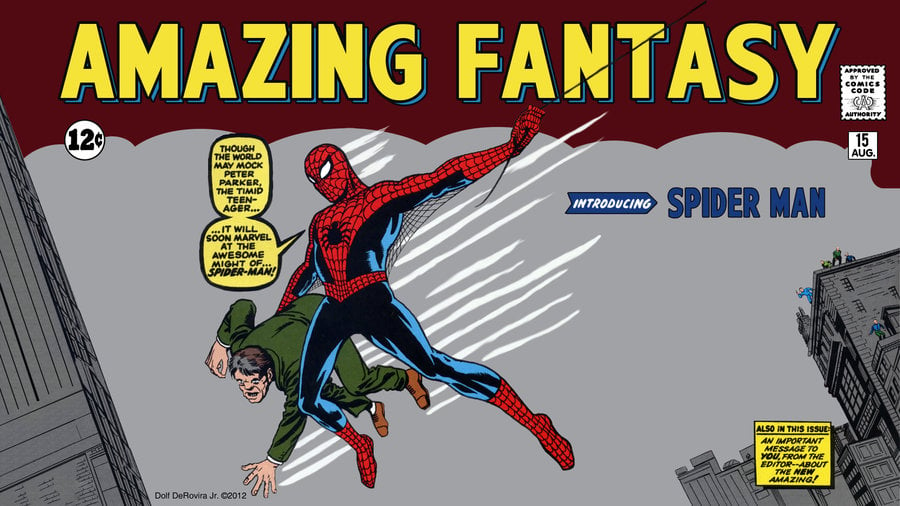 Highest Price Sold For: $1.1 million
There are only three comic books that have ever sold for over $1 million (the other two of which we'll get to soon). Amazing Fantasy 15 is one of those, as one of the most in-demand issues out there. Incidentally, Spider Man comics are some of the most collected comics in the business, explaining the relative demand for his first ever appearance. Even in the worst possible condition, AF15's lowest sale price is right around $4000. Kept in a near-mint state, this one will make you a millionaire.
3.  Action Comics #1 (First appearance of Superman)
Highest Price Sold For: $3.2 million
This one's the record-breaker, holding the title for the most lucrative sale of any comic book. At $3.2 million, the iconic Superman reigns supreme. Marvel may rule the Cinematic Universe (for now), but that doesn't change the fact that the Man of Steel has been a recognizable face since Action Comics 1 first published in 1938.
4. Flash Comics #1 (First Appearance of The Flash)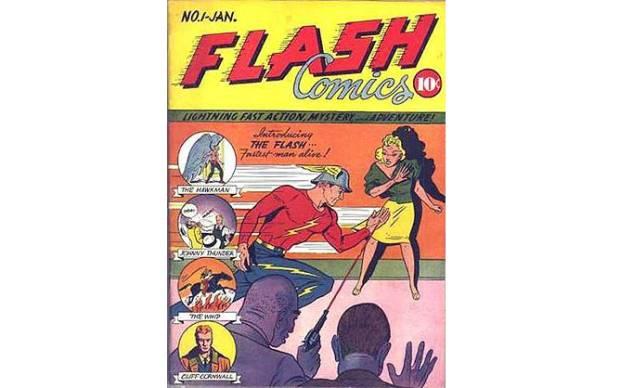 Highest Price Sold For: $289,000
We know the Flash today as Barry Allen, portrayed on The CW as their most-watched show this side of Arrow. Before Allen donned the red suit though, Jay Garrick held the title of the Scarlet Speedster. Flash Comics 1 debuted in 1940, and since then has been one of the more valuable issues on the open market.
5. Captain America Comic #1 (First appearance of Captain America)
Highest Price Sold For: $343,000
In Marvel Studios first Captain America movie, we saw an origin story that had Steve Rogers go from pipsqueak, to super soldier, to propaganda for selling war bonds, and finally the de facto leader of the Avengers. His first comic book though actually was a propaganda piece, releasing right in the thick of 1941, where the Captain spends 45 pages beating up Nazis. In fact, the cover is literally our hero punching Adolf Hitler square in the jaw, something played at by Marvel's film. Nowadays, this comic will fetch you as much as $343,000, with a minimum sale value of $10,000.
6. X-Men #1 (First appearance of the X-Men)
Highest Price Sold For: $492,000
When the first X-Men released in 2000, it marked the dawn of the new age of superhero movies. A handful of sequels (and prequels) later, it's a team on par with the Avengers in terms of sheer name recognition. When their comic book first hit stands in 1963, it only would have cost you 12 cents. Today, that price has ballooned ever so slightly to a cool $492,000. In poor condition, that pricetag dives off a cliff down to $900.
7. Detective Comics No. 27 (First appearance of Batman)
Highest Price Sold For: $1 million
Batman is a hero that dates all the back to 1939, long before The Dark Knight gave us the quintessential movie version. This is a hero that's been through iteration after iteration both in print and on-screen. From Adam West to George Clooney, he's come a long way since Detective Comics No. 27. Batman numbers himself among Superman and Spider Man as the only superhero with a first issue worth over $1 million, putting him in some elite company to say the very least.
8. Avengers #1 (First appearance of the Avengers)
Highest Price Sold For: $275,000
Until this summer, Marvels first Avengers movie held the record for the biggest opening weekend, and it wasn't really close. The saga began though back in 1963, with the release of Avengers #1. The first issue featured just four heroes: Iron Man, Ant-Man, Thor, and Hulk. Since then, virtually every hero in the Marvel universe has spent at least some time as an Avenger. If you want to experience things from the very beginning, it'll run you as much as $275,000, with a minimum sale value of $400 (we're talking worst possible condition).
**All data on comic book sales comes courtesy of Sell My Comic Books
Follow Nick on Twitter @NickNorthwest